Years ago i did a review of the UNDONE Aqua which was quite positive. UNDONE has since then released a lot more collections, that i haven't been able to cover due to budget or time limitations, yet earned them a spot on my Best Watch Microbrands list.
So since i only covered their dive watch, there is not better UNDONE watch to review than a beefier and more speced-out version of the that same watch!
I present to you, the UNDONE Aquadeep.


Pros & Cons
Pros
Solid and Well Built
Cool design
Great bezel action
Cons
Very tall watch
Poor AR coating on the crystal
Specs
Design – A Cool Functional Design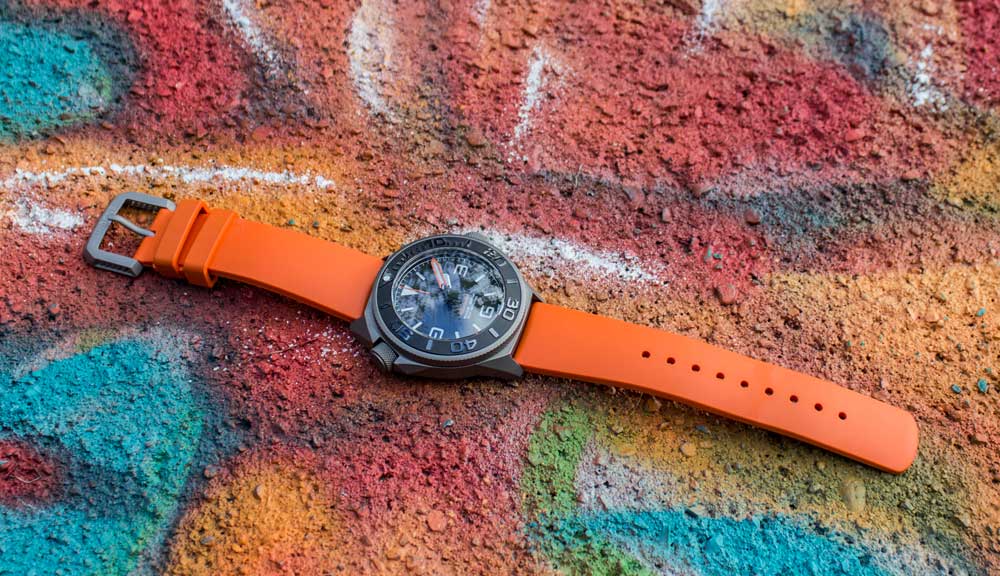 The UNDONE Aquadeep takes the "tool" in tool watches to the limit, not only with its specs but also design-wise.
But this watch is a bit schizophrenic. Hear me out.
The Aquadeep is really trying to be a toned down watch with a grey tones, contrast where it matters and few polished elements.
On the other hand, it still remains brash and in your face, with a bright orange strap, jagged edges on the case, large crowns and a large bulky presence on the wrist.
But its brash attitude comes from its functionality and not from desire to look this way, wich makes it a really cool tool watch in my opinion.
A great example of this is the strap's buckle, which look cool as hell in their efforts to shave off a bit of weight.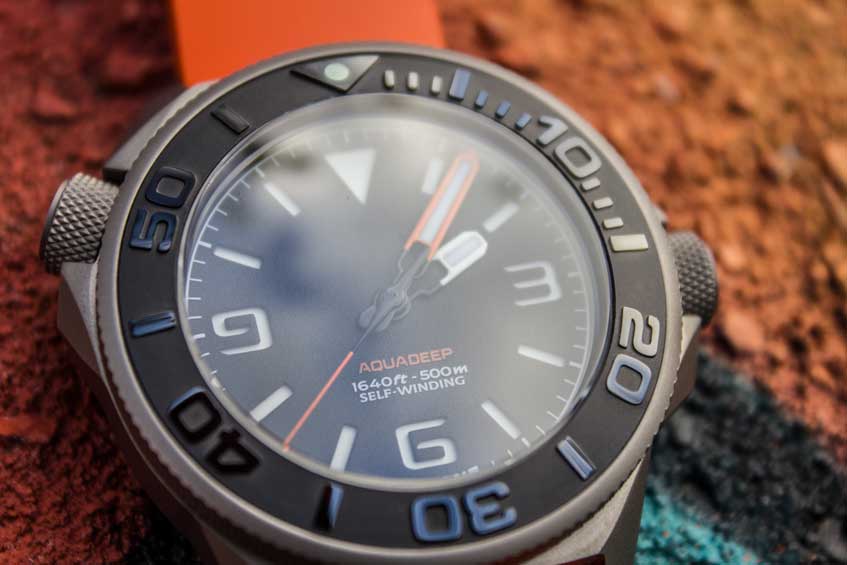 You can read the time very easily at a glance, the bezel's lume pip stands out like a polar bear in a coal mine and all the crowns are so easy to grip you can unscrew them by looking at them. And that's all you really want from a dive watch.
Nothing shinny here to distract you from the purpose of the watch (except perhaps the orange strap).
Summary
So overall, a well designed watch with a no-nonsense approach to its design while remaining fun with the orange strap and minute hand. The case makes this watch unique and brings it to a new level of coolness.



Quality
Packaging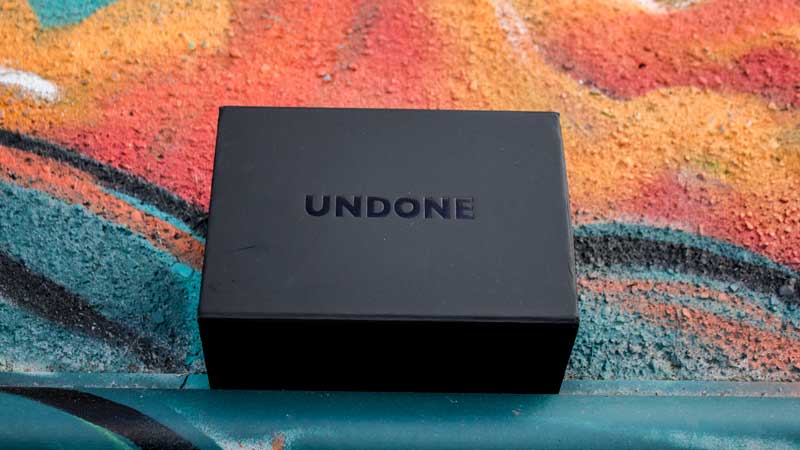 The watch comes in a hard paper box with a magnetic lid and no extra accessories. This is more than adequate but we always do love it when there is something extra as well.


Case and crowns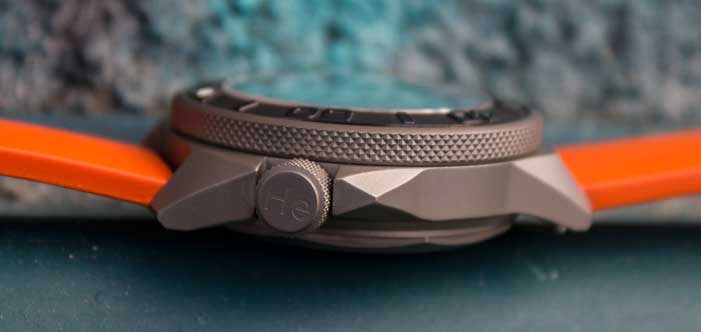 The is finished to a standard i would expect from this price range, with the edges being a bit dull. RZE (see the Valour Review for ref.) is a brand that manages to make a bit sharper finishes on their titanium in the same price range but without the insane water resistance and other specs.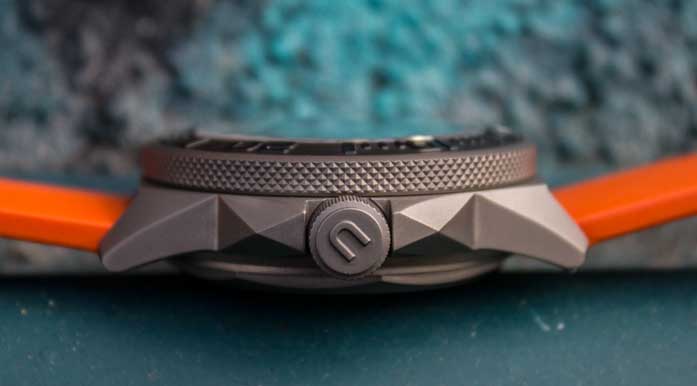 The crowns are a different story! They are big, chunky, and with a great pyramid pattern grip that makes them extremely easy to grip and use. Very functional!
The threading of the crowns is very even and it feels great to use them, and there is very little wobble when they are unscrewed.
The U logo sits proudly on the time-setting crown with great depth and prominence.


Bezel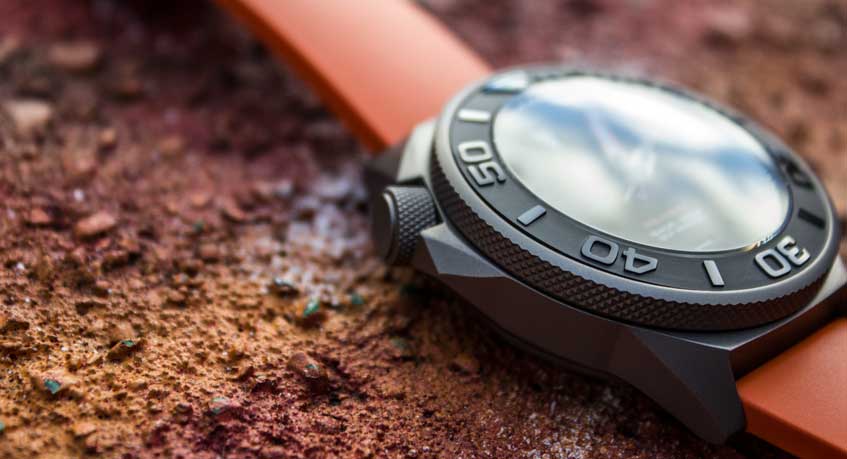 The ceramic bezel is very discreet and well-made, with very crisp and sharp edges on the polished markings.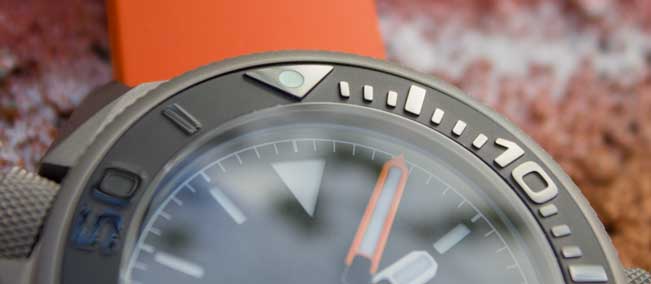 The lume pip on the bezel is just painted, which is not the best for longevity but i have old watches with the same setup that is doing fine. It's not centered completely on the middle of the triangle but the actual triangle is perfectly centered to the dial.
The grip on the side is good and the bezel action (turning the bezel) feels sturdy with a solid and satisfying click. There is a bit of back play, but nothing out of the ordinary for this price range.


Dial and hands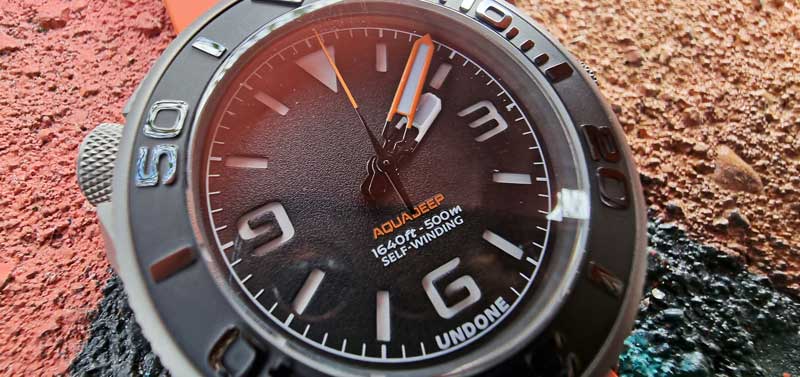 Everything in the dial is perfectly aligned and centered.
The dial has a nice discreet mat texture and the cutouts for the indices are crisp without those weird rounded edges I dislike on sandwich dials.
The printing is crisp with the specs and the UNDONE is a slight metal grey color.
The hands have a glossy finish with a crisp border between black and the other colors. They are very close to the dial, leaving out those pesky shadows that cheap watches have.


The lume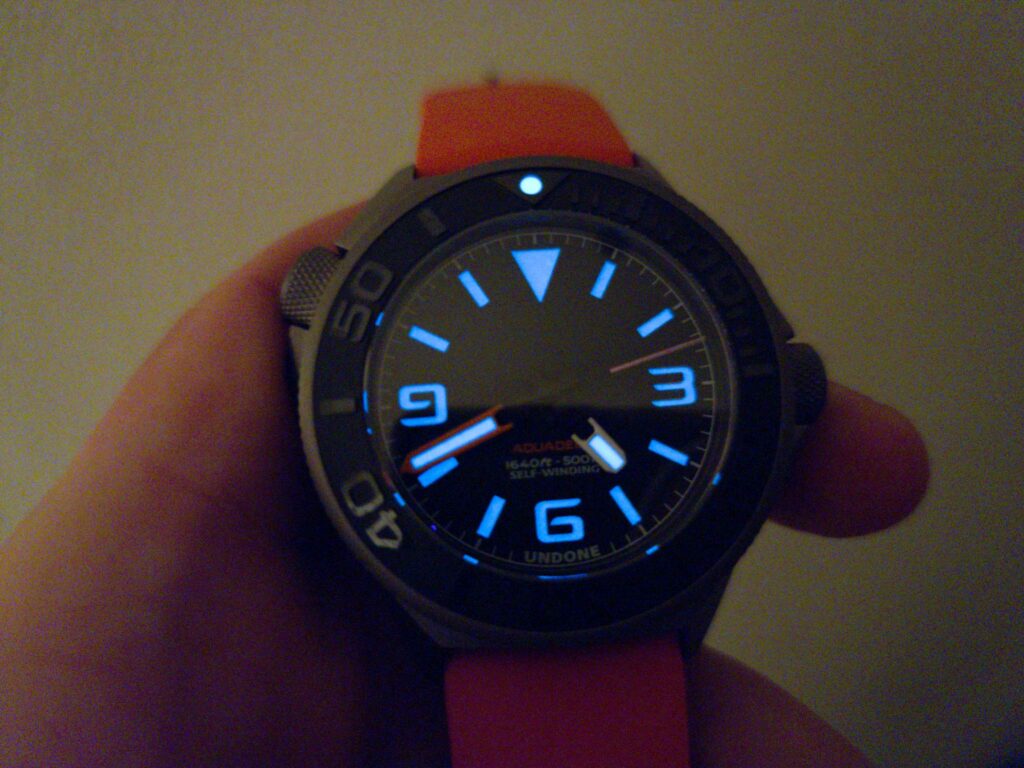 UNDONE doesn't specify the lume used here, but i can guess it's BWG9 based on experience.
Because it is a sandwich dial, I did expect it to be better applied, since sandwich dials allow for a very thick lume paint to be applied easily underneath the top layer.
I did a comparison with my Aquatico Seastar, which is a real Lume Beast, and it lasted as long but wasn't as bright in the beginning.


Strap and buckle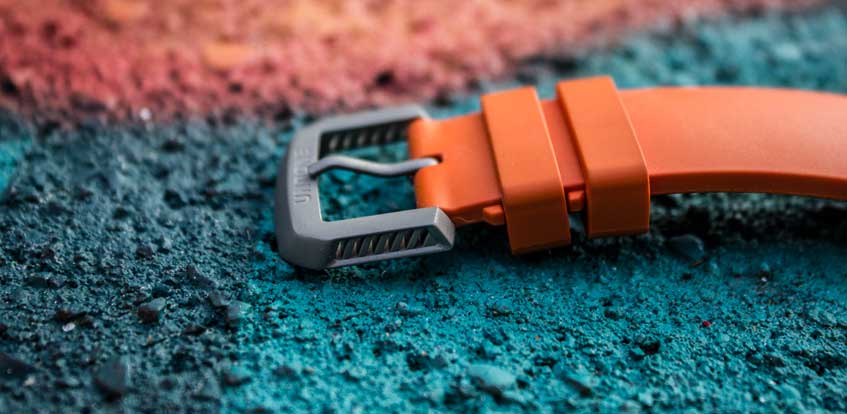 The strap is soft and comfortable, but i would have liked to see some semblance of ridges underneath for better airflow and sweat handling.
The quick release is a great option, but no longer a surprise for microbrand watches to have.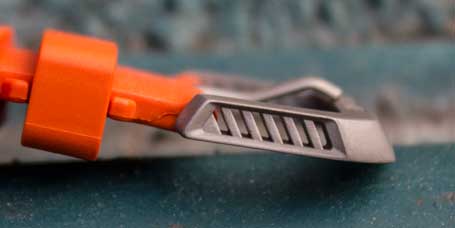 The buckle is exceptionally cool and lightweight due to the hollow ridges on the sides. It makes it so special and unique that i catch myself glancing at it from time to time.


The movement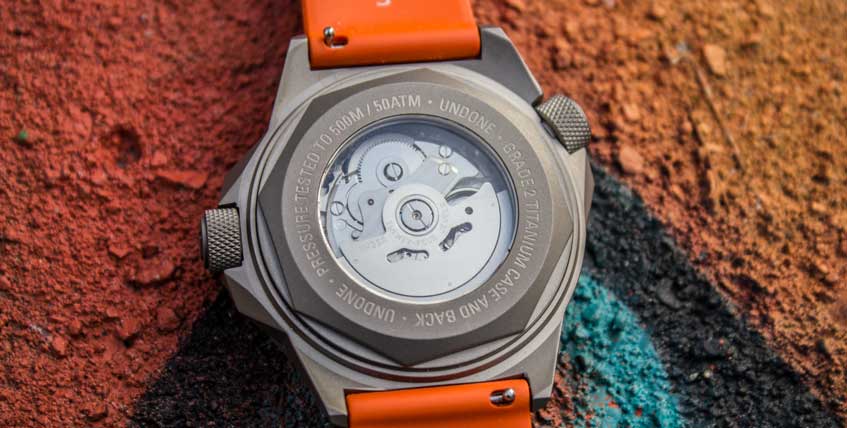 The SEIKO NH35A (follow the link to read more about it) is a solid low-end beater that has stood the test of time. It is not the most precise, and this one loses 20 to 25 seconds a day, but you can throw sand in this movement and it will still tick.
Many forums agree with me, and many have been known to run for 30 years or more. A great movement that takes the price down, so the money can go to other specs like water resistance or titanium.


Quality – Summary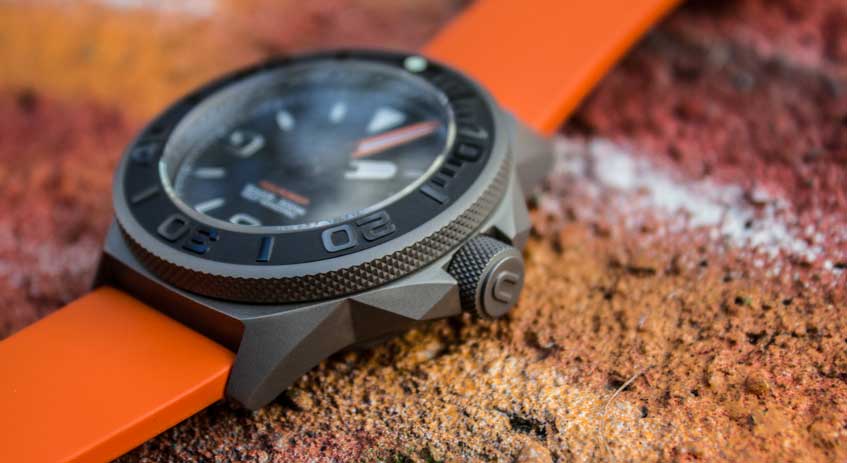 Overall, for the price of 534 Euros (553 USD), you get some really nice specs and good overall quality, plus a movement that is not precise but has stood the test of time.
And overall fun sports beater that will last a long time, whether you dive, swim or just wear it day-to-day.



On the wrist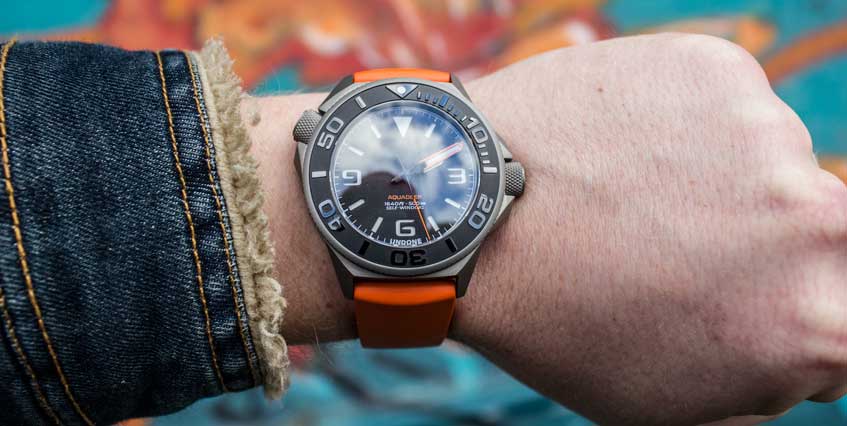 Don't be mistaken, this watch is big. But it is also well-balanced and lightweight!
The 43mm without crown could scare most, and with 51mm from left to the right crown, you might be even more scared, but don't be. With its short lugs, it feels more like a 43mm watch.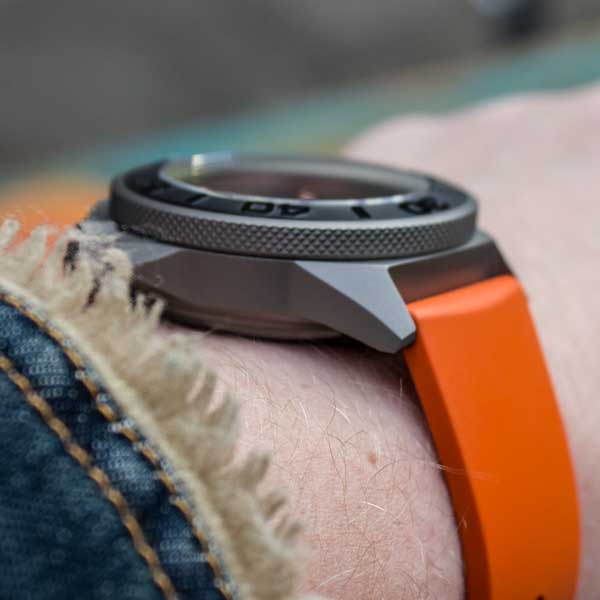 On my 17m circumference wrist, it sits perfectly as a bulky sporty watch. The titanium and lack of a metal strap make it very light-weight and thus hardly noticeable on the wrist compared to some steel models i have worn in the same size class (Breitling For Bentley and Headwind).



Conclusion
UNDONE is a brand known for its customizable watches, which is why they feature on my list of best customizable watch brands. But this model doesn't need any customization. It is perfect as is.
The Aquadeep is a no-nonsense tool dive watch with an orange twist that makes it fun to wear with streetwear. Behind the serious yet fun esthetic lies some awesome specs, cool material, and a solid beater movement. All for a relatively fair price.
I recommend the UNDONE Aquadeep Signal Orange if you like the design and I can't wait to see what other models they come up with for this line.