It was about time i started doing reviews of watch straps, and i couldn't be more happy to introduce Nomad Watch Works as my first watch strap brand here on this blog! Nomad Watch Works sells more than just straps, but I will keep my review centered on those.
If you are a watch enthusiast like myself, having plenty of extra watch straps is a must. It's not only fun to change straps on your watches, but it almost gives the illusion that you have a new watch! I personally like nato straps on my divers for the comfort, beautiful and colorful leather straps on my dress watches and rubber straps for my bigger divers and sporty watches.
NWW sells every kind of watch strap you could imagine, from G-shock and Apple watch strap to exotic alligator straps and everything between. Their selection of metal strap is a bit weak, so I will focus on the straps that I think you guys would be more likely to buy.


Camouflage rubber strap

This is their most expensive rubber strap, and I would recommend paying a little more for these than settling for the less expensive fat models. The "rifts" in the strap helps shave off weight and make it less rigid and thus more comfortable.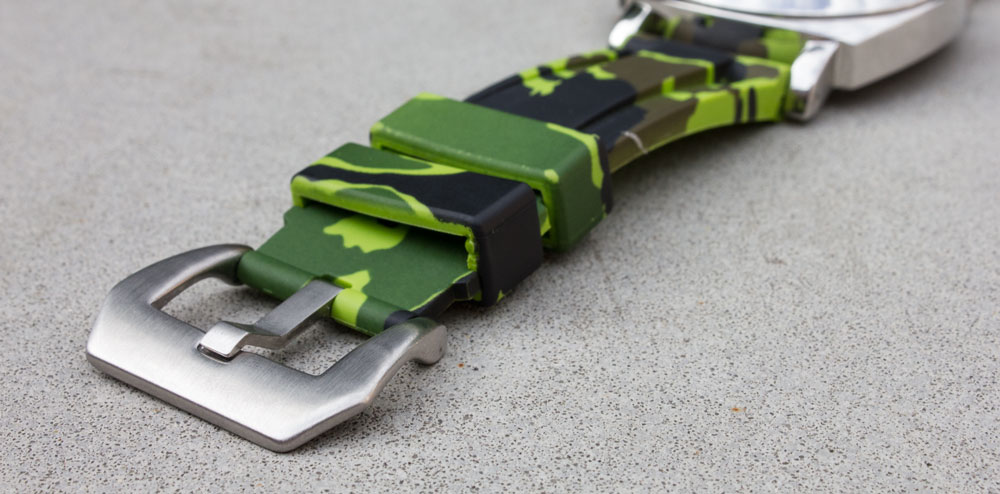 The camouflage pattern is quite crisp, and it seems to be part of the actual strap, and not printed on, but i can't tell for sure. No matter what, that is still a good sign. It wears super nice on my "Panerai" IWI marine diver, but would also fit any other sport or diver watch. Even the strap buckle is nicely finished and feels solid and robust (compared to the more generic ones on the other straps).


Burgundy Horween Leather Strap

This strap is quite impressive considering the price! It has a beautiful lowkey shine, but a closer look reveals the small leather cracks that makes it feel and look natural. The dark burgundy goes well with pretty much any watch, and the same colour stitching gives it that classy dressy understated look. Read more about Horween leather here.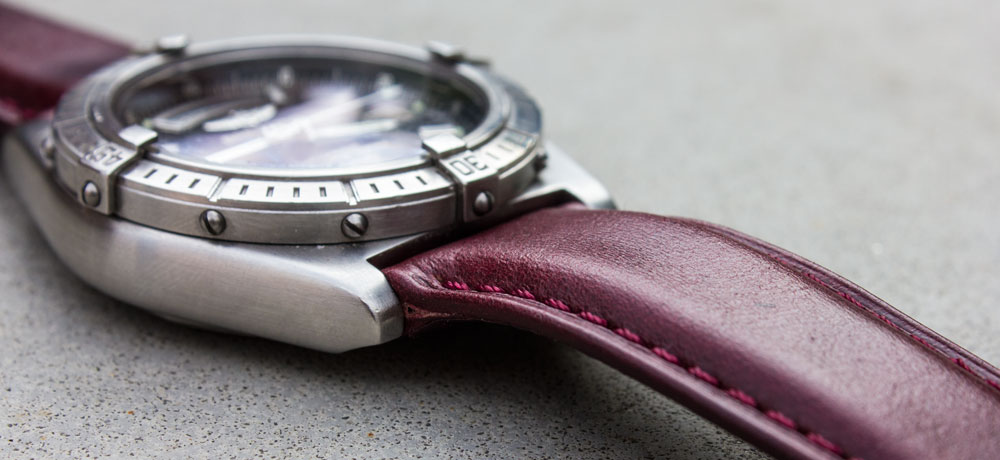 The first thing I do with new leather straps is to smell them, and this one smells wonderful! It is well upholstered near the quick release spring bar, and then slims down as you get closer to the edge. The leather extends over the sides, which is usually a tell tale sign of a good watch strap (many straps have the sides covered by some sort of wax)!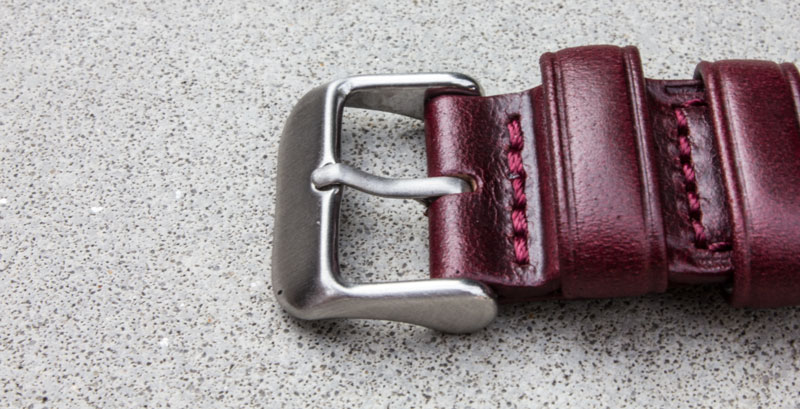 The strap is very supple from the get go, even with it being well upholstered, and the stitching is tight and solid. The only "downside" about this strap is the generic buckle. Don't get me wrong, it sits snugly on the strap when closed, but this kind of strap deserved a better one, and I will be buying a butterfly clasp for this strap. However, considering the price, I can't expect a better buckle and i am still very satisfied with this trap. Totally worth the money and good enough to use on my Breitling headwind! I recommend using this strap on bigger (mechanical) dress watches and pilot watches as it might look too big on very slim quartz watches..


Burgundy Epsom Leather Strap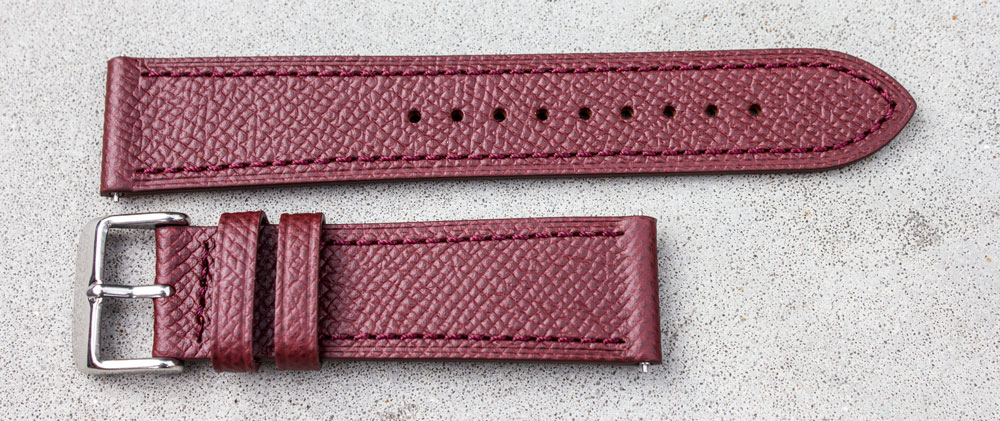 As you might have guessed, I love burgundy 🙂 I was less impressed with this strap, mainly for two reasons: it is not upholstered and the sides have that wax instead of being leather. However, for the price this is what you should expect, so don't take my lack of enthusiasm as anything else but snobbery.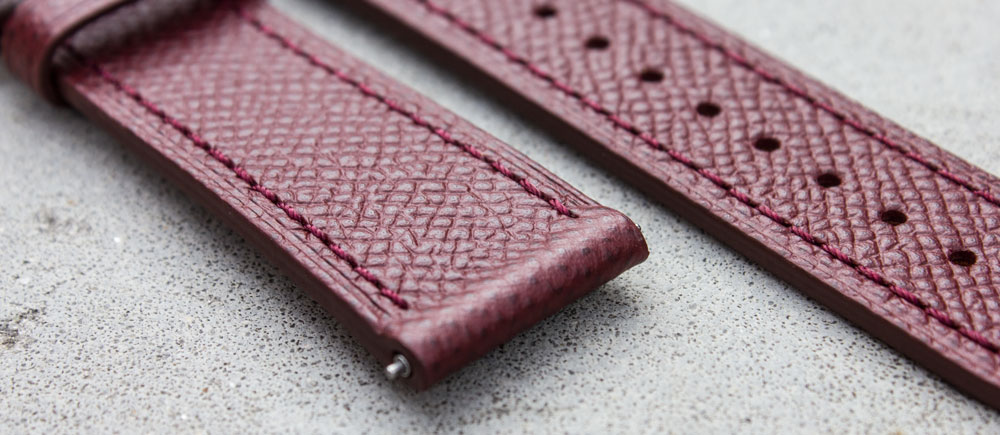 Being not upholstered makes it more flexible though, and the lighter burgundy color and embossed grain pattern makes it more suitable for diver watch than dress watches. You can read more about Epsom leather here.
The strap features the same generic, but polished buckle as the Horween strap and quick release spring bars. All in all, this strap is definitely worth your money and i would recommend using it on slim diver watches, minimalistic sporty watches and dress chronographs.


Marine Nationale Strap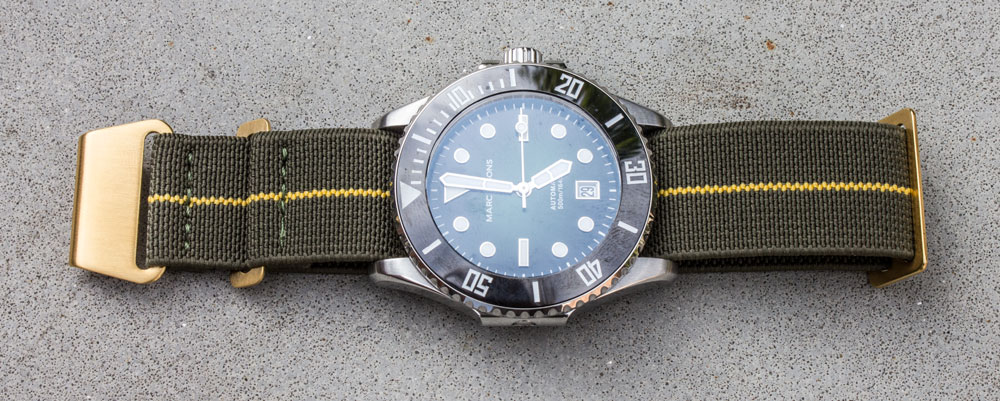 This is actually my first Marine Nationale Strap and I immediately fell in love with it! I currently have it on my Marc and Sons Diver and it is actually more comfortable than my nato strap!
These straps are flexible and even though they are harder to change than nato traps, the added comfort is definitely worth the small hassle.
Here's a guide showing how to use and adjust the strap (i had to shamefully look it up)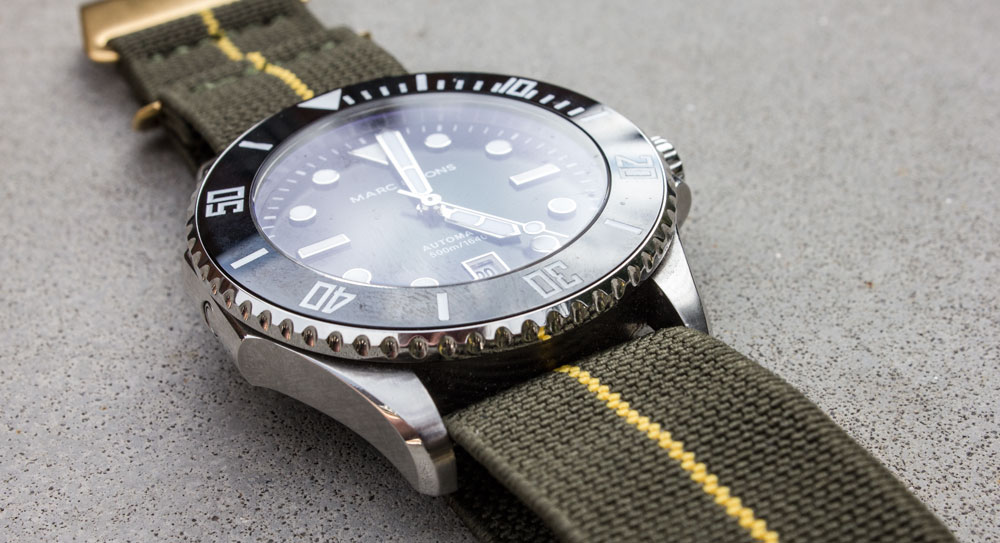 These straps always have a lovely stripe in the middle, and my favourite color combo is definitely the Olive Green and Yellow! The buckles and "hook" are quite fell finished with a rough brushed finish. All in all, definitely worth your money and if you have ever considered these straps, don't hesitate to buy one… They are great!


Conclusion
Unless you are looking for a metal strap, Nomad Watch Works is definitely your place to go for all you watch strap needs! With a large selection, great bang for your buck and lovely colour options, you will surely find a new strap for your watch!