Even though i own a lot of automatic watches, i have only ever owned 2 watch winders at this is the second one. I sold the first one because it was too noisy and i keep all my watches in my bedroom.
But Mozsly's watch winder is probably one i will keep!
Let me walk you through why and my honest opinion on this watch winder, and why i think it is a really good deal for watch enthusiasts with a "average" income.



Why use a watch winder
I believe my case will reflect most watch enthusiasts. I own 10 watches, half of them are mechanical and i do not mind winding and setting my watch before wearing them. I have several watches i wear often and others i wear sparsely for special occasions or simply because they are old.
But i do own one watch i tend to wear a lot, but not enough to never have to wind it. It has a small power reserve of 38 Hours and a Day/Date Complication. It is not easy to set, and the mechanism is old.
It is my Breitling Headwind and currently the only watch i would need to have in a watch winder.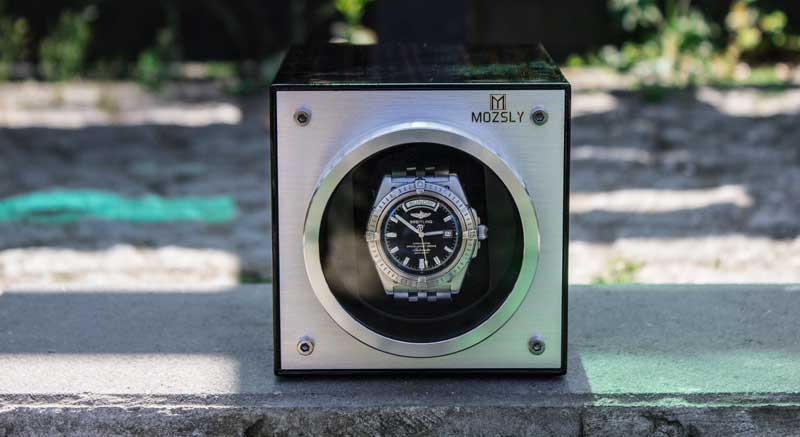 When you need a winder
When you own a complicated watch you don't wear all the time.
When you have more than 2 automatic watches, and one in less rotation.
When you don't need a winder
When you own one automatic watch and wear it all the time.
When you only wear your automatic watch very rarely.
Do we all have that one watch we need in a watch winder? Perhaps not, but Mozsly has an affordable, silent, and beautiful solution for those that do.


Mozsly watch winder
Design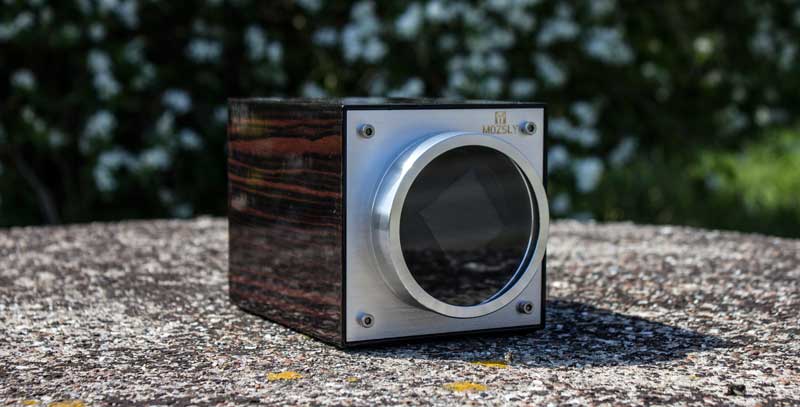 The design is quite simple and a bit industrial, with a rounded rectangular case and a round hole with a protruding metal "case".
Beyond the simple design is a pretty solid selection of models, where i believe we can all find something we like. They have colorful models, sporty models with carbon fiber and "classy" models with dark leather and lacquered wood.
I personally chose the lacquered wood to match my watch boxes. I also like this model because it incorporates 4 screws on the front, giving it a more industrial and solid look.


Quality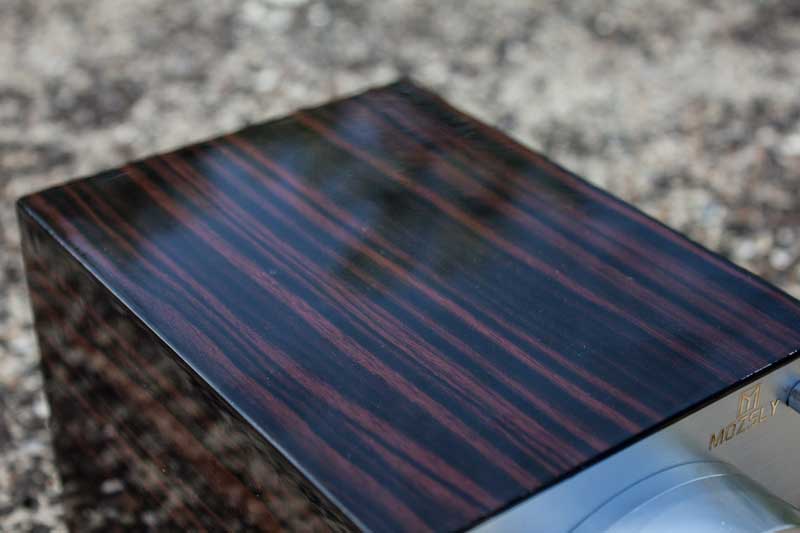 The quality of the Mozsly Single Watch Winder is good considering the price.
The wooden sides are well made and the metal front has good finishing.
The screw lid is easy to unscrew and screw back on. It is also super easy to get you watch in and out.
The back is nothing fancy, with plastic knobs and buttons, but i wouldn't expect more for this price.
The engine is super silent, which is really important to me. You can faintly hear it in full silence, but it wonæt wake you up or distract you.


Features
You can use AA batteries! – This feature i actually really important to me, as i hate having cables around my watch display. According to Mozsly, 2 AA batteries will last about 2 month.

You can set the number of daily turns and direction – Quite important and should be standard on all watch winders (but isn't).

The cushion to hold your watch in place will fit all watches – Something that was not true on my last winder! They also supply a very small cushion, perhaps for lady's watches or really small vintage watches.

Serial connector included to connect several Mozsly Winders – This is quite smart if your collection grows and you decide you need another winder. Instead of discarding this one and getting a double winder, you can connect them from the same power source (or use batteries on both).

The lid prevents dust and filth to accumulate on your watch.


Price
Mosley's SIngle Winders goes for 90 USD or 83 EUR. This is extremely fair considering the silence of the engine and the overall build quality and finishing of the front and sides.
It beats above its price range (pun intended).



Conclusion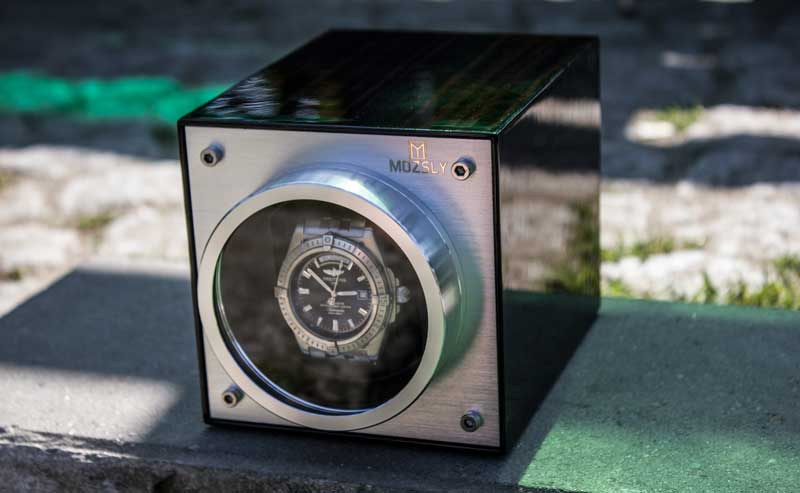 Mozsly provides a great watch winder for the money, with more features than you would expect and a silent rotor.
It looks good and keeps you watch wound and clean! It simply to easy to sell 🙂