When you read you as many watch my friends as I do you and cannot help yourself but to categorize them. You have your vintage revival brands, experimental designs, racing-inspired brands, classic dive brands etc..
Aquatico is one of the classic bang for your buck diver brands, that will deliver a high-quality tool-watch for a very fair price.
They're not going very far when it comes to design inspiration, using brands like Tudor and Bell and Ross as their muse. But that doesn't matter, because for your money you get a lot of quality and tool-watch fun! And that's what it is all about.
I present to you, the Aquatico Bronze Sea Star.
Pros & Cons
Pros
Really good bezel actions
Superb Lume application (BGW9)
Cons
Few "esthetic refinements"
Video Review
Design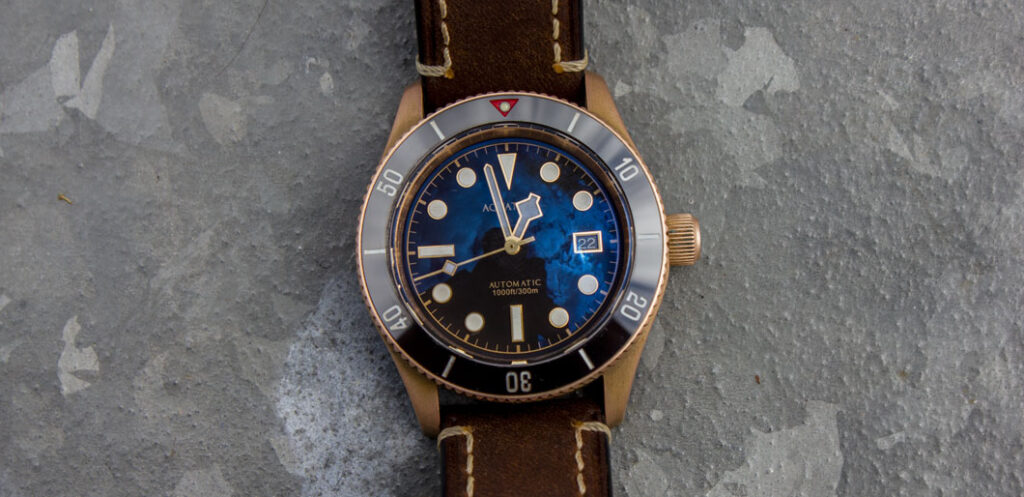 Aquatica doesn't stray far from The Beaten path when it comes to their designs. these are usually well-tested and proven designs like classic Flieger watches or simple and useful dive designs.
The bronze sea Star takes a huge amount of inspiration from Tudor's Black Bay dive watch designs, with a more rounded case lug profile, a different bezel design, a date complication and a wider and more simplistic crown.
This obvious design inspiration does not bother me at all since I've never liked Tudor's designs enough to pay $5,000 for them. But for $360 I can definitely enjoy the somewhat heavy and quirky hours hand that makes people ask me if I am wearing a Tudor.
If you're more into designs that stand on their own, Aquatico has many other designs that are less obvious, even in their bronze collection.
I actually prefer this more minimalistic bezel design with numbers and markers every 5 minutes. It's not that I don't like the 20-minute diver scale and the asymmetry that follows, but I feel like this design is more useful for everyday life. I don't think I'll ever take this watch out for a dive, especially not when it comes with a leather strap.
Overall all there is not much to say about the design except that I like it. This design helps make the watch extremely useful and readable, which is all you really want from a tool-watch.


Quality
Overall, the watch is very well built for the money with solid selection and good overall symmetry and water resistance. This quality upgrade results in fewer refined details which are unnecessary anyway for this type of watch.

Case & crown 6.5/10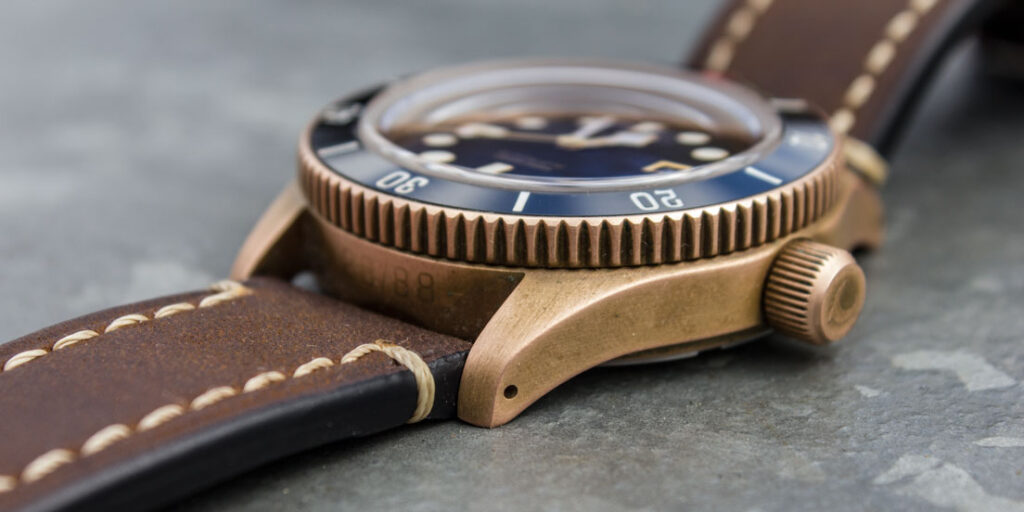 The case is a very basic diver style case with no bevelling, drilled lug holes, and perfect proportions.
The brushed finish is far from perfect and rather rough and gritty, but the details fade away after the patina starts to set in. this results in a much smoother surface which gives it a bit more of a refined finish after a while.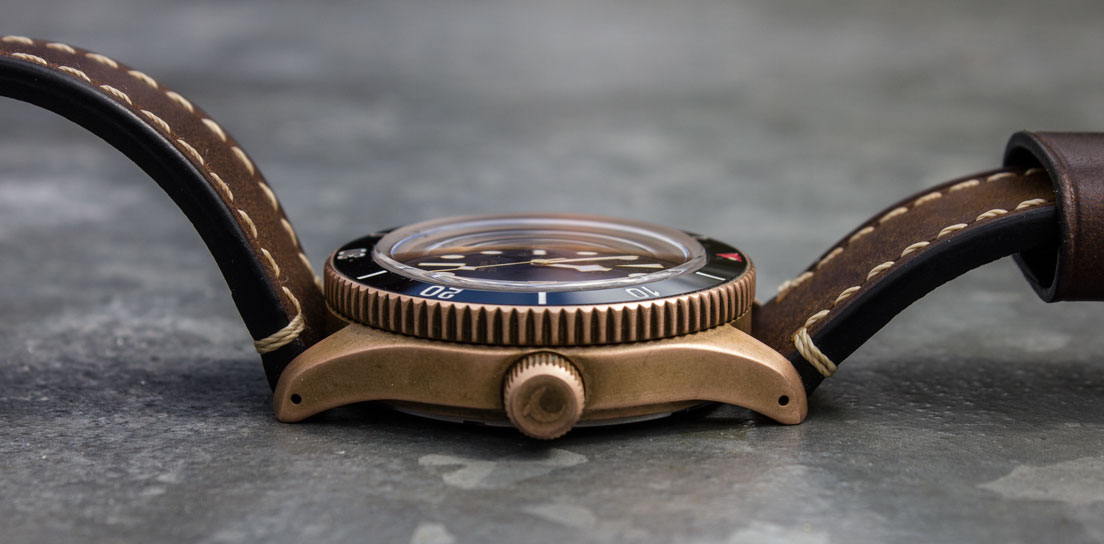 The Crown is big chunky and easy to grip thanks to its grip pattern and wide stance. The threading is very even and it feels good to unscrew and screw back the crown.

Bezel 8/10

The bezel action is very solid and crisp on this watch with almost no play and a loud tactile click. It is very easy to grip thanks to its height and it's a pure pleasure to use it.
I find myself using it just for fun to feel that tactile clicking under my fingers.
The ceramic insert is very precisely engraved and the lume paint is very well applied without any grainy textures or holes (yes, this is a fully lumed bezel and thank god for that).
The extra detail at the 12 o'clock position inspired by to design is quite well done with a little lume "pip" in the metal insert.

Dial 7/10
The dial is perfectly symmetrical and every element is where it should be.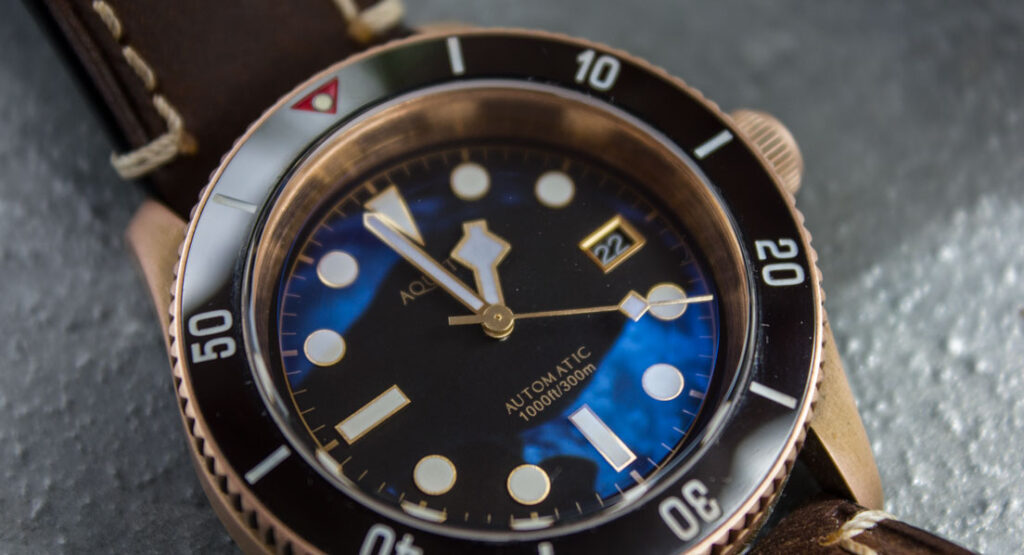 All the applied elements and hands, except for the date window, are brushed with a rather gritty parallel pattern. It's rough, but hardly noticeable at range and helps make the watch more readable by eliminating reflections you would get from polished surfaces.
The printing is crisp but better rather subtle because of the color they chose to match the bronze case. this again proves to be useful when reading the time at a glance because it doesn't distract you from the important elements that show you the time.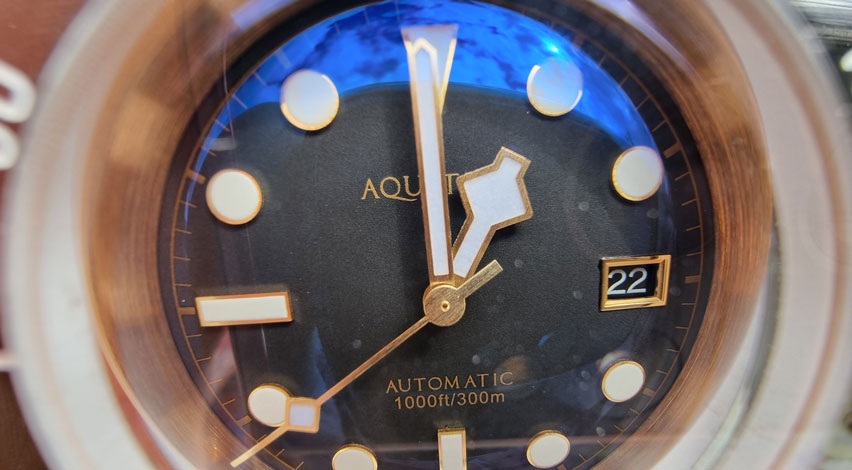 The date is perfectly aligned in the polished date window frame, wich helps compliment the symmetry of the dial (a frameless aperture just looks like a hole in the dial).
The dial sits under a rather surprisingly well-done sapphire crystal with a really good anti-reflective coating with blue reflections (i was surprised to see how good it was considering the price. It is raised above the bezel with a slightly rounded edge.

Lume 9/10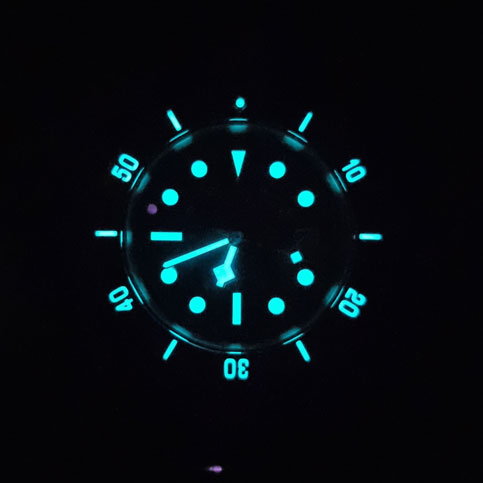 The lume on this the Aquatico Bronze Sea Star is simply top nodge! Well applied BGW9 lume is found not only on the dial tapestry but on all the bezel markings, which is just super fun.
It is a tool watch, and i would rather have great lume than refined beveled edges on the case. Good prioritization Aquatico!

Bracelet & Clasp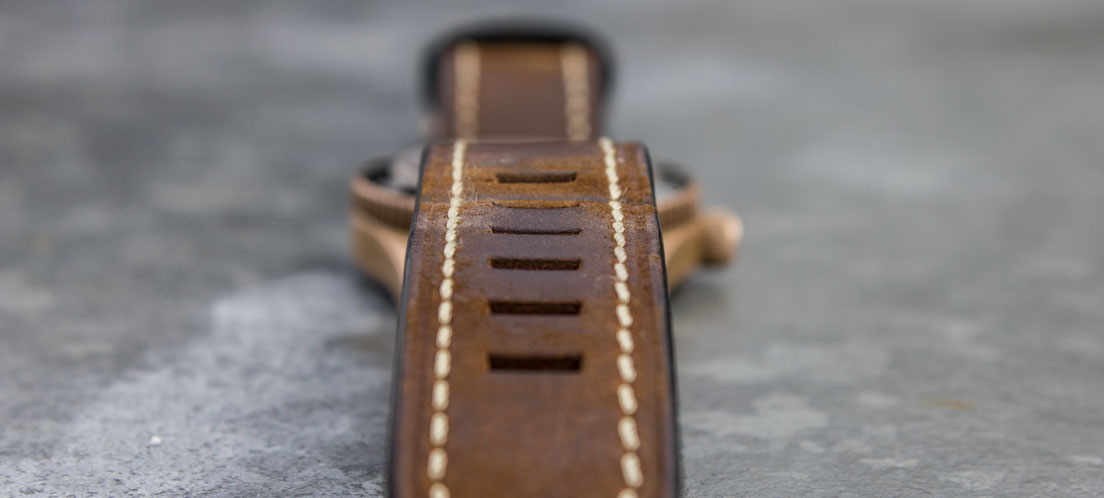 This watch comes with a horween leather strap that's thick and well built. it compliments to watch perfectly especially with the contrasting stitching down the sides that has this beige color to it.
It is a bit of shame that it doesn't taper, but i can ignore that (or put it on a nato strap, which is just lovely as well )
The buckle is custom and solidly built with small details like a ridge and a wide and solid pin to hold the strap in place. perfect for this price range.

The movement
The Seiko NH35 needs no introduction if you are a watch enthusiast, but for all you other commoners (I'm kidding of course), just know it is affordable, reliable, robust, well tested but not the most refined or precise movement.
So hiding it under a solid case-back makes perfect sense esthetically and from an engineering perspective too.
It has hacking (stops the seconds w3hen adjusting the time), beats at 3 Hz (6 ticks a second) and a power reserve of 41 hrs.
My friend at CaliberCorner can help you with all the detailed specs of this movement. Read them here.


On the wrist 8/10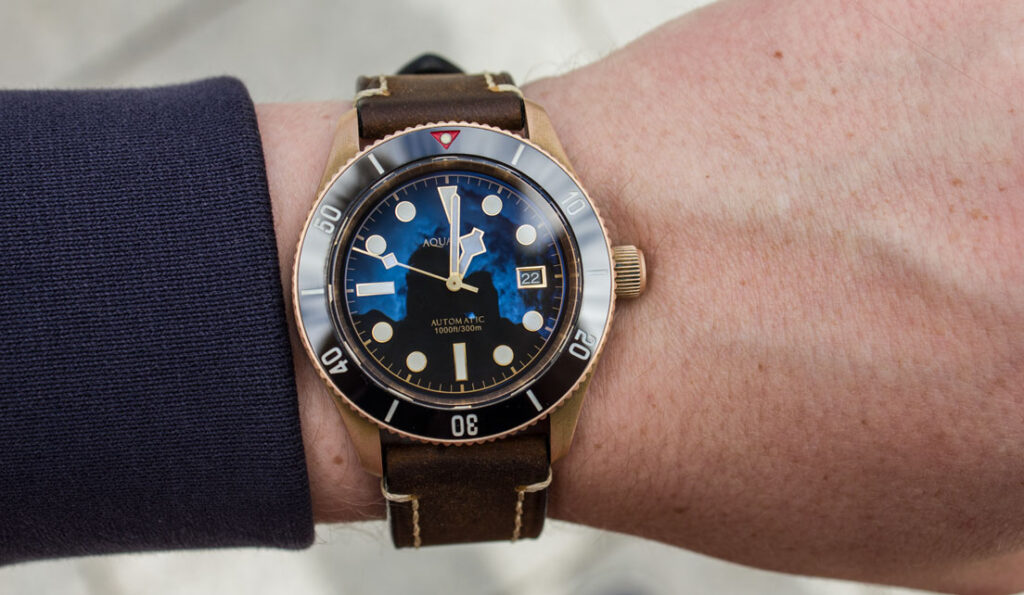 On the wrist, the watch wears quite well and is perhaps a bit smaller than its advertised 42mm. The large and thick strap makes up for that fact immediately, but on a Nato Strap, it looks a bit smaller thanks to its rounded receding case profile and no crown guards.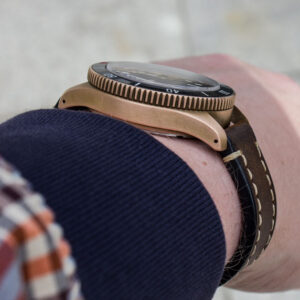 14mm is not too thick, and some of the millimeters are eliminated when the watch presses onto your skin.
Overall, I would recommend this watch to anyone from 15 cm wrist circumference and up. The lugs do not turn enough for the very small wrist to pull it off (in my opinion).
The crown can be slightly annoying at times when twisting my wrists, but nothing when wearing it "normally".


Price 9/10
For 360 USD (340 EUR), you get great build quality and a surprising level of quality. The price is fair.


Conclusion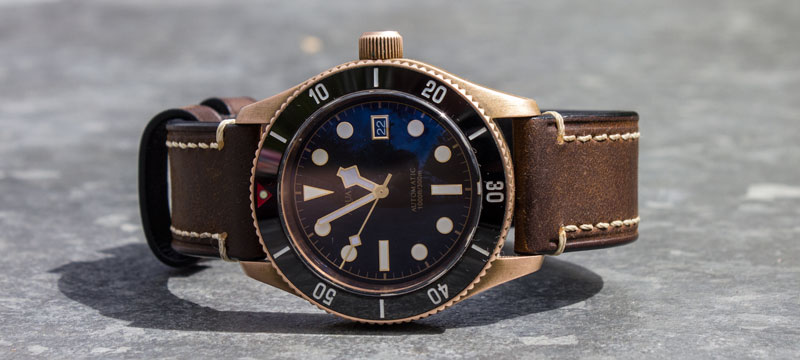 Aquatico does not rely on new design thinking or marketing but rather simple formula: they create well-built two watches focused on quality rather than refined aesthetics. And they do deliver!
The Bronze Sea Star delivers on all those promises, with a solid tool watch that just works while looking good. The additional fun comes when you start seeing the bronze succumb to time, with a slow patina on the surface.
I can only recommend Aquatico if you wish to have a solid dive watch for a fair price.