Customizable, or bespoke watches have become quite popular in recent years! I'm not talking about calling the CEO of Patek Phillipe for a special order, or high-end watches being customized by third parties. I am of course talking about micro brands creating unique models that can be customized to your liking.
Thanks to the dawn of internet and the profileration of different cultures, people want to be more unique than ever. This has left a market for these brands to flourish in, but also leaving too many under-the-radar options for one person to know about.
That is why i have collected all the best custom watch brands in this guide, so you can pick the right one for you, and your budget. You're welcome 🙂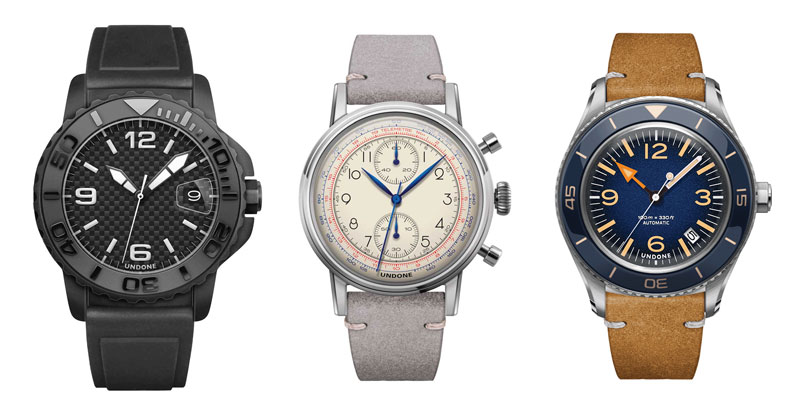 Undoubtedly the most famous customizable watch brand, UNDONE have a small range of very different watches that can be highly customized. Their urban series features the VK64A mecaquartz movement, but the rest of their models are mechanical.
Undone is on fire right now and are constantly releasing collaboration watches, new collections and limited editions ! Definately a brand you want to follow, so don't hesitate to sign-up for their newsletter.
Feel free to check out my review of their aqua model right here!
Their customization process is live and quite easy and fun to use!
Cons
No full mechanical chronographs
Unity



Unity watches is a under the radar brand that offers really cool looking watches! And if the unique design wasn't enough, you can customize almost every inch of this watch! Don't believe me? Try out there really cool customizer with a step by step process. It's a heftier price but looks to be good quality, offers exotic materials and coatings and features an ETA movement. You can even choose your crystal and strap buckle!


Pros
Unique design
Cool customization engine
A LOT of customization options
Swiss ETA movement
Cons
Expensive (but you most likely get what you pay for)
EONIQ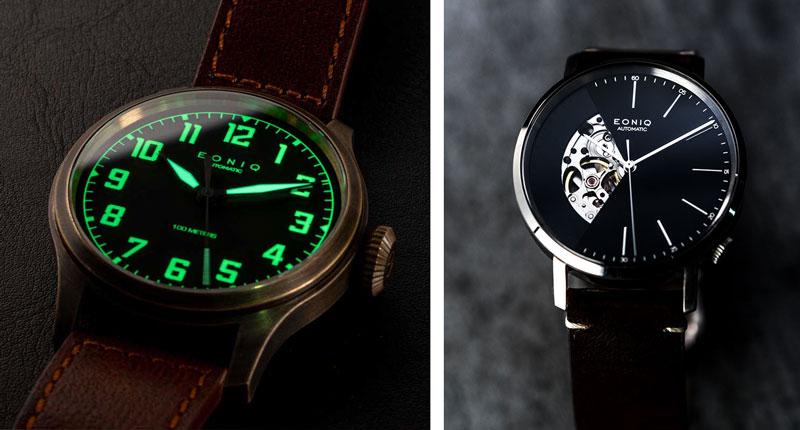 EONIQ is a a brand that takes customization to a whole new level! You can customize the dials all the way down to the minute tracks, hours markers and sub-dial markers. You can even add text and images wherever you want on the dial to create a truly unique dial!
Some models let's you change the crown and rotor, as well as the custom engraving on the rotor!


Cons
No end-links for the metal straps
Perhaps too many options ?
Bespoke Watch Projects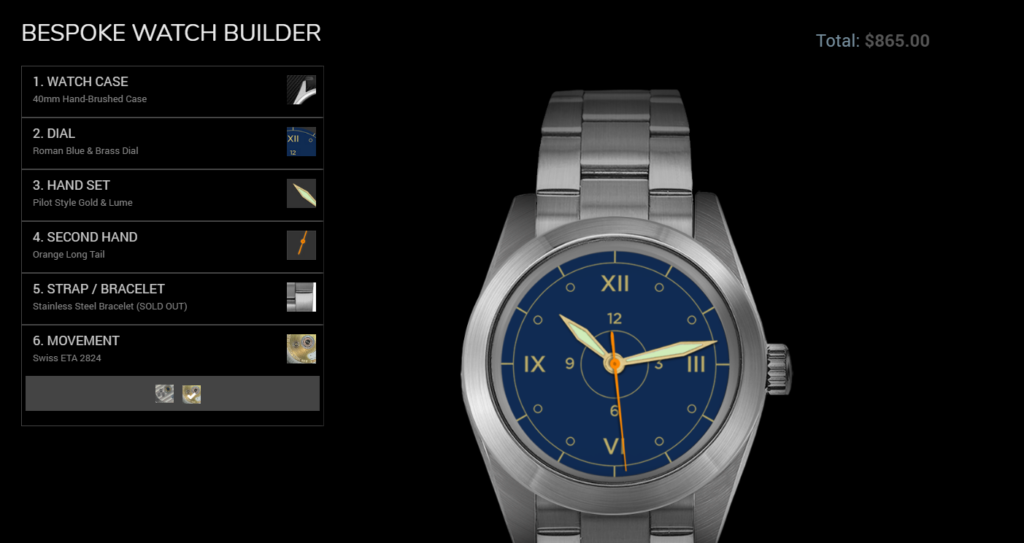 Bespoke Watch Projects has chosen a pretty descriptive name, but don't let the unoriginality of it scare you away. They have some pretty funky options. They have some very minimalistic but colorful dials, a good amount of different hands and case finishes to choose from and a cool line of limited edition watches. What really stands out for this USA based company is their dials! Go check them out for yourself here.
Pros
Choice of different movements
Funky and unique dials
Easy to use customizer
Cool limited editions models
Many different hands
Cons
Higher price range than many on this list
Mint Evolutive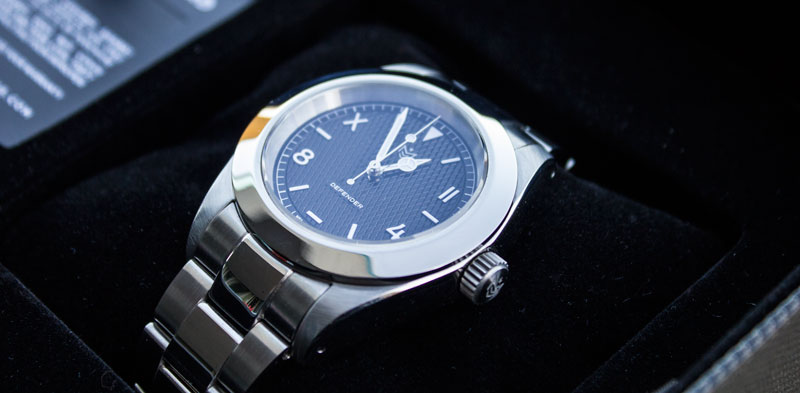 Mint Evolutive is another brand i have had the honour of reviewing on my blog, and i was quite satisfied! They're customization options are very limited, but their modding kits allow you to purchase several cool bezels and straps (with end-links, even for the leather straps). Their 3 models all have something unique and the prices are very fair! The customization engine is easy and fun to use, like it should be!


Cons
Limited customization options
Weak lume for a diver watch
LAB Copenhagen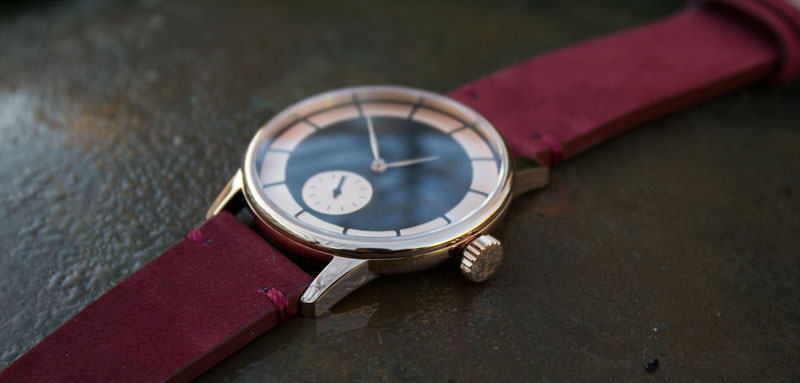 LAB Copenhagen is a danish watch brand that i have also reviewed. They only have one model that is highly customizable, but mostly in regards to the colors.
It's basically a quartz dress watch with a lot of color options, a sapphire crystal, custom engraved case-back and some nice suede straps! All for a relatively low price… Not the watch collectors fantasy, but a great watche for the masses!


Pros
Affordable
Many color options
Slim and minimalistic
Great as a gift
Cons
Limited design options
Only 1 model
Revolo watches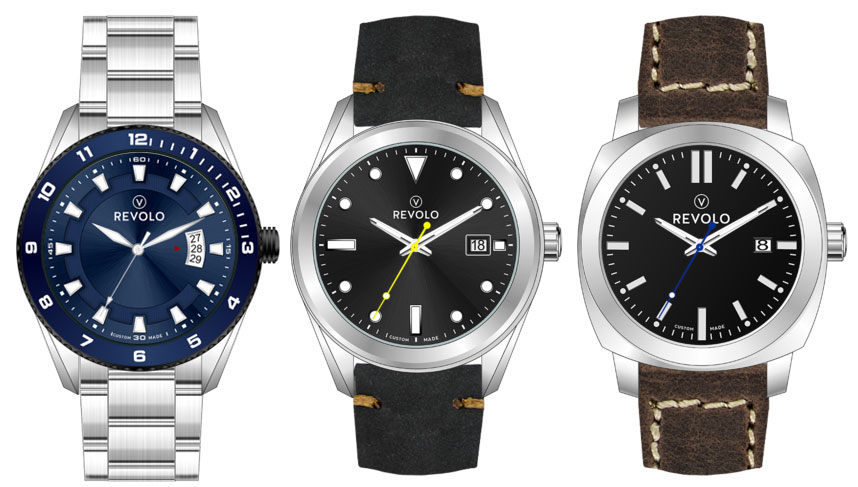 Revolo watches is, to my knowledge, a fairly unknown brand with A LOT of customizable watch models. The customization process is simple and you have the classic vast array of options: bezels, bezel inlays, hands, case coating etc.. However, they also let you choose the movement and the crown, with a lot of options.


Swatch



Swatch is a brand we all know, but did you know you can also customize you own swatch. The options are limited, but very colorful and bold! To make up for the lack of models and options, they continously come out with very cool collaboration. Check them out for yourself!
What's really cool is there big design patterns! You can choose one and place it on the watch however you want, making it really unique (or giving you the illusion at least).


Pros
Colorful
Unique and cool collaborations
Very affordbale
Cons
Not many options for their basic custom watch
Schaffen Watches



Schaffen watches is another brand that sells customizable watches with a great value for money proposition. However, their customization options are very limited, but you can sign the dial and make a custom rotor. I have them on this list because i really like their designs, especially their sports model with the crocodile leather strap!


Cons
Few customization options
Long waiting time
Baume Watches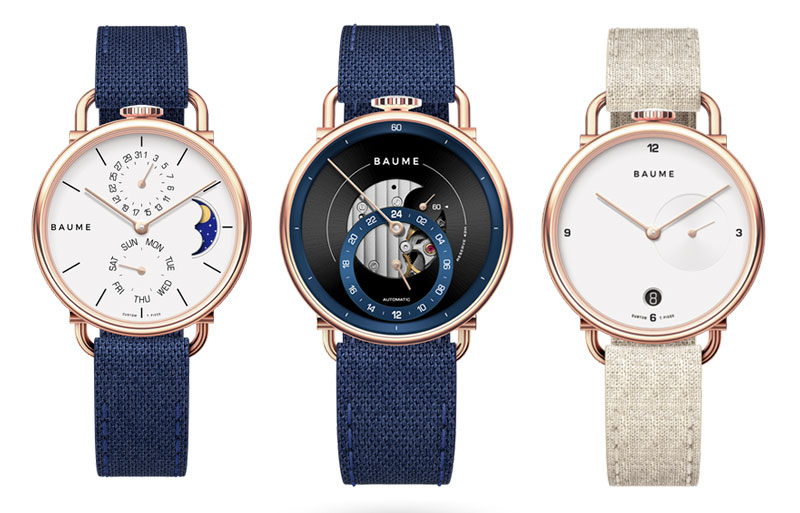 Baume watches have quite a fun and unique case design, but only features one automatic model that is slightly more expensive than the rest of the watches on this list. I haven't had the oportunity to review these watches, so i can't say if it's worth the money.
Their automatic version is a regulator watch, which is quite nice! The customization engine allows for 3D viewing of the watch, but you can only customize the colors of the watch.


Cons
Higher priced than other similar offers
You can only customize the colors of the different elements of the watch
Brüggler



Brüggler is another under-the-radar brand that specializes in customized mechanical chronographs. They have tons of options and a easy-to-use customization process. They don't display the price, so you have to build one and request a quote. They use an ETA chronograph movement and seems to be well built, so i would guess you would have to pay between 1000 and 1500 Euros for a steel version without gems.


Pros
Quality ETA movement
Plenty of options
For men and women
Classic design
Cons
Probably expensive (but you most likely get what you pay for)
Only one model
Bamford Watch Dep.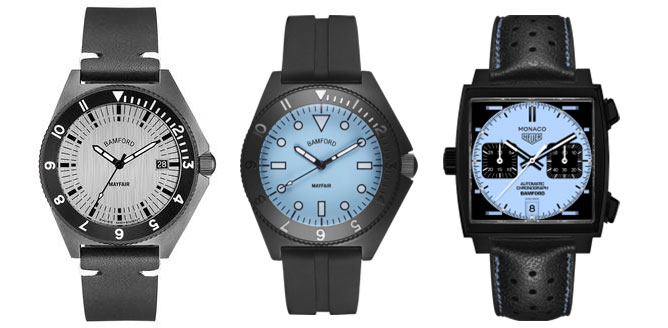 Bamford is a brand that stands out on this list… They only "homemade" watch model you can customize is the Mayfair (in the middle). You can choose many different funky color combinations and the classic engraving, all of this over a Miyota quartz movement. Its a fun looking watch and a little too expensive for what you get, but not the only reason why i chose to add them to this list.
They also customize high end watches, like the Tag Heuer Monaco that you can see on the right of the image above! They offer the same treatment on some Zenith chronographs, BVLGARI Octo models and other Tag Heuer models. They have way more options for these models, and can offer something truly unique and well made, if you have the money!


Pros
High end watches can be customized with plenty of colorful options
Cons
Their own model feels overpriced
Limited amount of high-end pieces
Satory Billard

Sartory Billard is one of the least informative brands when it comes to customization, but their watches are simply stunning! They have impressive dials and and overall clean, modern and unique design.
If you want to customize this watch and you have found the small fortune to spend on it, you have to directly contact the owner. Perhaps this is a more personal experience that will leave you even more satisfied with the watch. I think they should at least showcase some of the options available, but what do i know, i just own a watch/fashion blog 🙂


Pros
Beautiful dials
Unique design
A personal approach
Cons
Expensive, but hopefully you get what you pay for
Not enough information on their website
Von Vogel



Von Vogel is a danish brand that offers a different twist on the classic modding watches. You can choose the dial, the case and the strap, simple as that. But each of these pieces are easily dissasembled, so you can change the case or dial on the fly. This seems redundant but the pieces are actually quite affordable, so you can get 3 dials and 2 cases and 2 straps for a relatively fair price.


Pros
Interesting Concept
Classic but good designs
Models reflect each corner of the watch world
Fair price
Cons
Not enough information about the watch on the website.
Not enough customization options
Boom Watches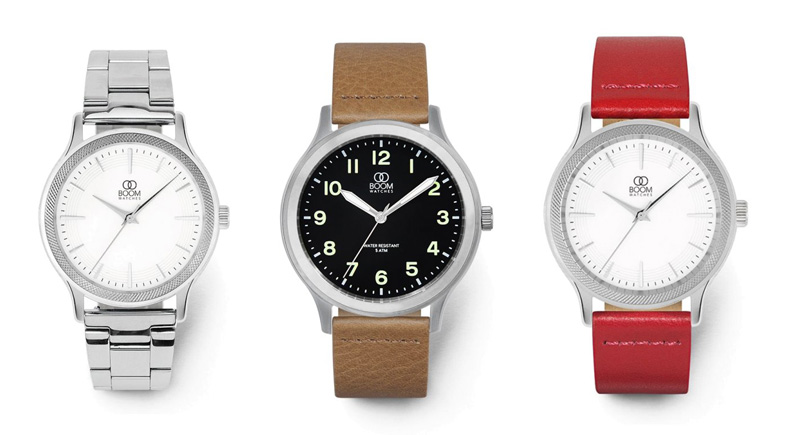 Boom watches would be a pretty standard and generic quartz watch brand, if it weren't for the customization part. You can choose between some colorful or classic dials, the case color and the bezel. Boom is far from the best customizable watch brand, but it deserves a place on this list for trying. They will surely appeal to a broader audience that are not watch enthusiasts, but like the idea of having a unique, but simple watch. A fun touch is the fact that you can buy a box with different parts and assemble the watch yourself, like a modding kit. Pretty cool gift actually.


Pros
Fun modding concept – build your own watch or change components
Very cheap
Cons
Not that many options
Only quartz movements