If you are looking for any other model in the Aikon collection, the quality section of this review will apply to those watches. I was lucky enough to hold all of their current models to check any differences in quality.

In this review, I will be taking a look at the most expensive watch I have ever reviewed on this blog. No, I didn't win the lottery and will now only review luxury watches, but I will try when possible, to move into more established brands, luxury or not. And I won't be doing those empty soulless Rolex reviews that brands pay so much money for but are essentially just long ads, so no need to worry about that.
There are several reasons I still think this watch fits well on Hype & Style. First of all, Maurice Lacroix has priced this watch extremely aggressively and you get A LOT OF watch for your money! It is essentially an entry-level luxury watch and a great way to get into that section slowly without completely breaking the bank or waiting 5 years until you can afford that super hot Rolex new Breitling. 
To be fair, you can get some really great watches on the secondary market for that price, namely some Jaeger Lecoultre or Breitlings. It's also worth mentioning that other brands like Nomos, Sinn or Oris. These brands offer great watches, some with in-house movements, some with great case design and durability, but none of these brands offers what this watch can deliver. This level of case finishing, bracelet quality, dial details and complication for the money.
I present to you, the Maurice Lacroix Aikon Chronograph Automatic.


Here's a quick video review for those of you who are not fan of reading 🙂
| | |
| --- | --- |
| PROS | CONS |
| Great value for money! | The lume on the hands could be better |
| A lot of perfected details and finishes | You can only use Maurice Lacroix straps |
| Great workhorse movement | Won't retain it's full value |
| Not corners were cut | Might be too big for wrist smaller than 16 cm |
| Great design that is both sporty and elegant | |
| Easy to use and well executed strap exchange system | |
| 200 meter water resisistance | |
Packaging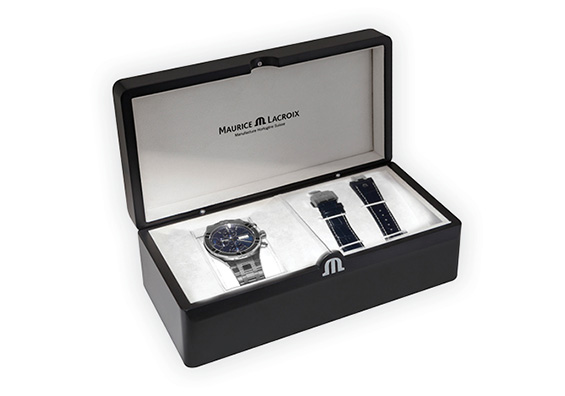 This specific model comes with 2 straps, the leather and metal strap, making the box much bigger than the classic model with one strap. The box is hard black plastic and worthy of being displayed anywhere in my walk-in closet.
The top has very crisp metallic printing and a tall metal Maurice Lacroix logo on the front, giving you a preview of how well the brushed finish will be on the watch. The box even closes with a click to secure it, so it doesn't open accidently if you move it.
All in all, a great packaging the display the extra strap nicely and has a box for papers and extra links under the display plate.



Overall design
If you have read about this watch anywhere else on the internet, you would know this watch has stirred up some controversy, mainly due to its resemblance to the famous Audemars Piguet Royal Oak. I disagree with all the complaints I have read.
I think this watch has more in common with the Maurice Lacroix Calypso it was based on, and not the royal oak. I think it's crazy to say a steel sports watch with an integrated bracelet is a Royal Oak knock off.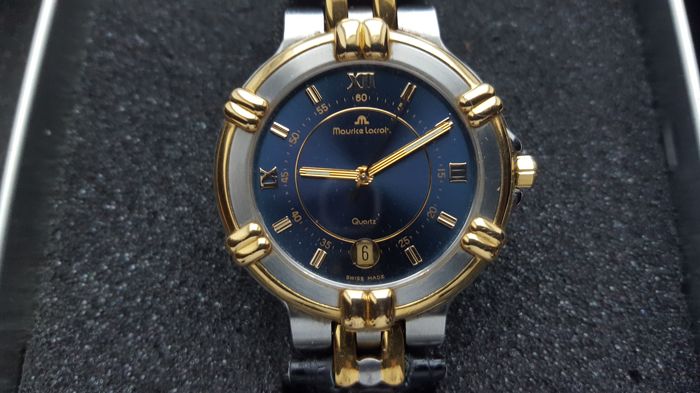 But i have to admit that the Royal Oak has inspired many elements of this watch, like the chrono pushers and crown shape, the bracelet structure and the dial pattern. But Maurice Lacroix actually took those elements and changed them to not only to be different, but to fit the watch's design better.
The striking and unique bezel design, with its six elevated polished markers, makes this watch stand out immediately in natural light.
Even though this is a sports chronograph, Maurice Lacroix chose to only apply lume on the hands, making it a little more "classier", especially with the leather bracelet. This makes the watch extremely versatile!
The square pattern is also less prominent than on the Royal Oak, with shallower crevasses and the squares packed together in a tighter fashion. Another design choice that makes this watch a little less sporty.
The hours markers also feature a triangular indenture, giving them a lot more personality and playtime with the light that hits them.
All of these great details and design choices are just the foundation for the great mixture of polished, beat blasted and brushed elements, the perfect mixture of sharp and beveled edges and classic chronographs elements, that creates a well designed watch.
But beauty is always in the eyes of the beholder… But if you have always loved the AP Royal Oak, but not the price, this is definitely a watch you will like. If you are into less flashy and sporty watches, this might not be your cup of tea. So for those who love the design of this watch, keep reading to find out if the quality matches the price (spoiler, it does).



Quality
In the intro, I spoke briefly about how this watch delivers a lot of bang for your buck. But 2650 Euros (3120 USD) is not a small change, and even though you might trust my judgement, i will go through every aspect of this watch for the sake of good order.
To be clear, i won't mention how good the finishing is on each element of the watch, because it's darn good for the money, especially considering how many angles, beveled edges and pieces this watch is made up of.
Finishing
The satin finish is fine, but still has those visible lines that are completely parallel across all the surfaces where that was the intention. As for the polished parts, they are well prepared and shaped before being polished, leaving a perfect flat or angled surface and a mirror like feel.


The case, crown and pushers
The case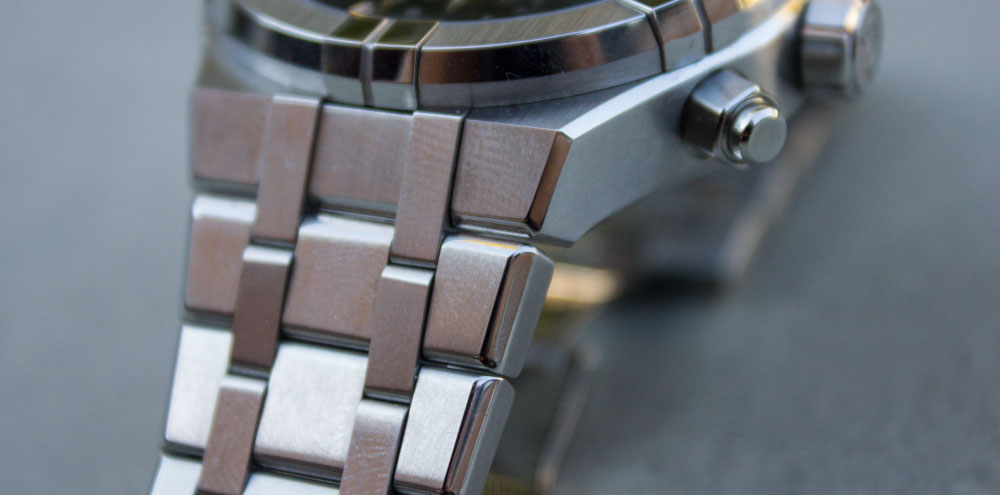 The case shape is quite simple and follows the circular shape of the bezel from the middle and curves slightly inward to join the bracelet. The angle that cuts downwards to accommodate the bracelet is very sharp and precise, almost hurting your eye if it wasn't for the precision of the angle.
The rest of the case is encompassed by a medium sized polished beveled edge, with a very crisp border between the two finishes.

The open display case back is fully brushed and held down by 7 screws and features a sapphire crystal that lets you peek at the surprisingly well finished Valjoux 7750.
There is no doubt that Maurice Lacroix did not cut corners here. They could easily have gotten away with not polishing the small screws that hold the case back, or the inside flank that is revealed when you remove the bracelet, but they didn't. Bravo!

The crown and pushers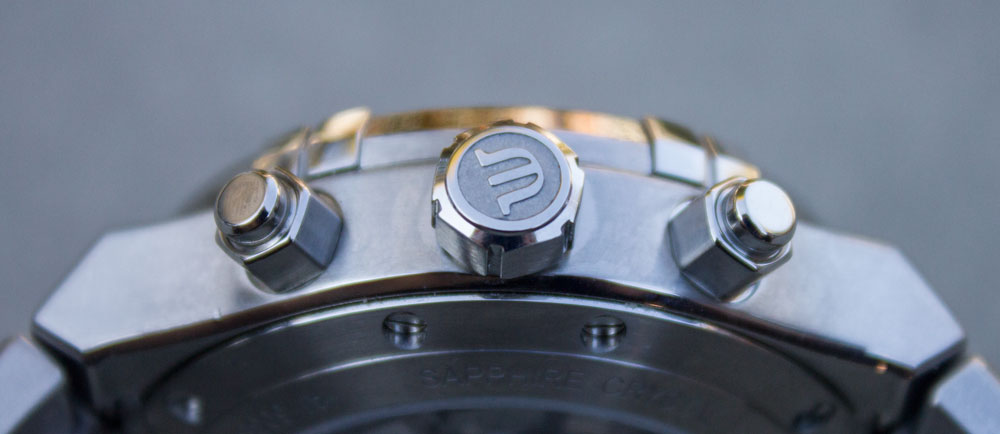 The crown has so many details it puts the Royal Oak crown to shame. Brushed sides with a polished beveled edge lead to a small protruding ring that serves as a border for the beat blasted surface that proudly holds the famous M logo.
Nothing was spared here : The inside of the small crevasses in the crown, just like the hidden back, are also polished. These complex and curved shapes and the mix of finishes, makes this a crown that is truly worth studying up close.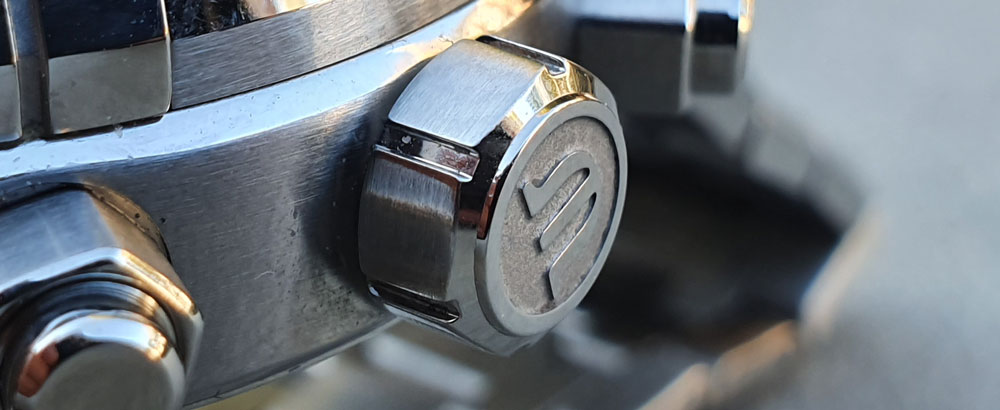 As for the threading of the crown, it's just as perfect as the finishing. It undwinds smoothly and clicks out nicely into the manual winding position. Turning it against the winding mechanism produces an oddly satisfying click sound that can also be felt in your fingertips, who can't tell your brain fast enough that this is quality machinery. But that's more credit to the movement than to Maurice Lacroix.
The pusher screws features a lovely hexagonal shape that reminds you of the Royal Oak pushers, but with much smoother angles and soft, polished beveled edges. The pushers themselves are fully polished and feature another beveled edge, just to rub it in the Royal Oak face (they are quite simple on that watch).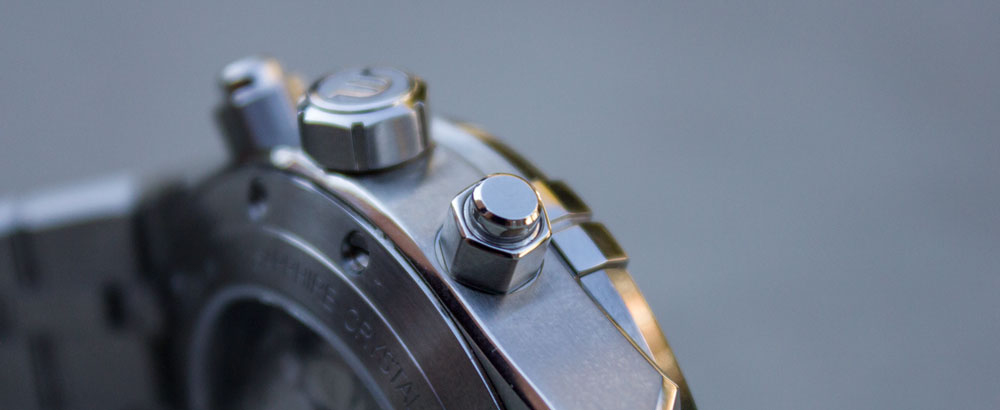 Each pusher screw is very easy to unscrew, and can be fully extended after the initial release with just one finger brushing over it. Doing this reveals a star shaped pusher stem and a fully brushed circular plate cut into the case. It ensures that the pusher screws sits tightly against a flat surface, without having to mess with the simple lines of the case.



The dial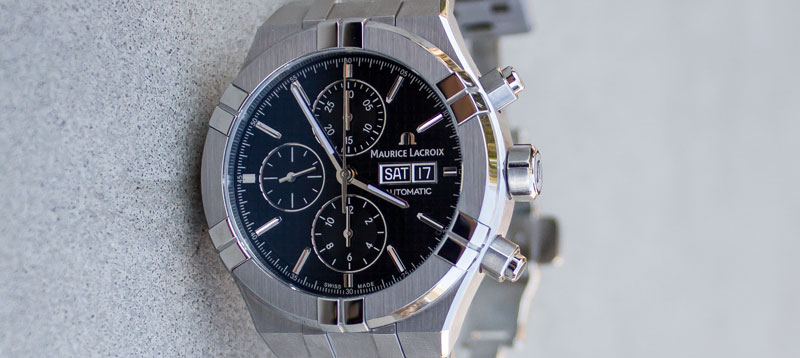 Everything is of course perfectly aligned and I have not observed any mistakes or things that stand out, even with a loupe.
The dial has a lovely square pattern on most of the surface, with small and shallow indents, making it more subtle than on other watches I have seen with this feature. It does pop nicely in bright sunlight, and I bet the pattern is more visible in low light conditions on the white dial model.
The very crisp printing is metallic grey, except for the day and date, which i think is a shame. It makes them stand out too much in my opinion, but at least they made it white on black. But choosing this metallic color for the watch makes it feel so much more luxurious (white on black seems less luxurious for some reason).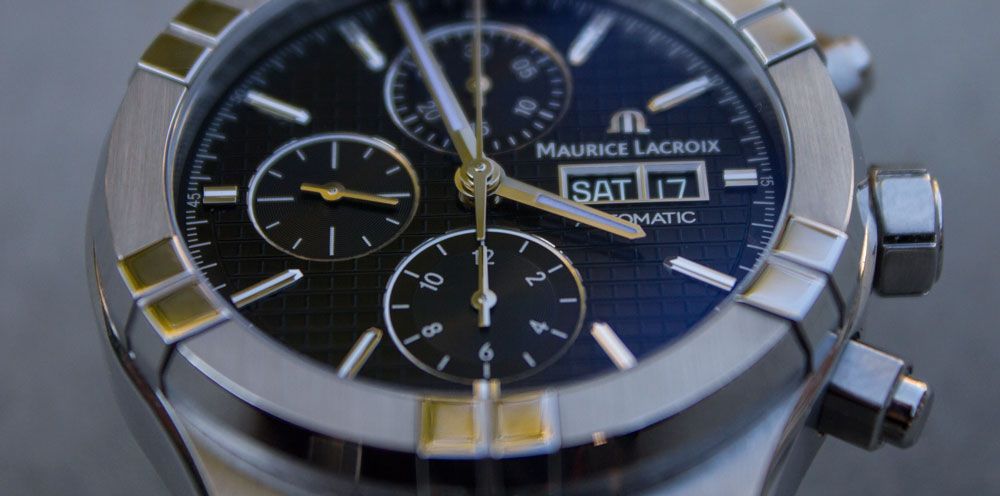 The snailed counters play nicely with the light and the polished ring surrounding them makes sure they stand out from the rest of the dial. Also, you always frame a pretty picture 🙂
The hour markers could be simple shapes, but Maurice Lacroix said "naaaa" and decided to cut out a sharp valley running down the middle of them. This is awfully cool and gives them a lot more personality and chances to play with the light. They are, just like the rest of the watch, perfectly cut and shaped.
Oh, and did i mention they were rhodium plated, just like the hands, to increase shine, luster and durability? Read more about rhodium plating here.
The day and date is showcased in a lovely metal frame with a polished top and a beat blasted angle of descent, to ensure that not too much light hits your eyes when reading them.
The printed "Maurice Lacroix" and "Automatic" are more embossed and than the rest of the printing, which is a great hierarchy. To crown this dial, a shiny applied M logo is added to give the sun rays even more things to play with.



The hands
The hands have a sword-like shape, but are actually called obelisk hands, because they are shaped like an obelisk. They have two sides going down from the middle and are perfectly finished with no residue or indents, even under a loupe.
The lume application is good, but slightly grainy when lit up in the dark, and sits nicely framed deep in the hands, thanks to their relative height. The lume is a bit disappointing and isn't as bright and enduring as other watches I have under 1000 Euros (1180 USD).



The crystal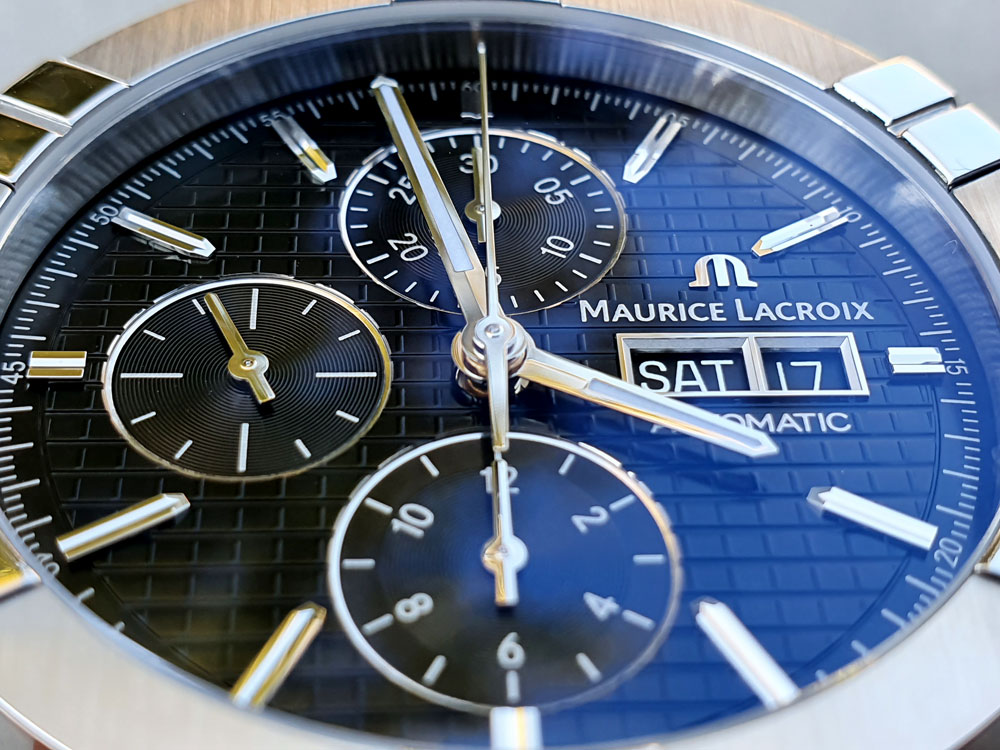 One thing that usually sets apart high end timepieces from the rest is the AR coating on the sapphire crystal. This one does not disappoint and will almost exclusively reflect back blue light, making you wonder if the dial isn't blue at the right angle.



The straps
These bracelets are some of the best i have seen on a watch in this price range, and are integrated so well that other high end watch brands could learn from this. The Easy Strap Exchange system works flawlessly and the straps sit perfectly tight every time.
Every strap looks like it came with it and can't be exchanged, which is what you want from these integrated bracelets. This can only be achieved with precisely engineered end links that sits perfectly flush with the case and with no gap!

The metal bracelet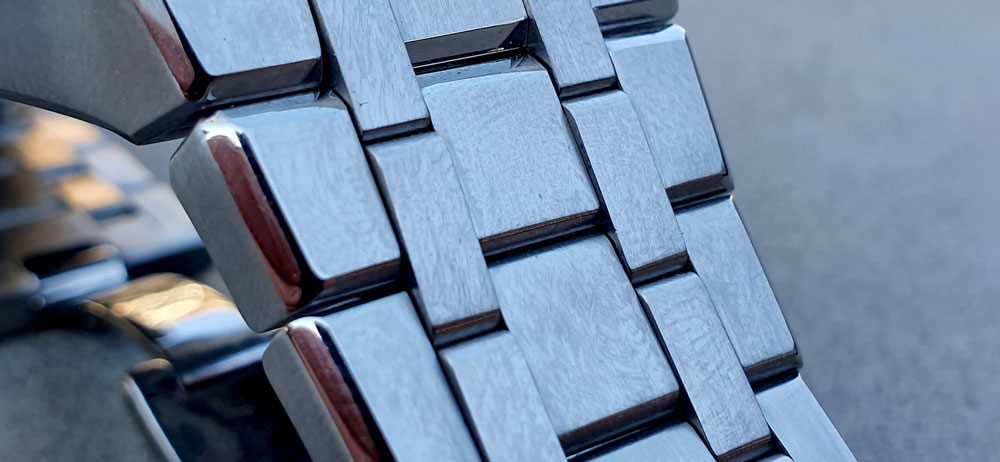 This bracelet does come with half links, so sizing it won't be a problem. The links are not held together by screws, but pins, which many argue is more secure than screws. Many Omegas and other luxury watches have pins, so i don't consider that a downside, especially considering the price.
This five link metal bracelet is, like the case, completely encapsulated by a polished beveled edge. The beveled edge of the case meets the one of the bracelet at the end-links, creating a small visual gap, which I thought was a bit of a weird design choice.
The mix of sharp and rounded edges gives it a nice luxurious feel and each link moves smoothly and with very little lateral movement.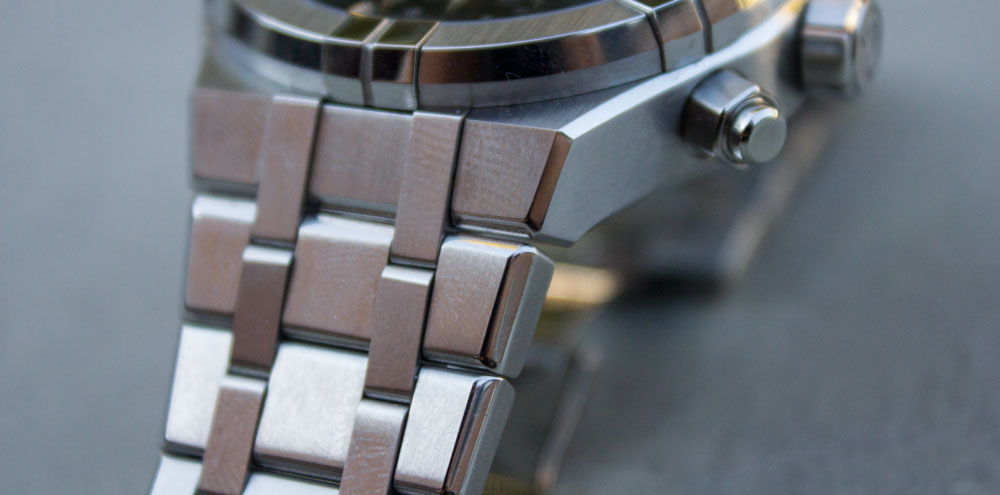 There are a few inconsistencies in the bracelet, namely some very little height difference between each small twin link, but nothing you can notice unless you look for it up close. This is where you see why the Royal Oak cost so much more than this watch.

The clasp is very good and keeps the watch securely on your wrist without the risk of opening, even when you tighten your wrist angle (this happens sometimes with these clasps on cheaper watches).
Once again, Maurice Lacroix added a nice little extra touch by not only polishing the clasp, but adding perlage to the inside of the clasp. Even the underside is polished and features an engraved M logo, just like on the link above the clasp! They truly want you to feel like you have a luxury watch!

The leather strap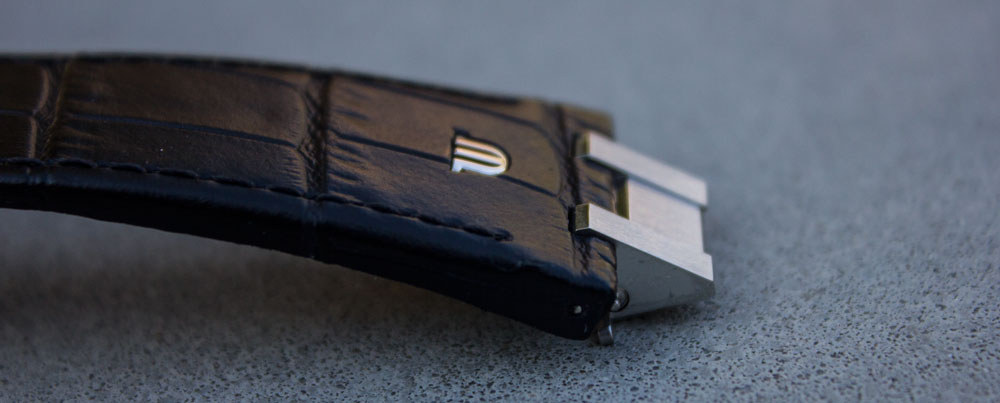 Just like with the metal bracelet, this is the best leather strap I have encountered in this price range. The strap is well upholstered near the watch and thins out and tapers down from 24mm to 20mm
The lugs that connect to the case have a lovely polished edge that meets the leather and the proud M logo sits underneath them. I have heard that those metal logos used to fall off, but Maurice Lacroix has updated it so that rarely happens.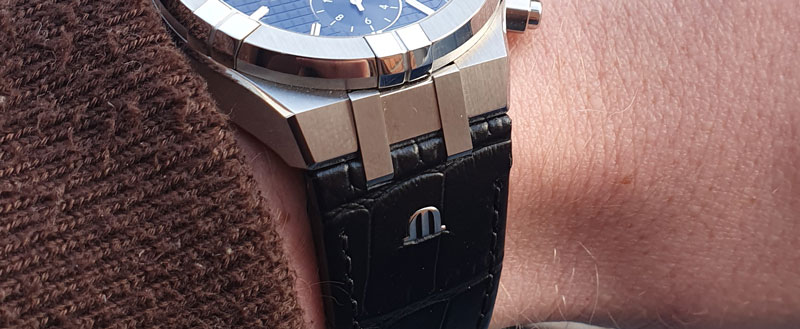 It isn't real alligator leather though, which is not surprising when you look at the price, but I would have liked some more upscale options on their website. The leather does however continue over the sides, which is a good sign of a quality strap (cheaper straps has "waxed" sides).
It's comfortable but contrary to its metal brother, sizing this strap was a bit harder. It's either a little too loose, or too tight for me, so I am considering making an extra hole in the strap.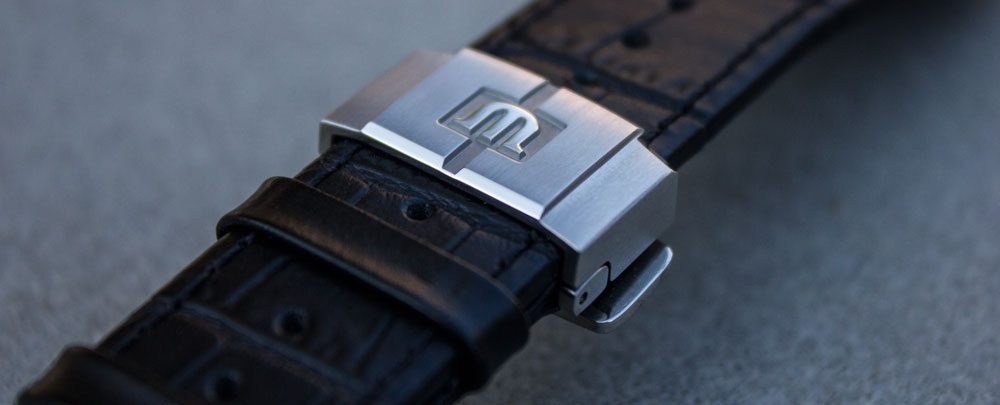 The clasp here is amazing! It's rather big and chunky, so it fits the watch perfectly. The M logo is tall and really has a good three dimensional look, just like the walls encapsulating it. The beveled edges on the front and back and the similar treatment inside, on the wings of the clasp, is sure to impress.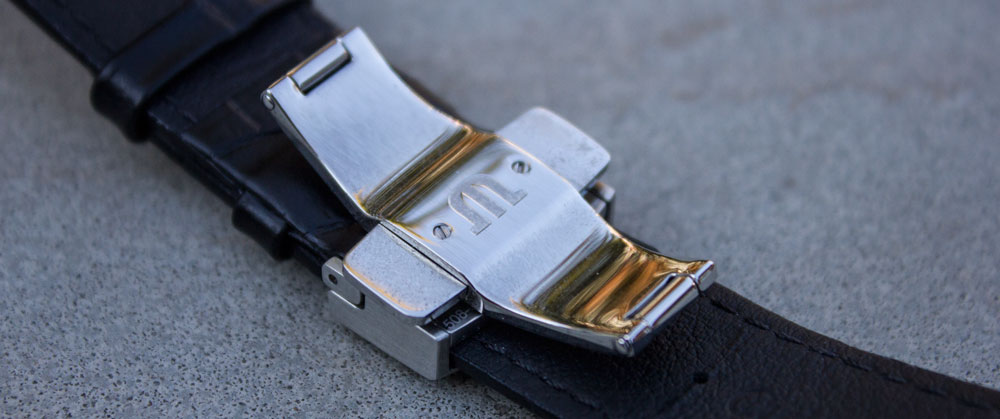 All over, great finishing and details, although I feel like the satin finish is slightly smoother on the buckle than on the rest of the watch.
All of this leather strap goodness can be had for 180 Euros (212 USD), should you go with the full metal version, which is more than fair!



The movement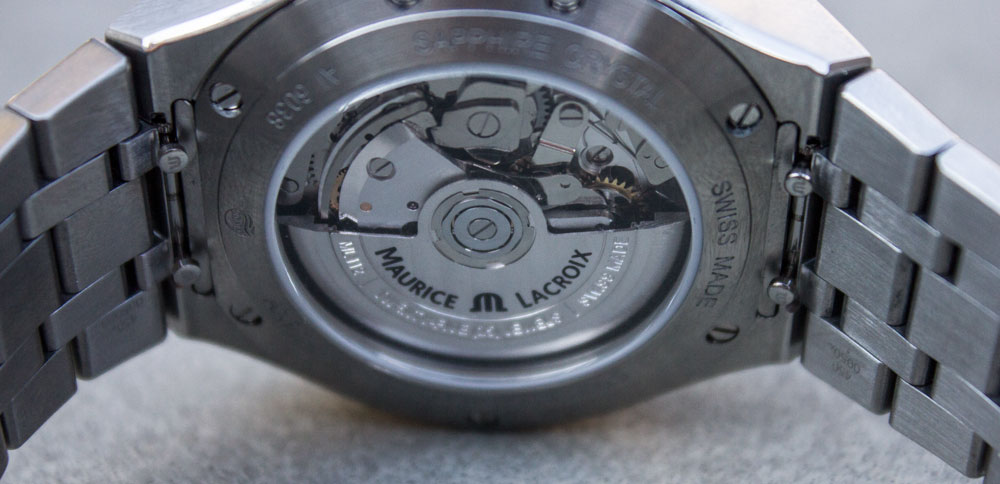 The Automatic ML112 that is sitting inside this watch is based on the rather famous, mass produced Valjoux 7750 chronograph movement. It features an oscillating pinion (in contrast with a vertical or lateral clutch) and a cam lever system (instead of a column wheel) to start the chronograph.
It's known to be very reliable and sturdy and parts are cheap and easily available, making service and overhauls cheaper and easier. It also features hacking seconds (stops the time when setting the time), manual wind and ticks away at 28.800 beats per hour (4hz or 8 "ticks" a second).
Maurice Lacroix took the liberty to decorate it with Geneva Stripes on the top winding bridge and the rotor, but the perlage and high polish finishing on the rest is done by ETA (Valjoux is part of ETA). The movement is quite a looker and really deserves its display case back.



On the wrist
Video on the wrist with the metal strap
The Maurice Lacroix Aikon Chronograph is not a small watch, but manages to feel slightly less grandiose than the advertised 44mm (48mm with the corwn). The dramatic angle the watch takes where the bracelet is connected makes sure the watch hugs my 17cm wrist.
The watch is rather tall on the wrist, but not dramatically tall, with its 14mm thickness (Royal Oak chronograph is 11mm). It won't fit under a dress cuff, unless you have some loose ones. There are certainly less thick Valjoux 7750 watches out there, but probably not with a 200 water resistance and a lovely deep dial surrounded by a proud bezel.
Both bracelets are very comfortable, but the prize goes to the metal strap which simply hugs the wrist much better and can be worn looser.



What could have been better ?
As with all watches, luxury or not, there are some downsides. You do get a hell of a watch for the money, so take this as a "what would i improve" segment. Knowing how much certain levels of detail cost, I will try to refrain from the downsides that would significantly increase the price of this watch, should Maurice Lacroix correct them.
I would like to have seen the printing on the day and date wheel match that lovely light metallic grey the rest of the dial wears so nicely. The day and date sticks out too much, making them easier to read, yes, but distracting you and reducing, by an iota, the overall luxury feel of the watch.

If they could make it so that the logo on the crown lines up horizontally with the case, I would be in heaven. This is no easy task, but perhaps for future iterations?

The lume on the hands is not very impressive, and i have 500 Euros watches with better BGW9 lume applied that really shines in the night. Upgrade to BGW9 and apply it better. When in the dark, it was a bit grainy and uneven. Luckily, in daylight, it looks good.

Just call it a Valjoux 7750 movement. Maurice Lacroix didn't do anything to this movement as far as i can tell (other than decorating it a bit), and if they did it, it would be nice to read about on the product page. Perhaps they could, like Longines, add a Column wheel and a vertical clutch. I wouldn't mind paying a bit extra for that!




Value proposition and price
I think the price is very fair
The model i have came with two straps and costs 2797 EUR (3300 USD) on Maurice Lacroix's website. The full metal strap version goes for 2640 EUR (3115 USD) on their website, which is always the version you should buy, then buy a leather strap later (it's simply cheaper in most cases, but maybe not in this case).
After holding this watch, I wouldn't be surprised if they showed me a 4000 / 5000 EUR price tag.
But if you check out Chrono24, you can find the same NEW black dial / metal bracelet version for as low as 2000 EUR (2360 USD), and even lower in the US. That's a hell of a deal and this shows that Maurice Lacroix is going for quantity of sales, rather than low volume and high perceived value, which is great.
If I haven't been clear enough already, you get a lot of watch for your money. If you go guy a new one on Chrono24, this is what you get: A 200 meter water resistant, Valjoux 7750 chronograph with a plethora of details, high quality finishing and a beautiful and flawless dial!
If you are looking at new watches, that's hard to beat! On the used market, that's another story… For the same money you can get some less popular Omega Speedmasters, Longines Chronographs, older Breitling chronographs and even some very pretty Mont Blanc Chronographs. But all of these watches cost around 3000 to 5000 Euros new, and are not all in super condition.


Resale value
As for resale value, these watches are mass produced and even though they are popular, they won't hold their resale value, unless Maurice Lacroix stops production this year. I suspect you could sell one in good condition for around 1500 EUR (1770 USD) with both bracelets (i have already seen some). 1000 Euros perhaps if there are a lot available.
However, I think it will sell quickly as the design is appealing and reminds people of the more famous Royal Oak.



Conclusion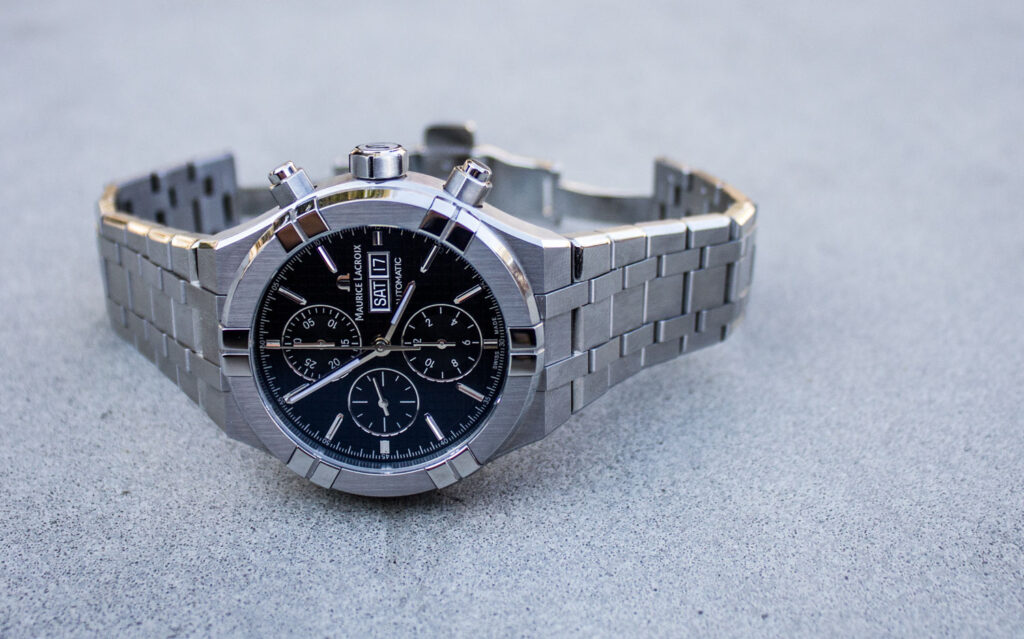 In today's online world, many brands continuously advertise luxury watches at a fraction of the price. This is of course not true luxury, and the irony is that they are often not bad watches. But Maurice Lacroix has undoubtedly managed to create a watch that truly feels luxurious, at a price that is very competitive.
I can only say this because I have held many watches at this price range and above, but if you are used very expensive watches, you will notice some very small flaws that is justified by the price tag.
The design is another story, as we all know that beauty lies in the eyes of the beholder. Maurice Lacroix has revived an old design of theirs and taken obvious elements of very popular watches and twisted them to make them unique. You can't blame them for not taking huge risks with a completely uninspired design, and with the sheer amount of watches that has ever been made, it is hard to not "copy" anyone.
The 2020 Maurice Lacroix Aikon Automatic Chronograph is truly an elegant, luxurious, sporty and slightly dressy watch that has a huge wrist presence, without being obscene. It compliments the finest suit and the coolest hoodie without pretending to be more than it is.
Simply put, this is a perfect watch for someone who wishes to buy their first luxury watch without breaking the bank. It's an attainable goal, but probably also a gateway watch to becoming a luxury watch addict 🙂 But if you are rich, don't hold back! This is a fun watch, no matter the number of digits on your bank account.



Frequently Asked Question
Is the Maurice Lacroix Aikon Automatic Chronograph worth the money?
Yes it is. The level of details, finishing and perfect machining makes this a watch that is definitely worth it's retail price.

When does it need a service?
The Valjoux 7750 requires a service every 5 to 7 years, depending on how often you wear the watch. It can go for much longer, but you risk damaging the movement beyond a simple service, and the overhauls can cost more than the service. Luckily, parts are cheap and easily available for this movement.
Can I leave the chronograph running for a long time?
Yes, but it will wear and tear faster and the time between overhauls will decrease if you leave it running 24/7. 
How do I maintain this watch?
If you don't wear the Maurice Lacroix Aikon Automatic Chronograph for longer periods of time, it is recommended to fully wind it once a month. Make sure you also run the chronograph once a month for at least and hour.
Is this watch comfortable?
Yes, it's extremely comfortable. The metal bracelet comes with half-links so you can always find your perfect fit. The leather bracelet might be harder to adjust perfectly, but you can always make another hole to find your perfect fit.