I recently reviewed the Turbion Carrerra Foundation and was pleasantly surprised. So when they asked to review their new Excellence collection, i was excited to test it and have a closer look.
Like their other collections, the Excellence takes departure in a classic Rolex design but then goes completely sideways in order to create something quite unique and fun.
I present to you, the Turbion Carerra Excellence.



Pros & Cons
Cons
Crown is hard to operate
Weak lume
Full Specs
Design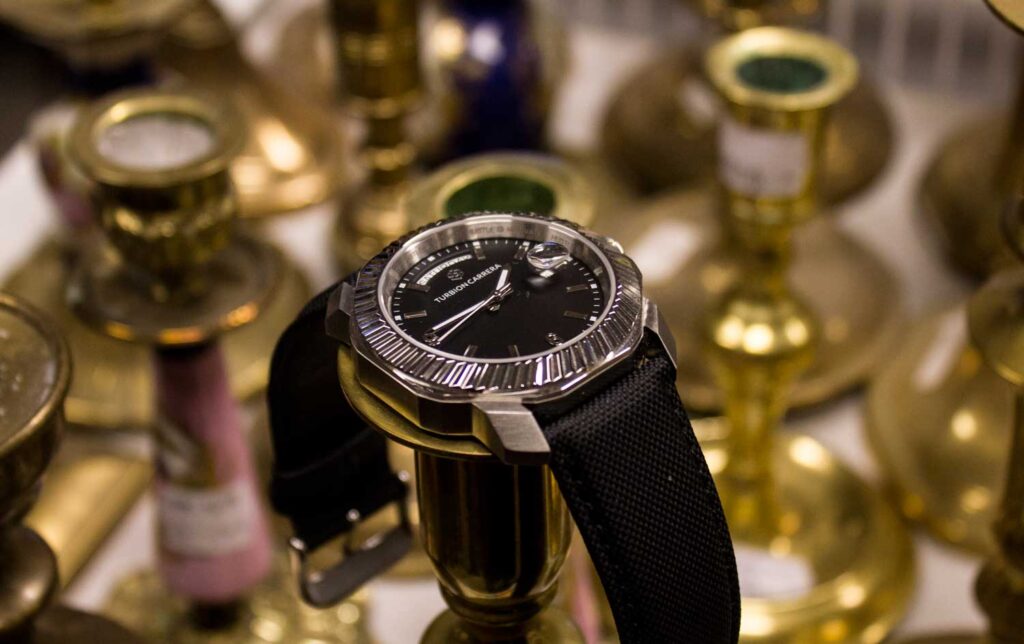 Turbion Carerra has a habit of taking base in hyped high-end watch designs, but then adding their own twist to them.
They are playing on those details to catch a broader audience, but even as a hardcore watch fanatic myself, i really do appreciate their watches for not simply being hommages.
There are many version of the Rolex Day-Date, but none with both batton indices and numbers. None with such a sporty squared case and crown and sharp edges.
Day-Date with a twist is actually a quite fitting description since the classic ridged bezel we know and love is twisted here, giving it a much different yet somewhat reckognizable look.
And the bezel really is the highlight of this watch.
The dial remains quite clean with only a logo and the brand name on it. I appreciate them not copying the printing layout of the famous Day-Date.
Ultimately, the Turbion Carerra Excellence is inspired by the Rolex Day-Date but has been reenvisioned to feel and look like its own watch with its own DNA. A sportier and more aggressive design, without a metal bracelet.



Quality

Packaging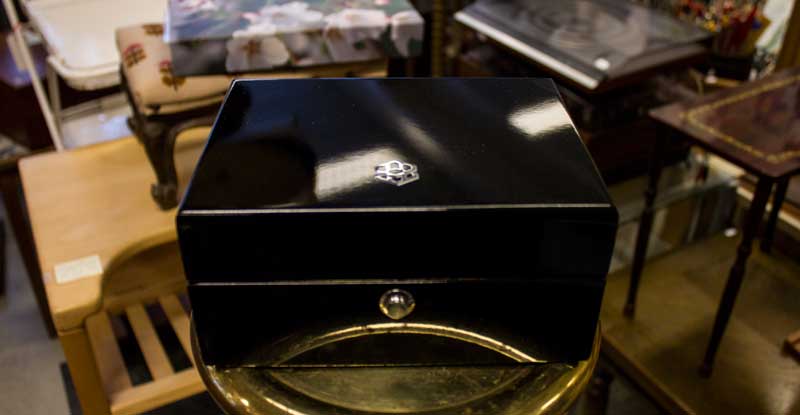 The box is way nicer than you would expect from a watch in this price range. Hard black lacquered box with nice interior and a golden button results in a box worth displaying anywhere in your house.



Case, Crystal & Crown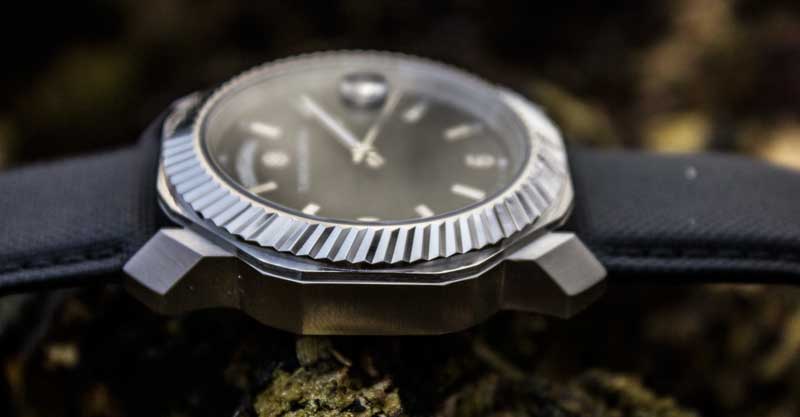 The showstopper of this watch is definitely the bezel, which they have pulled off just right for the price with nice crips angles and solid polished finishing.
The case is finished much rougher, which is not unheard of in this price range, but worth mentioning. It is however mostly hidden behind that lovely bezel.
The loupe on the crystal does its job, but the lack of AR coating can make it a bit hard in certain lights to see the date.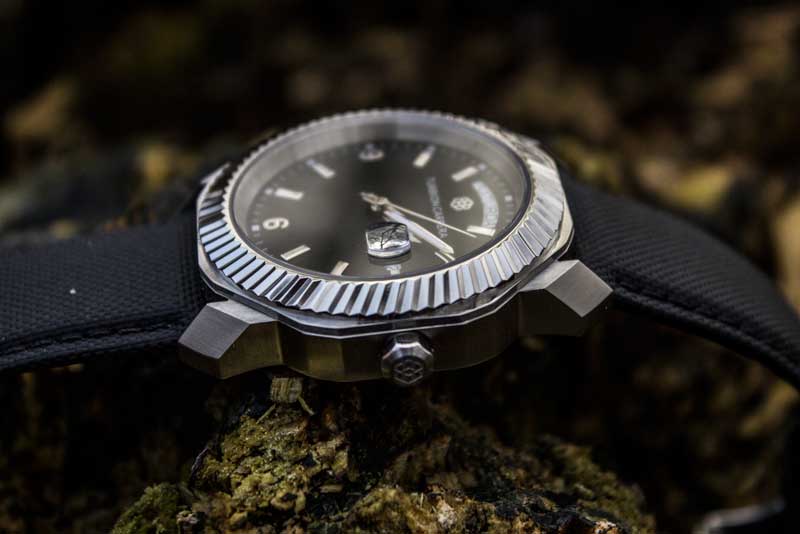 The crown is nicely finished but a bit too small in my taste. This is not a design flaw per say, it just makes it difficult to operate especially since i bite my nails vigorously. But for a normal person with actual nails, it should be less of a hassle.



Dial & hands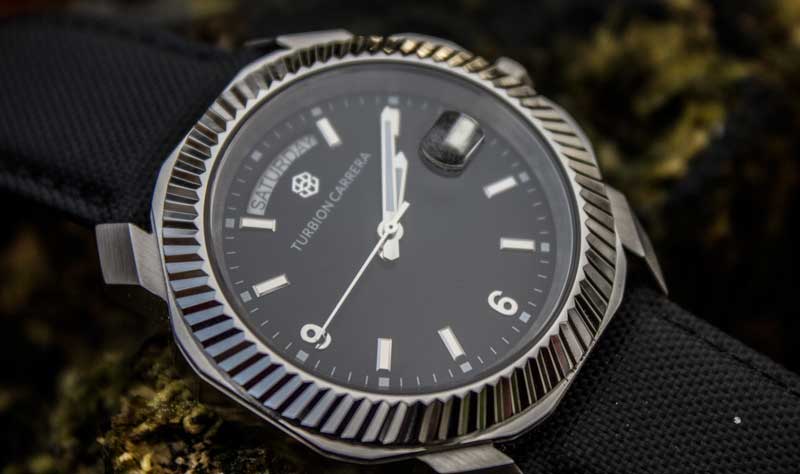 The dial is well executed, with everything aligned except perhaps a few dates that are not 100 percent centered, which is not unreasonable for this price range (and the fact it's a microbrand).
The base layer is a matt black, and the hands and indices are well polished with sharp angles and soft corners were needed. A stunner if you don't take a loupe up at it.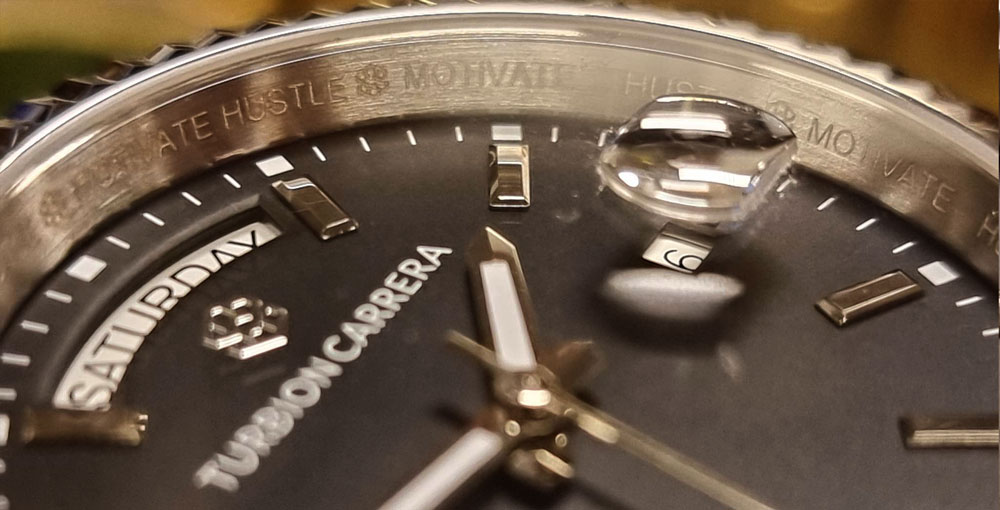 The rehaut (inside wall around the dial) is engraved with "hustle, motivation" which is quite fun and not noticeable unless you look for it. A fun little detail I kind of enjoy.
Overall, a solid looking dial that is finished well enough for the money



Lume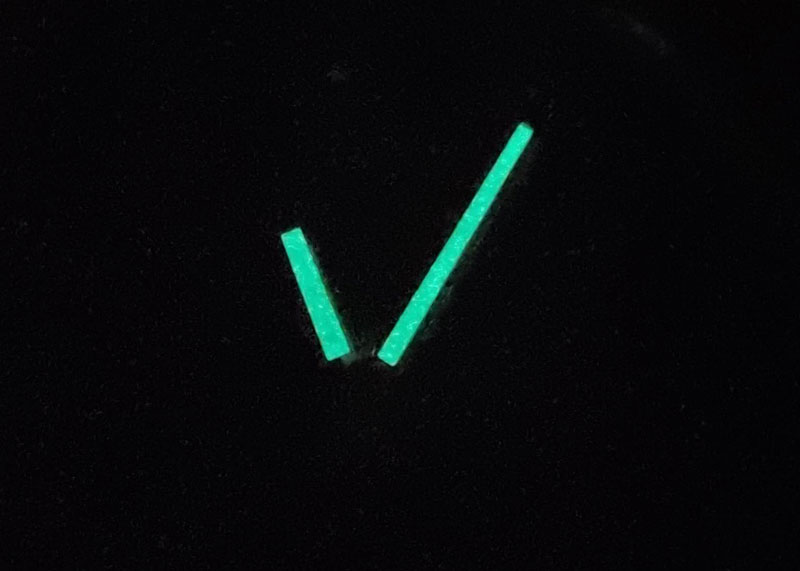 The lume on the watch hands is sadly very bad, although it looks clean in daylight (good application of a weak lume essentially). I don't require lume on these types of watches, but luckily it does serve another purpose here: it helps read the hands at a glance in daylight as there is a lot of polished metal already.



Strap & Buckle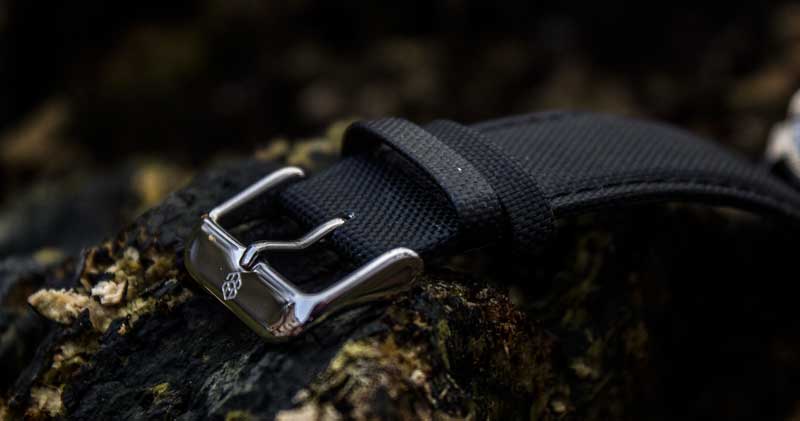 The strap is surprisingly well-made in this price range! The top is black woven canvas, while th underside is black genuine leather. This makes it very comfortable. It is also thick and well upholstered when compared to the height of the watch (Longines fx. makes tall watches with famously thin straps, which is just awful).
The buckle is a generic buckle, nothing special about it, but the awesome strap makes up for that.



Movement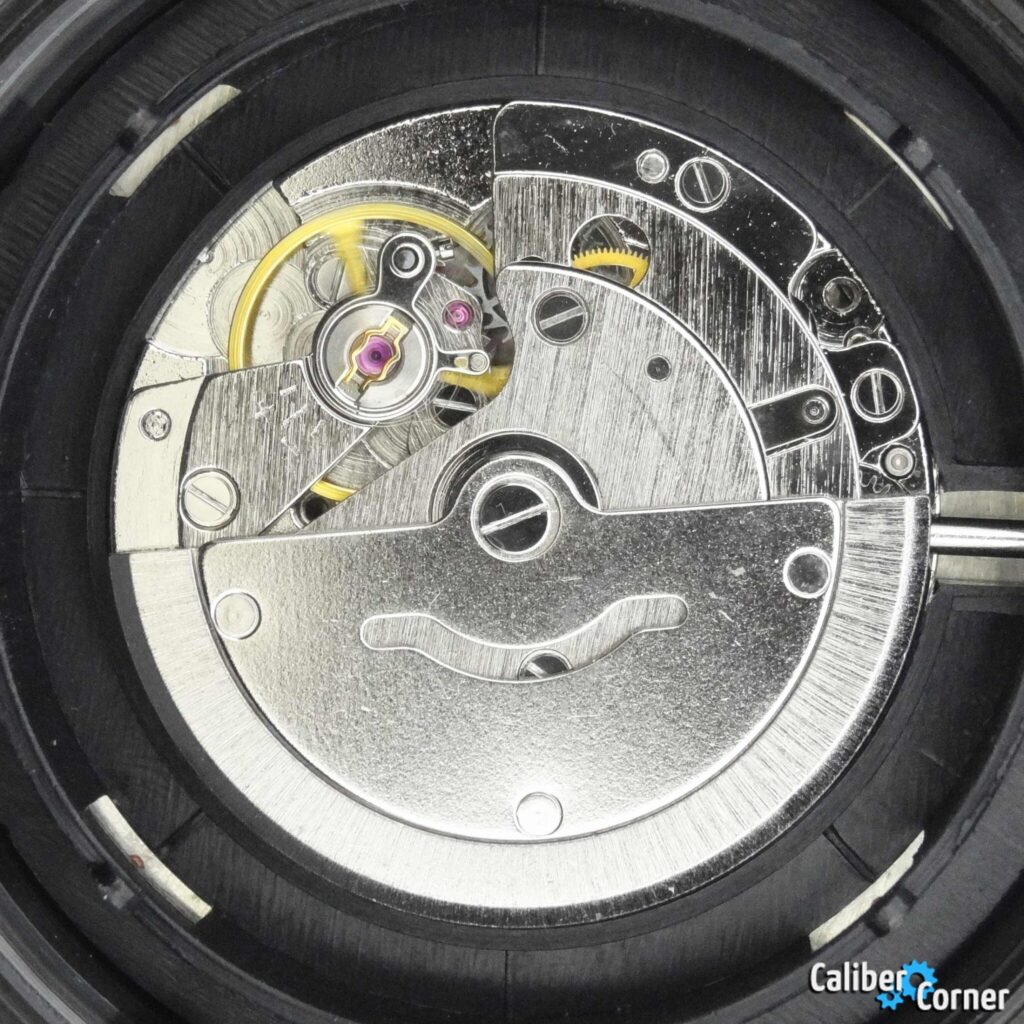 This watch is powered by a Seagull movement, which is made in china. These movements are actually far from bad, but it is all up to the European final inspection and quality assurance to determine if watches with these movements will live as long as other cheap movements.
When it comes to Turbion Carrerra, they offer a lifetime warranty on this watch for manufacturing defects, which is the most common issue with Seagull movements. So i would not be afraid to buy any of these watches.
Here is a nice Forum Thread for more info on this topic.



Quality – Summary
Overall, a well-built and finished watch for the money with some flaws that can be explained by its relatively low price.



On the wrist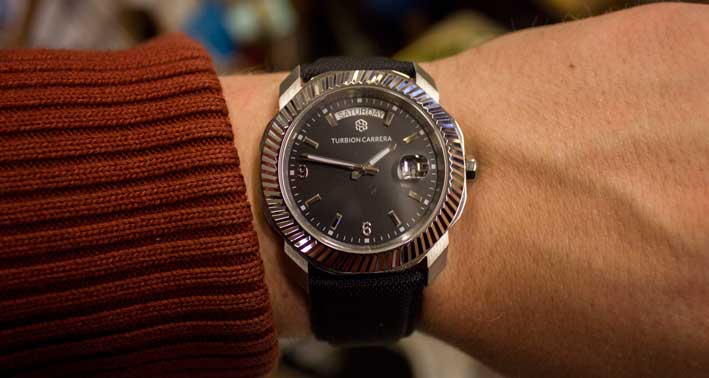 The Excellence is not a small watch with its 42mm width but manages to pull it off as a sporty dress watch thanks to it's slim 11.7mm height.
On my 17cm circumference wrist, this watch feels sporty and sits quite well. The strap's leather underbelly makes it comfortable to wear since the canvas never really works on the skin in my opinion.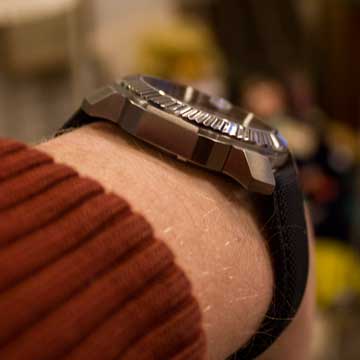 I can recommend this watch for wrists as small as 16 cm. Smaller than that and this watch might look a bit too big. For very large wrists, however, you will end up with a much more dressy watch feel and fit, which might work in your favor.



Conclusion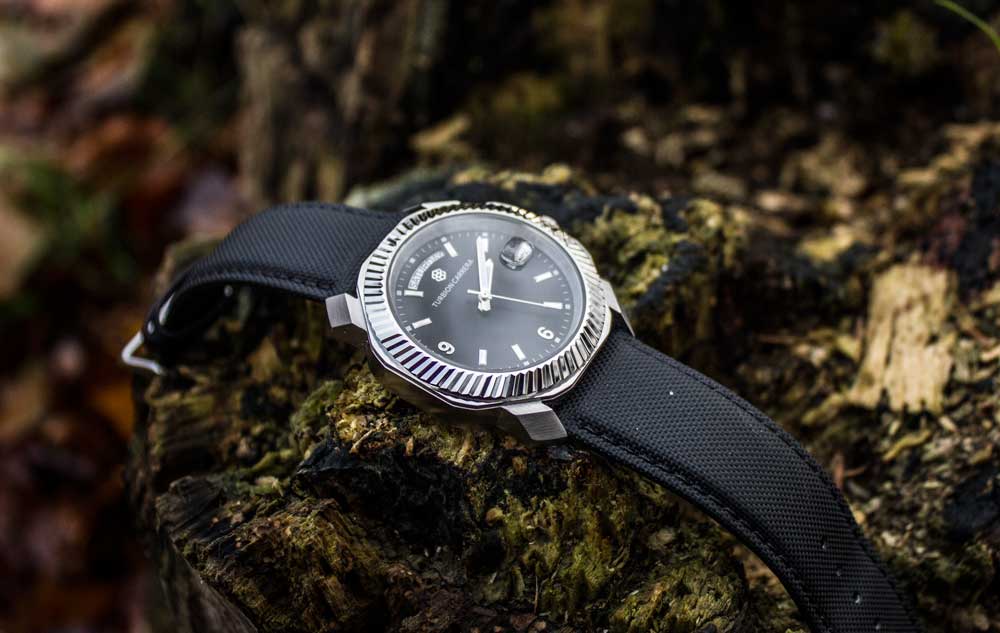 Turbion Carrera gets heavy inspiration from hyped luxury watch designs, yet manages to inject their own soul and designs into their watches.
The Excellence collection is no exception from this rule, with Day-Date inspiration but envisioned in a much more sporty and aggressive posture.
On top of that, you get a mechanical day-date complication, a nice dial with good enough finishing, a good strap, and the true showstopper which is the angled fluted bezel, for a fair price.