Turbion Carrera is a brand that somehow fell under my radar, even though i only get watch-related ads on all my online channels. But it is always a pleasure to discover new brands and browse through their offering.
But let's be honest. Turbion Carrera is definitely using very popular luxury watches as inspiration for their design language, resulting in a rather tasty mixture of a Rolex Day-Date and the distinctive design of the AP Royal Oak.
Other brands use the ever-popular octagonal bezel shape as well, namely D1 Milano, but Turbion Carrera adds a bit more flair to their design in my opinion. And i really like it, because, unlike the other similar watches, i have kept this in my collection.
I present to you, the Turbion Carerra Foundation Blue.


Pros and Cons
| | |
| --- | --- |
| Pros | Cons |
| Great finishing for the price | The loupe can reflect too much light |
| Stunning purple dial | The lume is not the best |
| Great clasp | |
| Great size and wearability | |

Packaging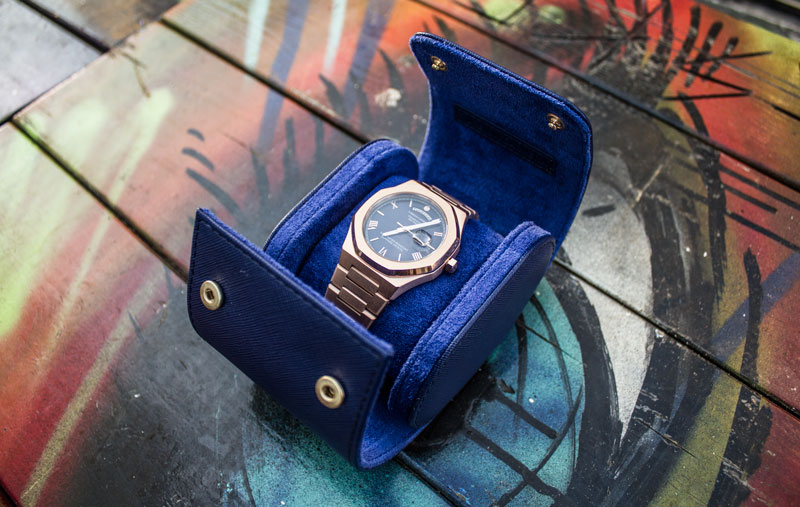 A very well-made watch travel box comes with this watch. It feels great and I will definitely use this for some of my other watches as well if I bring 2 watches out for traveling (one on my wrist, the other in a box).

It actually feels luxurious and better than some higher-end microbrand would like to give their customers.
Design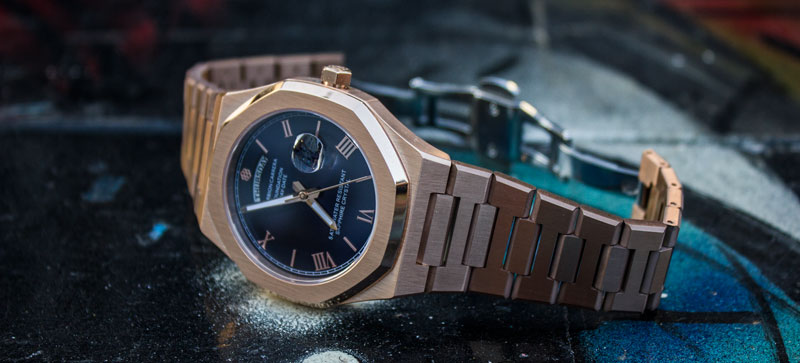 As mentioned in the preamble, this watch rides on the popularity of a few popular luxury watch designs.
The combination of a Rolex Day-Date dial and some AP Royal Oak design language is not something i would have ever thought of, but it works quite well!
I have always loved the octagonal bezel and the sporty flair of the Royal Oak, yet I also continuously fall in love with roman numerals and Cartier's designs. So this visual marriage is very pleasing to me, despite its obvious origins.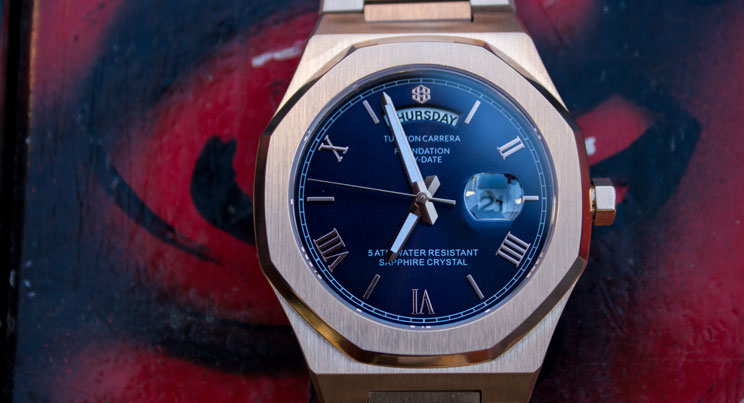 But looking away from the obvious, what remains is a very well executed purple dial that plays so well with the rose gold metal of the case and bracelet.
They state that the dial is blue, and in some light, it does seem that way. But the real showstopper is definitely its purple shine, which is seen 80% of the time.
All in all, despite some obvious design inspiration, I actually like this watch. There is no shame in taking from popular designs, even big established luxury watch brand does this more than we watch enthusiasts would like to admit.
As long as you package your design in quality, I'm down to wear it. And Turbion Carrera did.


Quality
So what do you get for 350 USD (331 EUR)? A quite well-made watch for the money.

Case and bracelet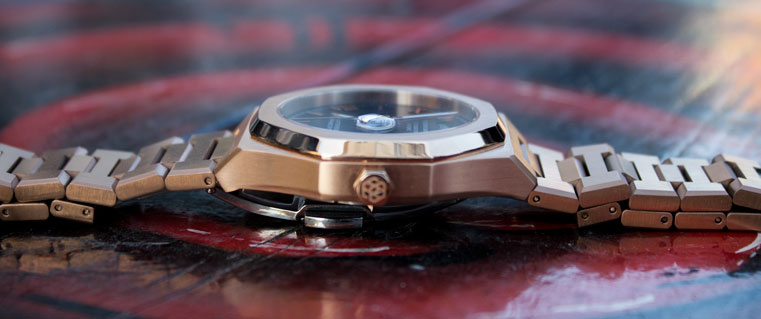 The case and bracelet are surprisingly well finished, a bit better than what I would expect for this price. The brushed finish is super crisp, with straight parallel lines, and plays super well with the light.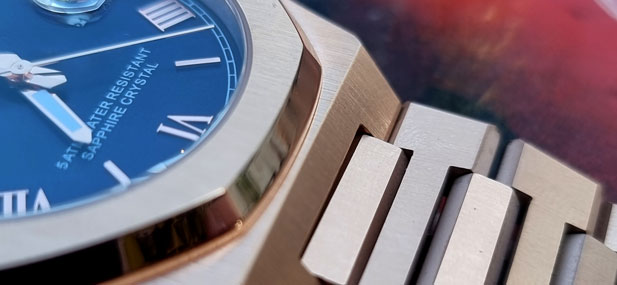 The machined angles are sharp, yet not too sharp, and rounded angles are used under the case and bracelet for comfort. And it works.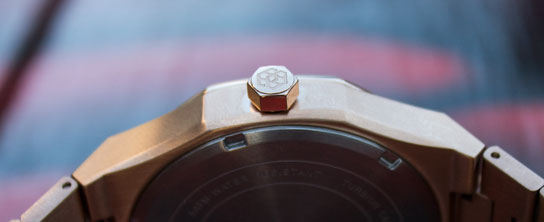 The polished surfaces are what you would expect from this price range, although the crown seems even crisper with its deep logo engraving and flat surfaces (which are easier to polish).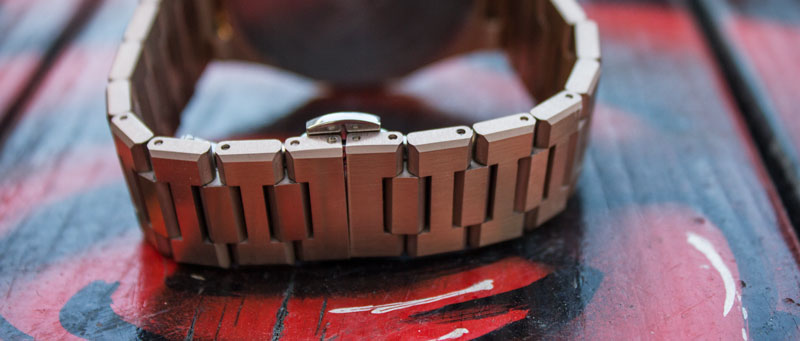 A well-executed beveled edge running down the sides of the bracelet also adds more flair to the overall aesthetic.

The clasp is a generic mass-produced double-fold butterfly clasp. But it isn't the cheapest you can get and the full polish treatment and the crips button action makes it a more than good clasp for this watch.

Dial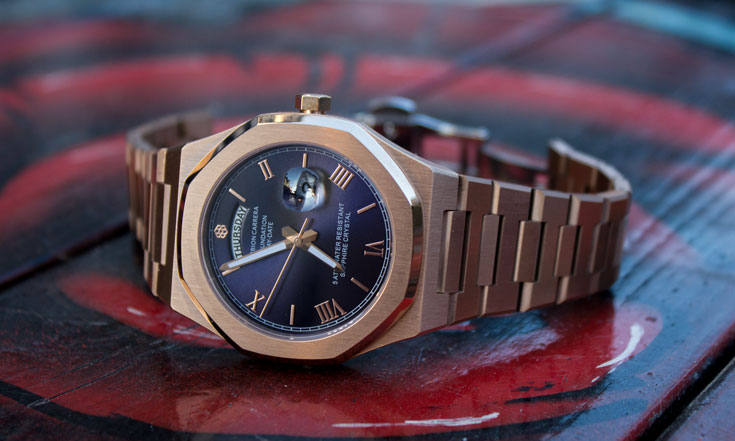 The dial is quite well-executed as well for this price range, but some small defects can be seen if you force yourself to look for them up close.
The purple sunburst dial looks stunning and comes with many faces, from very dark blue in some light to a stunning purple.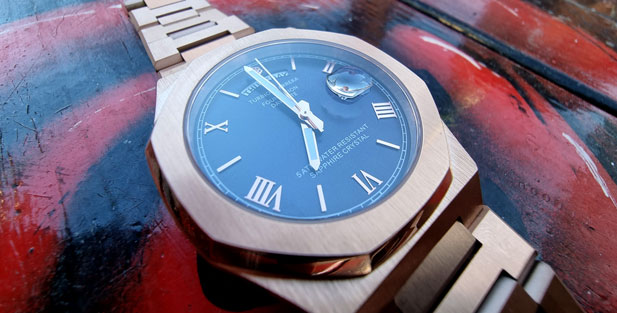 The day and date are well centered and the printing on those wheels is crips, like the rest of the dial.
I happy they went with applied Roman numeral markers that match the rose gold of the case. They look great and are usually harder to do than simple rectangular markers.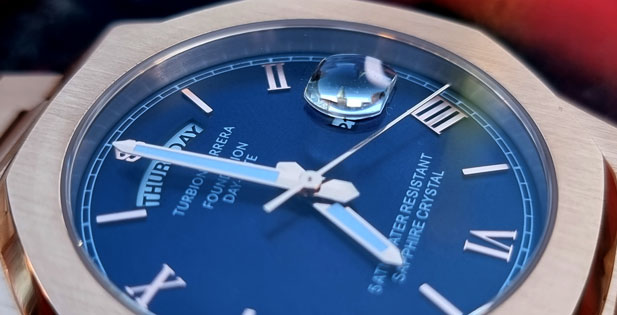 The hands are very sharply machined, with no dull edges and a nice flat mirror polish on each side of the double-edged sword shape. They are simply a delight to look at!
The only downside dial-wise is that the loupe on the crystal reflects a bit too much light, making it hard to read the date sometimes..


The movement
The fact that this model is powered by a quartz movement is actually a relief. For this price, one would put in a Miyota movement and hope it lasts for as long as possible. With the quartz option, I know I can keep this watch until my demise and be less afraid to go dancing in the club with it.
Having as many mechanical watches as I do also make this watch a quick out-the-door solution if I'm in a rush.
My only gripe with this solution is that the second hand is not aligned with the minute and hours markers. But considering how difficult that actually is to achieve, no one can expect that from a watch with this price tag.


On the wrist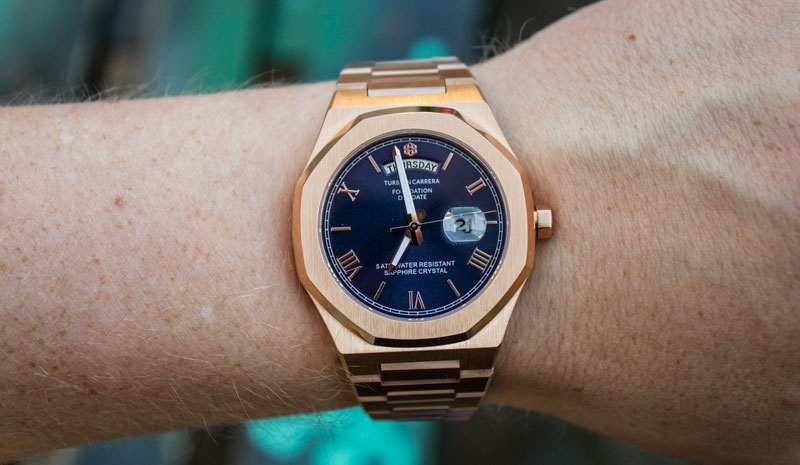 Because of the quartz movement inside it, the Turbion Carerra Foundation is quite slender vertically. That makes it less top-heavy and much more comfortable and "classy".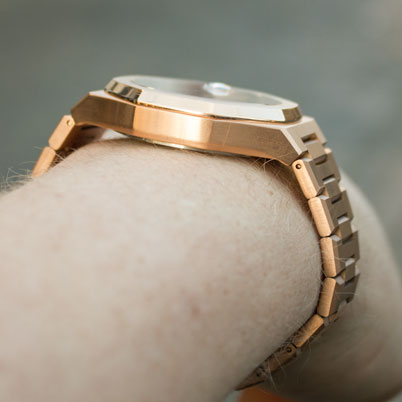 On my 17cm wrists, this watch has the perfect size where sporty and modern dress watch meets. It has a good wrist presence but is far from being an oversized sports watch.
Essentially, the bigger your wrists are, the more dressy this watch will look, and vice versa.
Ergonomically, the watch does sometimes pinch a hair or two, but rarely. The solid clasp buttons make sure this watch never pops open (and I have partied with it a lot already, giving it the old Hype & Style test).


Conclusion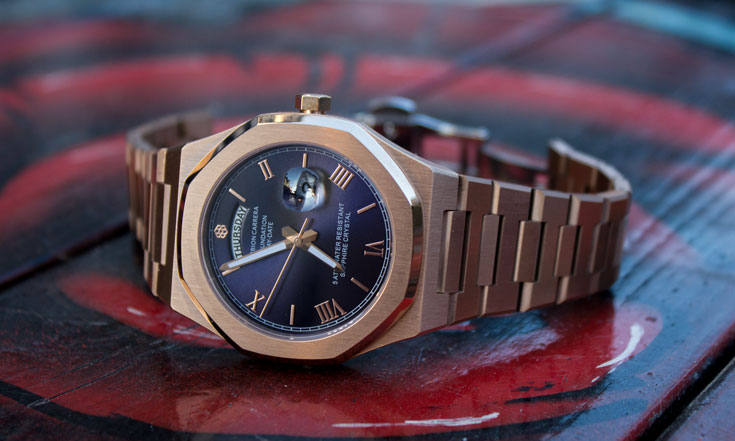 Turbion Carrera is definitely riding the waves of luxury watches and their popularity on social media, using design elements that mimick these watches. However, they are not cheaply putting together a fashion watch surrounded by branding but offer a well-executed quality watch if we take into account the price (and we always should).
The Foundation Blue is simply a fund, sporty yet somehow elegant watch with a fun and stunning purple dial that just keeps surprising me. If you like the design of their watches, you won't be disappointed, just get one.