Tufina Watches is a watch brand that seems to have split reviews and opinions online. But behind the brand, there seems to be a sincere love for watches and an honest history.
I am here to set the record straight and review one of their watches for the watch it is, and the price they are asking. Nothing more, nothing less.
I present to you the Tufina Theorema St. Petersburg
Disclaimer : This watch was sent to me for free for this review.


Pros & Cons
Specs
Reference: GM-121-5
Case material: Stainless steel rose plated 5 microns (316L)
Special features: Incabloc-type shock protection
Movement: In-house automatic
VPH: 21,600
Lens: Sapphire Coated
Clasp/Buckle: Standard clasp
Band: Genuine cow leather band
Included: Original Theorema box with Booklet & warranty card
Warranty: 2-year warranty
Water-Resistant: 3 ATM
Brand: Theorema
Manufactured: Made in Germany
Design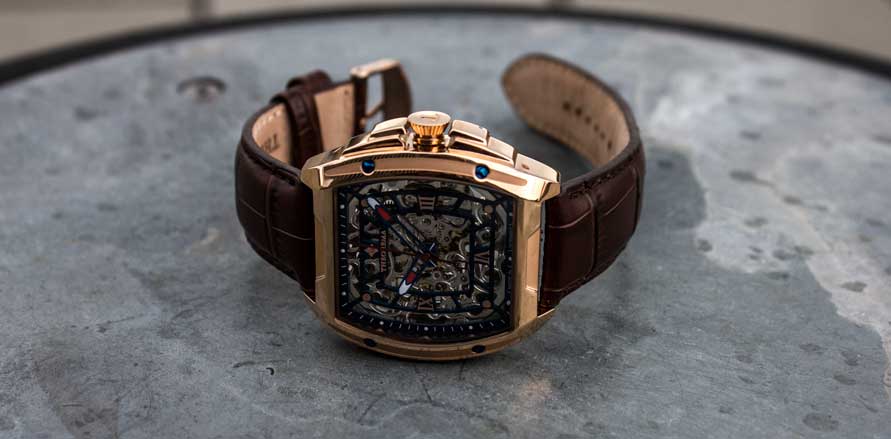 The overall design of this watch is sports/dressy weighing right in the middle of both with fully polished rose gold yet colorful and sharp hands and a sporty case shape.
The recently re-popularized Richard Mille case shape is where this watch is taking inspiration from.
The hands also seem to have taken some inspiration from Richard mille with their sharp sword shape and colored tips. But this case has more notches and beat-blasted areas, giving it a different feel and some depth.
Even the skeletonized dials is usually part of Richard Mille's MO, but that is where the similarities end.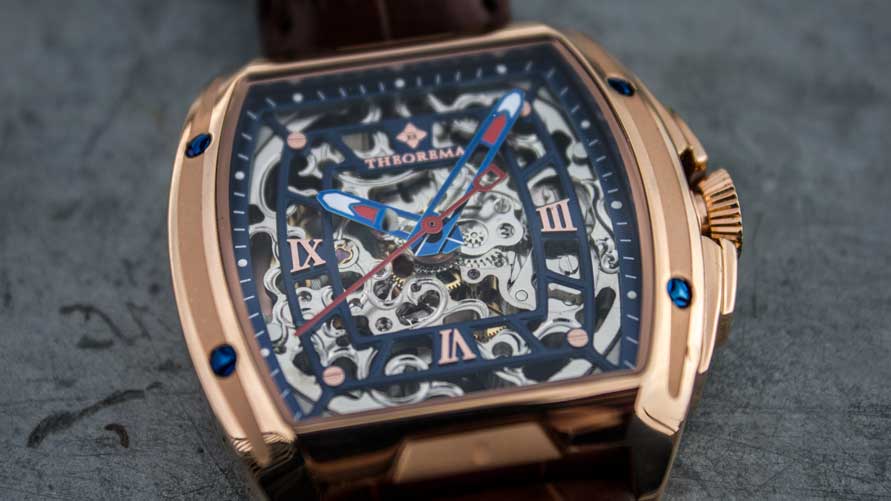 The skeletonized movement and rotor is classically decorated with rounded engraving called intaglio or incised engraving, where the form is normally cut into the metal using a burin, but seems machined here.
The dial on this specific model is easy to read, as the background is metal and the base is dark blue. The white and red tips on the hands help further with reading the time at a glance.
The Roman numerals on the dial are a good choice and really help blend in the dressy and sporty styles into one watch.
The dial is very busy, but i do enjoy looking at the different elements and getting lost in it, just like on my Seiko Flightmaster.
Overall, this model is my favorite of the St. Petersburg collection as i love the mix of rose gold and blue tones. The watch plays well with both its dressy feel and sporty look, making it an interesting design i can appreciate with casual clothing, but it might be too big to wear with a suit, in my opinion.



Quality
Case & Crown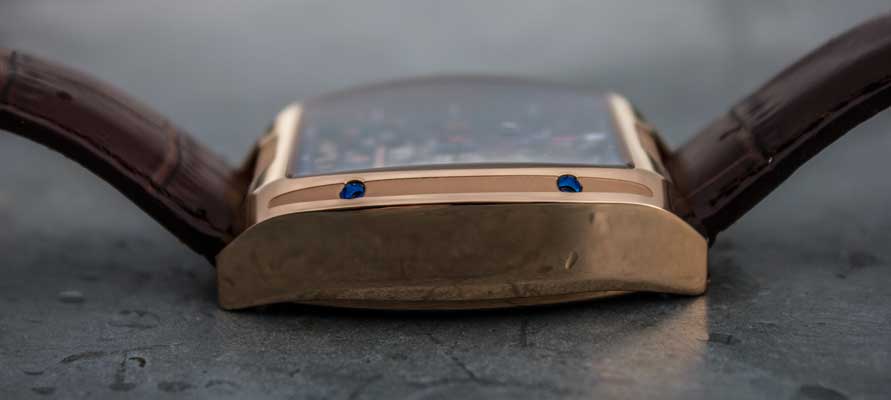 The case seems mostly machine polished yet the polished effect is quite good, leaving me admiring the case and the reflections it produces.
There is no sharp edges in this case, which is good, but those same edges are also a bit dull, which is to be expected from machine polishing and the price point.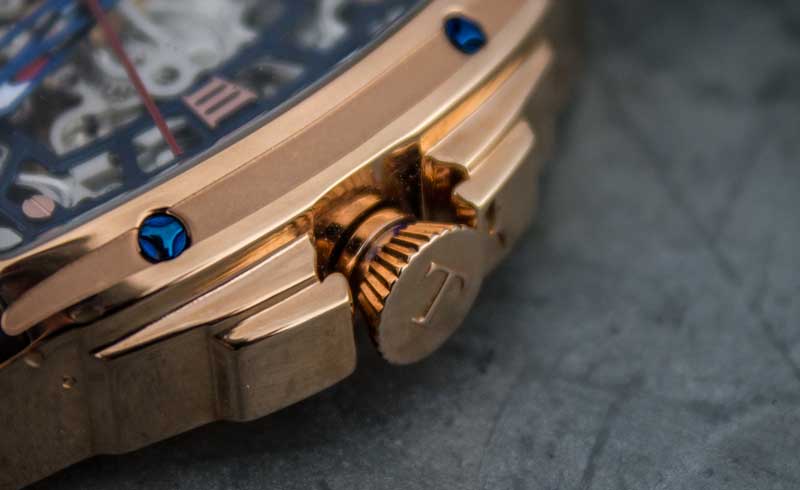 The crown is easy to grip, is well-finished, and produces a nice solid click when pulled out. It is a pleasure to manually wind or set the time.
Overall, i am quite satisfied with the case and crown.


Dial & Hands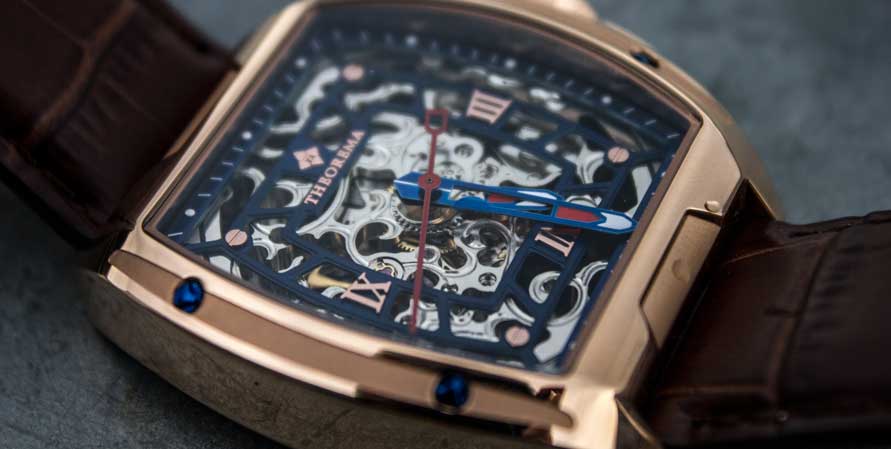 The dial, or what little is left above the movement, has a dark blue color and a matt bead-blasted finish. The raised Roman numeral and 4 screws are sharp and have the same finish as the dial.
The chapter ring has white printed minute markers and lume dots every 5 minutes. Some of the dots have minor print mistakes worth mentioning, but not really visible at a normal time-telling distance on the wrist.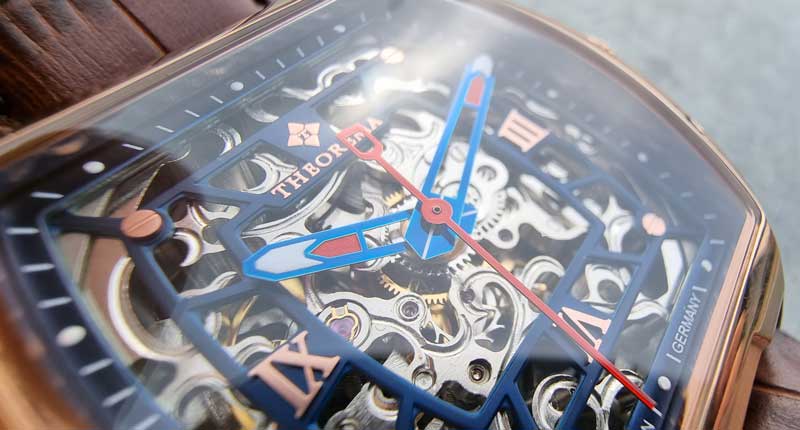 The hands are not heat-blued, but rather painted, giving them a very glossy look and light blue hue in bright light. The same goes for the second hand. I have seen better hand finishing in this price range, but also a lot worse.
However, the red and white paint on the hands is well applied, with crisp edges and a good texture.
The movement is the final layer, and although it is machine engraved and polished, it looks pretty good on the wrist at a normal distance.


Strap & Buckle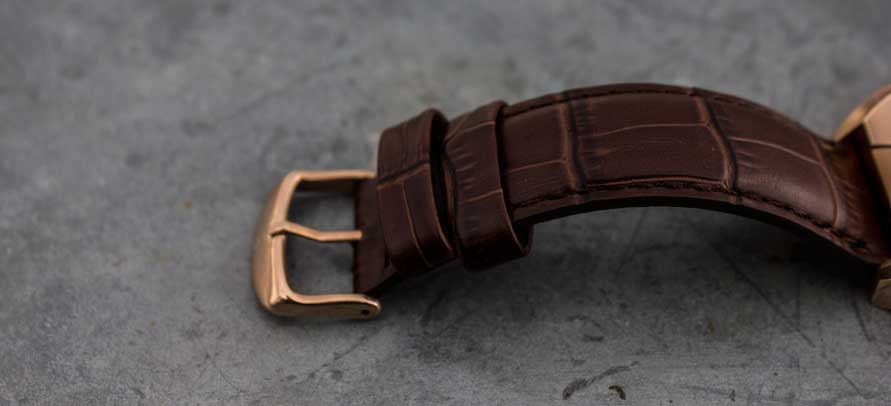 The strap has its good and mad moments.
On one hand, the strap is nicely padded and the fake crocodile pattern is thick and deep. The feel and look is just right for this price range.
The downside with the strap is that it's very rigid and needs a proper bending before being worn, and is preferably work loose.
The buckle is a simple generic buckle, nothing special but nothing out of the ordinary for this price range.


Lume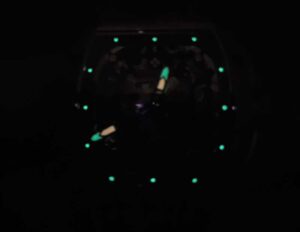 The lume is quite cool with a mix of green and orange colors. It is not very potent and i have seen better lume on watches in this price range, but the fact it has some is still nice and fun to make glow under a bright lamp.


Movement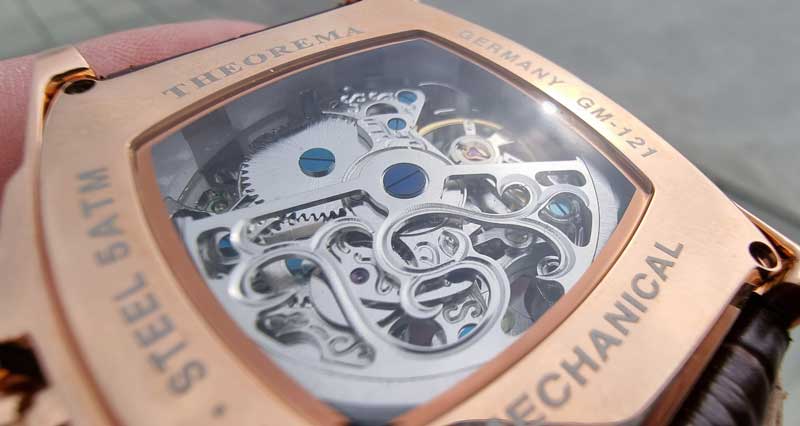 I have handled similar movements to these in the past, and they hold up quite well, although accuracy is not its forte. The movement has Asian-parts and is hand-assembled in Germany where testing is done and all the Made in Germany qualifications are applied according to the EU laws.
Asian parts do not necessarily mean bad quality, as i have owned a Seagull Chronograph for years and i have heard many accounts of people enjoying their Thomas Earnshaw or other brands with Asian parts for years.
This specific watch actually holds time pretty well, within the same tolerance as a SEIKO NH35 or better and showed a +/- 7 to 10 seconds a day.
Since there is a warranty on these watches, I wouldn't worry too much about these movements.


Price
Tufina watches, and specifically, the St. Petersburg sits in the middle of the Price/Quality scale. Many of the elements of the watch are custom and the movement is finished, albite it being machine finished. This is based of the current price of 369 USD.
If you like this kind of design with skeleton engraved movements, Tufina is a good place to look. In the grand world of microbrand watches, there is plenty of worse deals and better deals


.
On the wrist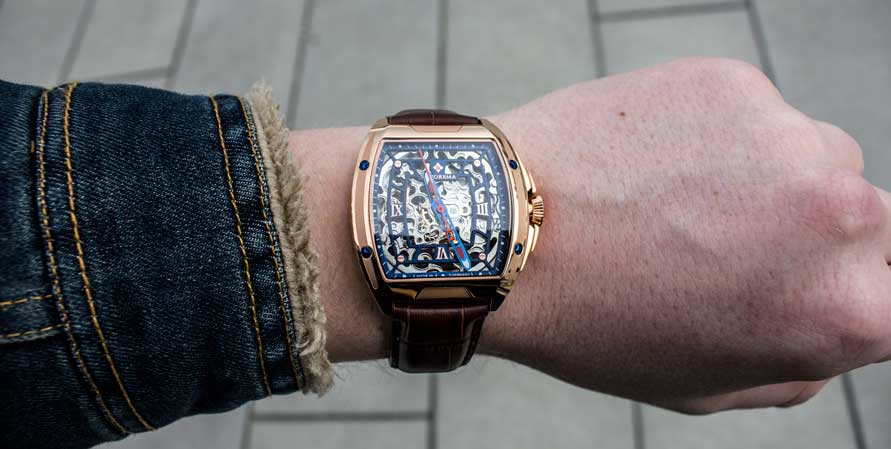 Even though the watch is tall, it sits quite well on my 17cm circumference wrist. The case shape helps and the thick strap is also proportional, making it look natural on the wrist.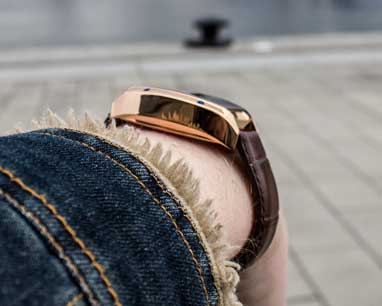 The watch is also extremely light, which helps with comfort and makes up a lot for the stiff strap.



Conclusion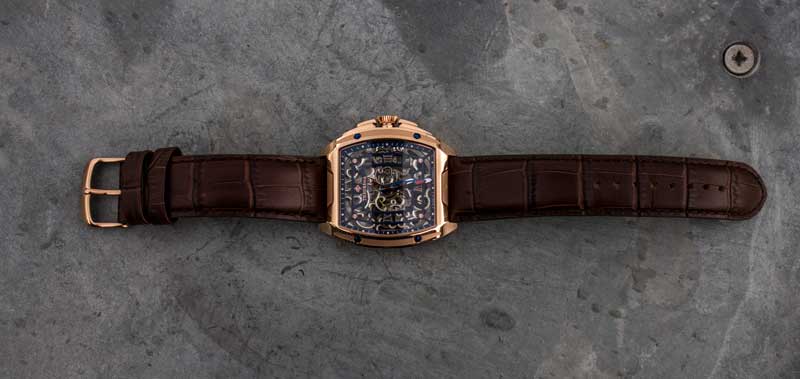 Tufina watches have some audacious designs and skeleton engraved movements at a reasonable price.
The St. Petersburg is a good blend of sporty and dressy, with just the right amount of colors and polished rose gold colored metal. It's fun to wear and keeps you staring at the all movement and static parts of the visible movement.
Quality-wise, for the price tag is not a bad option if you like his type of design. In conclusion if you like these types of skeleton mechanical designs, Tufina is a solid choice.