RZE is one of the recent microbrands that every watch lover should be following closely. Not only do they have a cool line-up of watches, great designs, and very fair prices, but they also keep you at the edge of your seat.
They release new watches relatively fast, and I am always excited when I see an RZE newsletter in my inbox. So I was naturally curious when i heard they were making a pilot's watch, but what they came out with is something i never expected to see.
Their newest release is a step up for the brand and a risky move, with a higher price that luckily reflects its cool specs and better finishing. But let's take a closer look at this watch and see whether is worth its price.
I present to you, the RZE Fortitude.
Pros and cons
| | |
| --- | --- |
| PROS | CONS |
| Full titanium means ultra-light | To the expensive side for watches with an NH35A movement |
| Scratch resistance coating | No quick micro-adjustments on the clasp |
| Cool bezel design | |
| Full lumed dial (for this model) | |
| VERY easy to read the time | |
| Antimagnetic case | |

Wrist Video
Design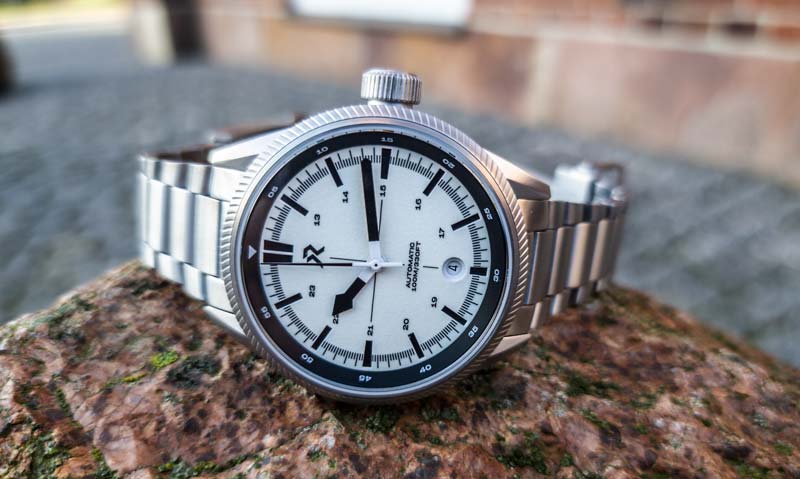 One good thing that RZE is nailing is their design consistency, which is constant across their models (so far) while still releasing cool and different colorways.
This model is still the rugged, masculine tool watch that I want to see from RZE, but with a bit more flair thanks to the use of satin finish for the first time on any of their watches.
But at first glance the design doesn't scream "pilot's watch" and that is probably due to the fact that it was designed with a purpose in mind and not to honor the vintage pilot's watches.
A good example is my favorite pilot's watch, the Breitling Navitimer, which is far from a tool watch these days, although its design comes from necessity more than style.
And that's fine by me, except that for my trained eye I can still the big crown reference and the centered hour indicators as being true to some pilot heritage.
We still see the not-so-subtle love for textured matt dials appear on this watch again, and a willingness to set it apart from their other models.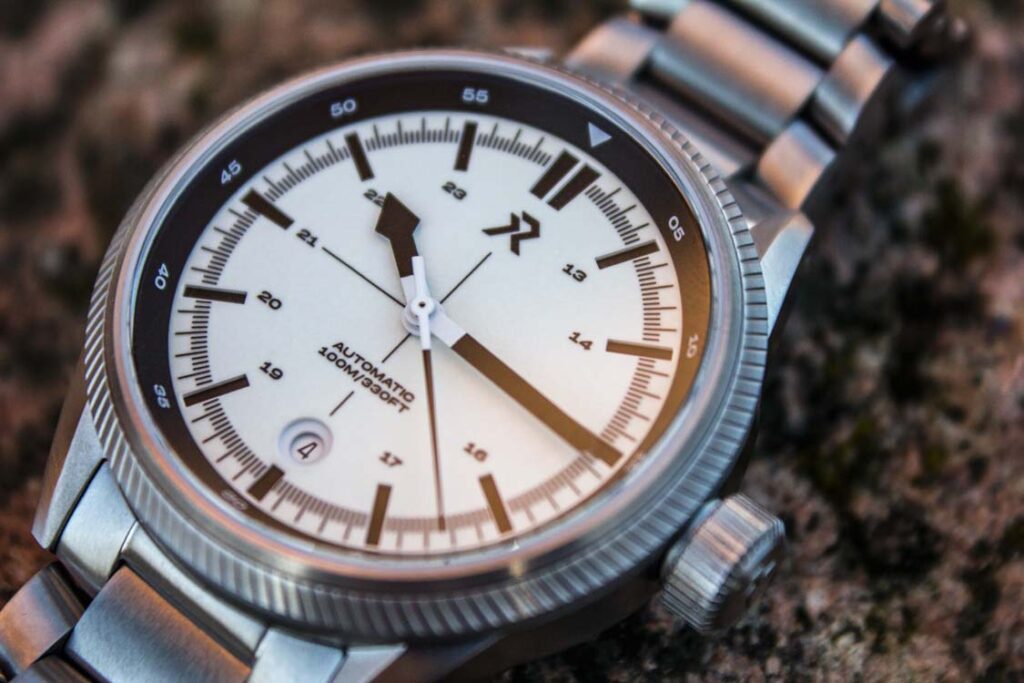 Here are the design details that really stood out for me and made me want this watch in my collection :
The jagged cut bezel, which is something i rarely see and reminds a lot of the Oris Pro Pilot X series, which is also a rugged pilot tool watch.

The use of PM hours indicators near the center of the dial (their placements are consistent with some vintage pilot's watches by-the-way). I don't recall ever seeing that on a watch!

The double stepped date aperture is just some great attention to detail and really adds to the watch.

The red on the crown stem, reminding you to close the crown and inspired by the "remove before flight" tags. The "red you're dead" functionality is not something new (Jaeger Lecoultre and Omega have done it and many more), but is something i rarely see on microbrand watches in this price range. It's a fun detail that remains a secret between the owner and the watch.

Using a sandwich dial give them an easier way of applying a lot of lume to the hours indices, thus moving more budget into other elements of the watch. It also creates an imposing dial with more depth. I Cant't wait to do a lume shot with this watch !

The sharp thin lugs reminds me of mahy vintage watches, noticably the Breitling Navitimer, the most famous pilot watch of all time!
Unfortunately, I wasn't provided with pictures of the backside of the case, nor the clasp, so you will have to wait until I get the watch to hear my opinion on those.


Quality
Overall, the quality of this watch is what you should expect from a watch in this price range. The real step up from RZE's previous watches is the bracelet and the brushed finishing.

Build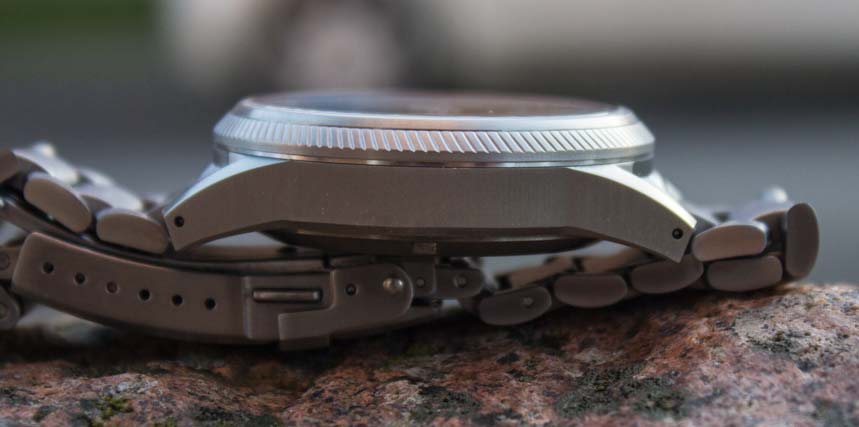 The is very solid and in some points even better than what the price of the watch would suggest.
The machining of all the pieces is good, especially the crown and its "teeth", giving it a great grip under my fingers.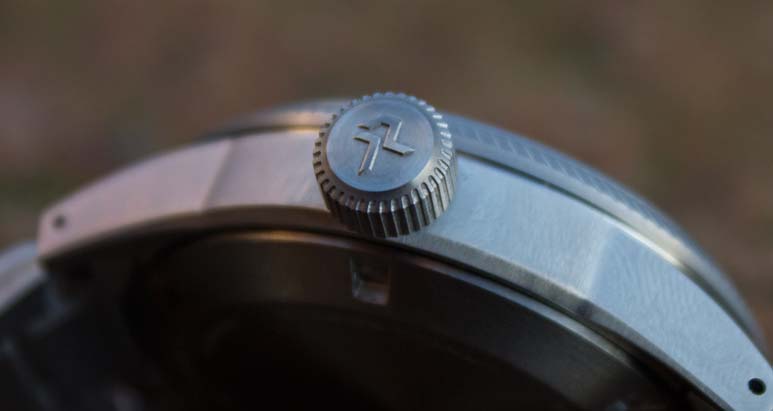 The crown has an even threading and a slightly crunchy feel that is expected on these watches. Unscrewed, the crown still feels solid with zero play and wobble.
The red metal pipe that serves as a warning is another cool element that is a testament to the attention they put into building this watch.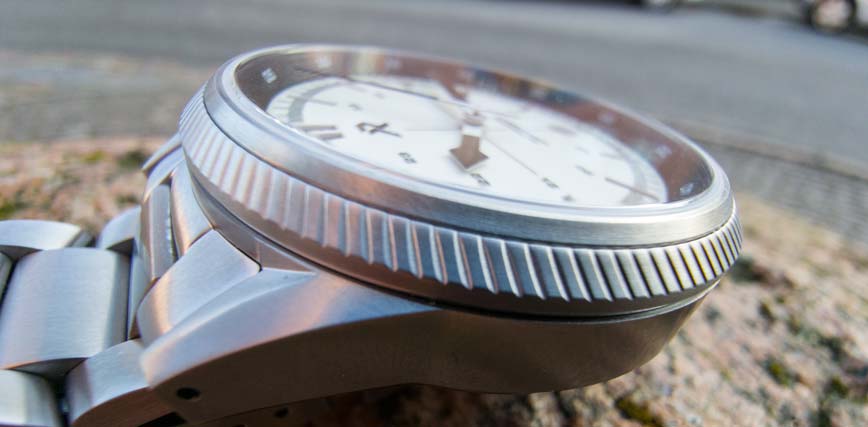 The bezel pattern is also well made, although not as sharp as on the much higher prices Oris Pro Pilot X (which was the only other watch I could remember with this kind of bezel).
The end links have zero play in them and sit nicely in the middle of the lugs, which is not always the case with watches in this price range.

Finishing
The brushed finish of the watch is rather good, with very fine lines that almost give the impression of a fine matt texture.
Then we have the Ultrahex coating over it that gives this watch scratch resistance of up to 1200 Vickers (read about the Vickers scale here).

The dial and hands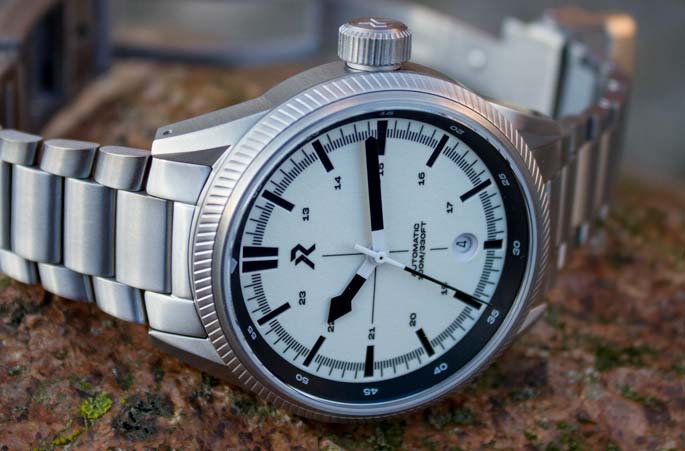 Everything on the dial is perfectly aligned, even the date at 6 o'clock.
Some of the printing does have a grainy border, due to the dial base being fully lumed which gives a grainy texture, but the color is very dark and everything is easy to read.
What really impressed me with this dial and the hands is how strong the contrast is. The black on the RZE website picture does not give this watch justice.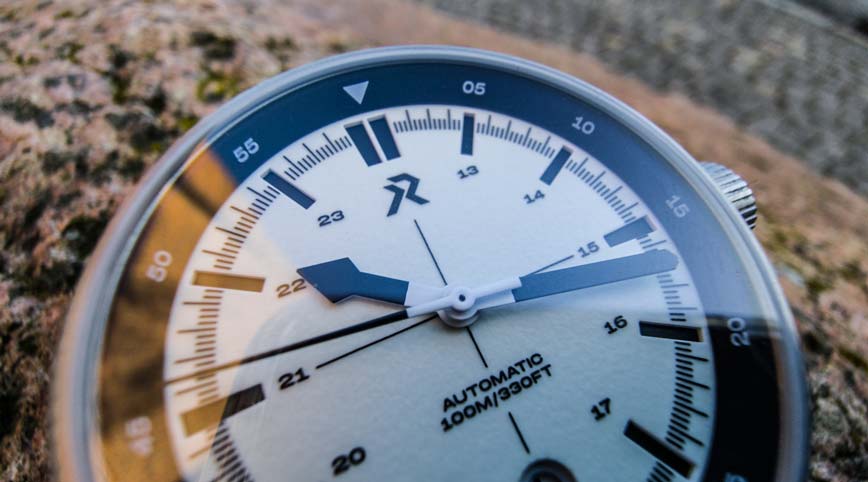 The matt black on the hands and the hour's indices look completely black in most light, almost like it was drawn. This effect is great and makes this watch the easiest to read of all of my watches.
The printing on the rehaut could use an extra layer of white paint, as it does seem dimmer than the rest and leaves less contrast (especially the triangle at 12). But perhaps this was on purpose

The lume
The lume deserves its own titled paragraph for this watch, being my first fully lumed dial that I review on this blog. And boy is it good!
Any sunlight will charge this dial-up really quickly, and it won't be very bright, but it makes the watch readable in the dark overnight, which is the point. I have seen stronger lumed dials, but this definitely serves its purpose.
The lume on all the Fortitude models is BWG9, which delights the eyes with a blue light. There is a slightly grainy texture that is more visible in the dark, but this is to be expected for this price range.

The bracelet and clasp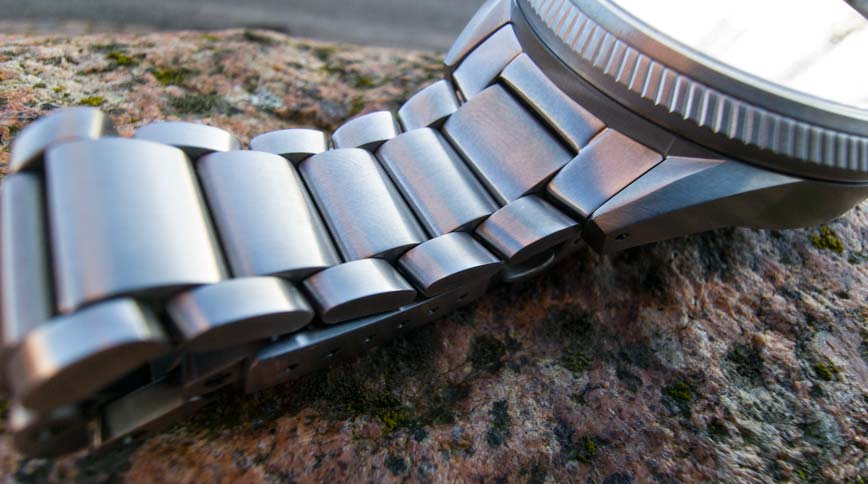 The bracelet is really cool looking and pretty well made for the price, especially the finish. It rattles a bit and has some play, but nothing unexpected.
The edges could be a bit better finished because they are a bit sharp, but I rarely feel this on the wrist.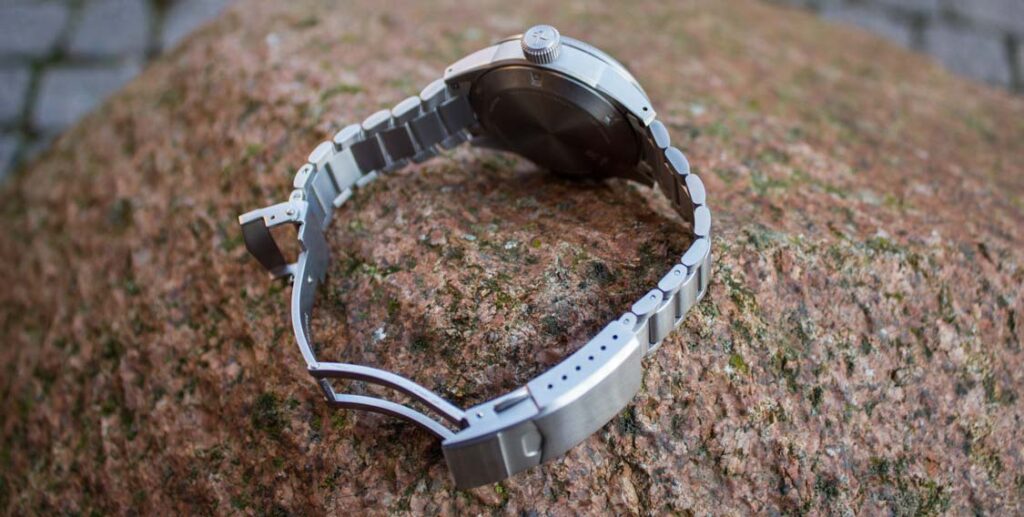 The clasp is a big upgrade from their other watches. It is solid and machined and doesn't look or feel stamped like many Seiko clasps in this price range. It has a solid click feel and sound when locking it, and the clam lock locks in nice and tight.


On the wrist
The 41mm case size sits comfortably on my 17cm wrist and doesn't look too big or too small. This watch will basically fit every wrist, except the extremely small or large ones.
The 12.5mm thickness makes this a sporty but not gaudy watch to wear and the big crown is far from "wrong", although it does add visual weight to the front of the wrist.


Specs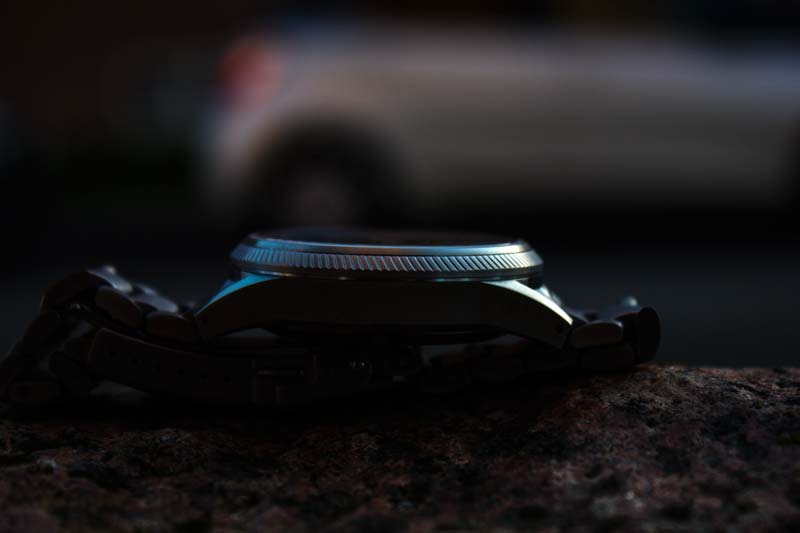 As with all their previous watches, RZE does not joke around with their specs. They offer you as much as they can squeeze out of the watch's price.
The good old UltraHex coating allows for less apparent hairlines (mine are still in mint condition btw, being worn at the office and at parties) and my favorite lume paint is still present for the long dark danish winter months.
But the big upgrade with this collection is the Anti Magnetic watch case! This is definitely a cool spec, and rarely seen on watches in this price range ! For comparison, try to get a Rolex Milgauss or an Omega Railmaster.
I am also very curious to see if they have upgraded their AR coating since it is even more important for pilots.
Here are the official specs :
Case: Solid Grade 2 Titanium with UltraHex Coating(up to ~1200Hv hardness)
Anti-magnetic case with protection up to 20,000A/m
Case Size: 41mm
Case Thickness: 12.45mm
Lug size: 20mm
Lug to lug: 48mm
Movement: NH35A Automatic Movement
Water Resistance: 100m (330ft) / 10ATM
Crown: Screw-down crown with custom reverse engraved logo
Dial: Sand textured sandwich dials with applied indexes filled with Grade A BGW9 Swiss Super-luminova (my favourite)
Hands: Custom-made hands with Grade A BGW9 Swiss Super-luminova
Lens: Sapphire Crystal with inner-side Super-AR
Strap: Titanium bracelet with stainless steel buckle with UltraHex Coating
Case Back: Screw-down solid titanium caseback with VITON® gasket


Conclusion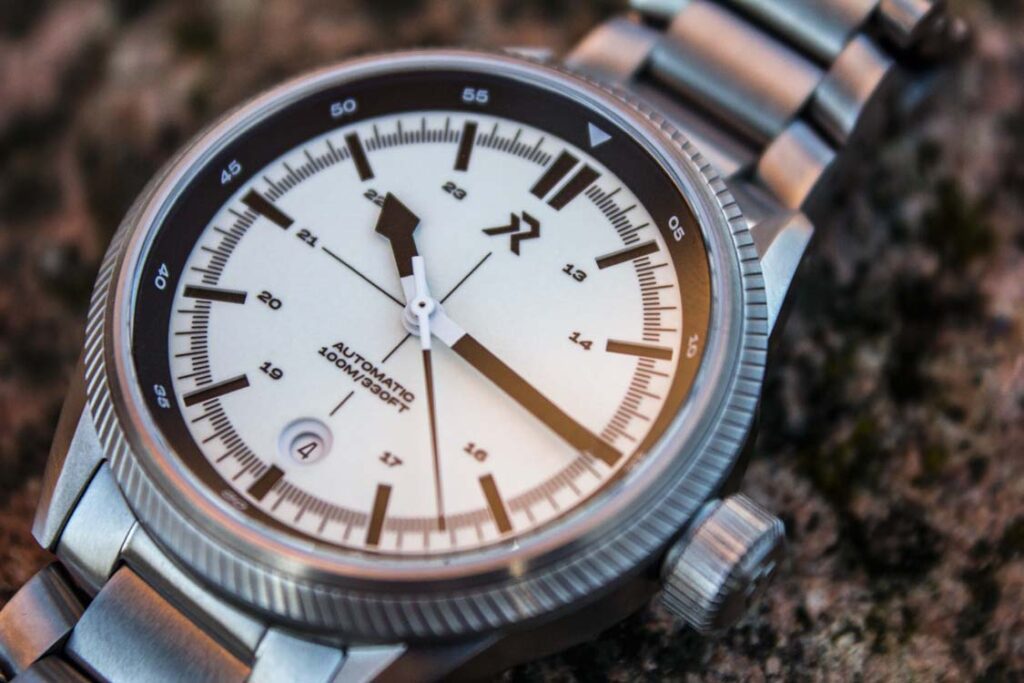 RZE continues to impress me with their new releases of cool spec-loaded tool watches. The RZE fortitude is definitely among my favorite releases of 2021 and worth every penny and I can't wait to play around with nato straps on this watch.
I believe RZE has found their ever-growing niche of watch nerds on a budget and will continue to satisfy us until the end of time (pun intended). But the brand is also highly prone to enter the mainstream market thanks to its attractive looks.
Yet somehow with this strong identity, my curious mind would love to see how RZE would handle a dress watch. Maybe one day?