(3.5 / 5)
---
I have recently been doing a lot more watch reviews, and there are many more to come. I have been bitten by the watch bug and starting to collect watches is one of the most fun things i have collected in my short lifetime. I highly recommend it and you don't have to start with very expensive watches.
My only dress watch for a long time was a vintage Omega De Ville F300, which i sold because the date didn't work. But now my newest dress watch comes from DUFA (deutsche-uhrenfabrik) and i have to say i am very pleased with this watch.
So here is my review of the newly released DUFA WEIMAR MÖLLER EDITION 9026
Table of Contents
DUFA is not a new smart watch brand! They have been around since 1920 and was founded in Leipzig, Germany by the famed the Etzold & Popitz watch and clock factory. Their design takes obvious inspiration from the Bauhaus design movement and strenghtens the stereotype of the german precision and effeciency.
First impressions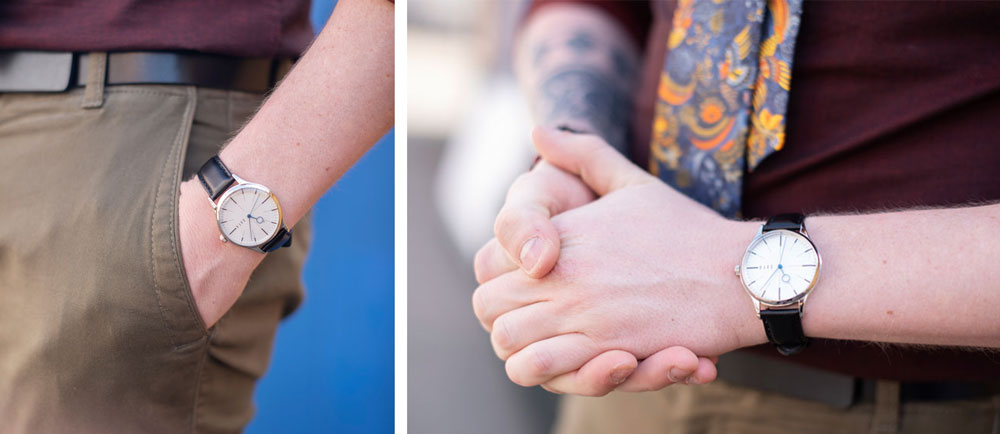 The watch comes in a relatively nice and robust cardboard box, but not nice enough to really display or keep. As an amateur watch collectioner i keep all my boxes and papers, but not every one is as enthusiastic about watches.
When first holding the watch you realize it's a relatively small and very light watch. It instantly feels and looks like a vintage watch, with a modern dial, which is just fantastic and probably what they are going for with this model. This is definately their most minimalistic watch!
I also instantly noticed the second hand, which ticks at 4 ticks a second. This is surprizing considering it's a quartz movement, but really adds to the vintage effect of the watch. I will talk more about the movement later on.
The design
The scandinavians have long been the masters of minimalistic design, but are the germans catching up ?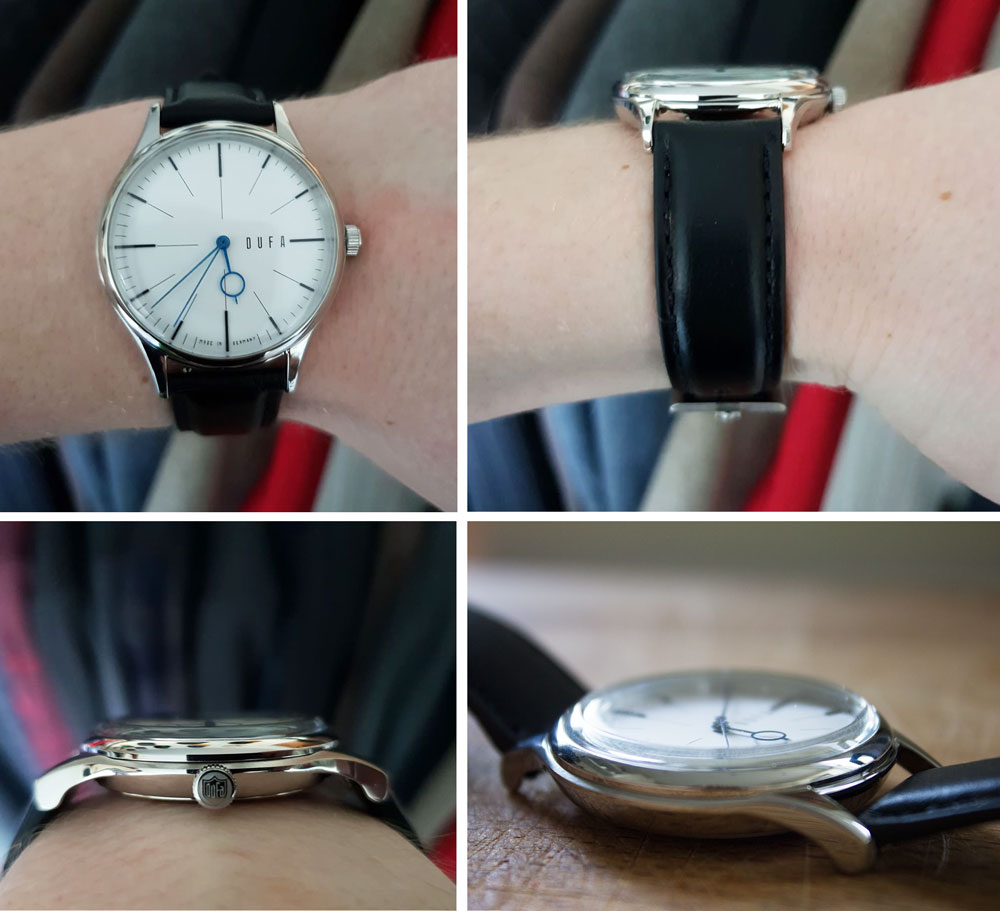 What i like
This DUFA watch stands out against most minimalistic dress watches on the market for several reasons:
The hours markers are stretches almost to the middle of the dial, with the 12, 6 and 9 being stretched even further than the others. This creates a cool depth to the watch which i have never seen before.
The choice of placing the DUFA name at the 3 o'clock mark is very disruptive, which i love! They also chose to leave out the logo, thus creating one of their least cluttered dials.
The hour hand is designed to really fit well on the dial and fits very well withing the proportions of the watch (more on that later). These kind of hands are called Breguet (oversized?), moon or pomme (apple in french).
The seconds hand ticks 4 times a second, making it feel like an mechanical watch. The blue color of the hands is also a nice choice for this model.
The glass is rounded and probably made out of hardened mineral glass (it doesn't specifiy on their website). The curved glass really helps give the watch a vintage feel, and i love how the dial refracts when you turn the watch.
The leather strap is very flexible which makes it easy to wear for the first time. No need to break it in. Also, i really love the way the middle of the strap is beveled outwards from the side stitches.
The strap buckle is another thing on this watch that i really love. The big logo on the buckle remonds me a bit of some Tag Heuer buckles, and the way they mix polished and brushed surfaces are just perfect, and shows the care and thought that was put into this watch.
The watch case has a nice "UFO" shape and sits very nicely on the wrist, and if you look closely you can see they have a small brushed surface running along the side of the case. This detail, alltough not very noticeable, really give the watch case some depth when turning it in the light.
A nicely propotioned signed crown, with a beveled logo, is just the cherry on top of the cake.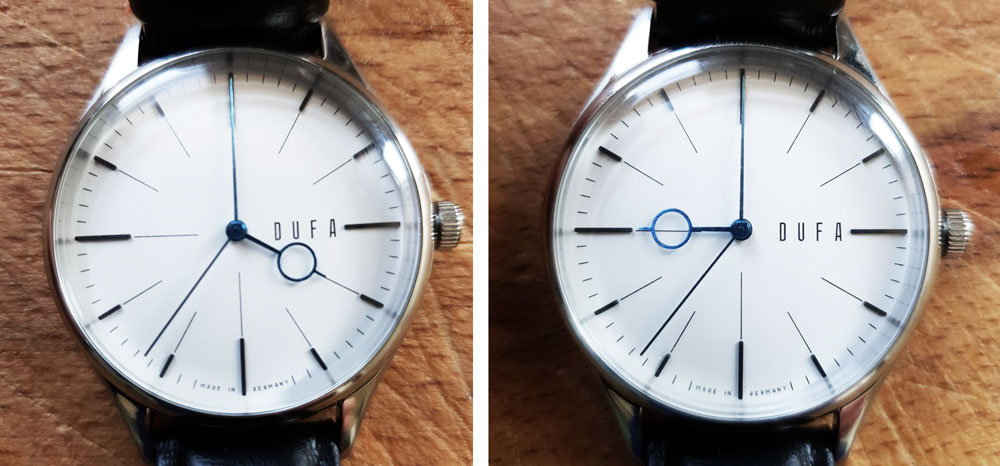 The proportions of this watch are just perfect! The way the hour hand locks in with the hours markers really gives me some form of satisfaction that i cannot describe. On the small markers, it looks like one single shape and on the big markers (12,3 and 6), line goes through the ring. I am seeing myself waiting for the clock to turn 6, just so i can admire it!
What i don't like
I can't find a lot things wrong with the design of this watch, and generaly with the all the DUFA watches, but then again i am just expressing my own opinions on a piece of modern art (yes, watches are art). But there are a few things i would have liked this watch to have:
I would have liked to see some more noticeable minute and second hands. Perhaps some thin leaf or lozange hands. I think there are too many thin lines on this watch.
I am a big fan of cherry or pumpkin crowns, the more rounded crowns you can see on some other vintage watches. It would have given the watch that final vintage "antique" feel.
Having 2 sizes of this watch would have been nice. Even though it's a dress watch, i really prefer bigger watches. bigger watches have been in fashion for a while now, but the trend is slowly turning towards smaller watches. Are DUFA ahead of their time?
The movement
The movement, as i have mentionned before here, is not a regular quartz movement. It's one of those that moves the second hand more than once a second, like the Seiko Meca-Quartz movements. In this case, it's not a meca-quartz and they really don't mention the movement on their website, but i can go ahead and guess that it's a Seiko VH31 because they do mention that it is a japanese movement. DUFA should really promote the fact that this watch uses this movement, because i think it bring even more value to the watch.
This movement is both hated and loved, but i think it really brings value to this watch, especially since it honours the all mechanical vintage watches. It's even more useful for me since i use it as a dress watch, meaning i don't wear it very often but still want the look of a high end mechanical dress watch to be sitting on my wrist when i wear a suit.
But i did notice that it doesn't always tick regularly, but you have to stare at it for a while to notice it, and it still keeps time as well as a quartz movement should. It's also worth noting that for this price and size (215 Euros / 243 USD) you can't expect a automatic mechanical movement.
Conclusion
If you're a fan of vintage watches and modern minimalistic watches, then why not try the best of both world with the DUFA
WEIMAR MÖLLER EDITION 9026? You get a lot of watch for your money: a unique, comfortable and noticeable watch from a brand with a long history in the watchmaking business. The design is very satisfying to look at, the ticking of the quartz movement is hypnotizing, and its a very understated yet noticeable watch. A very good watch for the money!
I highly advise you to go see DUFA's other watches, especially their decontstructed watch, because you will surely find a watch you like if this one is not for you. DUFA is really giving the scandinavian designers a run for their money!