If you are into unique watches that show time in a different and funky way, then this watch is for you ! Atowak is a rather underground brand located in Hong Kong that makes insanely cool affordable automatic watches, and I have the honour to review one of their most audacious models yet !
As I write this, the watch is in its final stage of crowdfunding, but they will become available for retail in the near future. Check out their Kickstarter page here.
I present to you, the Atowak Windows Pro Blue Dial!
Movement: Japanese Redesigned &Polised Movement
Case: 316L Stainless steel, The bezel was filled with Swiss superluminova.
Case Size: 42mmX45mm
Case thickness:13mm
Water Resistance: 50 Meter waterproof
Lens: Scratch-resistant sapphire crystal, Anti-reflective coating
Dial: Carefully designed 7-layer structure dial with Horizontal Hour reading Window, Fan-shaped Minute reading Window,
All the numbers on the dial filled with Swiss superluminova .
Strap: 22mm, Italy Genuine Leather with quick realease Strap
Buckle: 316L Stainless steel Buckle
Wrist Circumference:150mm/230mm
Weight: 120 grams



Pros and Cons
| | |
| --- | --- |
| PROS | CONS |
| Unique design | Poor movement finishing |
| Well executed dial | For some, this watch could be too big |
| Lovely case | Time can be hard to read |
| Cool details everywhere | |
Overall design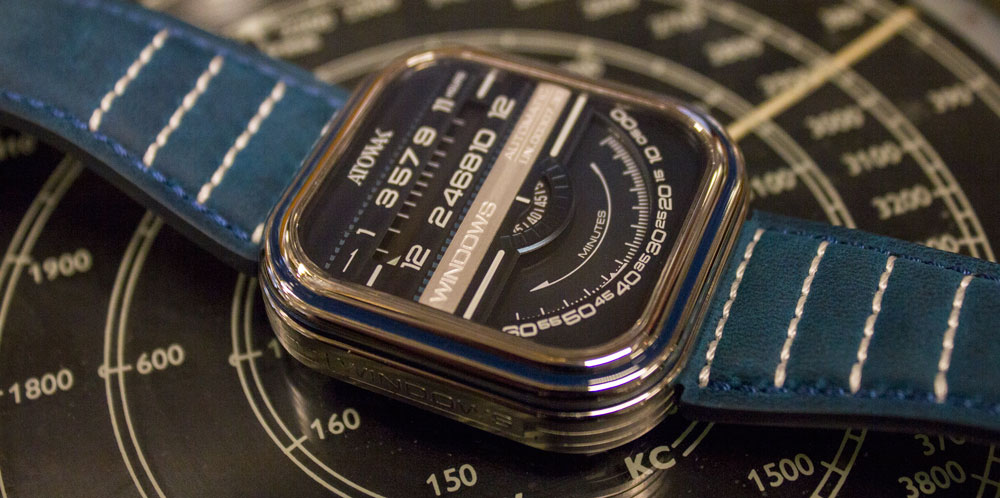 These kinds of watches deserve their own titled paragraph just for the design, and I think Atowak really nailed this design. Even though they drew inspiration from older radio dials, they didn't go overboard with the radio references, and kept the watch as a "watch".
It's overall a colorful and playful design that still refrains from being childish or too "g-shock" extreme. The blue color is consistently and intelligently applied across this watch, without going overboard.
The dial is well balanced, but it is also big making it easier to put in more information. They didn't put in any unnecessary information, apart from a UN serial number that somehow manages to look like it's supposed to be there.
Minutes and hours are written and while you might remember that, it looks hella cool just like it did on those vintage radio dial! They also managed to make this dial symmetrical in every way, and i am very happy they didn't try to squeeze in a date here.
The case has a subtle art decor feel to it with its 2 rounded edges on the top that mimics a layer case design and the engraved lines on each corner.
The strap is of course design to match the watch colorwise, but the white horizontal stitchings match the watche's case and dial layout and give the watch a little extra flair. Making it wider than the lug width is another design choice I applaud them for, but doesn make it harder to find your own straps for this watch.


VIDEO
Quality
The dial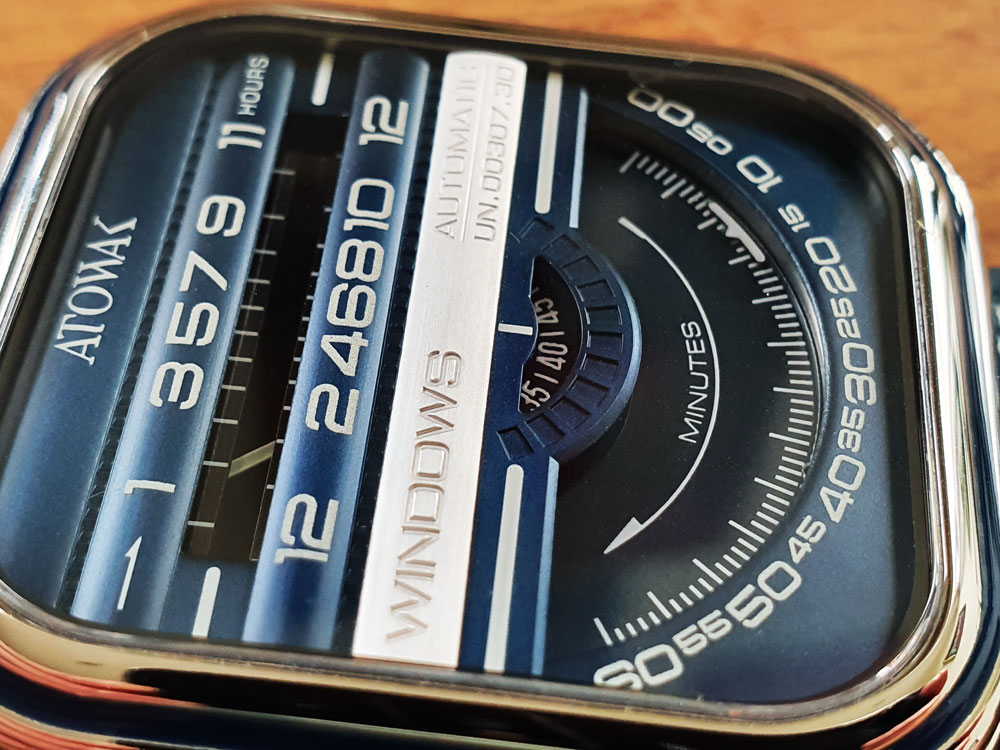 The dial sits under a flat sapphire crystal that is shaped as a square with rounded edges. The AR coating is not out of this world, and even though it almost feels like there is none because of the lack of blue tints, it doesn't bother me or stop me from reading the time.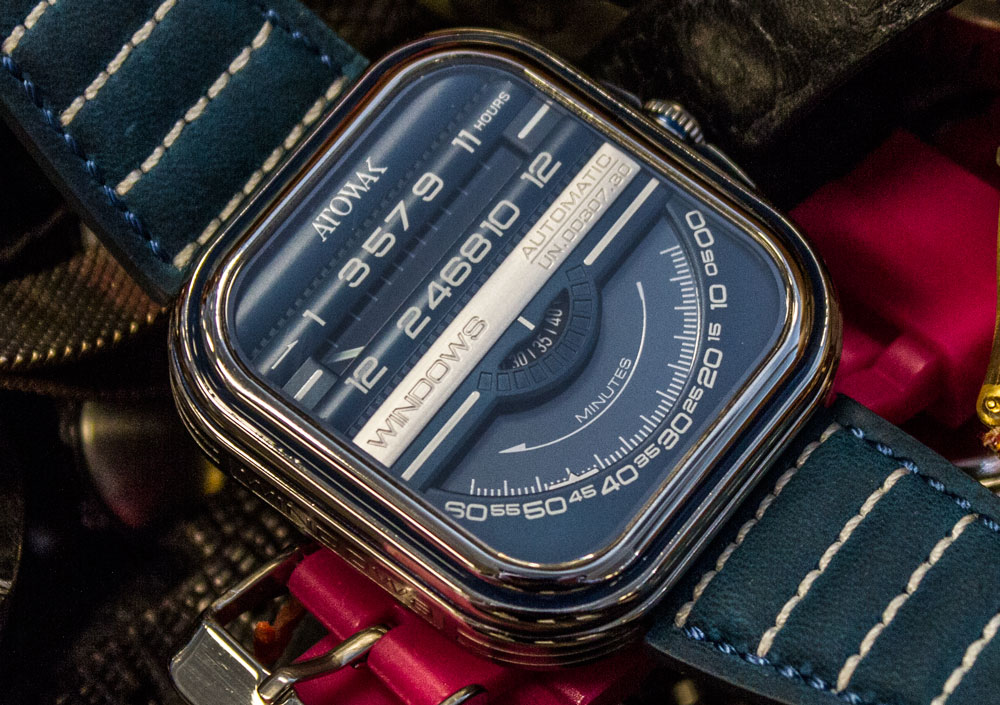 The dial is mostly made of a very tasteful blue galvanized metal that shines in a lovely way when encountered by the rays of the sun. Only the metal in the middle of the dial is roughly brushed and engraved. The hours section of the dial is visually encased by right triangles cut-outs that play awfully well with the light! Every machined element here is nicely executed, even under a loupe.
The print is crisp and well done, but can be noticeably "grainy" if you closely look at them (the hour markers in this case). However, looking at your watch from that distance is only something you do to inspect it.


The lume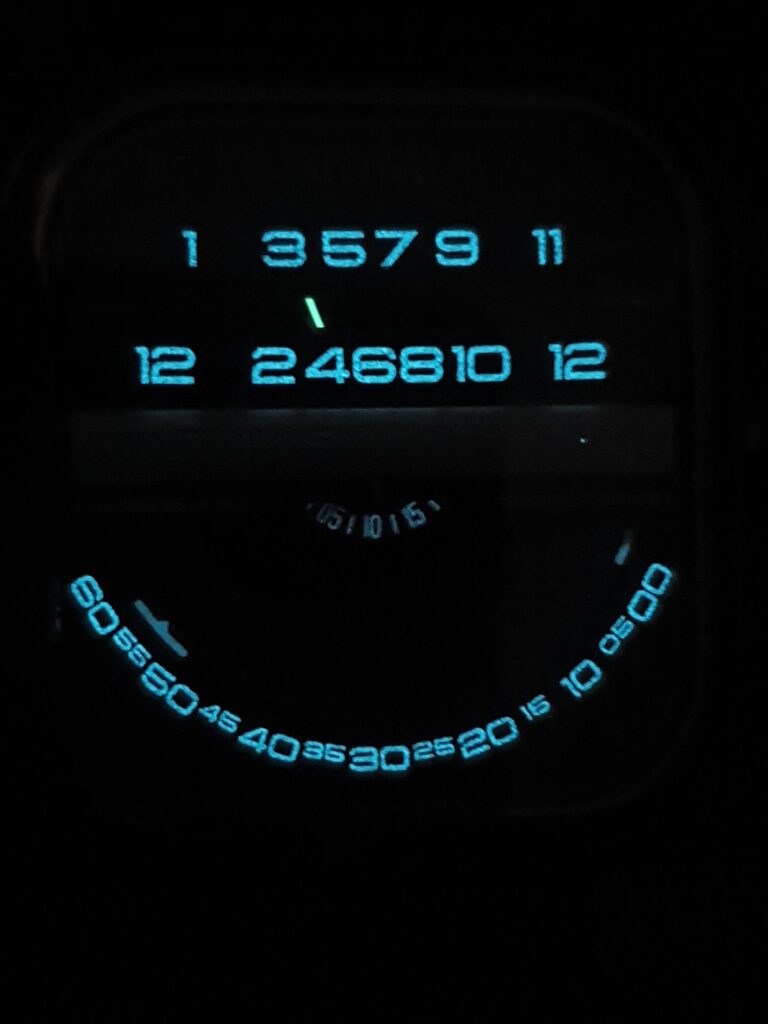 All the useful stuff on this watch is printed using phosphorescent paint. I believe it might be BGW9 (my favourite) and some other unspecified green glowing lume for the hour hand. It's not something i expect from a watch like this, especially the second markers, but is welcomed.
It is however, in my opinion, a gimmick on this watch. It's thinly applied, meaning natural daylight won't charge it enough to make it useful or noticeable. Perhaps only in ultra dark situations is it useful, but we are rarely in those situations. I do still enjoy putting it under a lamp and stare at it in the dark before going to bed, and it doesn't sacrifice anything else to achieve that, so bravo to them.


The case and crown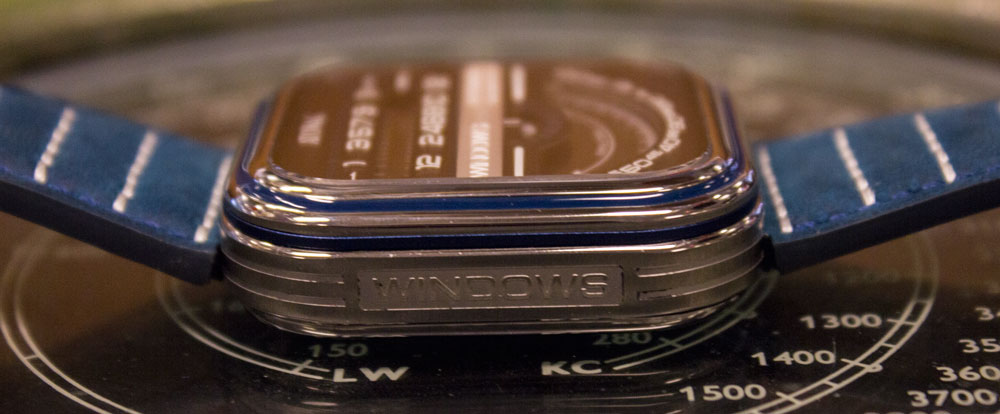 The case finish is good for this price range, but you can obviously see they had to put in more money for the dial and movement changes.
The first blue line on the polished "bezel" is painted, and done to perfection so it almost looks like a separate layer sandwiched into the case construction. If that disappoints you, no need to worry! The next blue line is actually a piece of galvanized blue metal that they squeezed in. The left-over paint at the factory is used on the top of the asymmetrical crown guards.

The rest of the case is mostly vertically brushed (rough, but parallel) with the exception of the top of the crown guards and the (very) rounded beveled edges leading into the first blue layer and to the case back.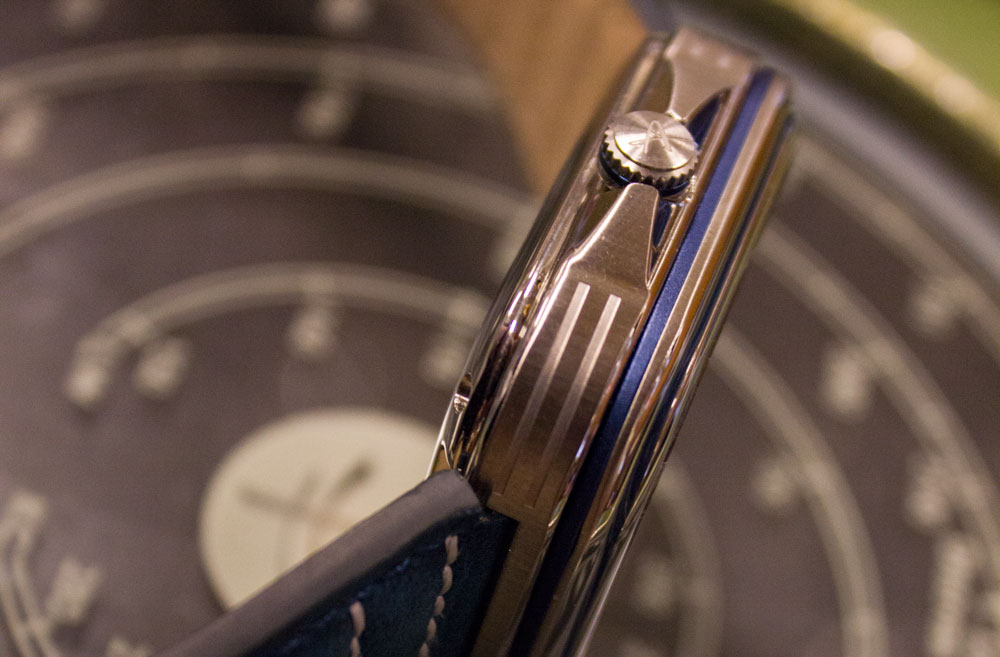 2 strips on each corner with a beat blasted interior finish gives this watch a little extra flair and attitude. All in all, the case has some very cool details and many different finishes and colors where you might not expect them. Great job Atowak!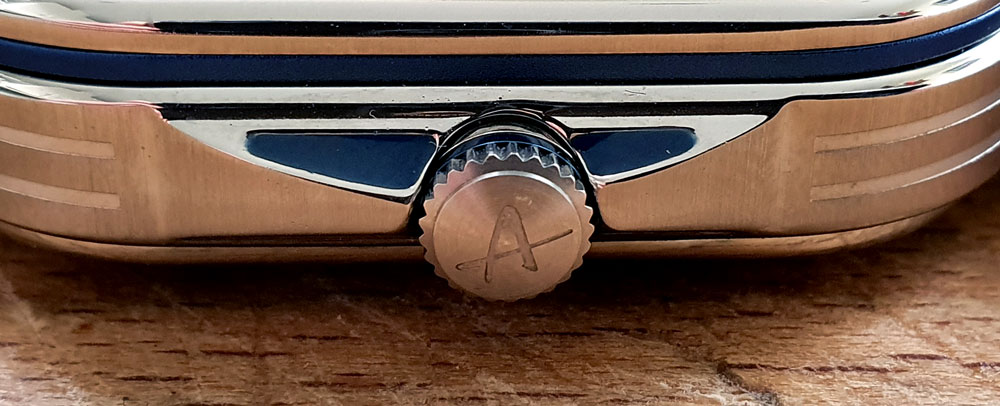 As for the crown, the teeth are crisp and help tremendously with the grip. The logo is deeply engraved (halleluja) and there is even a small blue metal ring sandwiched in to remind you that this is a fun watch!


The strap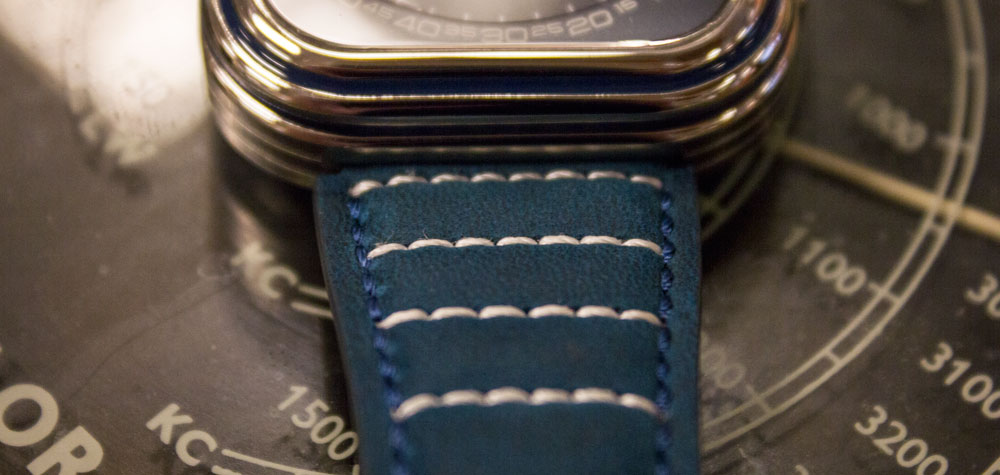 The straps color matches beautifully the rest of the watch with a slightly lighter tone of blue. It feels almost like suede to the touch and is pretty much what you would expect from a watch of this price. The stitching is tight, it's supple from the get to and tapers down nicely from it's oversized start width.

The buckle is pretty much a generic buckle, but not the worst I have seen in my life. Atowak is lightly engraved on it, and it is fully brushed.



The movement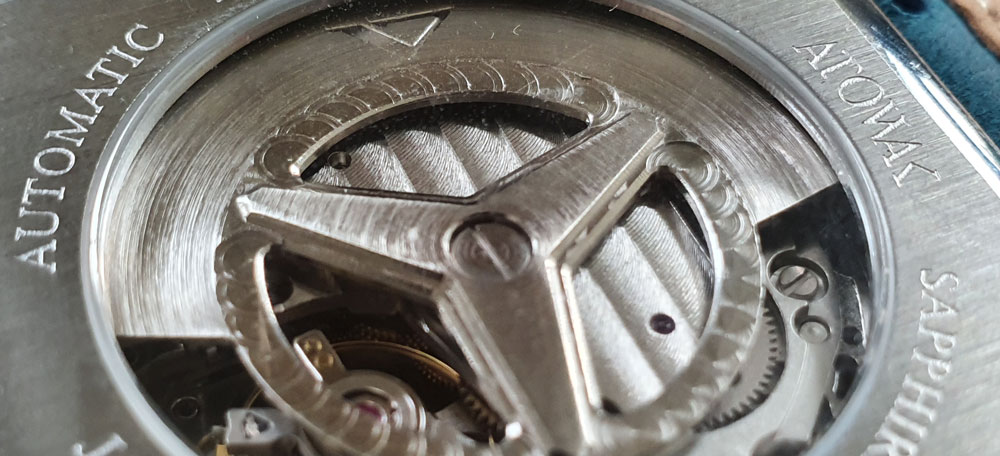 The movement in the Atowak Windows Pro is an in-house modified Miyota 8 series movement. They state on their website that it's in-house and self produced, and I am not a fan of the word in-house being thrown around too much. You can read more on what that means here.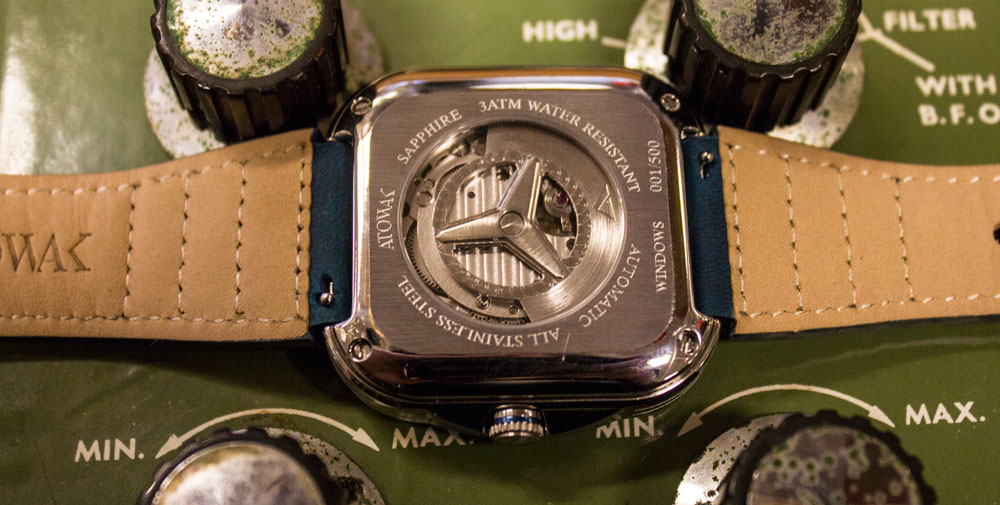 It definitely looks like a Miyota 8215 but it has no date function when taking out the crown. Atowak has made some changes to this movement in order for it to display time like this. That does take time and some experts to do the job, but it's not as hard as making an entirely new complication on top of it. Still, it's worth noting when looking at the value proposition of this watch.
To crown their creation, Atowak has finished the movement with some côtes de géneves and a custom star rotor with brushed finish, perlage and a deeply engraved logo. The finishing on the main plate and the rotor is very rough and nothing resembling fancy, but with all the other custom elements of this watch in play, I can REALLY forgive them for that.


On the wrist
The watch feels good on the wrist, but you do need a tight fit because of how top heavy the watch is. It's relatively slim considering the amount of layers on the dial and case, and can barely fit under a dress shirt.
This 42 mm watch is 45 with the crown. It doesn feel quite big because of it's square shape, but nothing vulgar in my opinion. All in all, it's quite comfortable thanks to the soft leather strap and soft edges of the case.



What could have been better?
Better and thicker application of the lume (or perhaps remove it completely?).
Removing the strips that don't match a number on the hour markers would have made it easier to tell the time a glance.
Removing the paint on top of the crown guards. It seems unnecessary there but that might be a more personal opinion.
A custom buckle that matches the personality of the watch would have been nice. For me that matters, but maybe I am alone on that one.
Perhaps they should completely remove the movement and rotor finishing instead of doing it so roughly. But the alternative is probably worse, so maybe just working on a more refined finish there for the future.



Price
I think the price is very fair!
With all the custom elements on this watch, a customized movement, a plethora of cool and funky details and a ton of fun, this watch is well worth the money!



Conclusion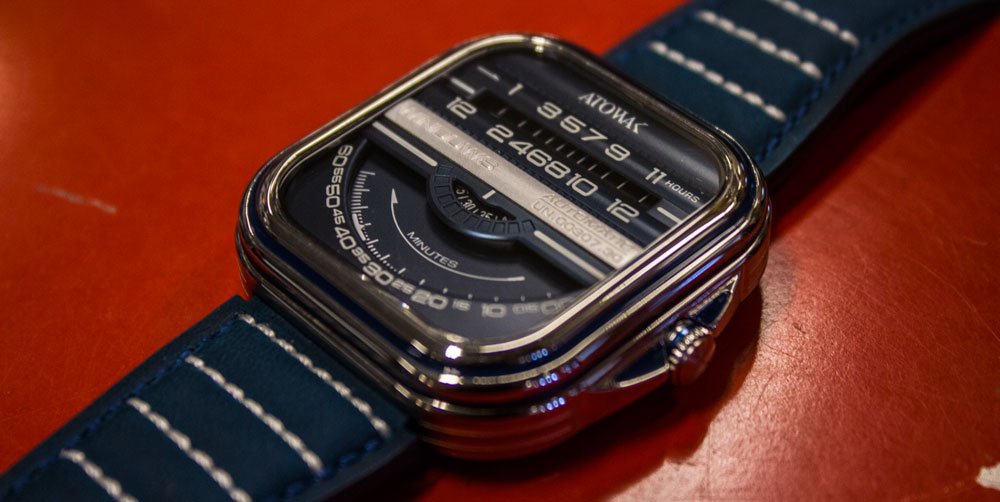 ATOWAk states that they don't want to follow the classic market trends to make another watch that could please the crowds. I think they have succeeded in doing that, while pleasing those of us who simply love watches for what they can be. They are targeting the watch fanatics, but also the design conscious fashionista by offering a well made watch that oozes of watch obsession and passion for the craft!
The Windows Pro is an audacious watch that dares to make a watch that is hard to read. But the challenge is quickly overcome and you will rapidly find out that this watch is simply a ton of fun to wear and look at! It's a conversation starter and even the finest Patek Philippe collector will want to know what you are wearing!
It is not everyone's cup of tea, but neither is tea, which is why we have coffee. And by god, those of us who like coffee, we enjoy it to the fullest!