Hello everyone!
Like most men, I find that the wristwatch remains the most important accessory that a modern man can wear. Some men will settle with one or two watches, often an everyday watch and a dresswatch to throw on with the suit. And then, there are the collectors … There are several types of watch collectors and they are differentiated most often by the number of watches or the age of the watches they collect. I will mix up my collection with newer and vintage watches, but i always keep it to 6 watches.
I never considered myself a collector until recently, when I bought my first vintage watch in a thrift store: a golde Omega De Ville F300. I've sold it since, for 3 times the price, and since then I've been looking at the watch market almost every day to find good bargains. I was got interested in the mechanics of luxury watches, the new technologies and the history of some brands. It's a very fascinating world and I advise you to take a look at these 2 youtube channels: The Urban Gentry and Watch and Listen. So when i got the chance to test a Barrington Watchwinder, i couldn't refuse.
Why buy a watchwinder?
Today I have 2 automatic watches in my collection: a Breitling Headwind from 2001 and a Hamilton Air Race GMT. I usually wear my Breitling or other quartz watches because the Hamilton is for when I travel (it has a 2nd adjustable time zone). This watch is not easy to set, and I prefer to keep it wound so that it's ready when I travel or decide to wear it on. So i just leave it on the winder!
For those who have more than 2 automatic watches, a single watchwinder can be used in different ways. A watchwinder is worth investing in because it's recommended, even for luxury watches, to avoid using the manual winding too much.
You can choose the watch that you want to wear tomorow, turn the crown a few turns, set the time (if it stopped), then put it on the winder before going to sleep. That way, it's ready when you wake up.
Or you can choose the watch you want to keep on the winder at all times (unless you wear it). In that case, choose the watch with the appropriate complications, such as a perpetual calendar or a moon phase. They are usually a pain in the ass to set, and should be kept wound all the time!
If you have a lot of automatic watches, you might not wear many of them for a longer periode of time. it's recommended not to leave your watch unwound for longer than a month, or the oils inside might dry up. So in that case, the watchwinder is just a tool for keeping your watches in good condition.
How do you use a watchwinder?
It's relatively easy! Simply attach your watch to the detachable piece, and adjust the direction of winder movement and the number of turns per day. In addition, Barrington has a very convenient service on their site, where you can find the model of your watch, and it will indicate the winding direction and how many turns a day it needs.
My review of the Barringon Single Watchwinder
First impressions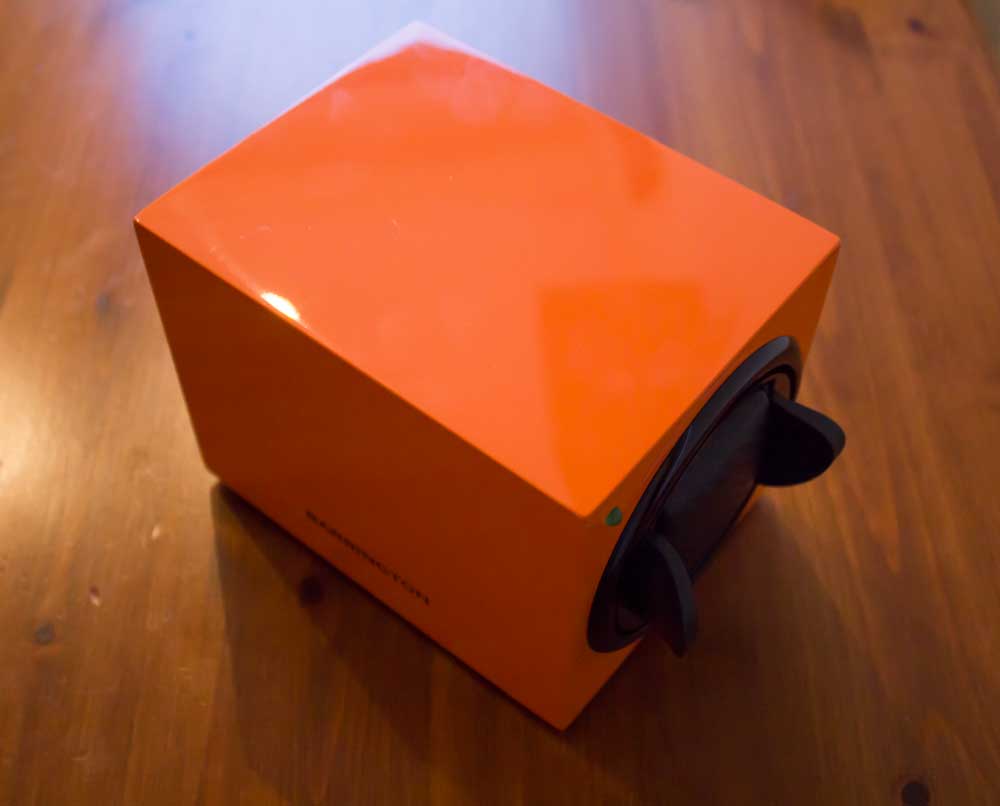 I really like the design and the color (orange) that I chose. It is a beautiful object that deserves to be seen and while still keeping an industrial aesthetic. I think it's important to have the watch sticking out because it's also an original way to display your watch. They have a lot of great models and i really like their wooden ones. You can see their other models here.
Pros
Minimalist design with wooden versions available on their website.
This winder is very quiet. I sleep not far from my wardrobe, so it's a good thing that it doesn't make noise.
The piece that holds the watch is easily removed and reattached.
You can choose to use batteries or plug it in a socket.
Beautiful "carbon" details on the cushion.
Cons
Batteries are not supplied with.
Does not work with all sizes of watch band.
The last disadvantage is rather important. The piece that holds the watch has a kind of pillar behind that can come out with a spring. That way you can close it, put your watch on it without tightening too much, then bring it out so that it holds the watch tightly in place. But i have very small wrists!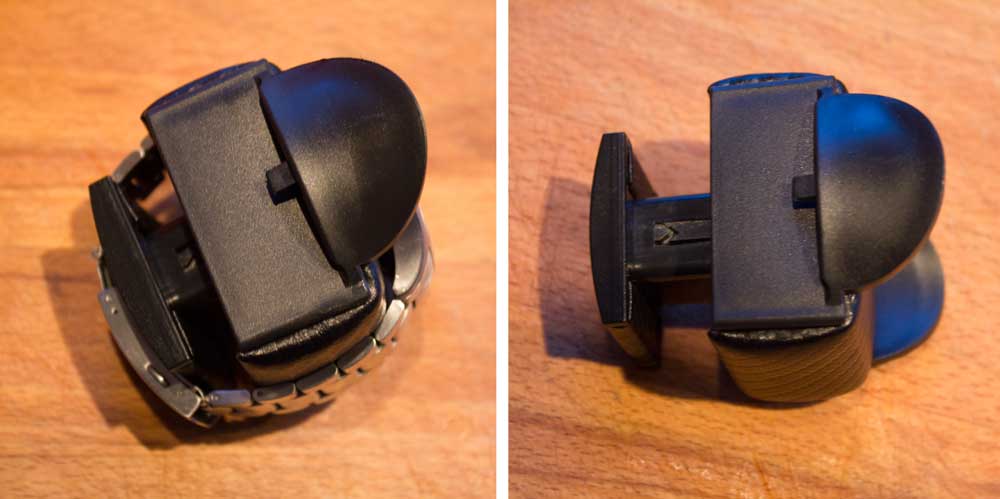 Small wrists
The problem is that I have relatively small wrists compared to the average (16 cm approx.). 80% of men have a wrist size greater than 17.5 cm! So it's not a problem for most people, but in my case, I could not put attach my Breitling Headwind to it. This is only a problem when i use the metal strap, because other types of straps are adjustable.
Fortunately, my Hamilton Air Race GMT has a double-closure strap so you can wear it on the outside of a diver's suit or a uniform. That extra clasp allowed me to use it on the winder. I wear my Breitling more often anyway, but it's still important to know if you have small wrists like me.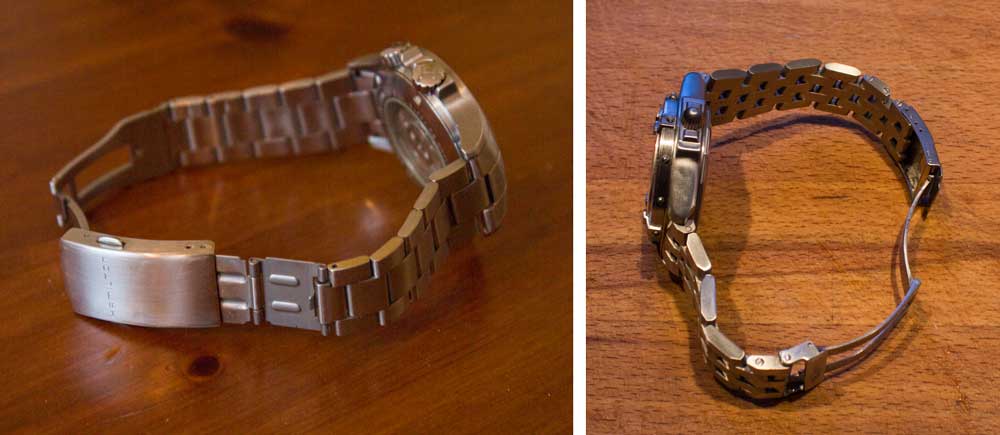 The Hamilton (to the left) with an extra clasp, and the Breitling (to the right) which only has one.
Conclusion
This is a beautiful watch winder that works very well, but that I don't recommend for those of you who have a wrist circumference of less than 17.5 cm. Except of course if you only have watches with leather straps or nato straps.