(2.5 / 5)
This grade is based on the lowest price available on the web, and not the price on their website
Today i will be taking a closer look at a rather unique and fancy looking watch from Thomas Earnshaw. Thomas Earnshaw is a british brand with a very large selection of watches ranging from 200 to 3200 Euros. They design watches that draws inspiration from high end luxury watchmakers with bold designs, big date complications, skeletonized dials and other complications that you rarely see on watches. All of this is available for a rather decent price which begs the question: are their watches worth it?
To answer the question, I will take a closer look at the Beaufort ES-8059-03, a watch with a double balance wheel and a smaller classic subdial. I proudly present to you, Thomas Earnshaw.
First Impressions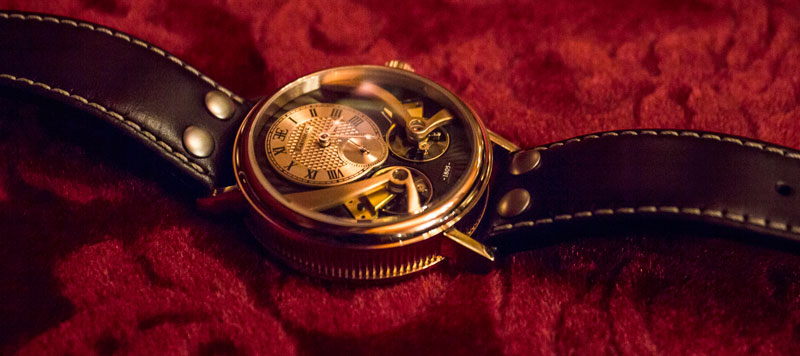 The watch comes in a decent wooden box, but nothing very fancy, but for this price I wouldn't expect more. The watch is very well wrapped up to protect it during transportation, which is nice.
When first seeing the watch i was quite impressed actually. The depth of the dial and the 2 balance wheels really makes this watch looks luxurious and different. The case plays well with the light and the overall impression of the watch is satisfying.
Unfortunately, I was a bit disappointed by the leather strap which seemed cheap and rigid. Luckily, after throwing one of my spare leather straps on, it looked crackin'.



A closer look
The dial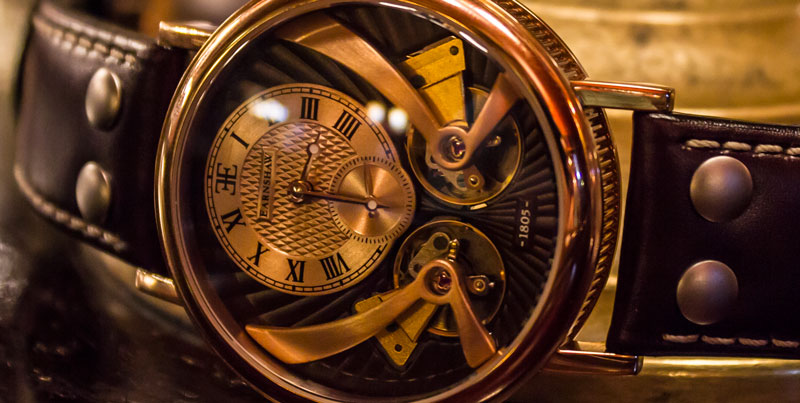 What's good
What's funny about the dial is that there is a lot going on, and yet not so much. It is not a very classic dial, and reminds me of some very expensive and complicated high-end watches I have seen over the years from smaller brands such as F.P.Journe (they do love the small sub-dial).
From afar the elements of the dial are well centered and balanced and i love the "bridges" over each balance wheel. The printing of the indexes and numbers is clean and crisp and the brushed finish and beveled pattern on the sub dial is quite good!

What could be better
When you take a close look at the dial, you can notice smaller details that are not completely aligned. The hole over the bridge is not completely aligned with the jewel of the balance wheel but other than that there is nothing terribly misaligned. But with all that is going on on the dial and the price of the watch, one cannot expect the same level of detailed precision as the higher end watches.
Also, the brushed finish on the bridges leaves you desiring for more, but only when looking at it up close.


The hands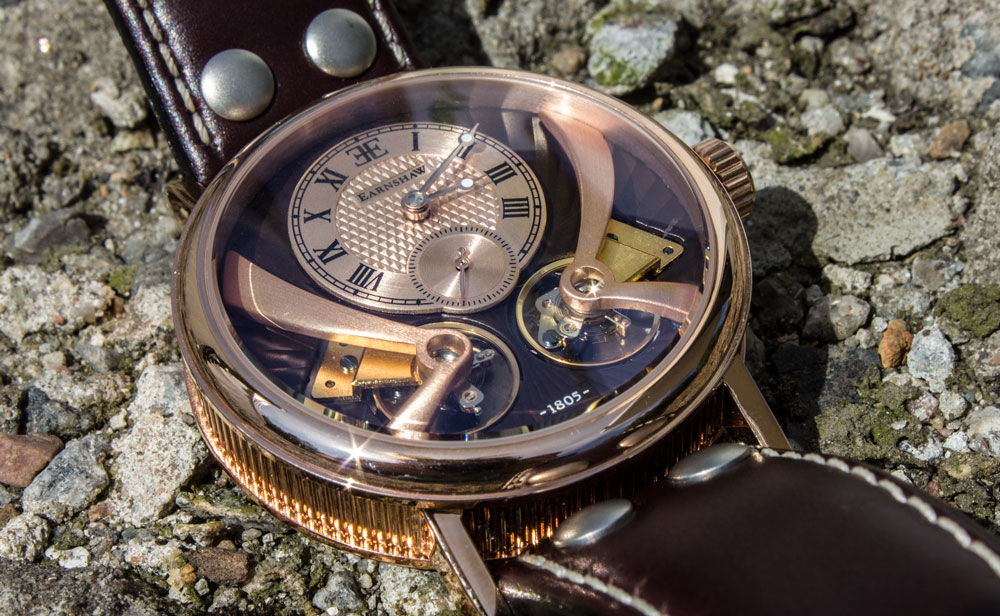 The small breguet minute and hour hands is a good choice for this model and they look quite good for the price. The lume part is crisp and clear, but the lume is not very bright and doesn't last that long. But this is no diver watch, so i am not shedding a tear over that.
The small second hand is also quite nice and close to the dial, but i do feel like the hour and minute hands are a little too far away from the dial, which makes them look like they are not part of the dial, but from far away it's not noticeable.


The case and crown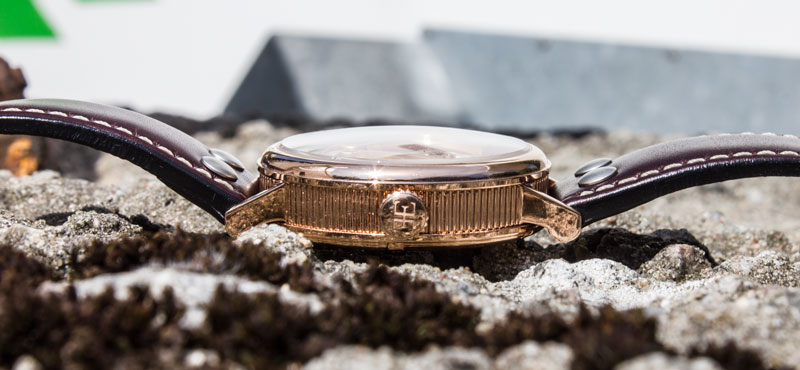 The watch case is quite well made and I love the fun "coin" design, with the small rifts around the edge of the case. The ionic rose gold plating is very well done and plays beautifully with natural light.
The crown is rather basic, but it this case it does fit very well with the coin design of the case. The logo is lightly engraved on the edge of the crown, and I would have liked to see a deeper engraving there.


The strap and strap buckle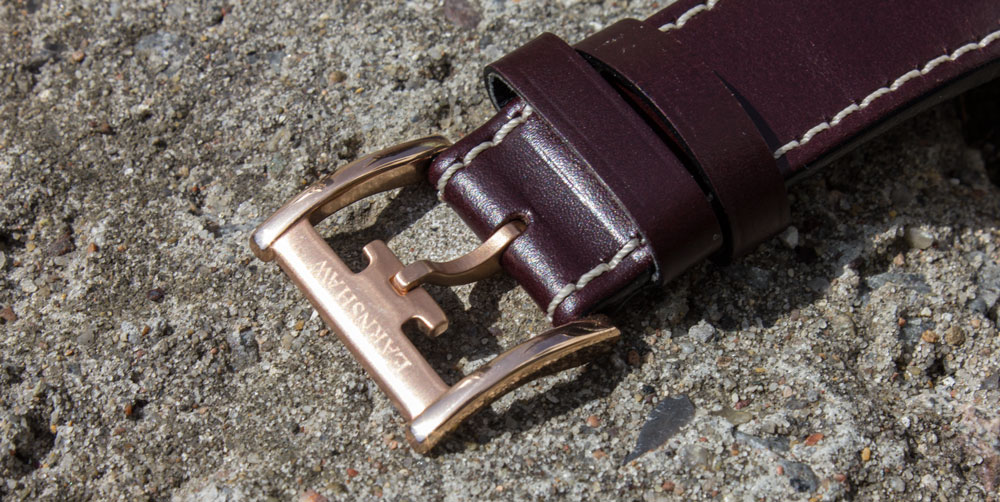 I was disappointed by the strap simply because it felt cheap and rigid. It is probably a cheap and basic "fake" croco that just feel right. It's a shame because the strap buckle is quite nice and original. I especially like the half "H" shape and the mix of polished and brushed finishes.


The mineral glass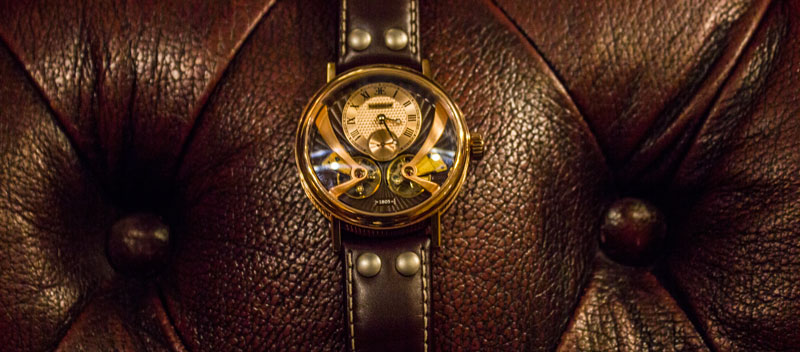 As the title suggests, this watch comes with i mineral glass and not a sapphire crystal. Since this is a dress watch, having a sapphire crystal might not be as necessary as on a field or diver watch. A plus side of mineral glass is that is reflects less light than sapphire crystal, giving a better view over the dial.


The movement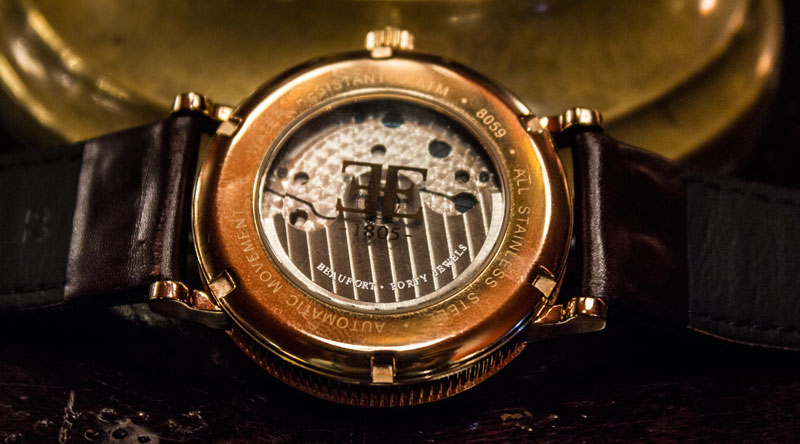 Thomas Earnshaw does not show who made the movement, and I doubt they make their own movements, leaving me with no other conclusion than that they use chinese movements (most likely a Shanghai SHS-05). Theres is not a lot of information about these movements online, therefore I cannot say anything about the longevity of this movement nor really recommend it.
Originally, double balance wheel movements were designed to decrease friction and momentum, hence increasing the longevity of the movement. But in this movement, the second balance wheel is just for decoration (a good one), but doesn't regulate time.
However, I have worn this watch many times and never had a problem. It loses around 20 to 30 seconds a day and the time is easy to set and the handwinding works fine. I also saw a youtuber who commented on having the watch for 6 month, and it was still working fine. But many chinese movements, according to my research, are less shock resistant and usually stop working after 2 to 5 years of use. This article, from 2009, does argue that the chinese movements are getting better, but i will let you draw your own conclusions.



The price
I don't think the price is fair (depending on where you buy)
On their website this watch goes for 570 Euros. For this price you would expect better finishing and a sapphire crystal, plus a better leather strap. But, one could argue with himself that the double balance wheel movement is more expensive to make, raising the price of the watch. BUT, I found a few watches with the same type of movement for much less, like this Stührling Gemini II 368B Automatic 45mm Skeleton or this Aragon Mondrian Double Escapement Automatic AD606ABU.
This is why i am concluding that is watch is overpriced on their website. But, I did however find the same model in another color for around 160 Euros on Ebay, which is a much more fair price and begs the question: why are they so expensive on their website? Perhaps to favour the sales of their retailers? If you search for the model you like in Google, you can see for yourself.



Conclusion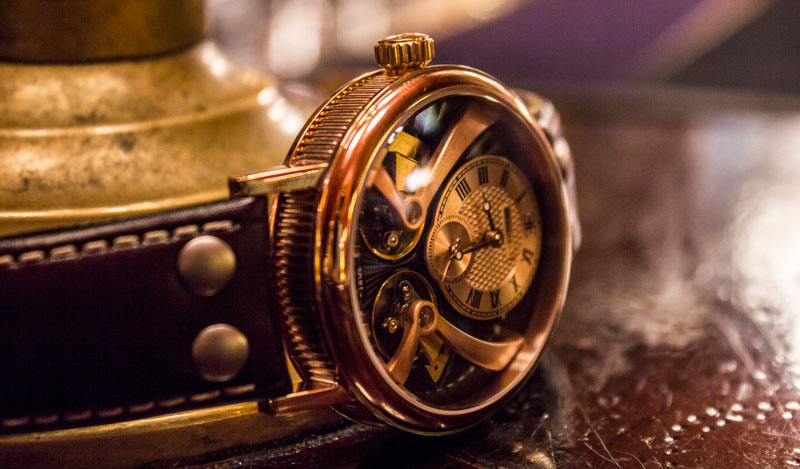 Before I begin the end of this review, I have to say this: For 570 Euros I wouldn't recommend this watch. But since I can find one for 160 Euros, which is a fair price, I will conclude this review based on that price.
If you get one of these watches for 160 Euros, you will be pleasantly surprised. It's actually a great looking watch for that kind of money. The dial and case is very original and will be sure to turn some heads, but I would still throw a better leather strap on it before I took it out in public. I was surprised at how well the case actually looked and how little light the glass reflects due to being a mineral glass.
So, if you are a fan of those very expensive microbrand watches that creates crazy designs, but you are far from accumulating that kind of money, Thomas Earnshaw is you best bet at getting that feeling. Just be sure to check all the prices available on the web before buying it.