The last time i was this impressed by the quality of a watch, considering the price of course, was with Marc & Sons. Starting a review by saying that this is some of the best quality for your money is something try no to do, yet here I am, unable to help myself. But don't take my word for it, let me guide you through all the reasons that led to this conclusion.
A worthy mention of the founder, Travis Tan, is in order. He is also one of the minds behind Boldr, a brand most of us know by now. He decided to sell his part of Boldr to create his own brand and to great success! You can definitely tell there is a part of the soul of Boldr in these watches, and they will attract the same audience.
I have to personally thank him for being so dedicated to his brand, to the point where he wrote me a personal letter that came with the watch.
I present to you, the RZE Resolute.



Design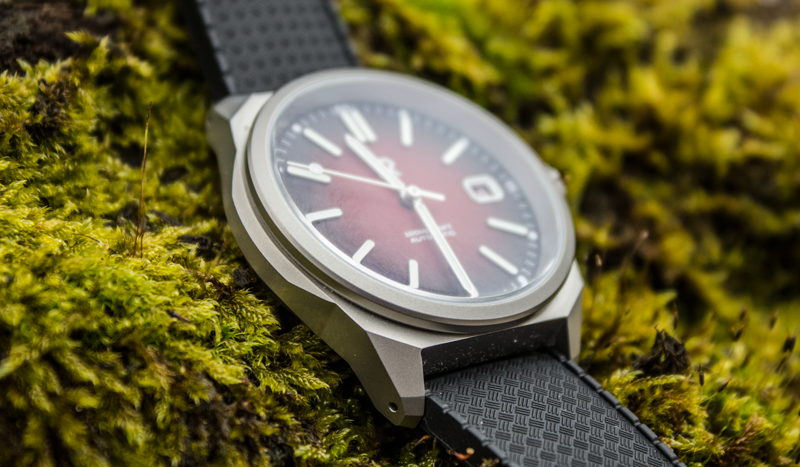 As I mentioned earlier, there is definitely a piece of the Boldr design language in these watches. But I can also sense that there are some design ideas that Travis couldn't implement at Boldr, now flourishing on the RZE line-up.
With its 40.5 mm case size, the Resolute manages to become a better version of the Boldr venture
The toned-down, beat-blasted titanium is something we have all come to love on Boldr watches and continues here with RZE. The angular approach to the case design also lies in that same realm and is necessary to give this type of finish some personality. A simple shape with this kind of finishing just looks boring and dull.
The colorful mat textured fumé dials are also something that we have seen on the Odyssea Freediver live from Boldr, and suits this watch just as well.
But here is where the similarities end, and you can tell that Travis had a bit more fun when coming up with the details that give this watch such a cool personality.
Travis went all the way with the beat-blasted finish, applying it to every metal part of the dial as well. This consistency is lovely and should be standard for field watches, where glares are mostly unwelcome.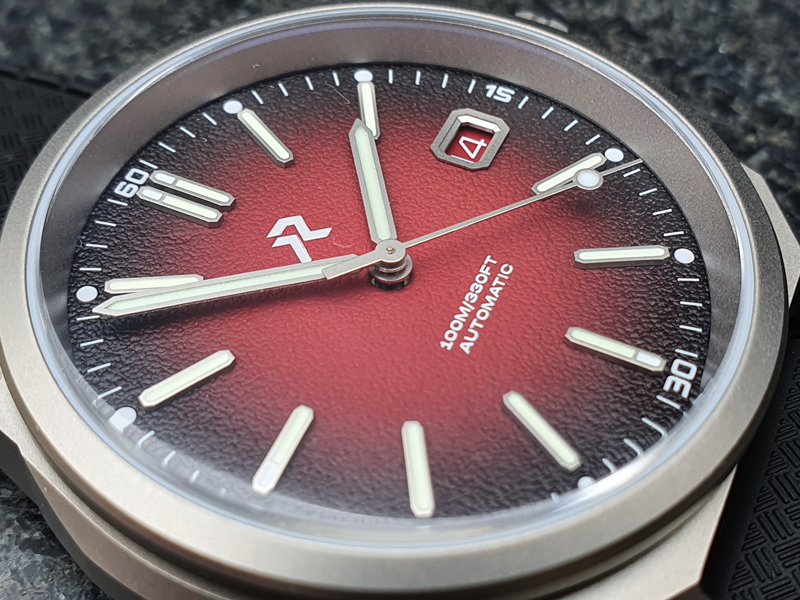 The hour indices and aperture (date) frame all have sharp edges and a larger, open angles. You can almost say he did cut corners here (sorry for the lame pun). This design is satisfying because it leaves you with more angles to admire, and more complex and tech/industrial shapes that we rarely see on watches.
Some of these indices feature a small bridge, separating the 2 different lumes, giving you some of the quickest time reading in the dark i have ever experienced.
The proportions of the hands and dial are perfect, and there is just enough text and print on the dial. The RZE logo looks cool and much better than writing RZE or Reise (their previous name). I would have liked to see something else than "automatic" on the dial, but that's just a pet pieve of mine.
All in all, Travis from RZE has managed to keep the soul of Boldr watches, but with more fun details, more consistent design across all the elements and with new shapes we didn't know we wanted on a watch.



Quality
The case and bezel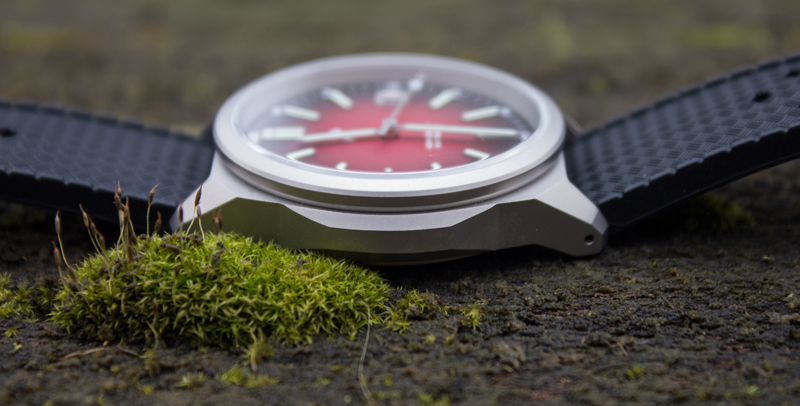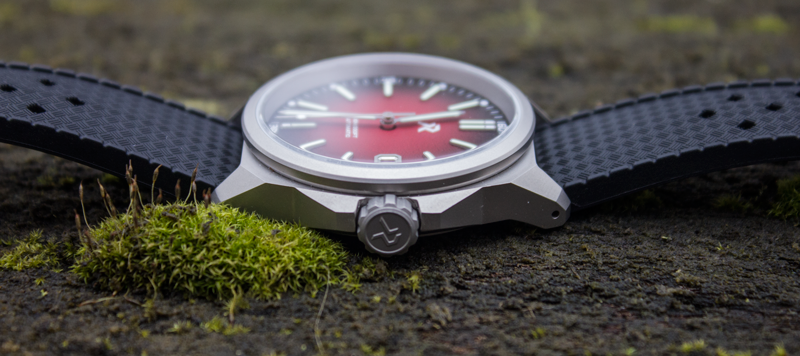 The case almost has too many angles to count, and luckily they are machined well, giving you sharp angles that still don't feel like they can cut you when you run your finger over them. And that's all we ask for.
This complex shape, and the bezel, are covered by RZE's signature UltraHEX coating, giving you up to 1200Hv (Vickers) hardness protection. On the Vicker scale, 316 Steel has around 140, sapphire crystal around 2500, and diamonds taking the crown with 10000.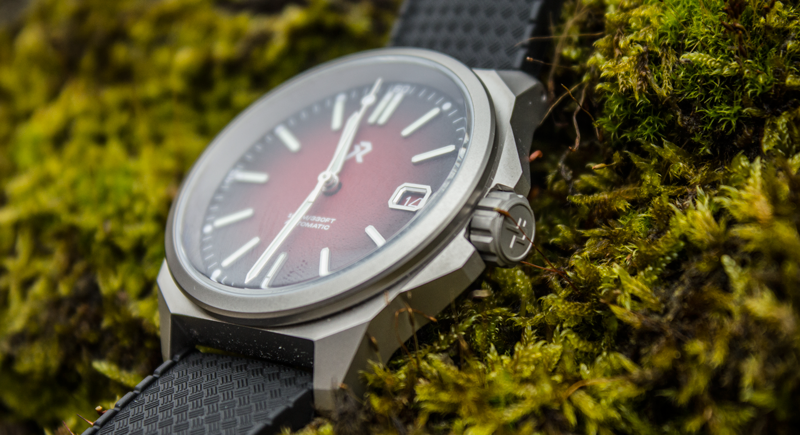 You won't be able to take a screwdriver to this watch and expect no scratches (yes, i tried), but for everyday wear and tear, this coating will protect you from most of those hairlines that titanium.


The crown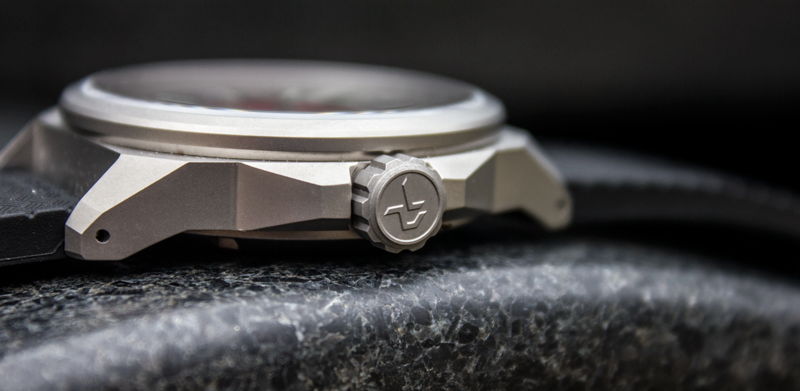 The crown has deep teeth that grip your finger's skin perfectly, while you unscrew it. The threading is a bit "grainy" but even, much like most mid-level Seikos.
The logo is deeply engraved, the machining is well done and it looks appropriate for this kind of watch. The design is similar to the Boldr crowns, but it seems that Travis didn't like the split down valley that Boldr put on all their crowns 🙂


The sapphire crystal
In this case, the sapphire crystal truly deserves its own title. The AR coating is really good on this bad boy compared to many other watches in this price range! It doesn't have any blue hue, which i do tend to associate with luxury watches, but it sure works and unless there is direct strong light hitting it, you won't know it's there!


The dial and hands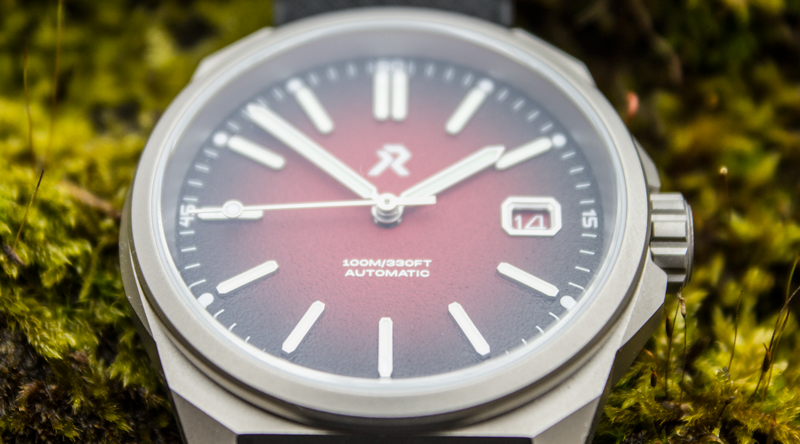 Everything on the dial is perfectly aligned, even the 2 parallel indices at 12 o'clock, which many brands tend to screw up when inspecting it under the loupe.
The indices and an aperture frame are clean-cut, with sharp and precise angles. The loupe will reveal traces of the machine who did it, but that's pretty much the case with any watch in this price bracket. The same goes for the hands of course.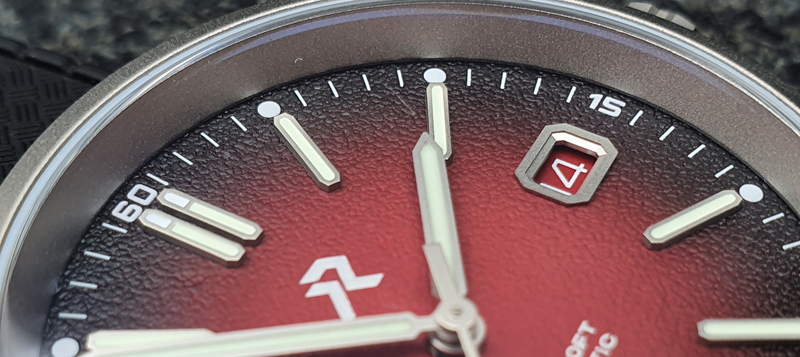 One thing that impressed me is the date. It is perfectly centered in the rather small opening that lets you see it. This is something i rarely see, even on more expensive microbrand watches, mainly due to the lack of funding going to quality checking the watches.


The lume
The lume on the RZE Resolute is anything but disappointing! The mix of C3 and BGW9 looks great in the dark, and it is applied generously on the markers and hands, leaving you with a long-lasting glow.
Even the base of the dial has a bit of lume on each 5-minute mark, but it doesn't glow as strong as the rest.
If you are a lume freak, this watch won't disappoint.


The straps and buckle
The strap this watch comes with is a bit stiff but does sport a leather underside for added comfort. I personally find it to be too much considering the dial is already red, but that's just a personal opinion.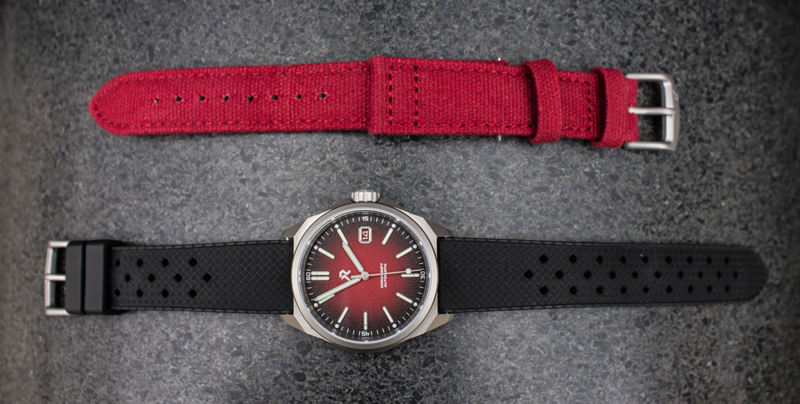 The tropic strap is a standard mass-produced one, but the comfortable kind. I have encountered a few stiff ones, but this one is supple and soft.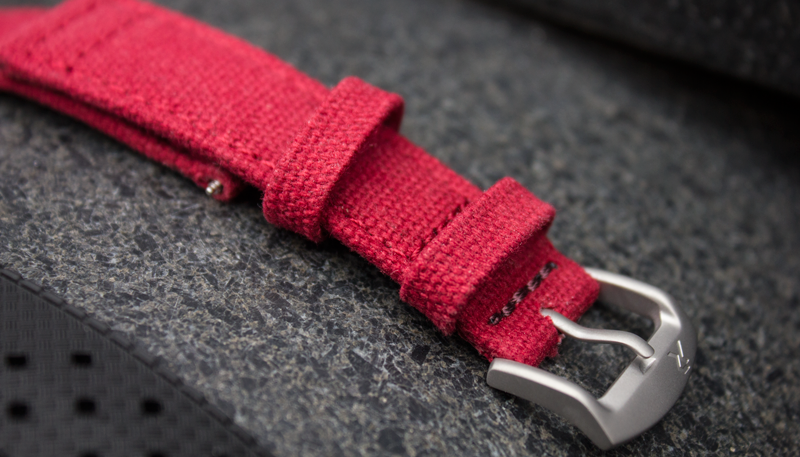 The buckles feature the same UltraHEX treatment over their titanium bodies, giving you not only design consistency, but also added scratch resistance and less weight than a standard generic buckle.
I am considering buying the metal strap for this watch because it simply looks amazing with it! I will update this review when i get to try it and inspect it closely.


The movement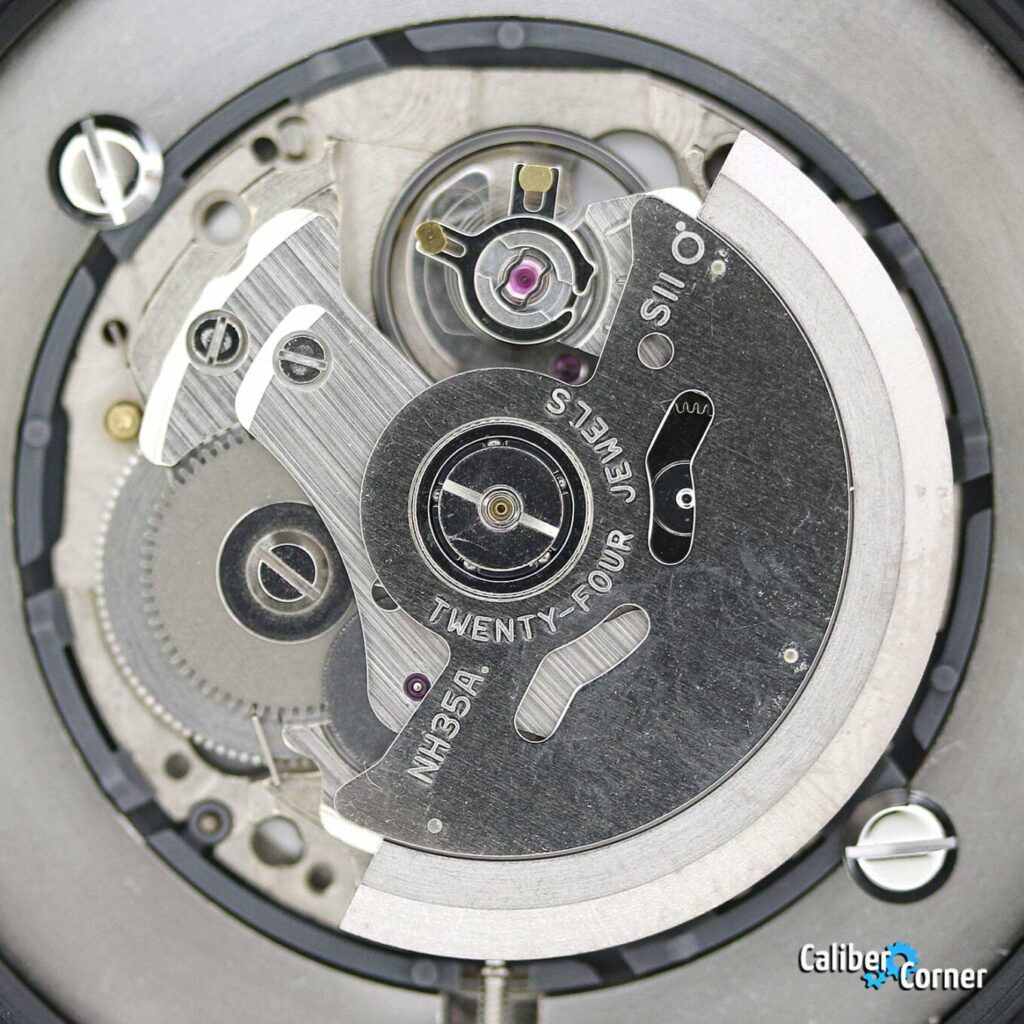 The Seiko NH35A is a solid, and completely in-house, workhorse movement that beats at 21.600 beats/hours (3Hz or 6 ticks a minute). It is know for it's long-term reliability, but not for it's accuracy.
Mine loses around 20 seconds a day, which is a worthy price to pay for the feeling of wearing a mechanical movement and the sweeping second's hand.
A great choice of movement from RZE, who has experience with these movements from Boldr.



On the wrist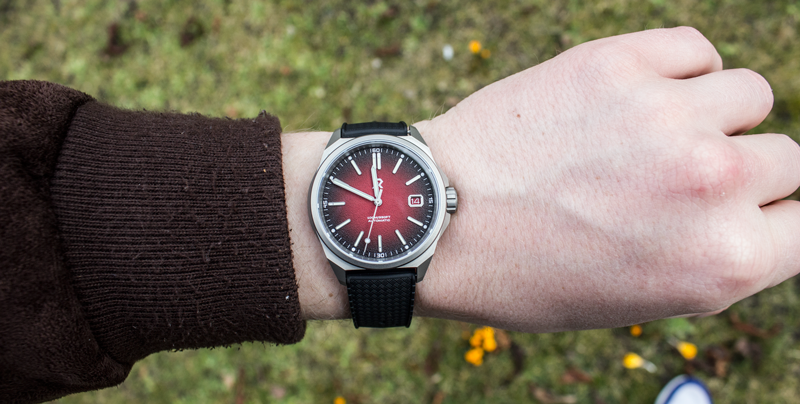 The RZE Resolute is not a big watch, even though it boasts 40.5mm without the crown. It's thing profile and moderate size makes it a watch most people can enjoy, unless you have big wrists (above 18cm).
On my 17cm wrists, the watch sits comfortably, discreetly yet proudly and tastefully. The canvas strap is a bit stiff, but the tropic rubber strap is super comfortable and is the one i wear it with on an everyday basis.



Conclusion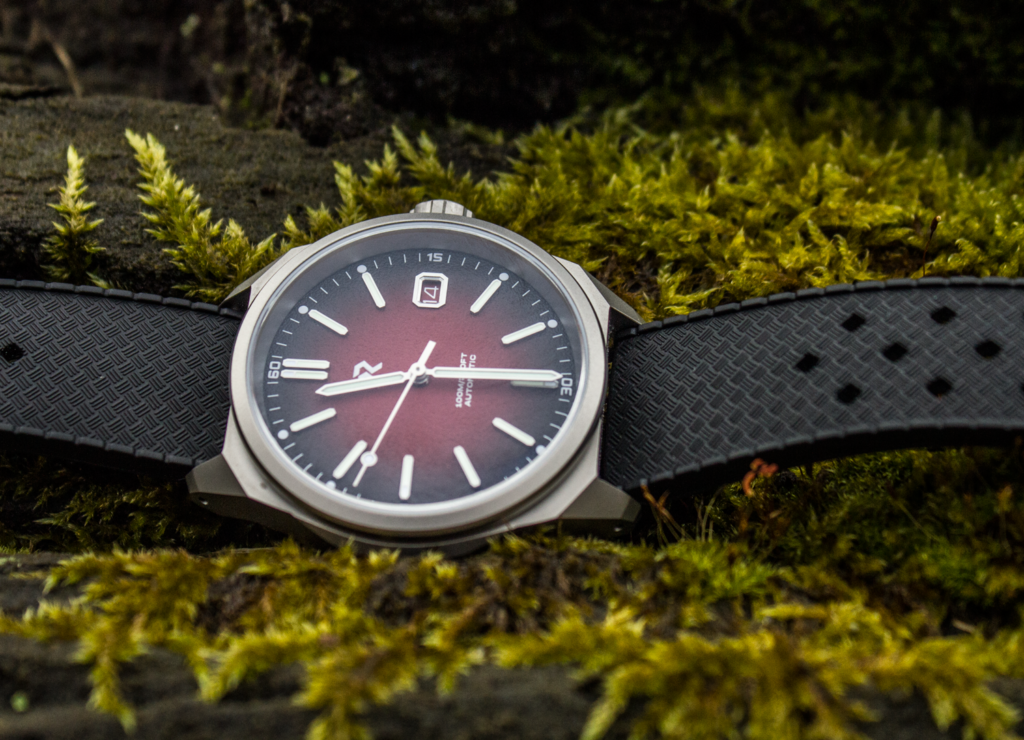 Travis from RZE is bringing the much-loved soul of Boldr into a new brand, where he can deliver the same great quality while experimenting with a bit more unique details and features.
The RZE Resolute has managed to dethrone the Boldr Venture as the best field watch in my opinion, thanks to its increased size, metal bracelet option, applied details, UltraHEX coating and fun lume. Yes, it does cost 25% more, but those 100 Dollars are totally worth it!
My only hope is that RZE will continue to create fun quality watches, and increase their line-up to match what Boldr is offering.