NOVE is a watch brand that i didn't know existed until a few weeks ago, and i am glad i discovered them ! I believe these watches are more fashion statements than watches targeted at watch enthusiasts, but they actually have plenty of qualities that should get any watch geek to consider buying one.
The Rocketeer is branded as follows : "The Rocketeer was created for all the people who dreamt of being an astronaut, when frontiers seemed boundless and even the highest heights seemed in reach. " And i couldn't agree more.
I present to you, the NOVE Rocketeer.



First impressions
The watch comes in a lovely little case and is well protected, leaving nothing to chance during transportation. Fully encased in plastic wrapping, the watch comes with 3 straps, giving you a lot for your money! A silicone strap, fake alligator genuine leather and the metal strap you see on their website.
Considering the price of the watch, i was delighted to see all the straps that came with it! The watch wel solid and sturdy, while reflecting light from it's well polished case. All in all, a great unboxing and a great packaging.



Design & Quality
The design of this watch is really what motivated me to review this bad boy. I am not a huge fan of their other designs, but this one struck a chord with me. It reminds me a bit of the BVLGARI Octo Finissimo with a hint of Nautilus, yet it has its own personality.


The case and crown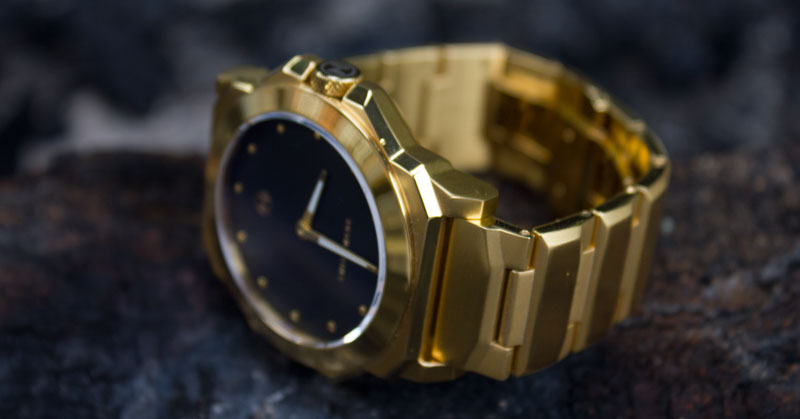 The case has a very angular design that reminds me of the Phoibos Sentinel i reviewed a while back, but still quite different than that one. Like any watch with this many angles worth its salt, it has a very good mix of brushed and polished surfaces, giving it life and personality. The metal finishing is quite good, but some of the angled lines near corners can be a bit too dull and imprecise, but nothing i wouldn't expect in this price category. I have seen better brushed finish in this price range, but again, nothing you can see unless you take it 10cm from your eye.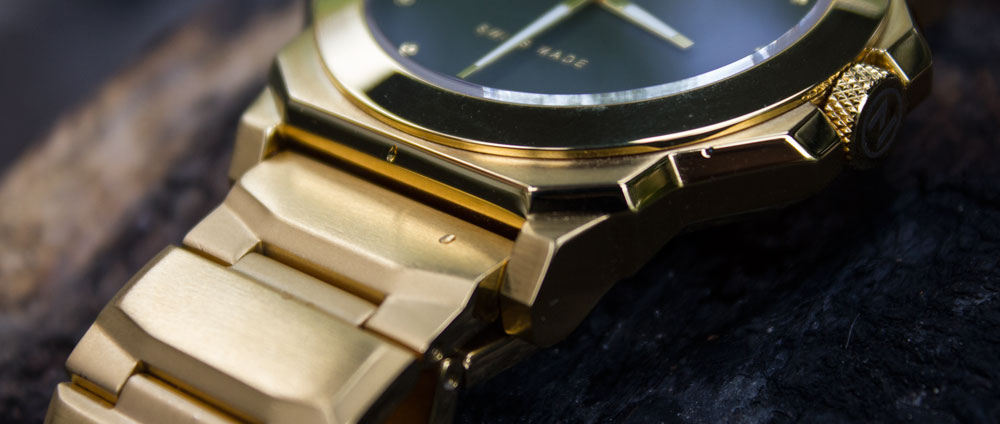 The case shape has that lovely Patek Philippe Nautilus symmetry. The left flank matches the crown guards on the right and balances out the design in a lovely way.
The very short lugs immediately plunge down at a 45 degree angle, making this rather big watch quite wearable, even on a smaller wrist.

The Rocketeer features a screw down crown for added water resistance, and it protrudes slightly from the crown guards. The small engraved pyramid pattern helps tremendously with the grip and unscrewing it is a smooth procedure with no weird "cracks" in the process. A very cool detail is the fact that the Nove logo is perfectly parallel to the case when the crown is fully screwed in! That's something I rarely see, even on watches above the 1000 Euro price tag.


The dial and crystal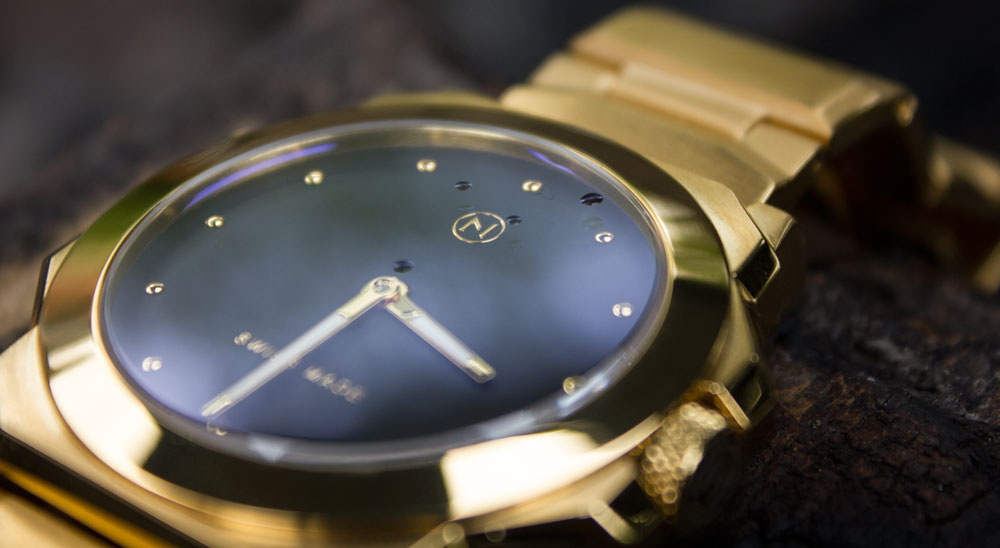 The dial is quite lovely as well: very minimalistic with a lot of curved design elements, contrasting the rather angular design of the case and strap. Round half bubbles of gold coloured metal serves as hour indices and the text and logo is also applied using beveled golden metal. All these elements are perfectly aligned, even for my trained eye 🙂
All of these lovely elements sits on top a "slightly less black" mat dial which works beautifully with the gold elements.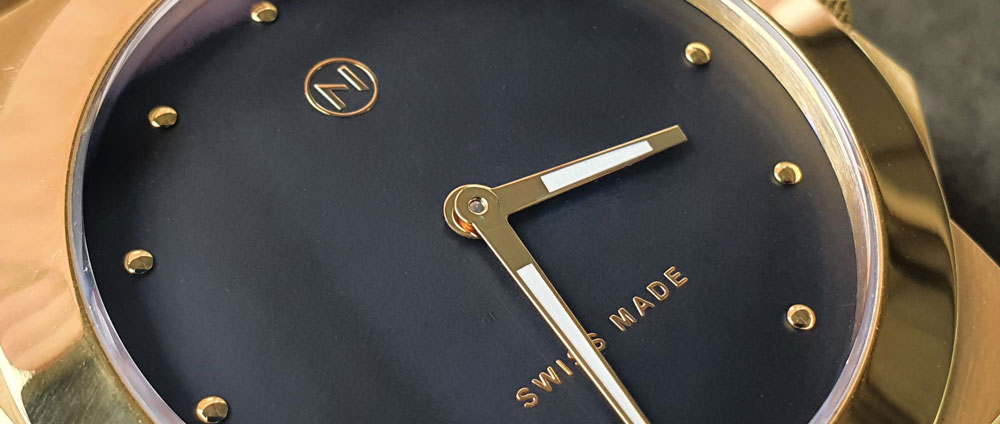 The hands turn slightly slimmer from the center and out and, but finish with a sharp "cut", to avoid copying the famous FP Journe hands. They are lumed, so you can always catch a glimpse of the time, even in the dark. Nove does not specify what SuperLuminova it is, but i am fairly sure it is C3.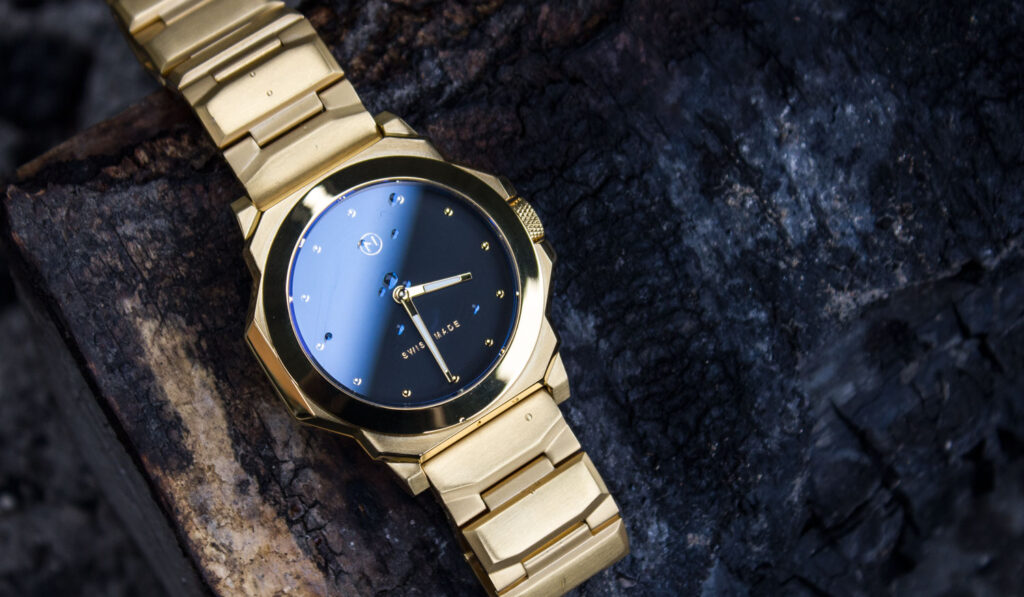 One thing I did not expect when receiving this watch is how good the crystal looks! The anti-reflective coating is very well done and really adds a luxury touch to this timepiece. That charming blue hue it gives off in certain makes the dial seem blue at times.


The Straps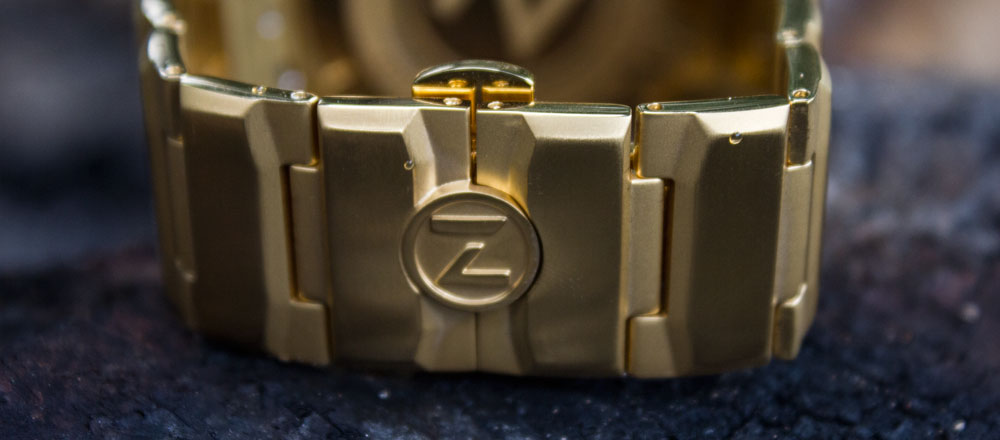 The metal strap this watch comes with has a pretty unique design, but it does remind of the metal strap Panerai produces, although more angular. It's a little bit jangly (makes noises when you shake it), but it makes up for it by being very comfortable to wear. It's held together by pins instead of screws, and keep the watch on the wrist thanks to a generic polished butterfly clasp.
The watch also comes with a rubber strap and a fake alligator leather strap. This is actually quite cool and definitely something more watch brands should include.


The rubber strap has no decoration which makes it more dressy than other rubber straps, but i feel it doesn't suit this watch. The leather strap is Genuine Leather faux croco strap. It looks quite good thanks to the uneven croco pattern (looks more natural) and although i was slightly disappointed by the lack of upholstering, but since the watch is quite slim, I can turn the other cheek.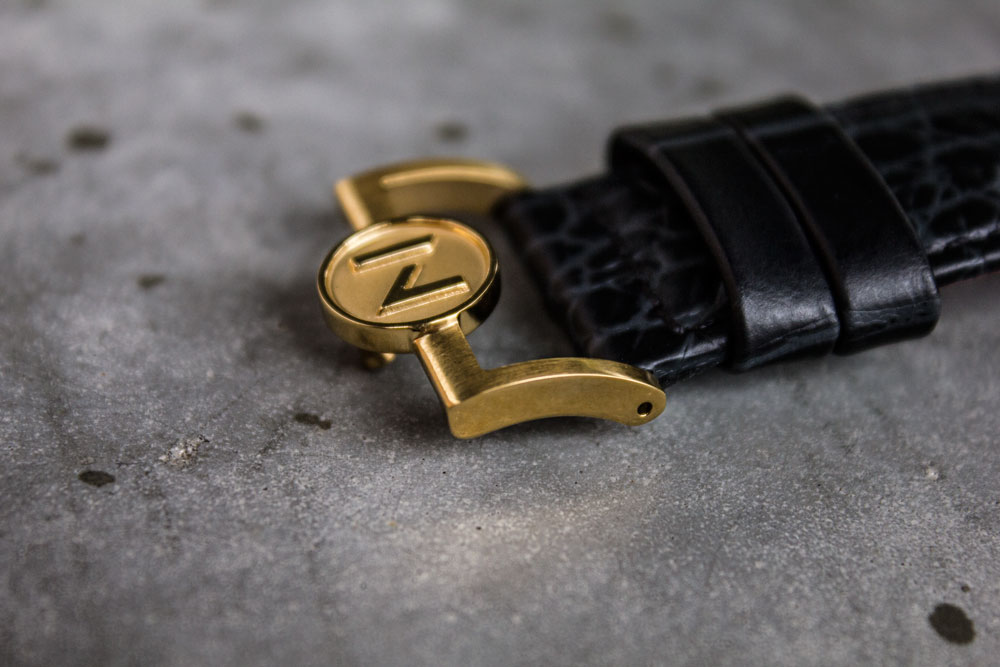 These straps also feature a lovely and unique buckle that work just like some belt buckles, by pressing down the round tip into the holes of the strap. It holds the watch quite well, but be careful when opening the strap, it can come off quickly and unexpectedly. Simply put, another cool and well designed detail that can't be ignored when talking about the price vs. value.



Conclusion

NOVE watches are not for everyone… But for those who like their design and slim profile, you will get a lot of cool things for your money. Yes, it's not a mechanical watch, but then it wouldn't be this slim (or well priced).
The Rocketeer is sporty, yet dressy, but always unique. It manages to attract attention, without being distasteful or too obvious. And considering all the cool details and overall quality of this timepiece, you also get your money's worth.