(5 / 5)
I have already reviewed one field watch on this blog, the Boldr Venture, and one of my few complaints was it's unimpressive size. But i think i might have found a mighty contestant to dethrone it!
In this review I will be taking a closer look at a watch with one of the greatest value for money propositions I have seen in a while. It's a beat down field watch and a great beta watch that is made to endure. I present to you the Phoibos Sentinel with green dial!

First impressions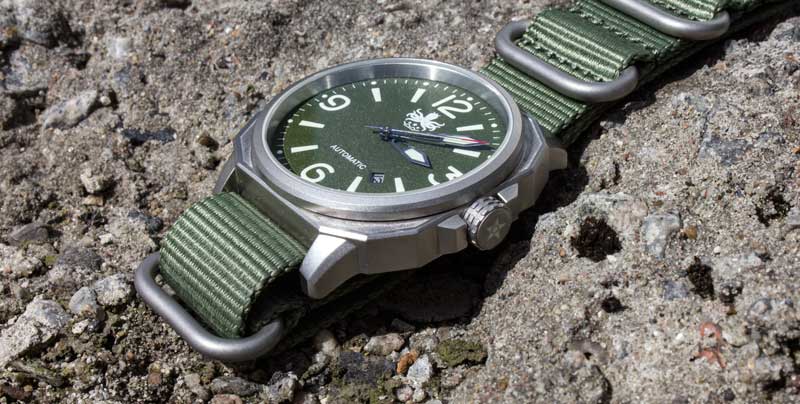 The watch comes in a nice leather travel bag that protects the watch and has space for the extra strap. I'm quite impressed with this packaging considering the low price of the watch.
The watch itself is impressive when you first hold it, due to several reasons: Its impressive size, its masculine and square design, its thin case and its weight! The huge crystal gives you a great view over the large and shiny sword like hands and the big numbers printed on the dial using phosphorescent paint.
This watch wasn't designed to shine and catch the eye, yet it does, just like a brand new hammer does when laying next to the other older tools. It's probably the most masculine watch I own, but i will have to go into the details in order to explain why.



A closer look
The case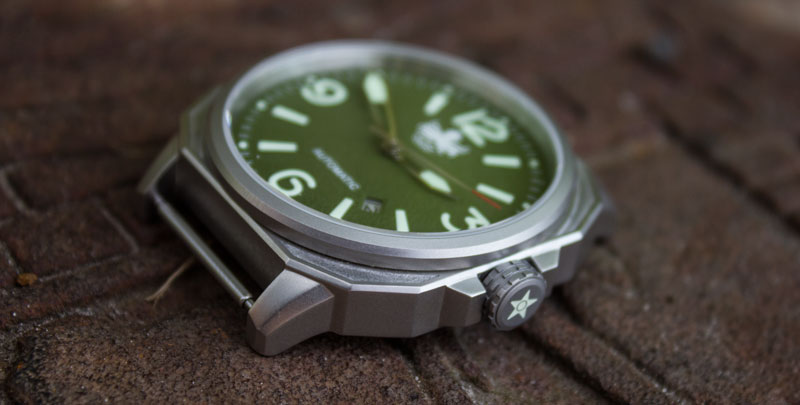 The case is rectangular and features many edges that are very well machines. The case reminds me of some of Bell & Ross's watches, and is very well proportioned. This design gives it a masculine feel and emphasizes the fact that is is a tool watch. Despite its impressive size and shape, it manages to sit quite well on my relatively small wrist, mainly due to the fact that the watch is quite thin.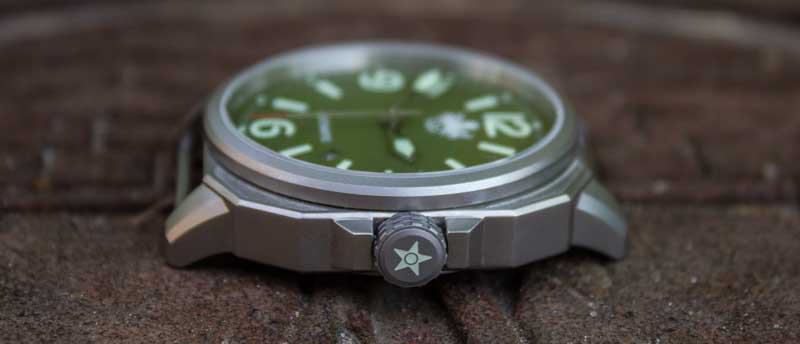 The beat blasted finish is impeccable and really give the watch a cool understated look. Field watches shouldn't be shiny and blingy, and the beat blasted finish is probably the coolest option for these kind of watches. But despite the understated tone of the watch, Phoibos has still managed to create a cool contrast and depth on this case. Each corner of the case has lowered beveled shape that features a grainier beat blasting, giving the watch even more character!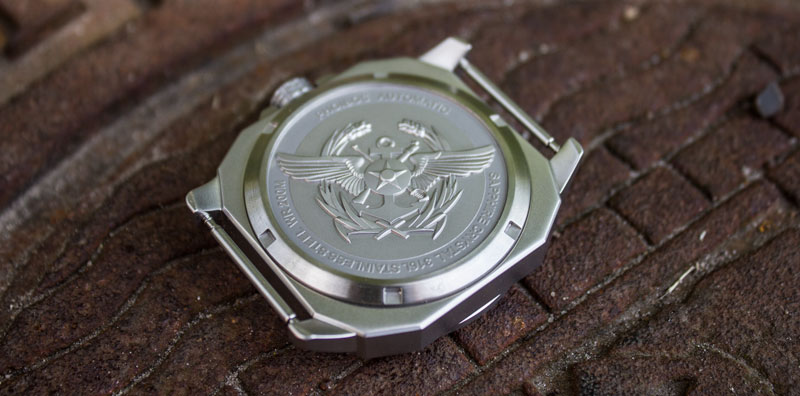 The case back is also worth mentioning simply because it's stunning. It looks like an old communist emblem and it's beautifully engraved into the back with a lot of depth. A very cool detail!


The dial and hands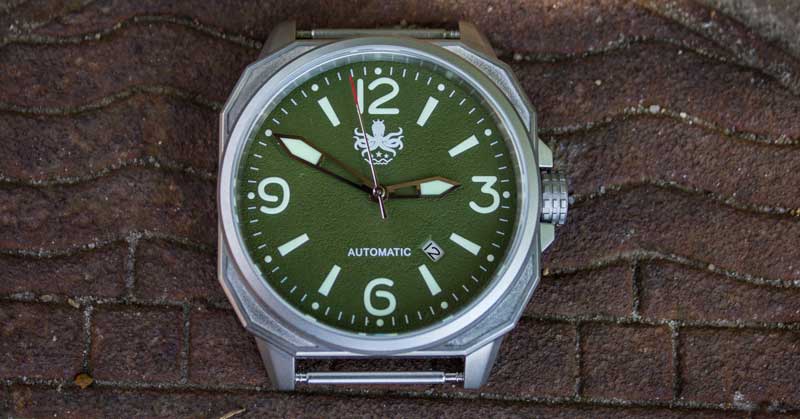 This watch has a big dial and Phobois uses this to their advantage. Printing huge markers and numbers at the 12, 3, 6, and 9 position makes it really easy to read the time (especially in the dark). The font reminds me of the same one used on some Panerais, and is very round and fun, creating a cool contrast with the square case and the sharp hands.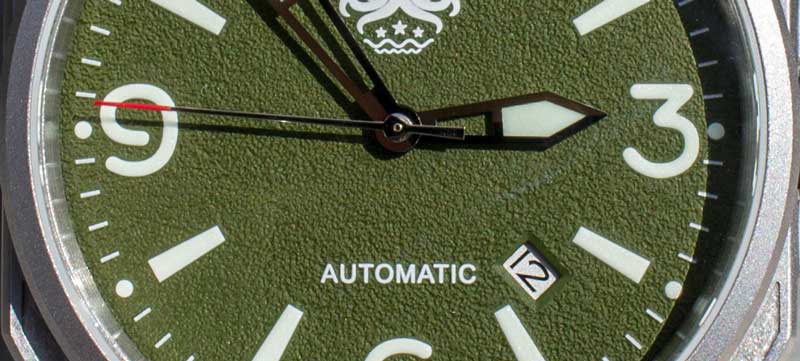 A cool detail you don't notice right away is the grainy texture of the dial. It looks really cool in the light and is a nice change from the plain matt dials i see so often. The lume on this watch is also off the charts! I don't know if it's because if the size of the markers, or the quality and quantity of lume, but i have never seen such a bright and long lasting lume in my life!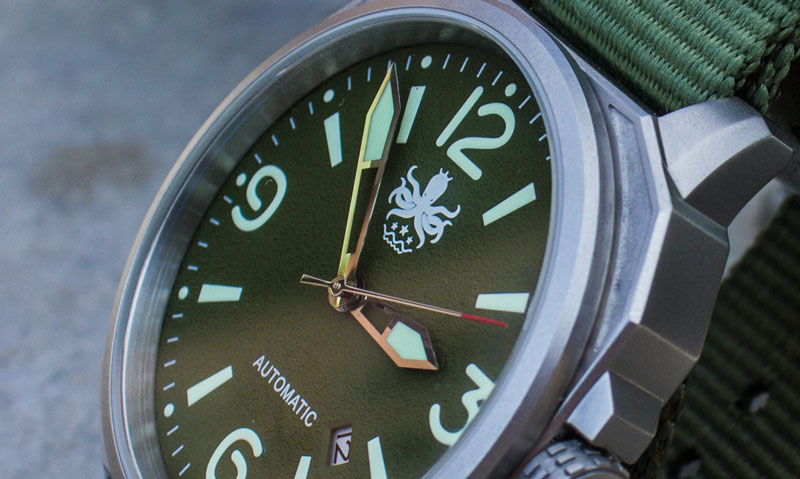 The date window is placed so that it doesn't obstruct the big numbers on the dial, and the date numbers are well centered and crisp. Nothing to say here except debating it's necessity on this watch.
The hands are the only things polished on this watch, and for good reason. These big sharp double edged leaf hands are stunning and deserves the polished finish. Not only do they shine in the light, but they feature the same impressive phosphorescent paint that lights up the dial's markers in low light situations.


The crown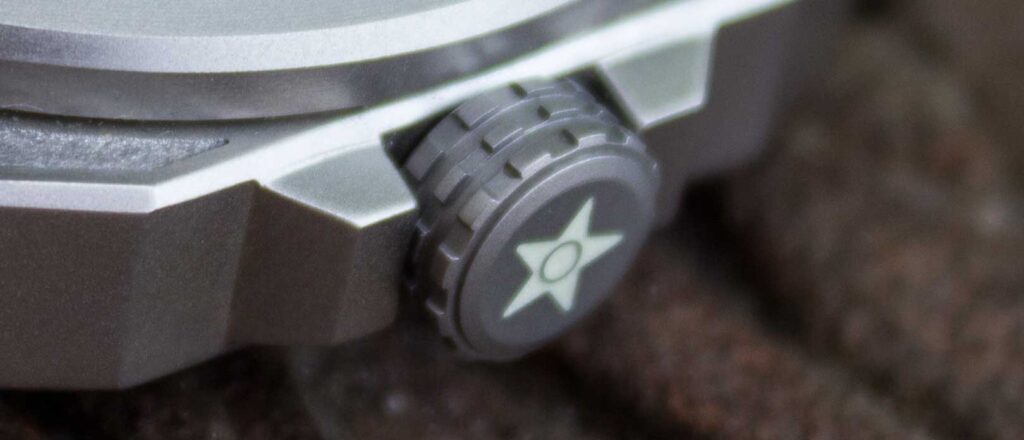 This watch features a screw down crown with a design that reminds me of a hand grenade. Another reason why is think this watch is masculine. The fact that it is a screw down crown puts my mind at ease when i have to go swim with my watch, and a field watch should certainly be able to take a few splashes and dives!
The grip on this crown is also amazing and makes it very easy to unscrew and wind up manually! A tool watch should focus on these things rather than looks, but Phoibos seems to pull off both quite well. Crown guards is to be expected, but the very "industrial" and "grainy" feel when unscrewing the crown was a bit of a surprise. But I actually do enjoy that feeling now, and I certainly don't think it's a sign of bad construction, since it is constant during the entire unscrewing of the crown.
One fun and unique detail i only noticed later is the star on the edge of the crown. It actually lights up in the dark, although not as well as the markers and hands. A fun little detail that goes hand in hand with the Soviet Union inspired case back.


The crystal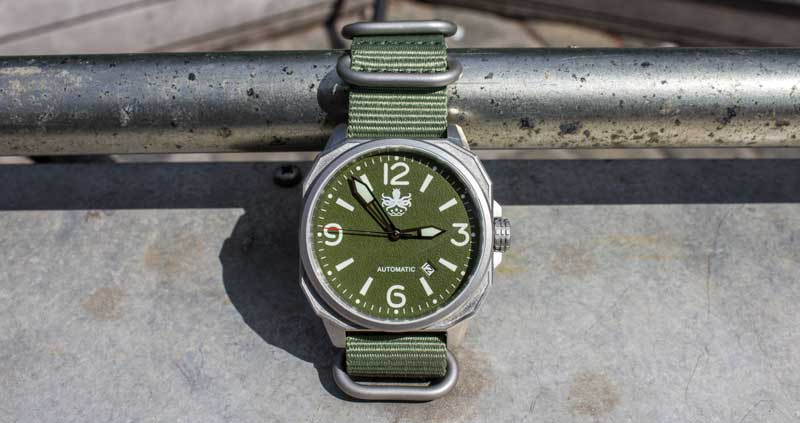 The Sentinel features a relatively large sapphire crystal with anti-reflective coating on the underside. Flat crystals tend to reflect more than domed ones, and this one does reflect some light. But nothing out of the ordinary for this price range and to be honest i am a bit surprised that it even comes with a sapphire crystal when you see the price of this watch!


The straps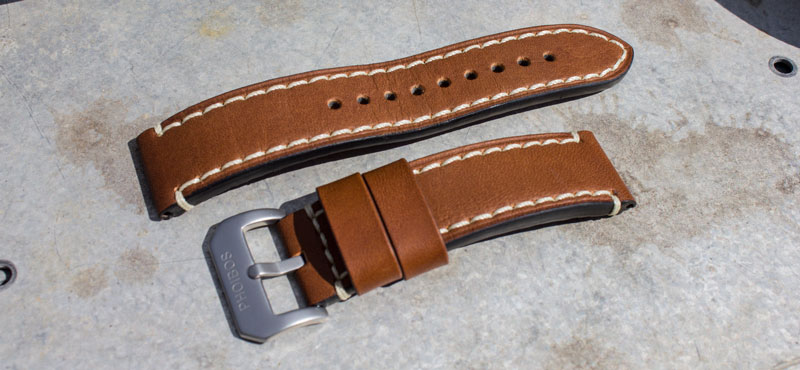 I was pleasantly surprised with both straps that came with this watch!
The leather strap is thick yet pliant, with tight stitching and a very decent buckle that fits the overall rugged design of the watch. It doesn't feel cheap at all and I would proudly attach it to a Panerai any day!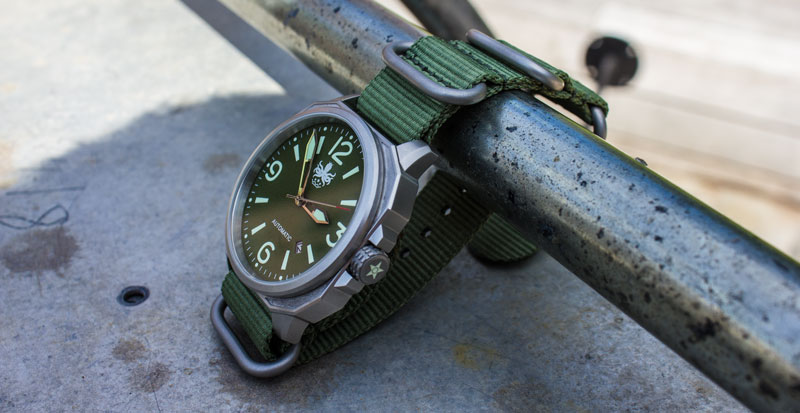 The zulu nylon strap is a whole other story! It looks so bad-ass on this watch i actually never wore the leather strap! The color matches the dial and the rounded buckles has the same beat blasted finish as the rest of the watch. A field watch, in my opinion, is best worn with a Nato or Zulu strap, and this watch pulls it off so well I won't be using the leather strap at all.



What could have been better
If i had to be super critical, I could find a few things that could have been better on the dial. But considering the very fair price of this watch, I will remain silent.



The price
The price is very fair
As I mentioned a few lines above these words, this watch is extremely fair priced. It goes for 310 Euro (349 USD) wich is very low considering what you get! A high beat movement from a reputable company (Miyota), a sapphire crystal, extremely good lume, a well built case and 2 quality straps. That's hard to beat!
Perhaps the fact that they are made in HongKong has something to say about the price. I can only hope their quality control is good, or that their customer service can make up for the lack of it.



The movement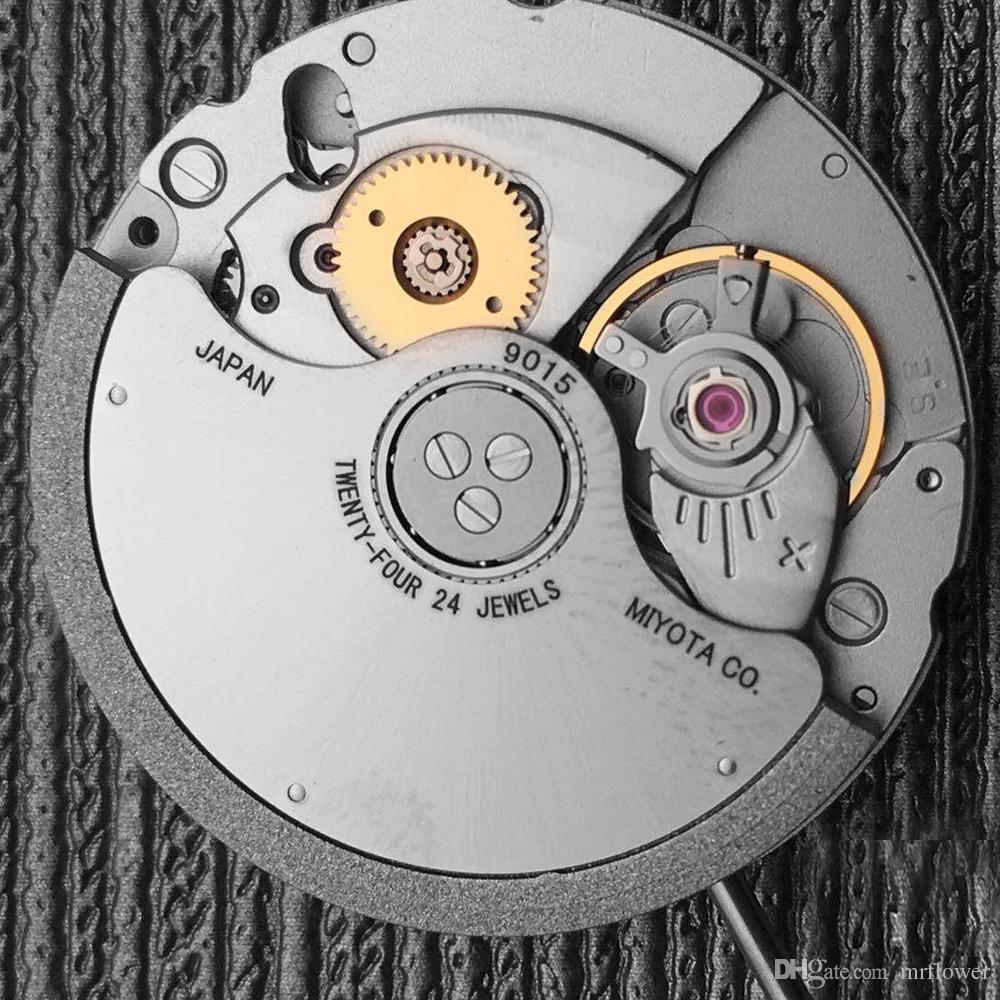 This watch is powered by the Miyota 9015, a high-beat movement that features a hacking function (stops the watch when adjusting the time), date wheel, 28.800 beats per hour and uni directional winding. They boast an accuracy of 10 to 30 seconds a day, but I have experienced much less in my day to day use of this watch. A great movement that can be replaced for about 100 USD which makes the watch's price even more impressive.

Conclusion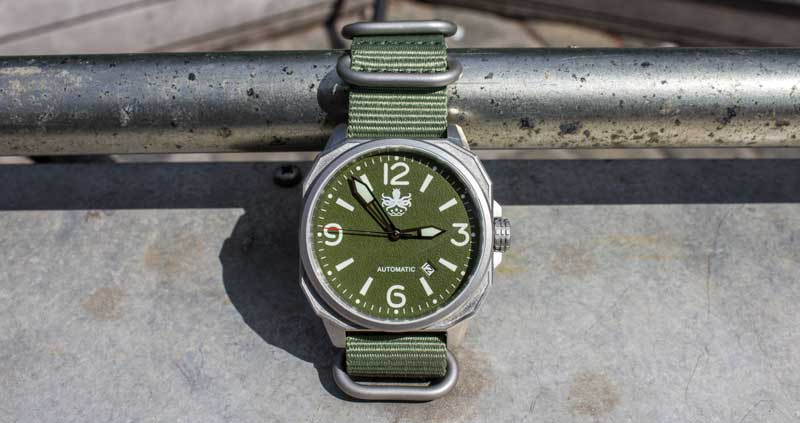 If your a fan of big watches, this watch is for you. If you like masculine tool watches, this watch is for you. If you are looking for a well built high-beat automatic watch on a small budget, this watch is for you. You get A LOT OF WATCH for you money, making it a great expendable beta watch for outdoor activities or everyday use.
The Phoibos Sentinel was never intended to be flashy og blingy, yet it's size and sharp and angular design catches the attention, just like a tank would next to a Honda Civic. Albeit its size, it is very thin and wears very well on the wrist, making it a very good middle ground between oversized fashion watches and smaller field watches.
Its over the top bright lume, screw down crown and solid build makes this a watch I would wear for any water sport activity, snow sports or outdoor hobby. Weather you just love the design of the watch or you are looking for a solid and fair priced automatic field watch, the Sentinel won't disappoint.