UPDATE: Boldr has launched their new line of Venture watches, with automatic movements, and removed this one from their website. You can still buy it from other online vendors and if you are curious you can check out my review of the new Boldr Venture right here!
I finally received my Boldr Venture, and I must say that I am pleasantly surprised. If you want to know why I love this watch, keep reading.
Content
First impressions
After opening the parcel, I was pleasantly surprised to see that the watch came with a beautiful watch bag that can fit 4 watches. Perfect for traveling!

I imagined the watch to be bigger, but i do have very small wrists (16 cm), so i wasn't displeased. I really loved taking it out of the box and admiring it up close. It's really a beautiful watch with a masculine and aggressive design and it really does look like it was designed for nato straps. There is a lot of military inspiration in this design, and wearing make you want to climb a cliff or go camping in the forest 🙂
The proportions of this watch are great and there is no confusing the minute and hours hand, making it easy to read the time very quickly (i have watches where i have to glance a few extra seconds to tell time).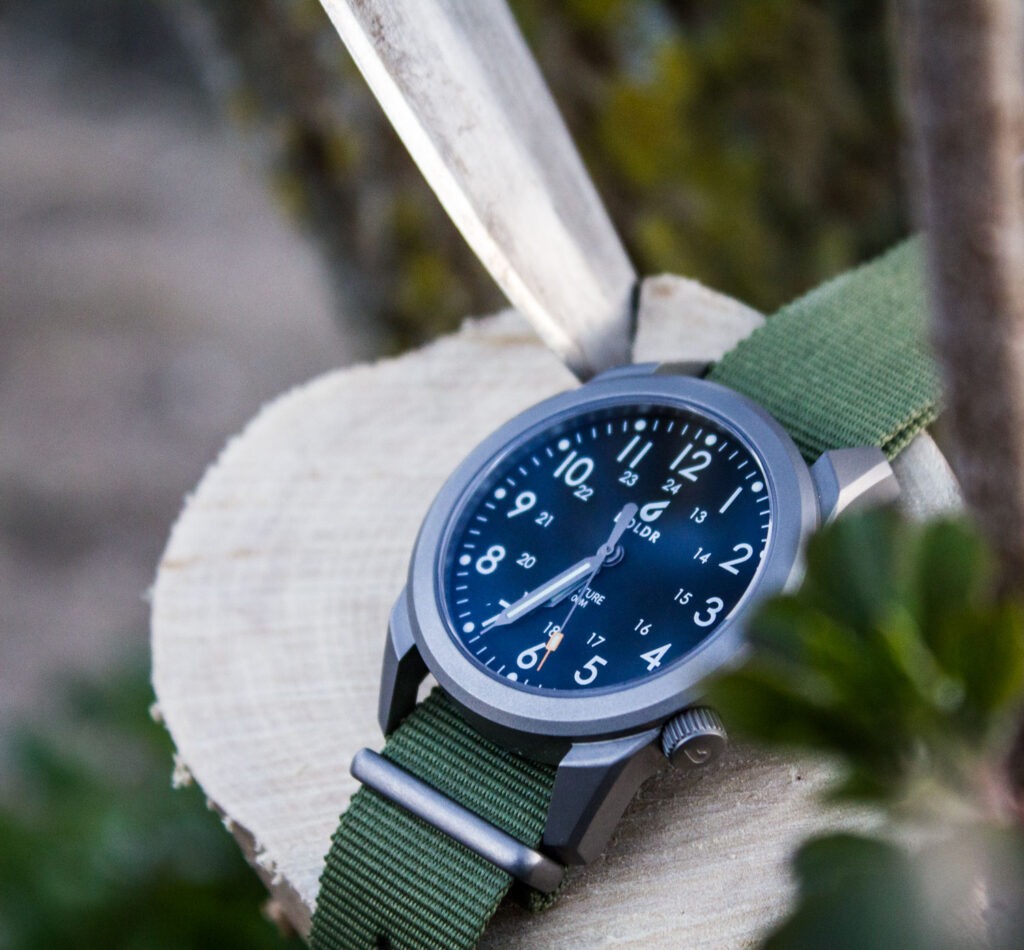 Pros
A very beautiful watch with a masculine and industrial design. The arms of the case have beautifully machined angles and follow the alignment of the Nato strap perfectly. The brushed watch hands are very industrial and finish in a tip, which makes them quite unique. I am a big fan of the yellow / orange detail on the tip of the seconds hand, because it gives the watch a lot of personality.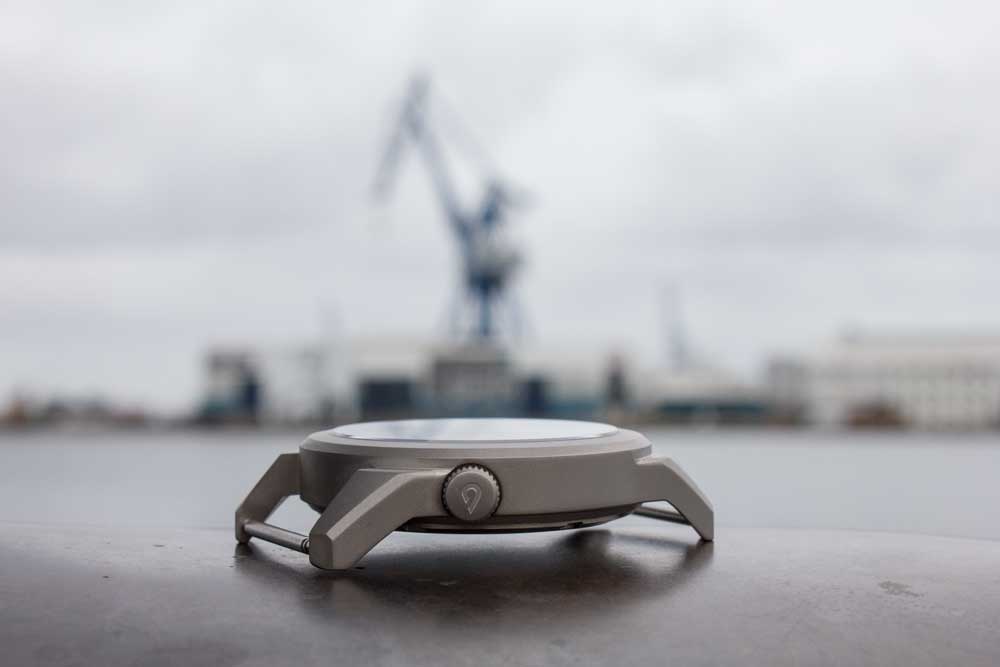 I LOVE the particle blasted titanium used for this watch, which gives it a granular finish. The details on the nato strap also have the same finish.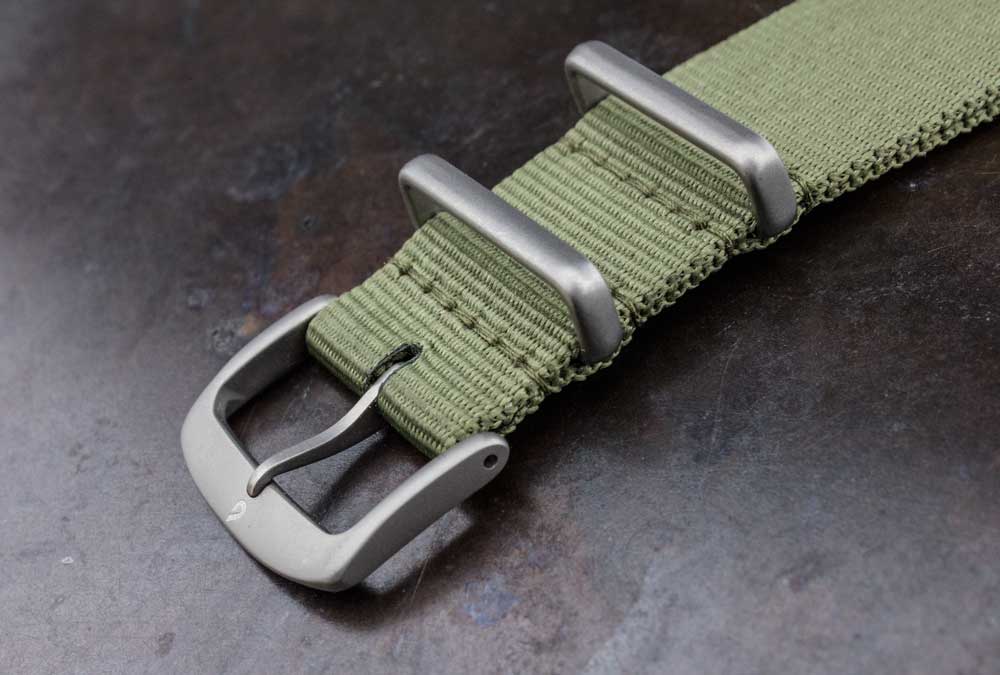 A very light and comfortable watch thanks to the titanium case and the nato strap.
The sapphire crystalreflects very little light, giving you an impeccable view of the dial. From some angles, it looks like the glass is missing!
A lifetime warranty, which testifies to the quality of the watch.
The writing on the dial are very "crispy" and easy to read.
A very acceptable price of 131 euros (or 150 dollars)!
The lumen glows well in the dark, especially the hands.
The crown is placed at 4 o'clock which is very comfortable, especially when flexing the wrists because it doesn't push down on your hand.
Because nato straps goes so well with this watch, you can buy 2 or 3 other nato straps to change the watch a bit. I tried another strap, and it gives the impression of having a whole new watch on the wrist.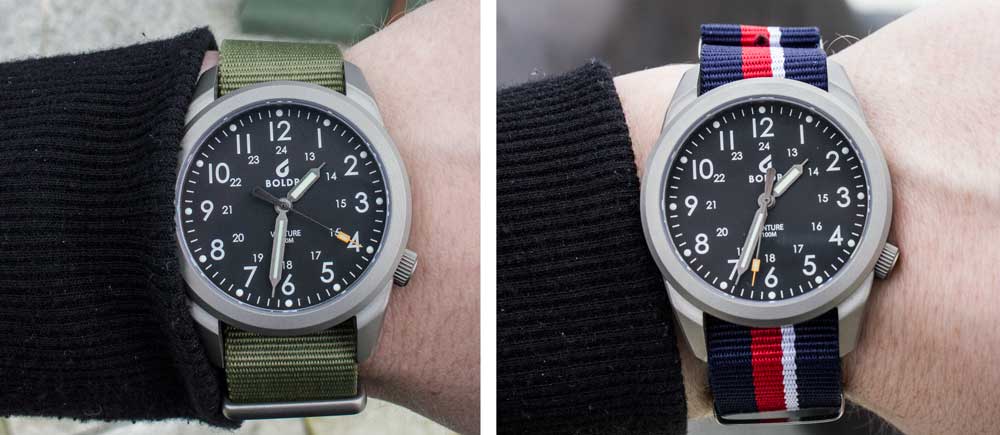 Cons
I would have liked for the watch to be bigger, but this is more subjective because i like big watches. Bear in my i have very small wrists.
No date complication.
Conclusion
A very affordable quality watch with few disadvantages, a beautiful masculine design and a level of comfort without parallel. This watch goes very well with streetwear or a leather jacket, but I would not wear it with a blazer, a nice shirt in the pants or a suit. On the other hand, if I decide to buy a leather strap for it, I would not hesitate to combine it with a suit or a fancier attire.
I strongly recommend this watch for any jobs such as cook, mechanic or construction workers. I use this watch myself as "beta" watch. A beta watch is a watch that you can wear every day, but also when you go to the gym, when skiing, swimming, wakeboarding, or just for cooking.
I do not recommend this watch for people with very big wrists! It's a relatively small watch that will fit most people, but not the big wristed guys out there 🙁 My wrists are small (17cm) so it's not a huge problem for me and for most average wrists. If your wrist circumference is larger than 18 cm, pick up another watch!
If i want to buy a new Boldr Venture, you can go place you order here!
I will be giving one of these away very soon, so stay tuned!