As some of my returning readers may know, i am a big fan of colorful outfits, but i haven't really been reviewing too many colorful watches. But i now have had the great pleasure of testing, contrary to many other reviews of the brand, a very colorful watch from Fine Watches Berlin!
Mia Phyllis Liefer and Wilfried Liefer are the daughter and father team up behind these watches. Just like Lorier watches, many of these microbrands are created by couples, friends or family members, which is truly charming and a testament to the passion there is for watches out there.
I present to you, the FWB Valentina Blue!  ( 15% off discount code FD15 for the entire collection ! )



Unboxing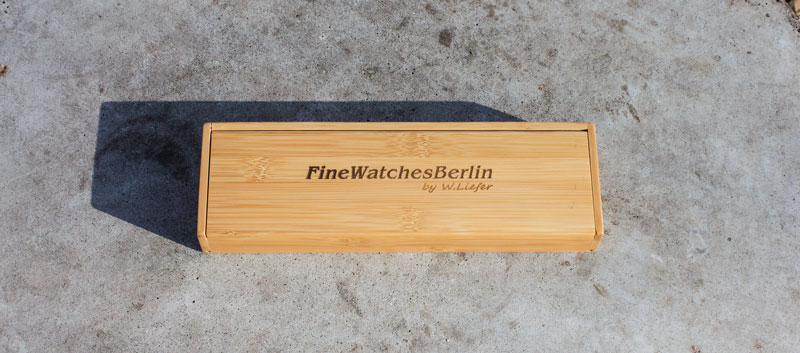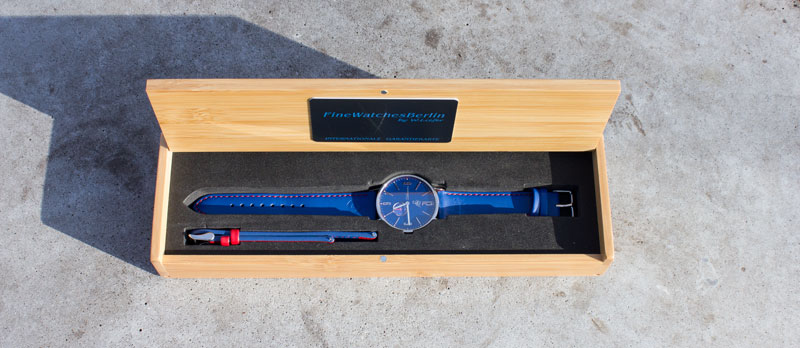 The watch comes in a nice bamboo box if i am not mistaken and the watch is securely fitted into a foam shape. It's a decent box that ensures that the watch doesn't get shaken around during transportation.
The watch also comes with an extra strap with inverted colors, meaning red on top and blue on the sides and bottom. The warranty card is secured to the lid of the box and there is also a small complimentary microfiber cloth.



Overall design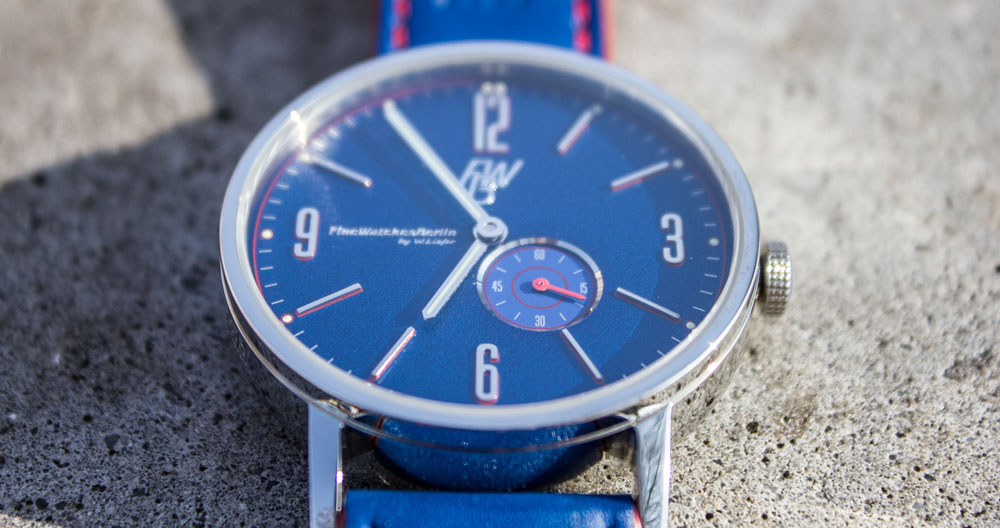 You can definitely tell that this watch has some german design imbedded in it. It's round, simple case shape, modern elongated font for the numbers and long baton style indices. But behind this sporty minimalism and the obvious bold color choices lies many other cool and truly funky details that I grew to love. I will of course also cover what I consider the design flaws that keeps this watch from being perfect in my eyes.



Design strengths
The case shape is simple, but features a nice "sandwich" look that makes it look likes it's several layers.
The dial is well proportioned and i really love the flat polished applied indices. When they catch the right light, it looks amazing. The applied logo is also very cool and sporty and matches the polished beveled edges that leads down to the subdial.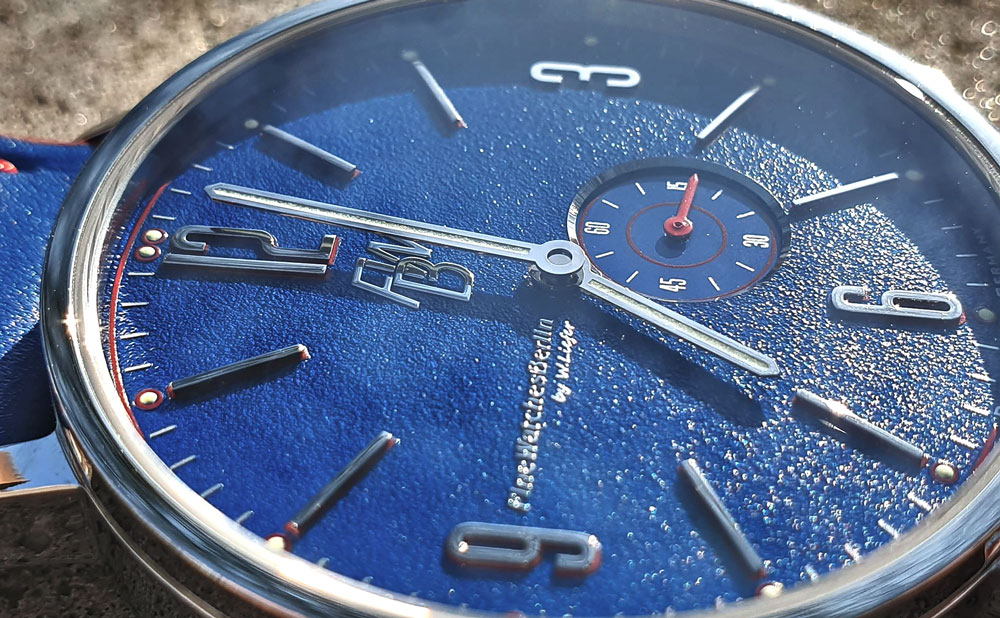 The dial floor has a sort of roughly galvanized matt finish that is obvious to the wearer in bright light, but almost hidden in low light conditions. It creates a nice contrast with the other polished elements, and makes it easier to read the time since the entire dial is not reflecting light.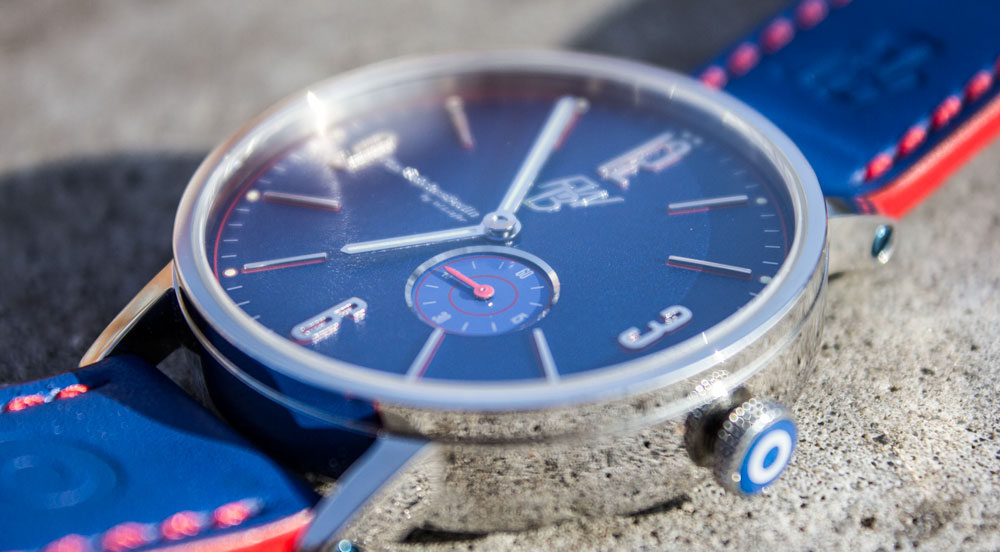 The 2 main colors on this watch are applied in a very original and discreet way. The applied indices sits on top of a red layer of paint, the lume dots are surrounded by a ring of red paint and there are red rings around the edge of the dial and the subdial. The obvious one here is the red subdial seconds hand.. You have to have that when you have blue and red as you main dial colors!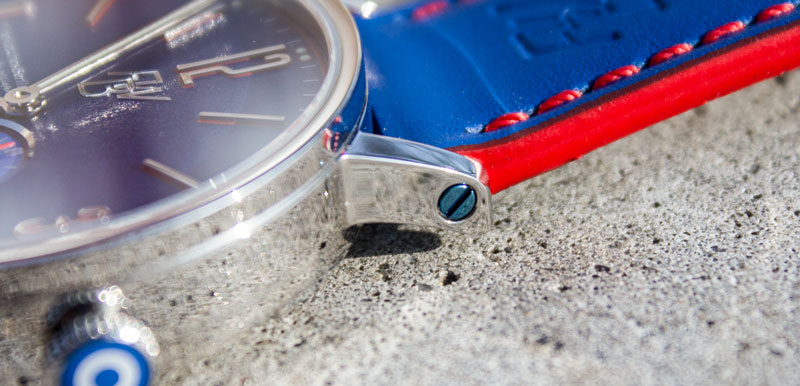 This funky color duo keeps on going on the strap, with blue leather on the top, red stitching and red on the sides. It keeps going on the lugs and movement as well, both featuring blue screws (they are painted, not heat treated i assume, considering the price).



Design flaws
For all it's cool and funky details, that only shows the thought put into this watch, I could not ignore the things that stood out on this watch, at least in my opinion.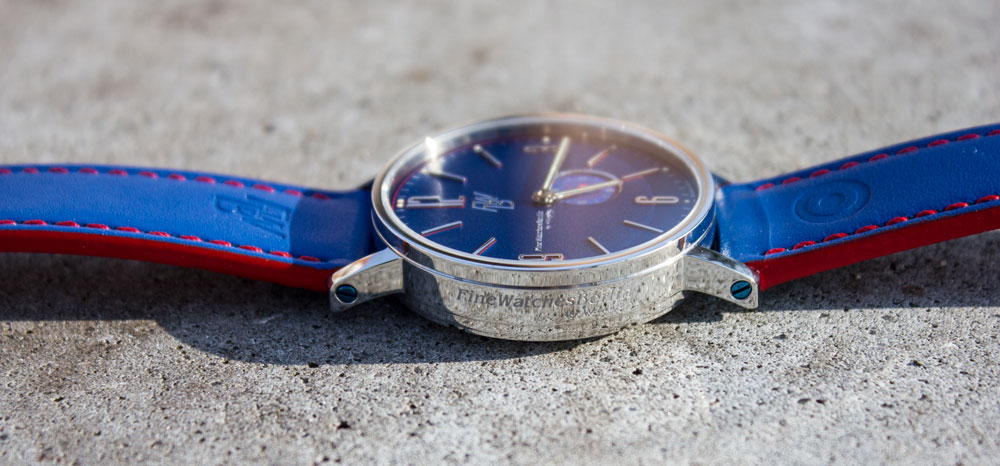 The polished brand name at the nine o'clock is a little too small and is very hard to read unless you get really close to the watch. It shouldn't be removed, but perhaps the three words should be bigger and on top of each other. The family name of the creators is also a bit small, and perhaps unnecessary. Without any heritage, i would leave the name off the dial and perhaps engrave it on the caseback.
I would also refrain from engraving the brand name on the side of the case. Any serious watch company only has it on the dial, and it just seems desperate or cheap. Luckily, it is not very visible.



Quality
The case and crown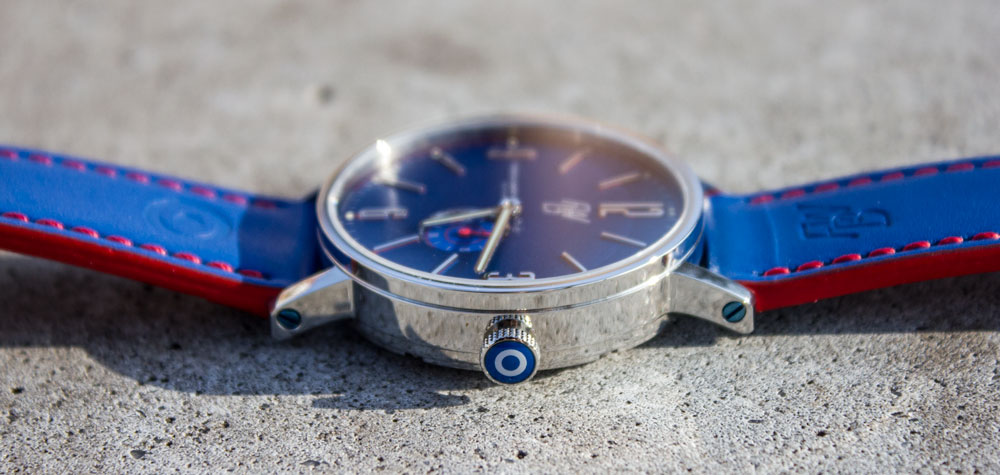 The case is well finished and the polished finish is good and precise, meaning the reflections are linear and not "wobbly". The lugs are nicely attached to the case with no evidence of welding or machining. 50 meters water resistance is good enough for a sporty dress watch, but i wouldn't go swimming with it.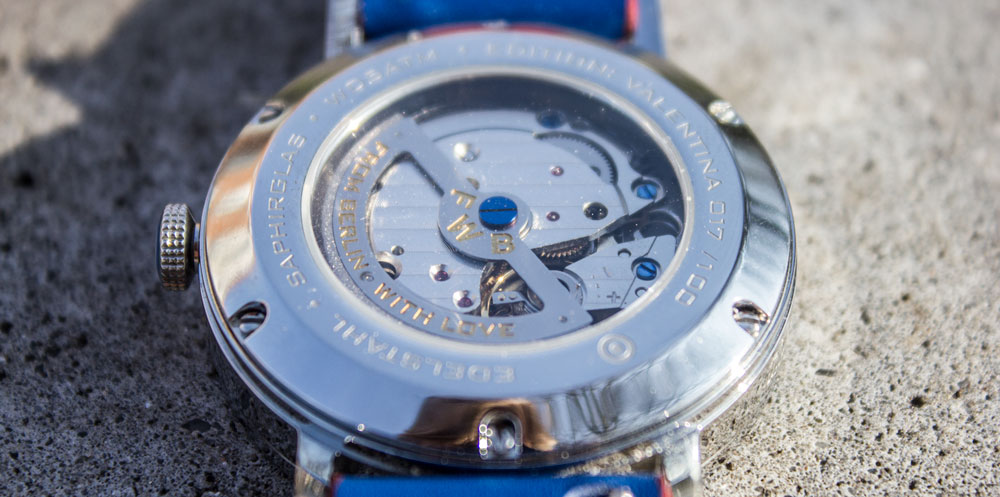 The case back is actually quite nice considering the price, with screw holding it down and a sapphire crystal to reveal a very well finished movement (considering Miyota has some very ugly movements on the market). It's got blue screws, côtes de genève, custom rotor with a very nice polished bead blasted finish on the edge.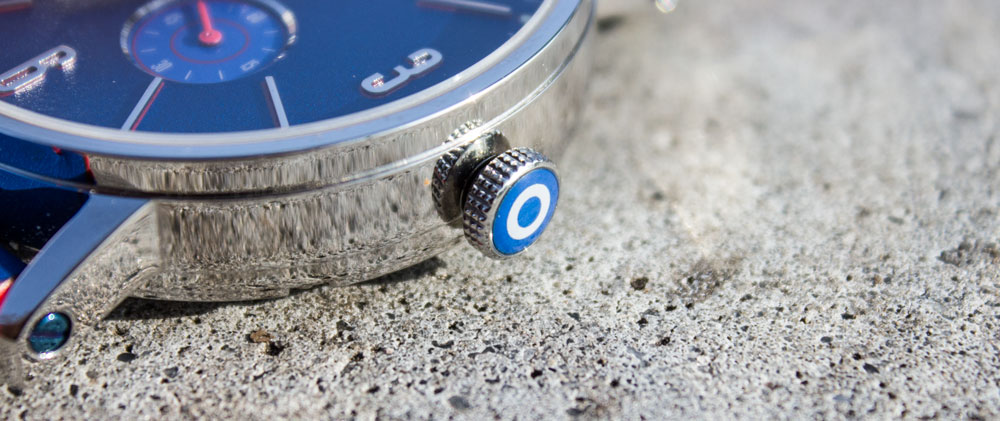 The crown has a nice little polished grip and is handled like you would expect with a Miyota movement. Very easy hand winding and a nice click when pulling out the crown.



The dial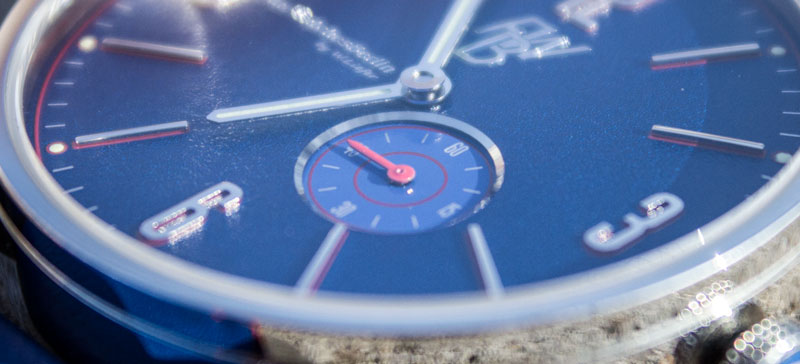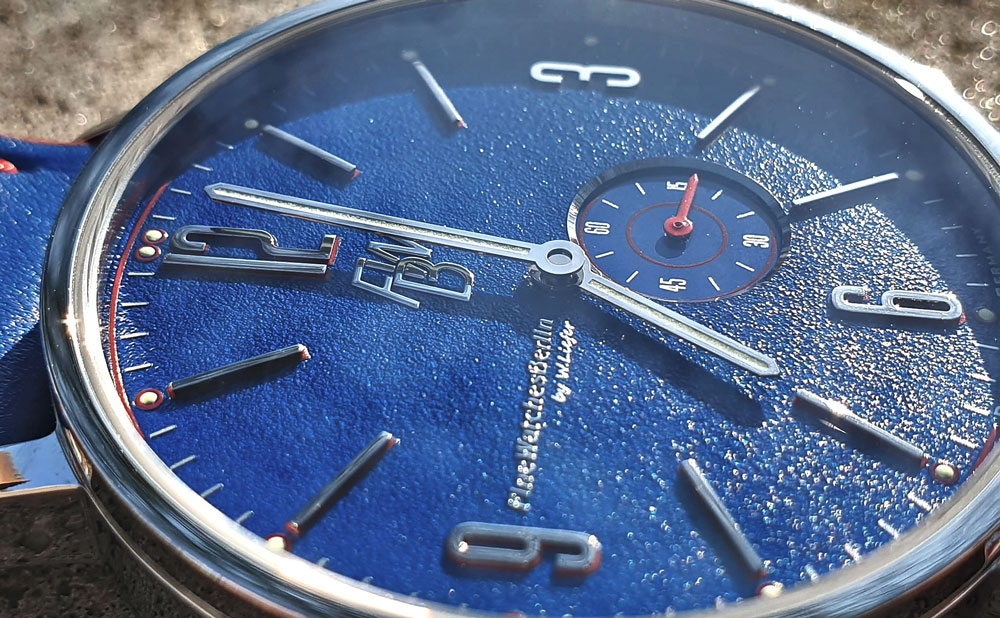 The dial is nicely finished, just like the applied indices and logo, and all the elements are perfectly aligned. The hands are also well machined, without any residue and a nice polished finish.
The lume is, unfortunately, not so good. On the hands it's quite good, but the lume dots on the minute track are very weak, even after exposure to a bright light source up close. Smaller lume dots are harder to pull off, and you really need to use C3 Super Luminova. Breitling is a brand that has pulled them off perfectly on their Navitimer model.



The crystal
The crystal is flat and does reflect some light, more than others i have seen, but they tend to be fitted on more expensive watches. Flat crystal is the way to go here, but i would consider getting a better AR coating.



The strap and buckle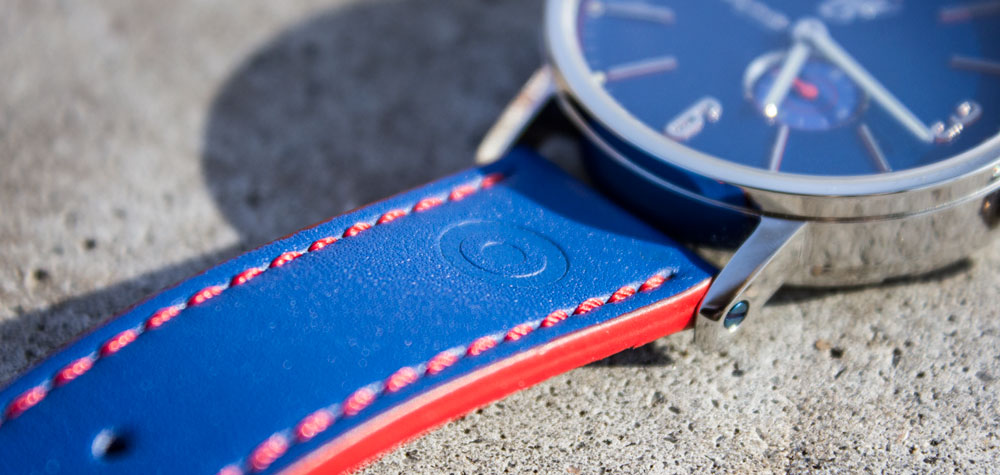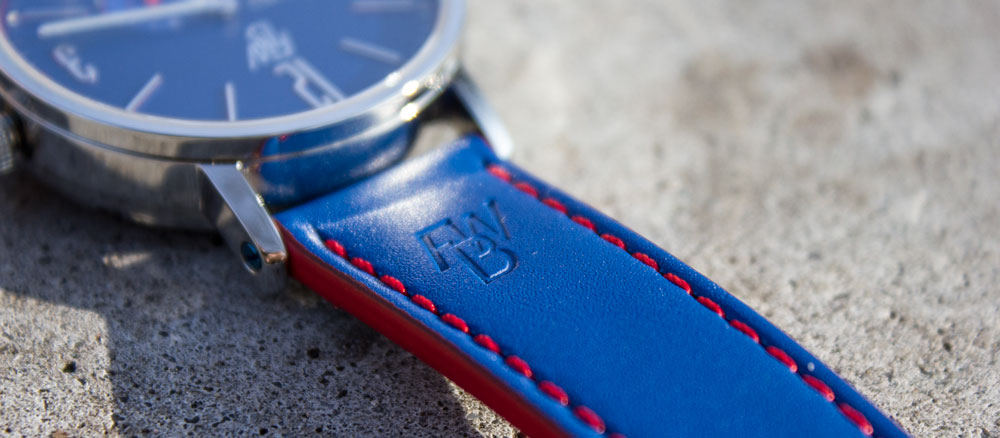 The strap was supple and comfortable, but nothing out of this world. It is a good strap for the money, with genuine leather and "laminated" sides, that's all i will say. It does feature some nice discreet embossed logos on the top and a tight stitching, so it can stand out from other straps in this price range, and i have seen plenty worse for the same money (and you get 2 when buying this watch).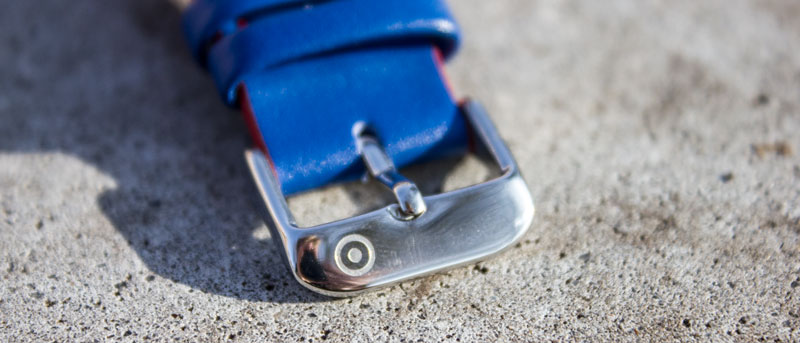 The buckle is a very generic buckle with a deeply engraved circular logo. They did go out of their way to make sure it wasn't one of those cheap superficial engravings.



The movement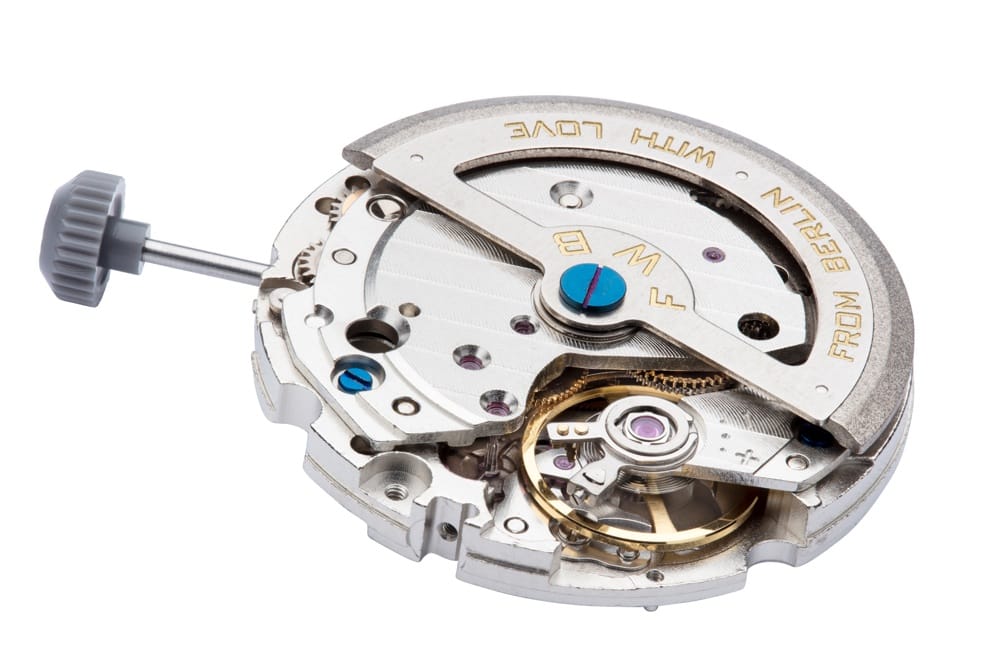 I have to admit, I was quite surprised by the movement! Not only is it well finished and customized by the Liefers, but it was also more accurate than promised.
Out of the box and worn for half a day, it was losing 17 seconds / day with an amplitude of 277 degrees and beat error of 0.1 ms. That's slightly under the paper specs.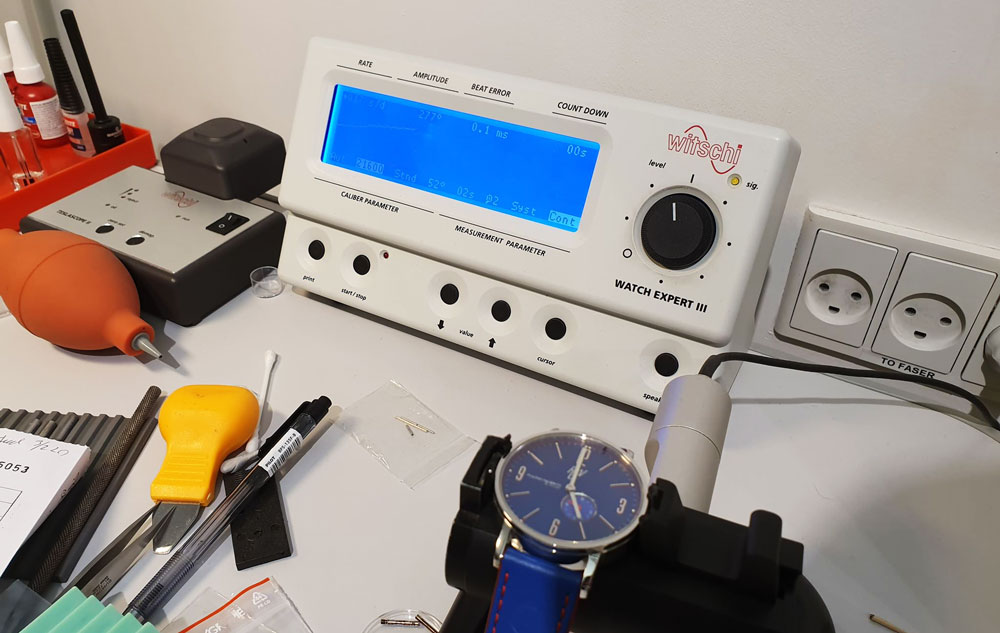 This movement does not feature hacking and has a unidirectional winding mechanism, meaning it can wobble a little when you throw your arm around. Unfortunately, the movement is also quite loud compared to other watches in this price range.



Price
The watch is sold for 698 Euros (777 USD). I think the watch feels slightly overpriced, considering all the microbrand watches i have reviewed. Don't get me wrong, it's a well made watch, but i have seen the same level of finish and detail on slightly less expensive watches.
But perhaps all the original details of this watch drove the price up a bit. Many micro brand watches use more generic and mass produced parts (a reason why Code41 seems overpriced as well).
Also, Fine Watches Berlin is a small endeavour and they do donate to charity, so giving them your money is better than giving to a big company that sells you cheap chinese quartz movements wrapped in good marketing.



Conclusion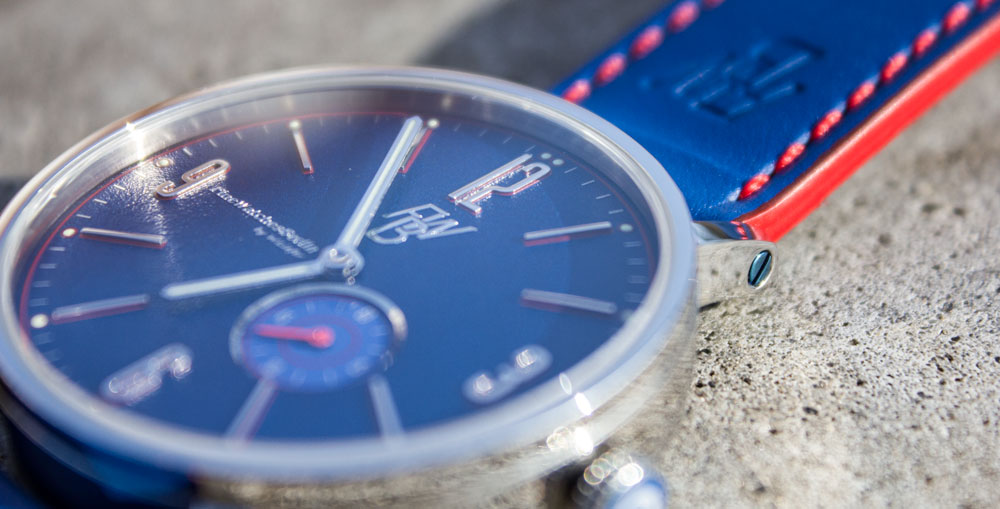 Fine Watches Berlin offers a watch with a blend of german minimalism and sporty design. The energetic fonts, logo and colors are toned down by the simple case shape and lustrous polish.
It's a funky everyday watch that can double as a dress watch. At first glance you might think that this is just like a lot of the watches you have seen already. But after closer inspection, all the subtle details and design choices add up to become a very original watch that was made with love and passion.