I know I keep using statements that reflect the original nature of so many of the watch brands i review. "This is a watch that defines what is expected of a watch", "This is truly an original design" and many more… 
I would hate to dissipate these statements, but for Eone watches, the following statement couldn't be more true: "I have never worn or reviewed a watch like this".
When designing watches for such a small niche as eyesight challenged people, one can only speculate whether the bonus mass appeal was accidental or thought through. In any case, there is an appeal beyond the scope of their target group, which is also the only one i can share here since i have a 20/20 vision.
I present to you, Eone Watches.


Kickstarter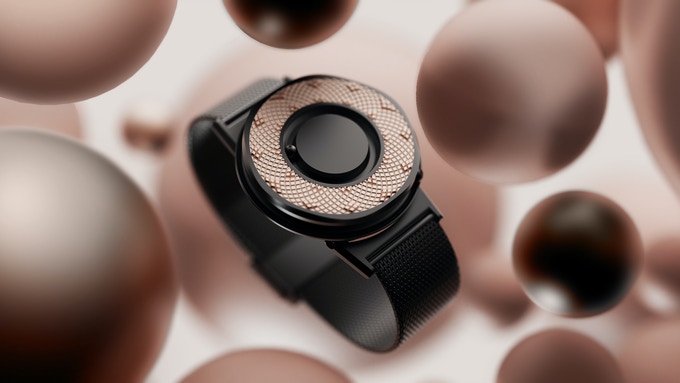 Eone is already trying to fund a new version of their watch, called the Eone switch. A worthy sequel taking customizability for vision-impaired people into the mix.
The idea of switching the watch face is great because it gives most people the fun of seeing a new watch face, but also gives a blind person the feel of a new watch and the joy of diversity.
Because "diversity is the spice of life".
Check out their Kickstarter here.


Intro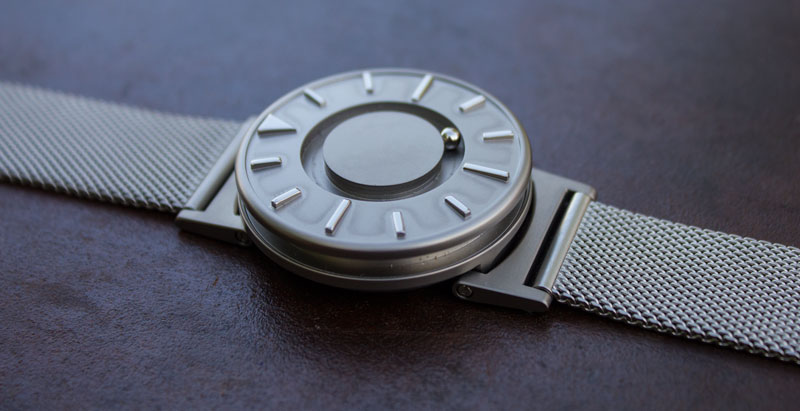 I think it is worth noting that this is far from the first watch designed for the blind.
Early quartz and even mechanical watches have been known to feature a removable glass so that one could touch the hands and indices, thus reading the time. This was a clumsy and fragile design.
One of my earlier family members had sight troubles, which is how i got to know of the talking watches. Pressing a button would tell the time, which is extremely convenient for the vision impaired.
But what these earlier watches all have in common is that they are usually not very esthetically pleasing. And why shouldn't the vision-impaired not care about how they look? Not all of them are 100 percent blind!
Many just have trouble seeing the time correctly or rely on their friends and family input for style. That gap has just been filled by Eone Watches.


Design and Functionality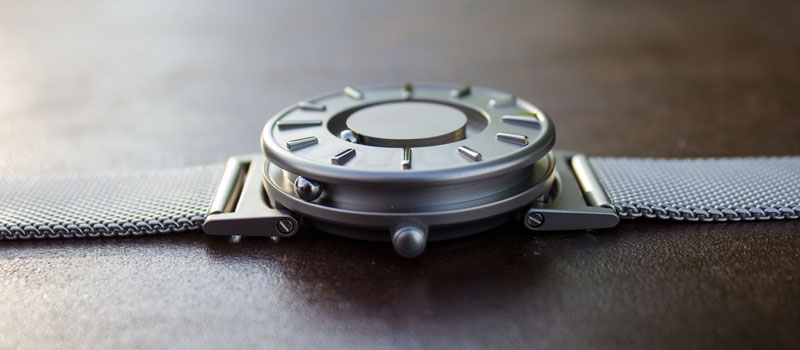 The design of the Eone Bradley, and their other watches, are primarily influenced by their functionality.
There are of course the classic sportier model with the nato strap and the more dressy version with leather straps or mesh bracelets. But in order to design a watch that looks good while being readable for the vision impaired, a consistent and practical design language has to be created.
The use of internal magnets to solve the fragility problem of previous "touch" dials is not only smart but looks great! It gives the watches a unique modern and futuristic flair.
If you think you couldn't make watches more minimalistic, Eone is also here to prove you wrong.
In their quest for a functional design, they also created something much more minimalistic. No crystal, no hands or seconds counter, no lume, no printing, no text, just a block of metal with 2 polished balls. Now that's minimalism!
Overall, Eone's watches are like many unique watch designs: they are not for everyone, but there is definitely a mass appeal. What is true for everyone, is that curiosity strikes when they first see it on my wrist.


Quality
Because of its very simple design that forfeits the crystal, hands, and other elements, they could either lower the price or invest more in the machining and other elements.
I feel like they met in the middle, especially considering that they need a special module on the quartz movement, and make sure the magnets don't affect the timekeeping.

The case, crown and "hands"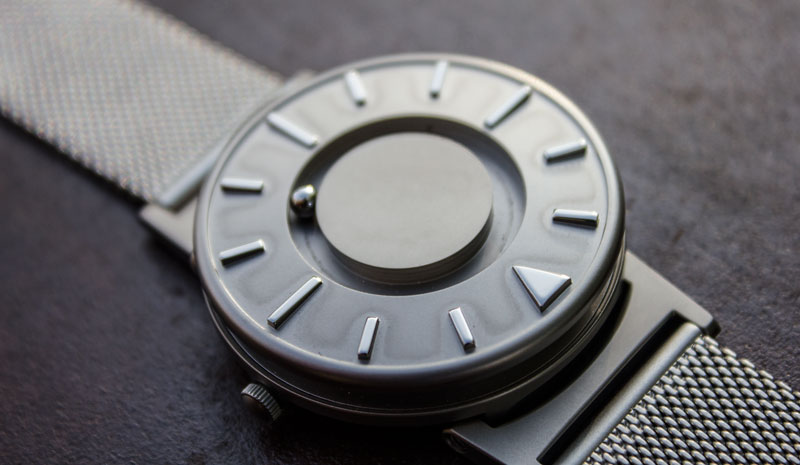 The case and dial (being the same object) are full titanium, which is usually more expensive to work with. With that in mind, the case and dial are pretty well finished with a matt sandblasted finish.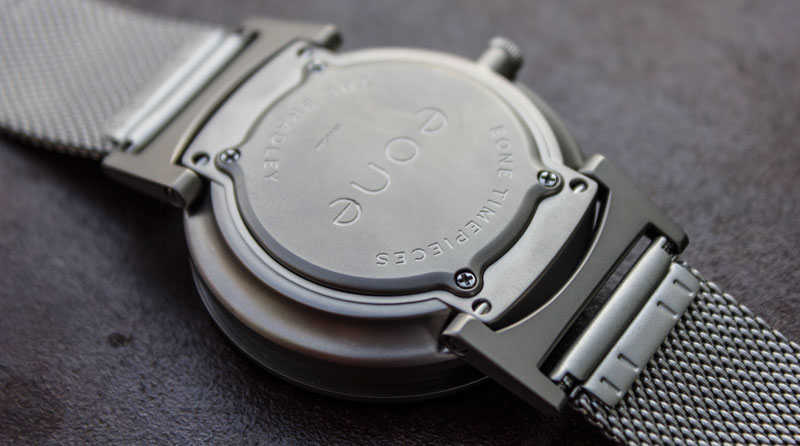 It features soft rounded edges with only one sharp edge around the circle in the middle. This is especially important for this watch since you will be touching it a lot.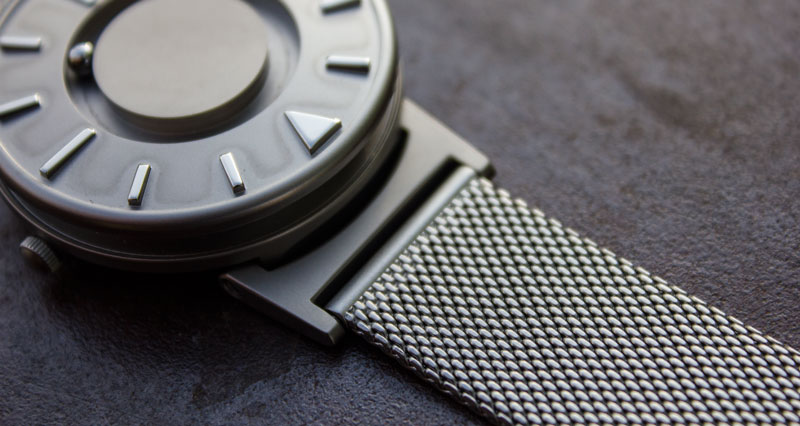 It is far from a luxurious finish, but it doesn't look cheap and feel good under the finger tips.
The small high polish balls look great and feel great too! But after turning a while on the face, you can start to notice a small trail left on the titanium.
This is hard to avoid unless you implement a ceramic ring under the ball, which i think would elevate the cost of the watch, without really making it much better.
Update : Eone says the track the ball leaves will be mitigated with the new Switch design.

Eone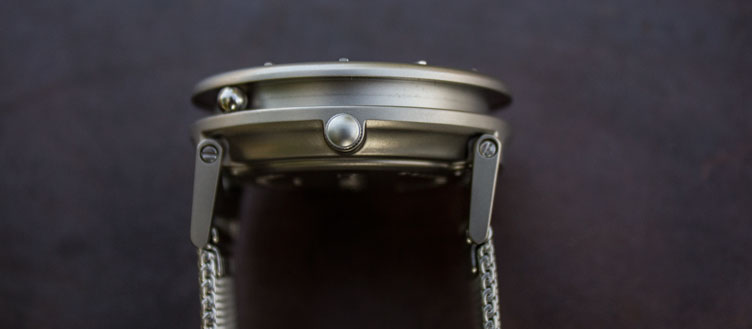 The watch also features nicely screwed-in lugs that pivot, making the watch easier to wear.
The crown is very small, which is necessary since it is very close to the wrist, and should pinch or press down on it.

The mesh bracelet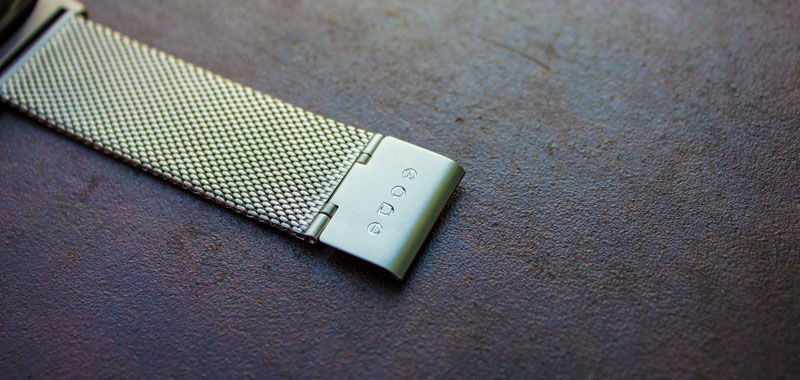 The mesh bracelet is the same type sold on the Bolido X, but not as thick or well made, in my opinion (and not the same price point too).
It's very comfortable, as mesh bracelets are known for, while matching the rest of the watch perfectly.
The clasp is easy to use and locks in super well, and doesn't feel cheap at all. All in all, a good option for this watch.


On the wrist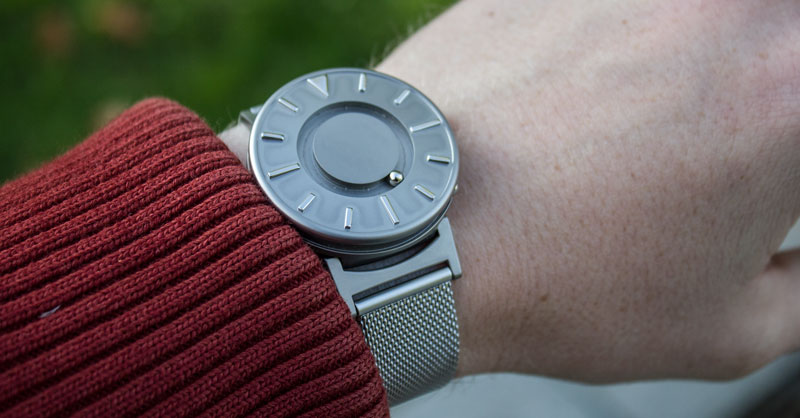 This watch sits quite high on the wrist, due to its design that forces the lugs down near the wrist. This means you really need slim watch straps because anything else will look and feel weird on this watch.
With the mesh bracelet, the watch is super comfortable and doesn't sit too high to be gaudy or weird. The pivoting lugs really help sit the watch comfortably and stylishly on your wrist.


Conclusion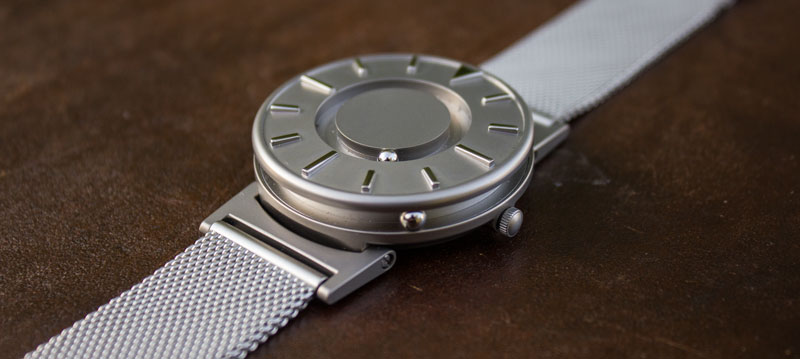 Eone watches has undoubtedly created a very functional watch for the vision impaired, that also mains stylish and classy. Whether a broader appeal was intentional or not, their watches probably sit on more wrists with perfect eyesight than not, and that is just cool.
It's a masterclass in functional design that resulted in a fun, different yet minimalistic and slightly sporty watch. It's a head-turner, a conversation piece, and overall a fun watch to sit and fumble with while in a meeting or in the bus.