I have allready reviewed 2 CODE41 watches on this blog and i have do admit that i am quite a fan of their designs. And they haven't failed to impress me, once again, with their new DAY41 watch.
The DAY41 has an interesting story, because it was actually community developed to be a watch for women. However, men ended up liking it as much as the women who helped design it, and it is now launched as a unisex watch. This project comes at a great time, when the trend is turning towards women wearing bigger and more manlier watches.

The case of this watch is similar to the other CODE41 models, but smaller. The angle of the bezels beveled angle is much more pronounced here, making it seem flatter, which i like.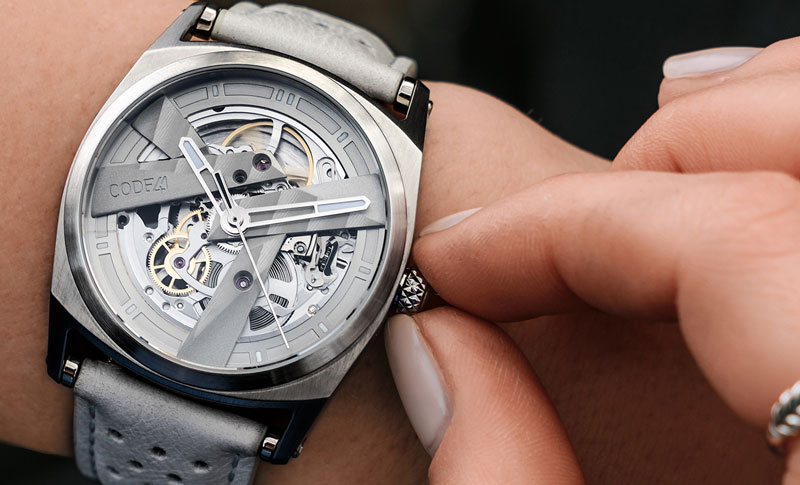 The dial is much more skeletonized than the Anomaly 01, thanks to the STP6-15 movements from Swiss Technologies. A great movement for skeleton dials, and something i have seen before on the Bolido Core i reviewed a while back (they used a custom version of that movement). They have incorporated the same hour track as on the X41, and it plays well with the "arms" that seems to hold together the movement and case.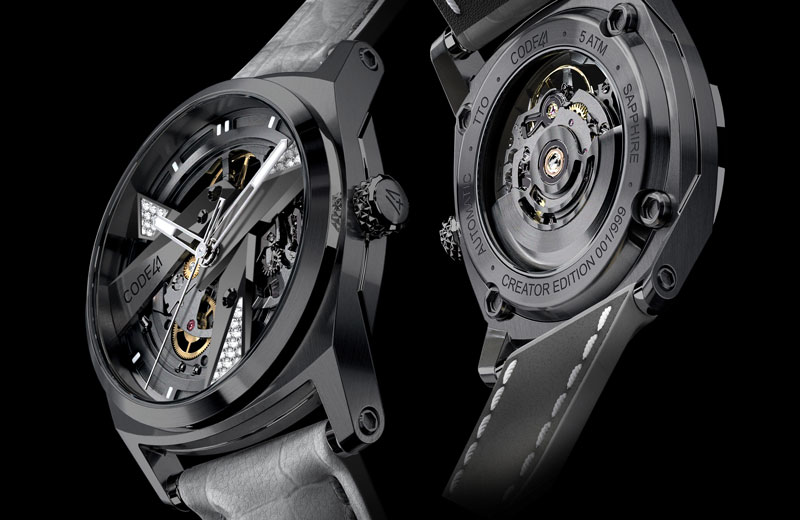 CODE41 is not a fan of symmetry, and i have to applaud them for the risky design choices, that seems to leave people split. I like the originality, and we can all agree these watches doesn't look like anything i see a lot, except maybe a few high end experimental models.

Specs
All pieces sold during the 30 days of pre-sales will be Creator Editions. Number of first edition pieces available:​ 1,000 watches for delivery in September/October 2020

● Price : ​From $900
● Case material:​ High-quality 316L stainless stee
● Crystal:​ Scratch-resistant sapphire on front and back. Anti-reflective treatment
● Display:​ Hour, minute, second in center
● Night-time display:​ Luminova on hands and indices
● Watertightness:​ To 50 meters. Individually tested in a pressurized chamber
● Weight:​ 75 grams / 105 grams with leather strap
● Dimensions:​ Diameter: 37 or 40mm / Thickness: 10.5mm
● Strap:​ 21mm or 22mm / Simple tool-free assembly system
STP6-15 MOVEMENT
● Number of jewels: ​26
● Frequency:​ 28,800 turns per hour / 4[Hz]
● Precision:​ -0/+15 seconds per day
● Power reserve:​ 44 hrs (when not in use)
● Second stop device:​ Yes
● Shock absorber:​ Incabloc
● Rewinding:​ Automatic through oscillating weight. Bidirectional rewinding ● Pivots:​ Tempered rolled steel. High-quality treatment to prevent premature wearing of the pivots.
● Fine-tuned in 5 positions:​ Each movement is tested for precision in 5 positions. (Generally 1 in 50 pieces are tested in only 2 or 3 positions)
Visit