Today i will be taking a look at a fun little diver watch from Briston Watches, a small french brand creating 70s inspired quartz and mechanical watches. They say to offer

" perfect balance between a contemporary "timepiece" and a chic accessory – casual but resolutely and thoroughly accessible. "

If you take a look at their website, you quickly notice that they keep the same funky 70s case shape throughout their relatively big collection, while mixing funky colors and different straps in the mix. Everyone can find a watch they like here!
This brand has a unique identity that it displays well through their watches, and it is therefore my honour to be reviewing the Clubmaster Diver Brushed Steel with the light blue dial and the light blue rubber strap!



Specs
MATERIAL CASE : Brushed 316L stainless steel
MOUVEMENT : Automatic NH35A
FEATURES : Date, hours, minutes, seconds and Internal rotating bezel
DIAL OPENING : 32,5 mm
DIAL COLOR : Ligth blue
THICKNESS : 14,65 mm
GLASS : Domed mineral crystal – 2,8 mm thickness
HANDS : Superluminova® C1
WATER RESISTANCE : 200 meters / 20 ATM
STRAP LENGTH : 245 mm
STRAP WIDTH : 20 mm



First impression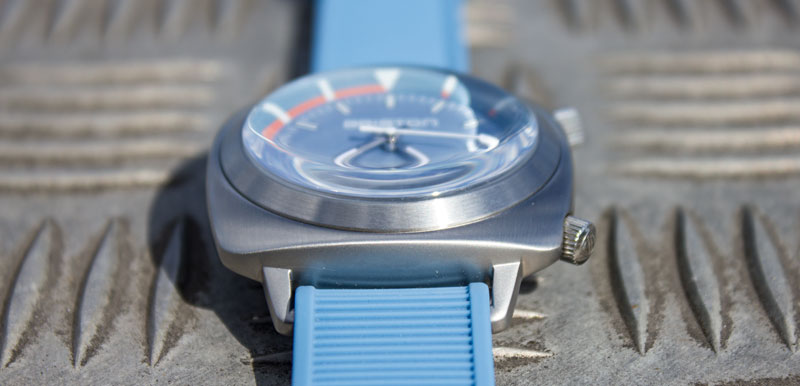 The watch comes in a standard cardboard box with a little traveling pouch for the watch. Nothing out of the ordinary here, and i would rather pay for the watch than some fancy packaging.
The watch itself had me smiling the moment i unboxed it. It has quite a good weight to it and alltough it is a tool watch, it has a certain charm to it that i haven't seen in any other diver watch. The curves and the light blue color is fun to admire and the whole watch gives off a great fun and vibrant vibe. It's hard to explain, but for a serious tool watch, there is nothing serious about it at all, and i love that!



What i like
The case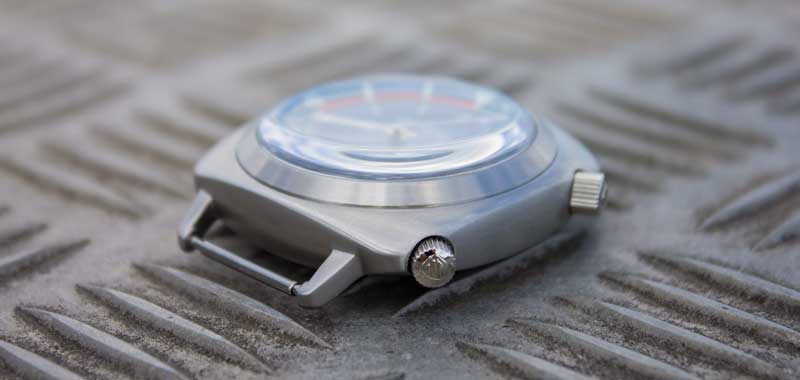 I usually comment on how some watches mixes polished and brushed metal surfaces. But on this watch case, Briston has chosen to mix brushed and beat blasted finishes! And it's a subtle but powerful detail! Basically, the top of the case is brushed, but the bottom and the sides near the straps are beat blasted (bear in mind that the crowns, hands and markers are polished metal).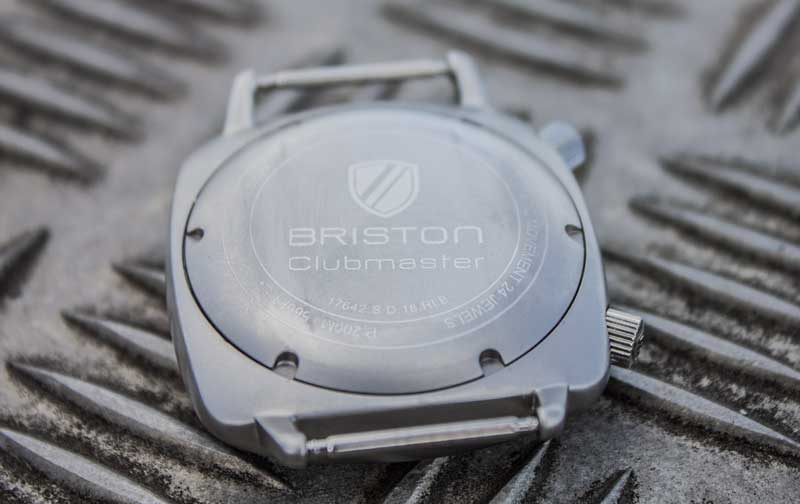 The shape of the case is also quite unique! They admittedly drew inspiration from the 70's watch designs, but this watch has softer curves and is generally rounder than those seen in the 70's. A happy and fun shape, unlike many other sharp edged diver watches.


The bezel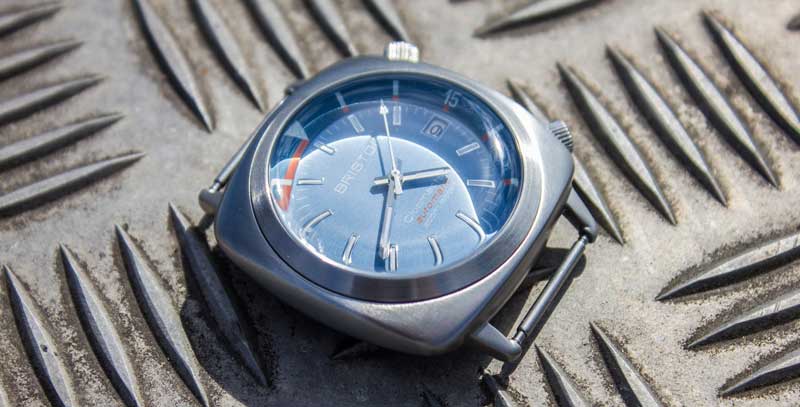 This watch features an internal bezel, and it's my first watch with such a feature. To my great surprise, i really enjoy it!
It's different compared to so many other diver watches that kind of all look alike. Also, having an external bezel wold destroy the funky round design this watch pulls off!

The small band of orange on the bezel is a great addition and really stand out and gives the watch that last touch of contrast it needed!


The crowns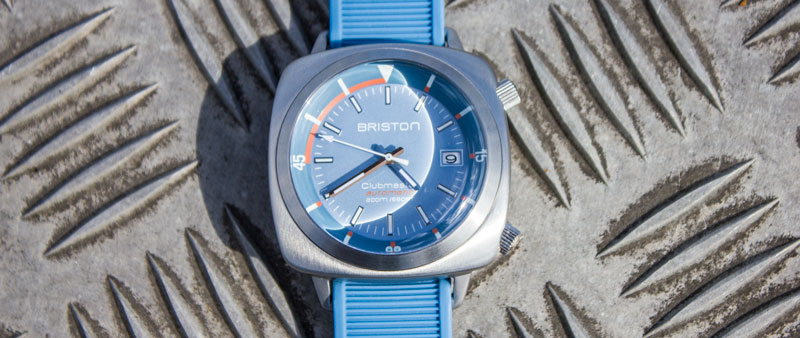 This watch has 2 crowns: one for setting the time and date, and one for adjusting the internal bezel. The position of these crowns help give the watch a great personality, and helps accentuate the curvy shape of the watch.

The 2 crowns are identical, has a polished finish and features an embossed Briston shield logo. They are easy to grip and turn, and are tightly attached with ZERO wiggle room.
One thing i noticed is how well the crown clicks out when adjusting the time and date! I don't remember feeling such a crisp clicking when pulling the crown, on a watch in this price range. I even have watches with the same movement that doesn't click and lock this well !


The strap

The rubber strap matches the dial's color, which really completes the watch! it's very comfortable to wear and the pattern underneath and the dry feel of it helps making it even more comfortable when your arm is wet.

This is far from a generic rubber band! It has 2 notches where the strap bends around the spring bars, so to not give create a huge bulge. I also love the fact they wrote Briston on the free loop (the small piece of rubber that holds down the end of the strap). Lovely detail!


The lume
Simply put, the lume is no joke… It does what it's supposed to and makes it easy to read the time and use the bezel while in the dark!


The glass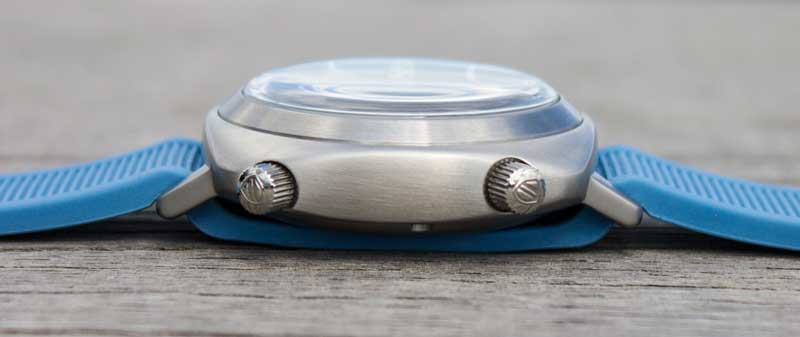 Mineral glass is far from the hardest and most scratch resistant, but it does present some advantages, especially on this watch!

First of all, the way it plays with the sunlight is great! Secondly, it gives them the possibility to create a glass that is domes at a 45° angle at the edges, for a fraction of the price. I know that domed saphire crystals exists, but i am not sure you can make them this shape without paying a small fortune for it (if it's even possible).



What could have been better
The glass
I mentionned the advantages of mineral glass earlier, but i thought it would be unfair to skip by the fact that they could have chosen sapphire crystal. Even tough i love the domed glass, a flatter sapphire crystal wouldn't have ruined this lovely watch. A tool watch, in my opinion, should be made to endure, and here mineral glass fails. Would you be willing to pay slightly more for this watch, if it had a sapphire crystal? Let me know in the comments.


The strap buckle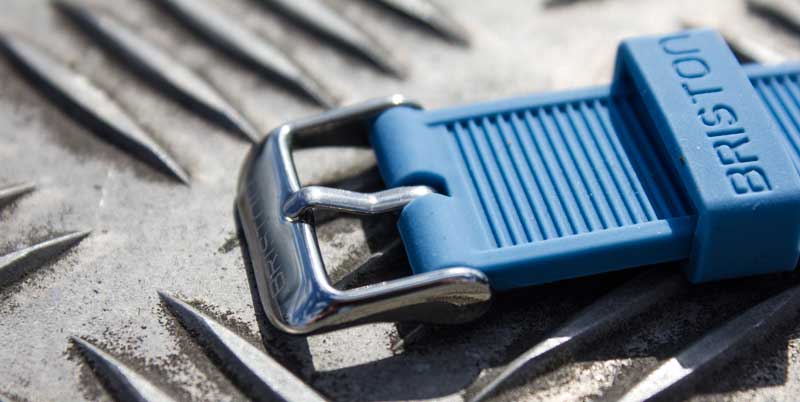 With everything being so original and "funky" on this watch, from the strap to the case, it's a shame to see such a generic strap buckle. I see this buckle on most generic cheaper quartz watches.
I wouldn't mind paying slithly more for a different a unique buckle. Perhaps a sharp edged on to counteract all the curves of the case? Or a thicker one with a beat blasted finish? This one is polished and i feel like they haven't thought too much about the buckle, but i really enjoy when the buckle fits the rest of the watch (check out this watch where they mastered this)



The movement
The watch is powered by the SEIKO NH35A, which is a great choice by Briston! A japanese workhorse that keep time accurately enough, is easy and cheap to service, and can withstand a good amount of shocks!
This watch loses around 10 to 15 seconds a day, which is formidable for this price range!



The Price
500 EUR – I think the price is fair!
You get what you pay for, but i wouldn't mind the price being higher and getting a sapphire crystal and a cooler strap buckle. But still, you won't feel like you've wasted your money!



Conclusion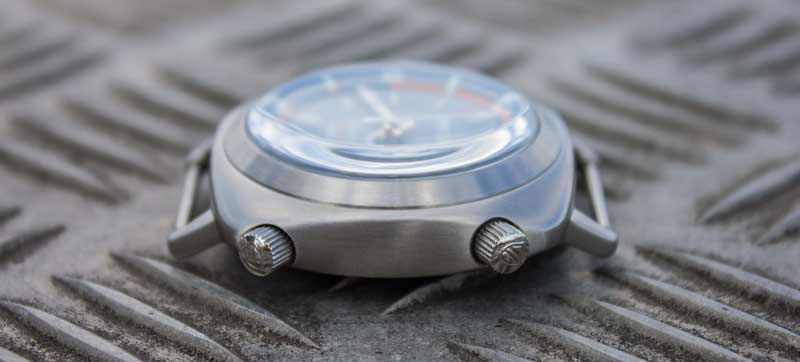 Briston has managed to create a collection of watches with a unique identity, inspired by the chic and colorful style of the preppy university students, infused with a little 70's design and diver functionalities.

I also really love how many watches they offer! They have 15 different version of this watch, and many more: from cheaper quartz models, to dressy automatic watches with a visible balance wheel, or a more expensive GMT watch with sapphire crystal and a swiss movement. There is something for everyone, but they manage to keep the same identity throughout their vast collection of 189 watches!
If you like diver watches, and vintage 70's sports watches, this watch is for you! If you are tired of the same Rolex looking diver watches on the market, this watch is for you! If you like colorful and fun objects and clothing, this watch is for you! I would recommend this brand to anyone who enjoys original automatic watches, but doens't have the biggest budget, or anyone whishing to start collecting mechanical watches!