I have been reviewing a lot of fun watches on this blog, and i have probably been throwing around the word original a lot. This review has put into question all the previous times i have used that word.
22 Design Studio is a small workshop located in Taiwan, made up of 7 dedicated people who love concrete. Yes, you read correctly, CONCRETE. They make rings, pencils and home deco objects out of concrete, and my Scandinavian minimalistic design "spider-sense" is tingling.
But i am here to review their wristwatch, more specifically the 4D Concrete Watch Automatic – Oasis Edition. Don't worry, only the dial here is made of concrete 🙂
Specs
Movement: Sellita SW200-1 Swiss movement
Materials: Brushed steel case, high-density concrete, sapphire glass lens inlayed, Fluoroelastomer rubber band.
Case Measurement: Ø 45mm D14.5mm
Case Weight: 110g
Leather Strap Width: 22-20mm (Pin buckle)
Leather Strap Length:
Standard 80mm/125mm (Suitable for wrist circumference 155mm-195mm)



First impressions
The packaging was nothing to behold, but did protect the watch VERY well, which is really it's true purpose. I only expect a fine wooden box when buying a Rolex or the equivalent and here i wish to only pay for the actual watch.
I usually go on a rampage about what strikes out when first unboxing the watch, but in this case it's pretty much everything! Almost every element that makes up this watch is unique and caught my attention. It's a strangely delightful feeling to hold and wear a watch that is so different and unique. I wore it the first time to a family event, and half of my family asked about this watch. It really stands out on the wrist like no Rolex or Omega watch can do.
But all of the above is emotional, and i have to remember to mention the more concrete aspects of my unboxing (pun intended). The watch feels heavy and well built and the brushed finish is impeccable. The rubber strap feels great, the manual winding has a delightful crunchy feel and the crystal has a decent amount of reflective light for this price range.

I was afraid the watch would sit too high on my wrist, but it's actually not that bad. If you want a watch with this kind of depth imbedded in it's dial design, you have to sacrifice some space. Choosing to fit the strap at the bottom was a risky move considering the size of the watch, but it actually looks and feels great! Just don't wear it under tight shirt cuffs!



A closer look
What i like
The dial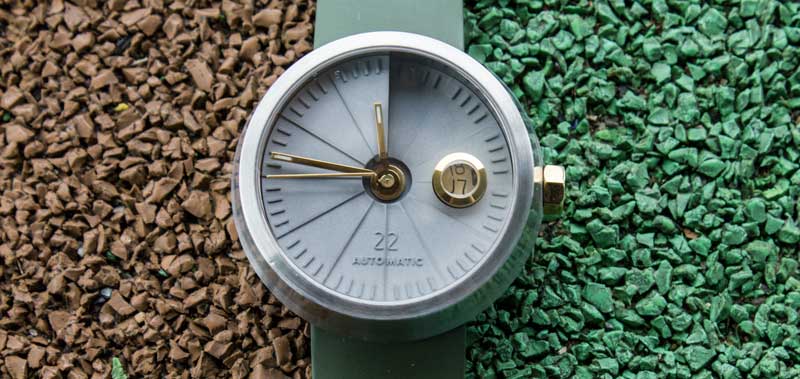 It's not every day you see a watch with a concrete dial! The concrete give it a very nice grainy texture, and the number 22 sits with great symmetry right above the word "automatic". There is not print on this dial, everything is beveled concrete, meaning that the dial's look changes depending on where the light comes from. It gives the dial a very cool personality, especially when outside in the sun.
Besides being concrete, the dial is also 3 dimensional! Every hour marker is basically a step up, like stairs, and at the 12 o'clock it drops down. It's a very original way to highlight the 12 o'clock marker, since it's only a shadow creating contrast with the other markers.


The case
The case is minimalsitic but very well machined with a rough but well done brushed finish. It reminds me a lot of the case used by Bolido Watches. It's also nice to see an open display back offering a great view over the golden movement!


The hands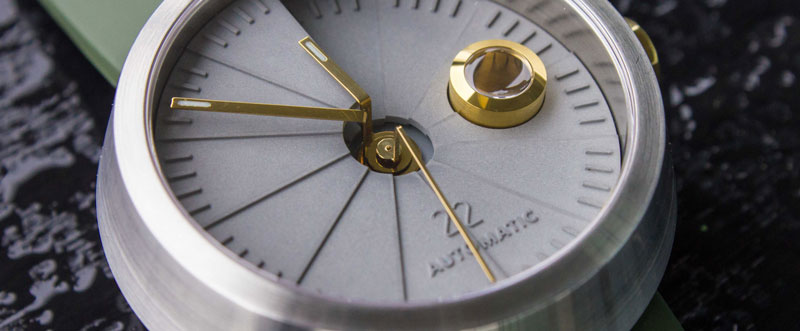 To accommodate for the 3 dimensional dial of the watch, the hands has to either sit flat at the highest point of the dial, or go up from the bottom and then bent into a 90 degree angle. The latter is a very good choice contributes to the immense depth this watch has.


The date display
The date display, or aperture, is a round cylinder with a small magnifier sitting on top. It's most likely the first thing that catches your eye if you happen to unbox this watch.
I really like magnifiers on watches, but some people hate them and say they ruin the overall look of a watch. Because the magnifier sits under the crystal, it truly blends in to the design, and should therefore satisfy people from both ends of the spectrum.
it's also worth noting that the edge of the cylinder reflects light in a truly delightful way, and gives the watch a slight "bling" feel, that i think it needs. The brushed metal and concrete is very "raw" and harsh, but this little shiny date window gives the watch a slightly more luxurious feel.


The strap

The strap feels really nice and makes the watch really comfortable to wear! It doesn't stick, even after sweating, and has a very "non rubbery" feel to it. I really love !
The strap is made out of fluoroelastomer, and 22 Design Studio call it durable, strong, weighty and dense yet soft. But i am going to go a step further and be a little geeky about it:
Fluoroelastomers were designed to meet the harsh military aerospace industry requirements. This synthetic rubber has a great resistance to many chemicals, oils, gases and fluids in extreme temperature and environments. The general characteristics are as follow:
Good Mechanical Properties
Excellent Chemical Resistance
Wide Useful Temperature Range -40 to +400 degrees Fahrenheit ( – 40°C to 205°C)
Outstanding Weatherability and Ozone Resistance
Excellent Resistance to Gaseous and Liquid Permeation
Good Abrasion Resistance
Good Radiation Resistance
Self Extinguishing or Non-Burning in Air


The strap buckle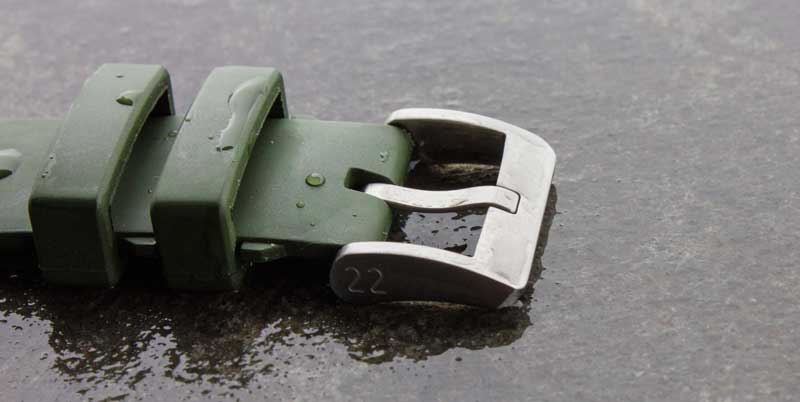 The strap buckle has a minimalistic design and soft curves that really fits with the watch's case design. But the one thing that i really like about this buckle is how the pin fits perfectly in the dent of the buckle. It shows that they put a lot of thought into it, which is something a lot of watch brands around this price range neglects. A cool detail that is both satisfying to touch and look at!



What i don't like
The lume
22 Design Studio has chosen to put a small strip of lume on the hour and minute hands. I actually thought it was cool to begin with, but after discovering how ineffective the lume was i quickly changed my mind. The watch doesn't need to have lume, as this is more of a piece of art than a tool watch. But if the lume was glowing off the chart, i wouldn't have anything to put in this section of my review 🙂



The movement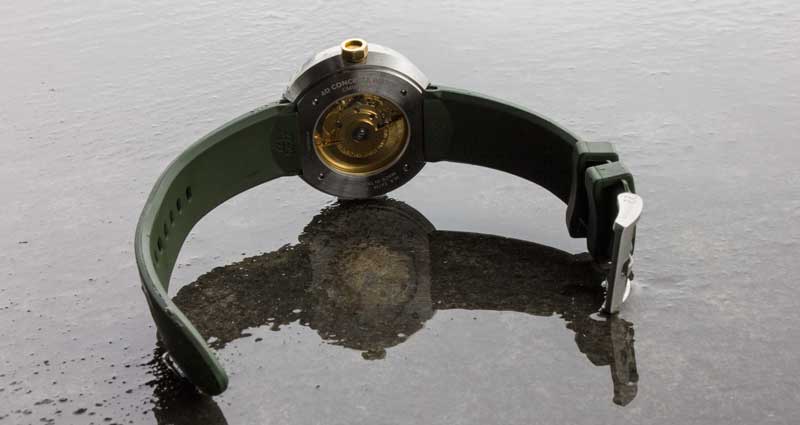 This watch uses a swiss Sellita SW200-1 movement to keep time, and they are known for being very reliable and robust. Meistersinger, Baume and Mercier, Bell & Ross and Sinn have been known to use this movement in some of their watches, and this should already tell something about the movement.
Sellita was actually the outsourced movement assembler for ETA, until ETA decided to do it themselves. After the ETA patents ran out, they were free to copy the designs, and having intricate knowledge about them already, they placed themselves as a serious and direct competitor to ETA. I can say with confidence that this movement is equal to the famous workhorse ETA 2824-2.

My 4D Concrete watch keep time very well, within the standard that you can expect for an unregulated movement of this caliber. It loses between 10 and 20 seconds a day, but i have so many watches in rotation now that i barely notice it from having to set them every time i wear them.



The price
I think this is a fair price
The 4D concrete watch can be yours for 764 euros (860 dollars) and considering the quality of the build, the strap and the movement, i think this is a fair price. These microbrands generally doesn't need to put a high profit margin on their watches since they spend very little money on marketing and research and development. This means you usually get a lot of watch for your money, if you go for watches above 500 dollars.
If you are really into the unique design of this watch, but think it a bit too pricey for you, they also sell quartz versions (without date) for 311 euros (350 dollars).



Conclusion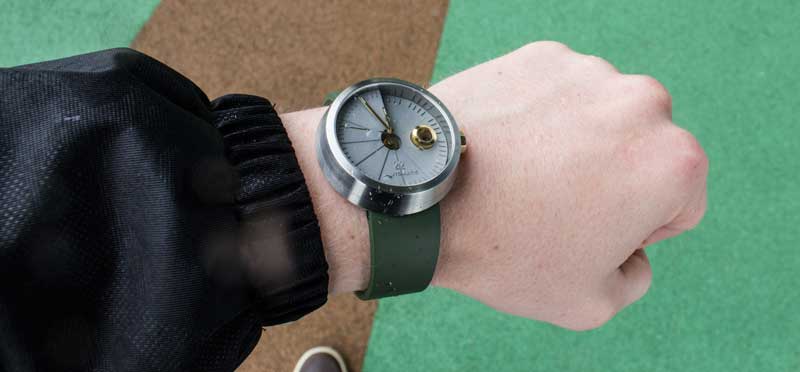 If you haven't fallen in love with the unique design of this watch, you probably haven't come to this part of the review. I can see why watch "purists" would never wear this, but this is a fashion blog and i like to promote originality in all its forms. And for that, this watch fits the bill. If you like the design, then you don't have to worry about the quality of the watch itself anymore. It's up to par with most watches in this price range.
So if you want to wear a unique piece of art on your wrist without compromising on quality, this watch is made for you. It's a fun, but serious watch that goes well with street-wear just as it fits the new age hipsters or the casual businessman looking to stand out from the sea of shirt and blazer wearing work zombies.