For those of you who are not following my posts for a while, you may not have heard of Bolido. I did a review of their very unique Bolido Core watch a while back, and i was very impressed. Pierre Nobs, one of the founders, is a designer and a good one at that. The watch won the RedDot award, and for good reasons!
Mr. Nobs is not only designing watches, and today i will be taking a look at a belt he designed back in 2002, that has recently been launched into an unsuspecting market!
I present to you, the G&B belts!



Sizing
It's really important to talk about the unique experience that comes with this belt. It's one size, and you get the tools to size it yourself, wich i really enjoyed doing! It creates a certain bond with the belt, a form of proudness and a feeling that you participated in it's creation and making it unique, just like when you get your watch engraved on the back. No one can see it, but you know it and it feels great!
The process is simple and i have taken pictures of each step to show you how it's done (there is also a manual of course):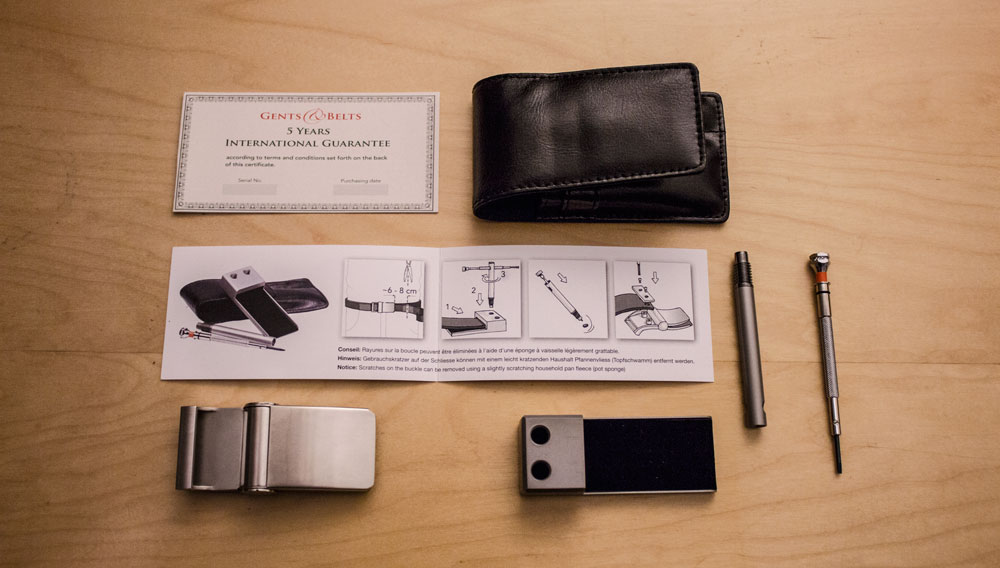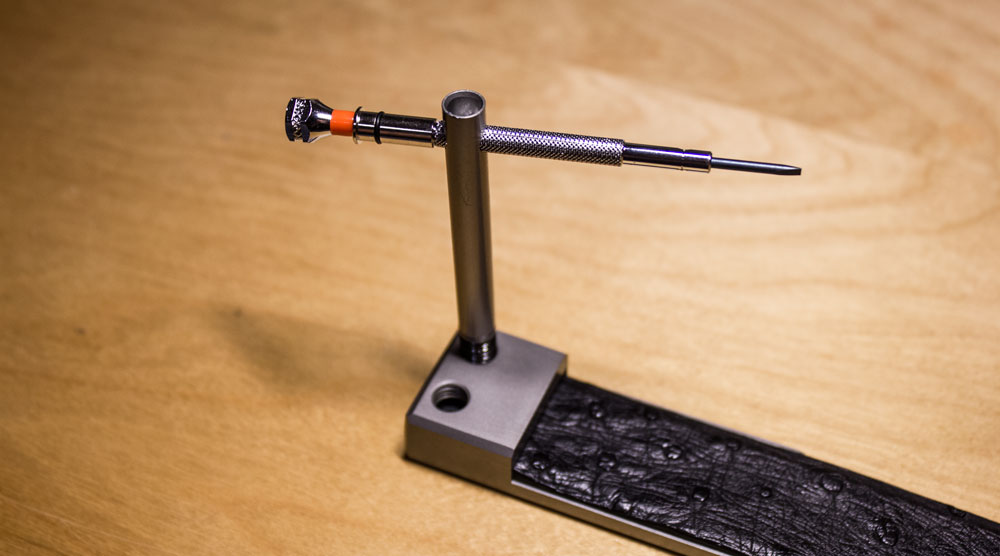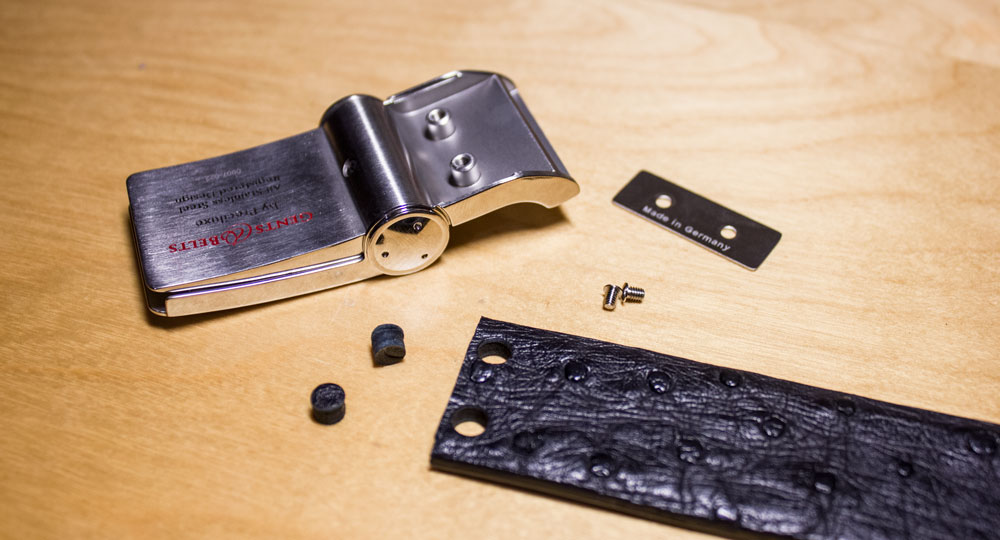 Design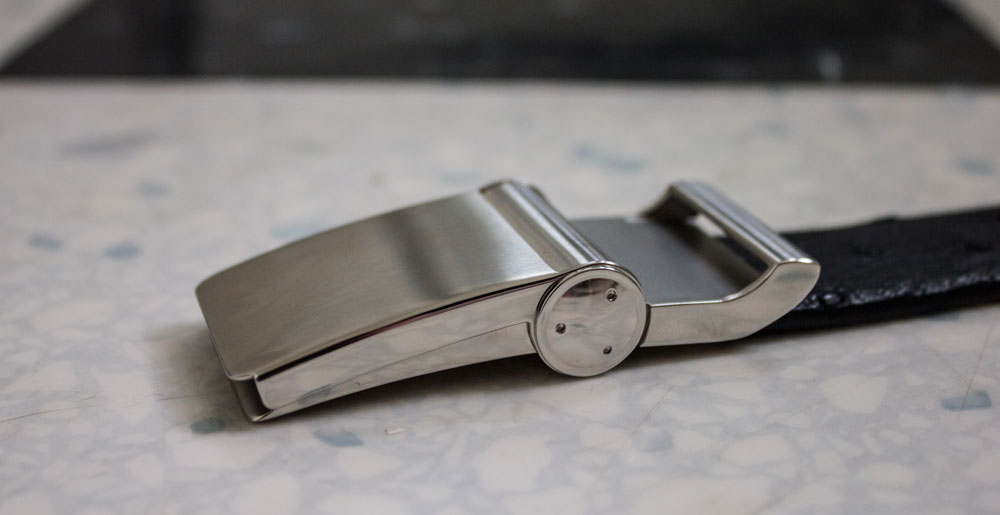 The overall design of the buckle is minimalistic and curved, with attention to the smaller details. The actual belt is less minimalistic and has a more raw a natural look thanks to the small "bumps" that the ostrich leather leaves.


The buckle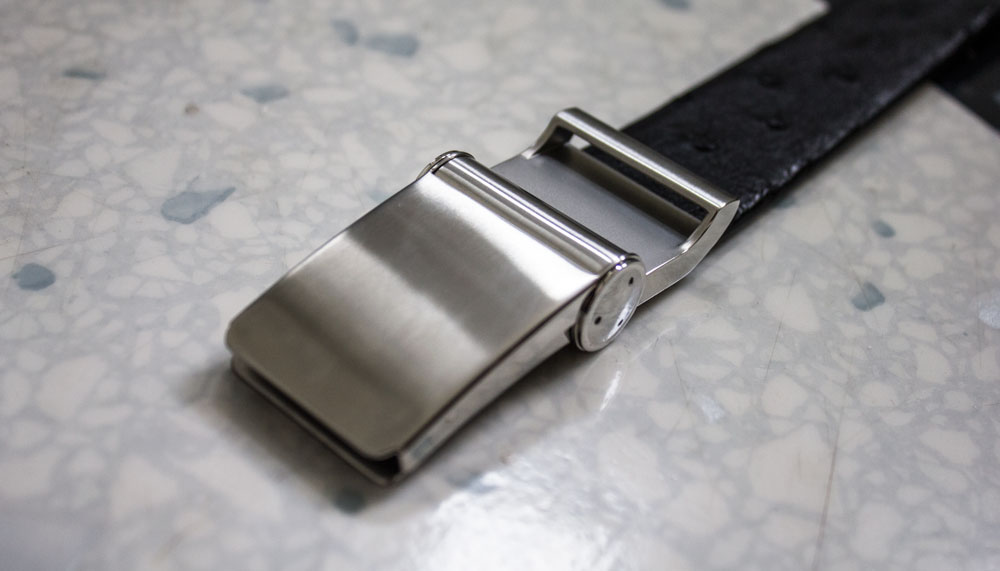 The buckle features a nice brushed finish on the top and the bottom, leaving the sides fully polished. This makes the buckle understated since it doens't look flashy, but a little light will reflect off the sides and thus avoiding anyone's eyes.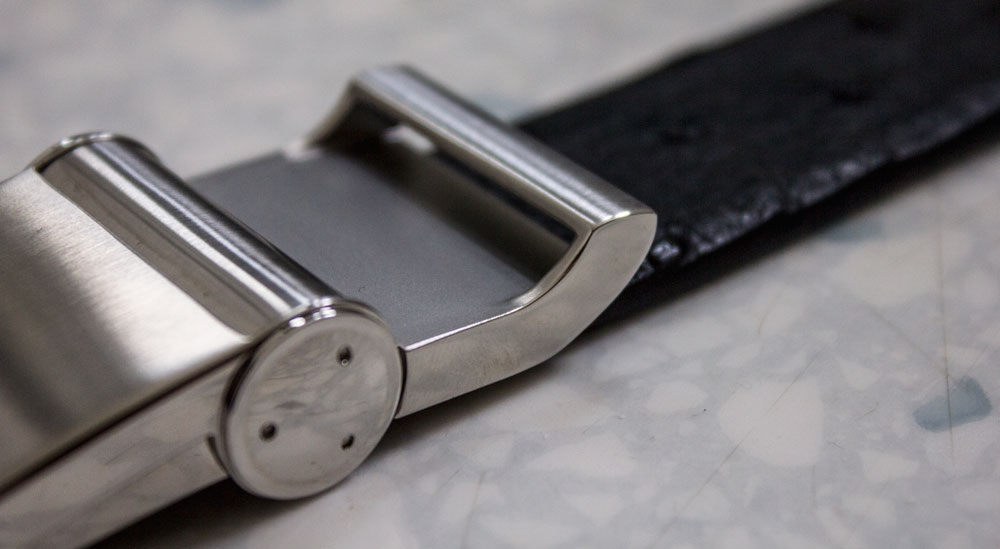 I am a huge fan of the "spoiler" that holds down the belt after it leaves the locking mechanism. It reminds me of the car spoiler you can see on some older Plymouth Roadrunner cars ! It looks great and has been cut out from the block of metal used to create this piece, instead of being welded on.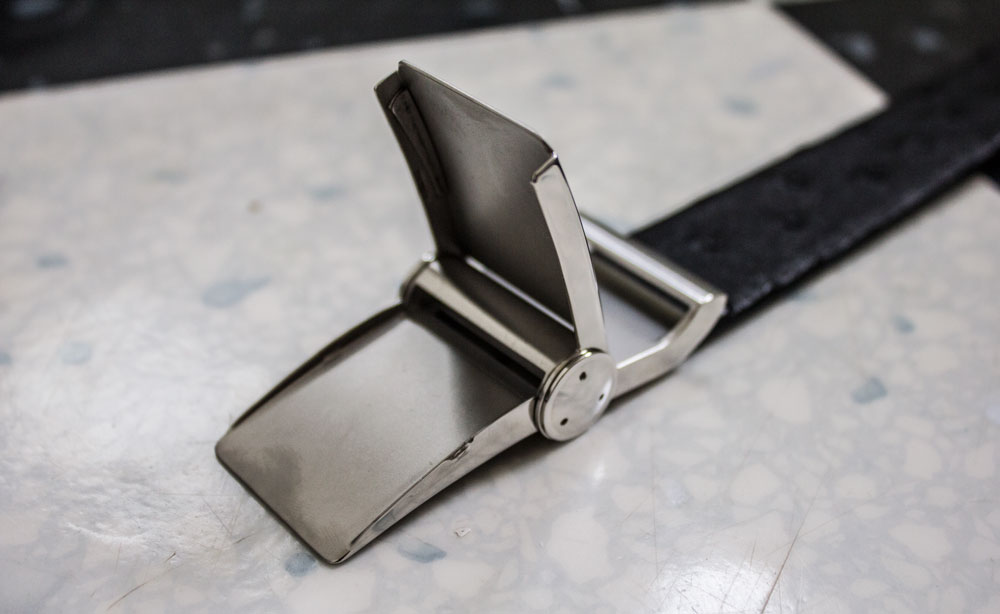 Another very cool, but small detail is the 3 embossed dots on sides of the circular part that rotates when you open the "lid". it gives the buckle a litte industrial feel which helps break the overall smooth design of the buckle.



The belt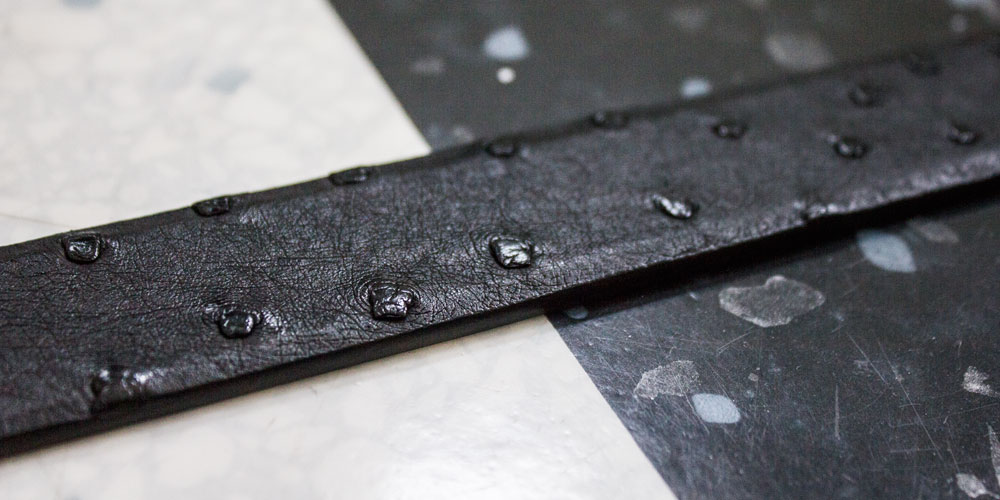 I was very very pleased with Bolido's ostrich straps and they are only worthy of my best watches. The same goes for this belt which feels, smells and looks great!
Ostrich leather allready has a certain aged effect thanks to all the subtle wrinkles, and the little "bumps" creates a very cool uneven look that just screams nature.
The sides have a slight beveled angle that you can't really see, but really gives you the feel that someone thought this through before launching the production.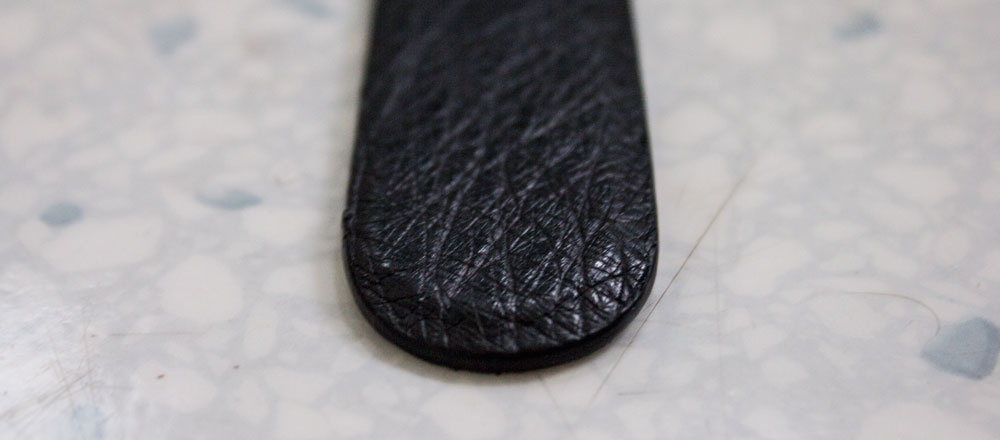 Some other details can only best be described by the designer himself:
Choisest South-African Ostrich leather underscores the sheer luxury of the G&B belt. Produced in Italy by a leading provider of leather goods to world famous brands, it is cut to leave the tip within the range of the buckle free of the characteristic bumps to avoid abrasion.

Pierre Nobs
Quality
The quality of this belt is outstanding and you really get your money's worth!
Most Hugo Boss or Kalvin Klein belts tear up after a year and the holes stretches out which is never a good look. The locking mechanism on this belt prevents you from destroying the leather, and actually keeps the belt locked, even after a generously sized dinner!
The top of the buckle clicks firmly into place with a nice snapping sounds and will not open under any circumstance. I tried a similar mechanisms on a cheaper belt once, and it broke after a month, which stopped me from buying anymore belt with that mechanism. I am glad to say that the G&B belt has truly erased that prejudice from my mind!
As for the leather, there is nothing to say! As i said before, it feels, smells and looks great and will probably last a lifetime. It might even look better with age! It's also very easy to bend and doesn't crack when bent too much.
However, the sides are laminated with a black layer consisting of a material that is unknown to me. Their watch straps have the leather bent over the edge which is really nice, but perhaps that is too hard to have on a belt. It would probably get destroyed faster on a belt due to the friction.



Conclusion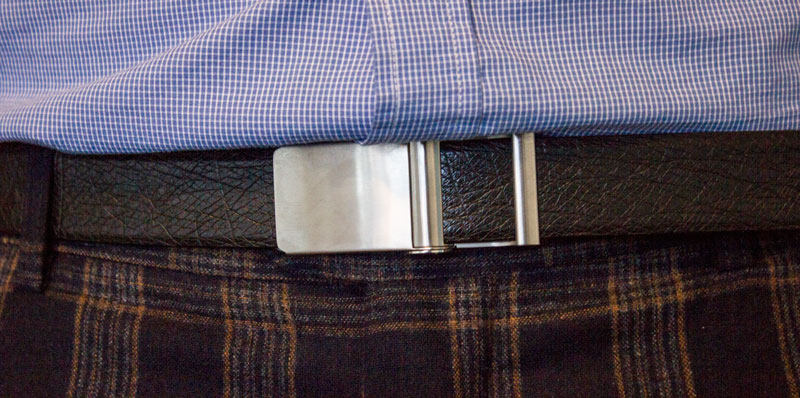 This belt truly deserves the long review that i wrote for it. I have now been a watch enthusiast for long enough to really appreciate the small little details that differentiates mainstream products from luxury. It's nice to see that i can get that same excitement with a belt.
This belt is the perfect belt for the man who doesn't want to stand out with flashy brand signaling, but is content with apreciating, for himself, the quality of what he is wearing.