One of the advantages of exploring the world of microbrand watches is that many of them take more risks with their designs, while mainstream brands need to appeal to a global audience.
WT Author is one of those brands that pretty much designed some crazy-looking watches and said: "We hope some of you like them".
But their designs are not just crazy for craziness' sake, but rather founded in a historical era, designed with specific inspiration from that era, and then splashed with colors. And the result is a pretty interesting line-up of diverse and unique watches.
I present to you, the WT Author 1968 Cerulean.


Kickstarter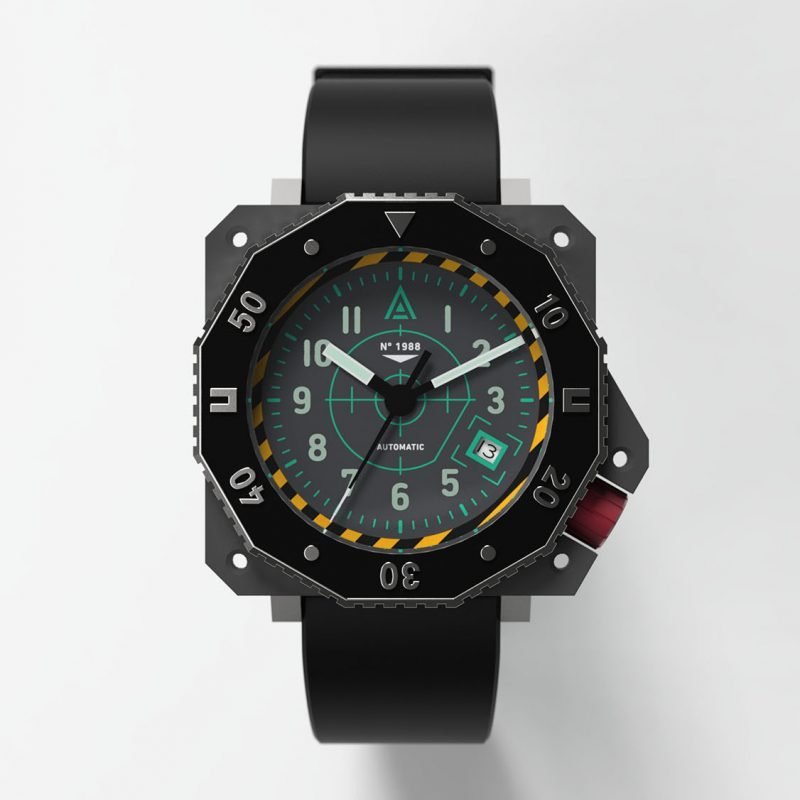 Before I go into the watch review, i just wanted to mention that WT Author currently has a new Kickstarter project that looks amazing!
Their new design is square, masculine, and military-inspired and really kicks some serious ass if you ask me! My personal favorites are the Doomsday and Eagle models.
If you like them, you can buy in on their Kickstarter here from the 26th of April. They are currently running a promo where you can get a serious discount on their previous models while pre-ordering this new model!



Packaging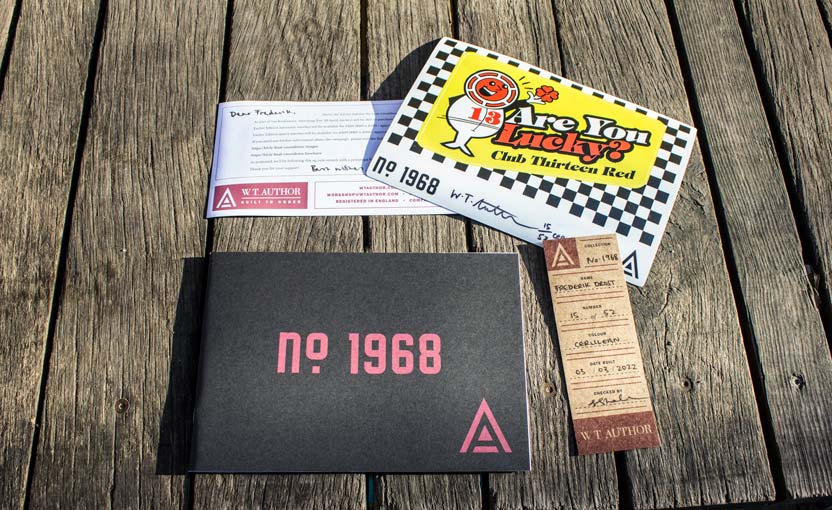 The watch comes in a nice-looking cardboard box, but this is nothing you would wish to keep around.
There are no extra accessories, but the box still contains some cool merchandise and informative papers. A giant (and pretty cool) sticker, a visual guide to the collection, and a hand-written inspection note from the builder/checker in the UK.


Design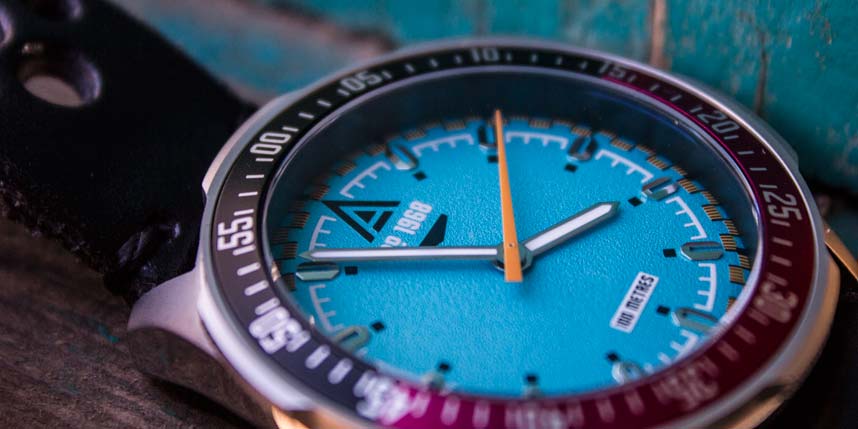 As i mentioned in the introduction, WT Author is not shy from using plenty of different colors. This can, and will, turn some people off some of their models (especially the 1968 collection). But for the rest of us who loves to have one or 2 colorful and fun watches in our collection, there is plenty to choose from.
All of their collections are based on specific styles from specific historical eras. The 1968 embraces the colorful golden era of motorsports in the 60s, which is probably why this is their most colorful collection.
The Cerulean model that I am reviewing actually reminds me of a French watch I reviewed with the same turquoise blue and orange, inspired by the famous Mirage Lightweight racing car. Surely they must have gotten the colors from the same source 😉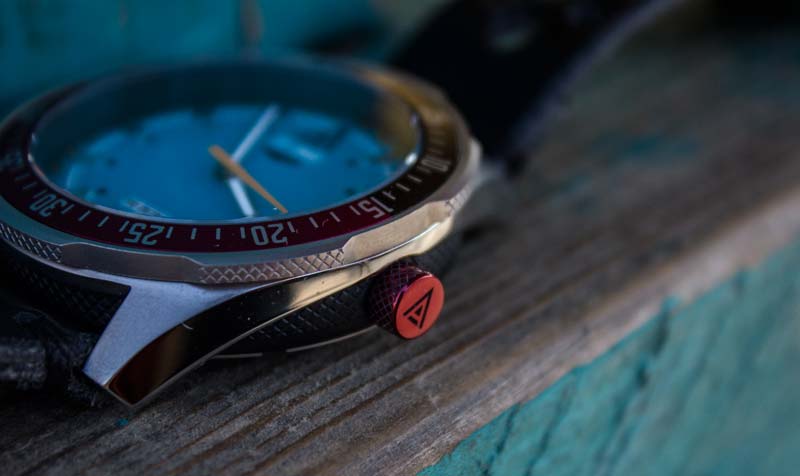 Beyond racing, the watch presents an interesting case profile that seems layered, with short downward facing lugs, cut off inwardly at the tip.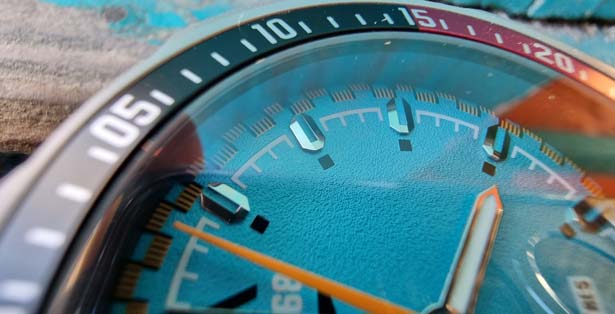 Interesting and rather unique hours indices also embellish the dial, and i am quite fond of those, to be honest.
The same criss-cross grip pattern is featured in the case flanks and parts of the bezel. There is a GMT styled bezel, but with minute markers instead of hours.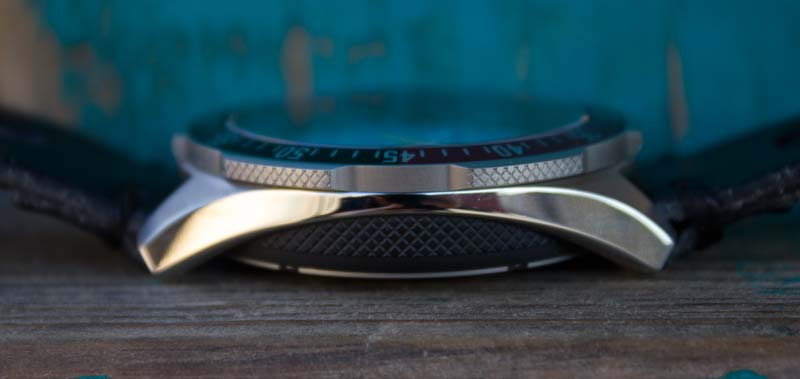 The outer part of the chapter ring features black and orange markers, which does remind me of racing somehow, just like the orange seconds hand does and the perforated leather strap. But that is where the racing elements end for me.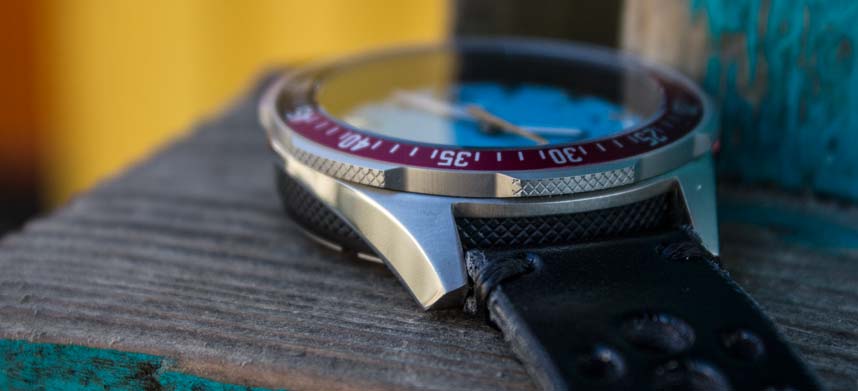 The rest of the watch doesn't necessarily scream racing or car for me (and perhaps my lack of knowledge is to blame). The Arpiem Tribute seems to have more of a racing feel to it than this watch plus the design is a bit of a mismatch of different elements that don't necessarily make sense, but still look good on their own.
But that is not necessarily bad, since some of us watch enthusiasts are not too much into cars or sense 🙂 One could just love this watch for what it really is: a funky, unique, colorful, and sporty watch.


Quality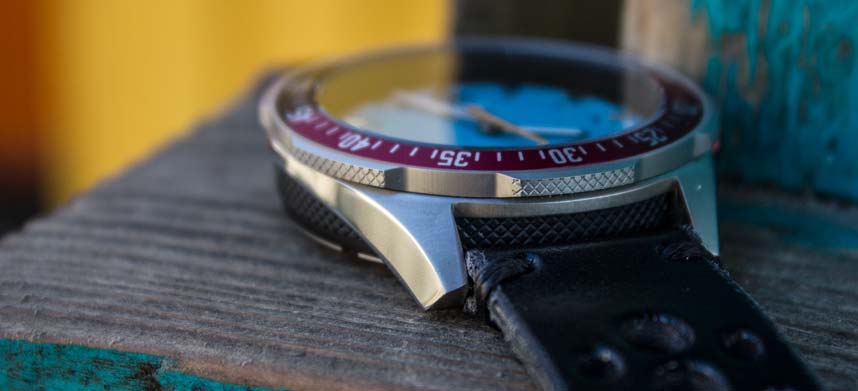 Their unique designs is not for everyone, but for those whose heart has adopted one of their models, the question always becomes: Do they sell good quality watches for the money?
The short answer is yes, they are well made for the money. Their watches are the furthest from generic designs, requiring custom parts that have an overall good finishing.

Case, crown, and bezel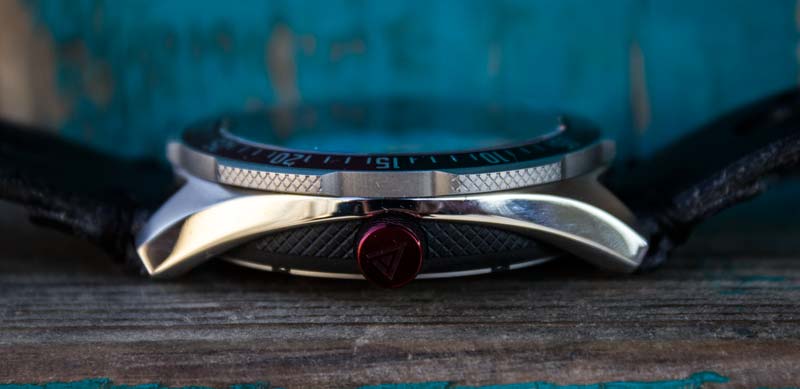 Overall, the machining and finishing of the case and other outside elements are good, with a nice feel to them.
The case is a more complicated construction than the price would suggest, using an inner case and an overlapping outer case that serves as a bridge for the lugs.
Most of the watch presents a very subtle beat blasted surface, which looks and feels good.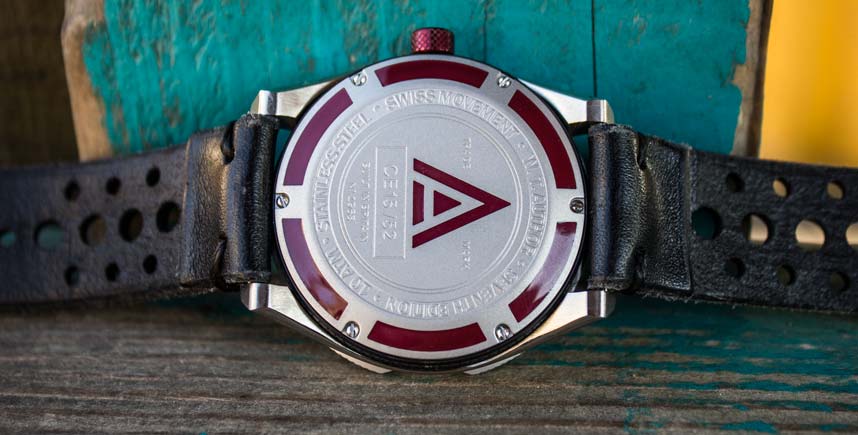 The only polished surface outside of the watch is the long flank running on the sides of the watch, which ends in a lovely rounded curve. There is a solid border between the two finishes, but nothing super crisp like you would see on higher-priced watches.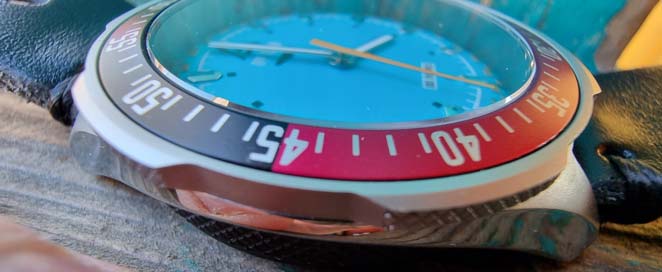 The metal bezel insert is superbly printed and the red anodized crown has a nice and deeply engraved logo.
The bezel action is quite good, with a zero play and a great light clicking noise that is consistent throughout the turn.

Dial and hands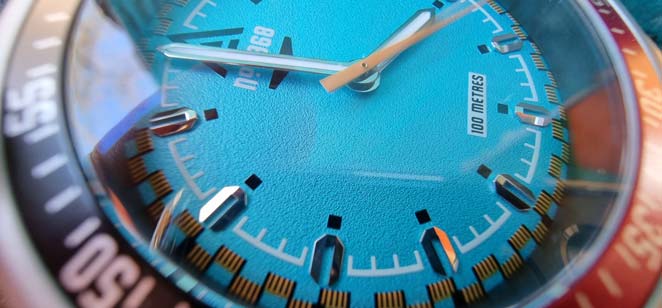 Overall the dial presents some generic elements and some more custom and well-finished elements.
The polished and matt painted hands are quite generic and nothing special there, but do come with a pretty solid, non-grainy lume that does the job quite well.
The dial is a lovely turquoise blue on a matt textured dial, a texture that is barely visible at a glance.
The printing is quite solid and looks like a tich layer of material was used to make sure there is a good contrast.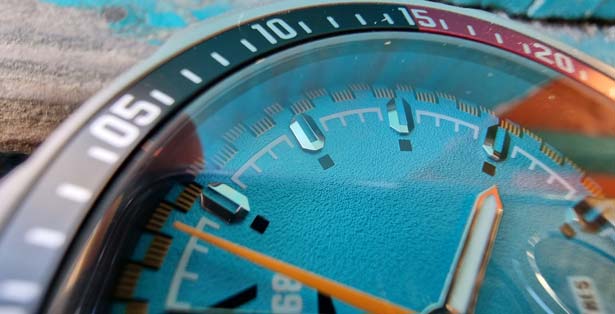 What really stands out on this dial (apart from the colors) are the hour indices. Not only are they uniquely shaped, but they present sharp angles and a well-polished surface for light to play with.

Strap and buckle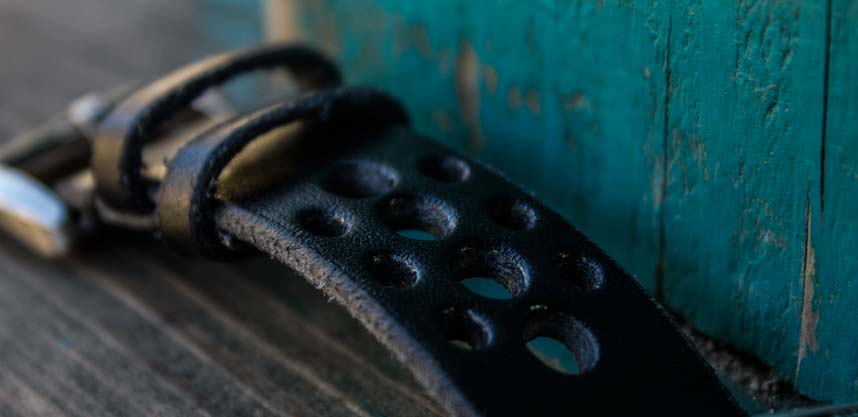 The strap here is quite interesting and i was almost shocked when i first saw and touched it. It almost feels and looks like it's a vintage racing strap!
This is due to the flossed sides that are usually covered, and the soft and pliable nature of the strap. It feels and looks hand-made, with the imperfections that come with it at this price range, but I find that quite lovely.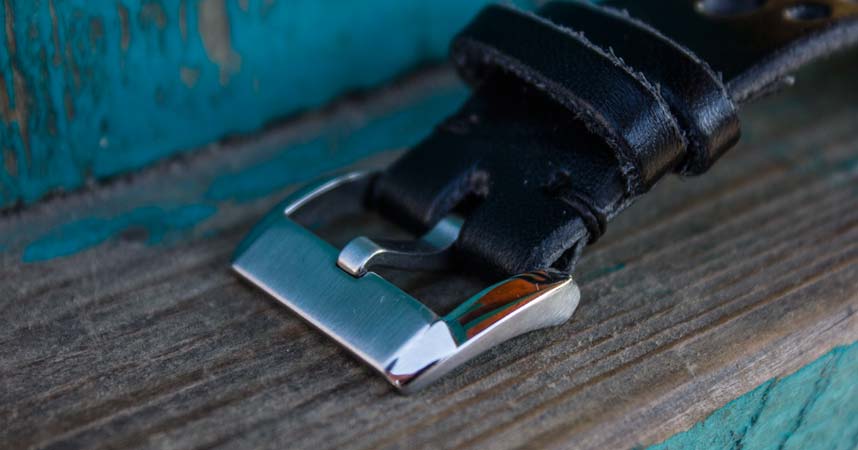 The buckle is also non-generic and shows a nice mix of brushed and polished surfaces. The polished bevel is nicely rounded, giving it a more luxurious feel than most buckles in this price range.


One the wrist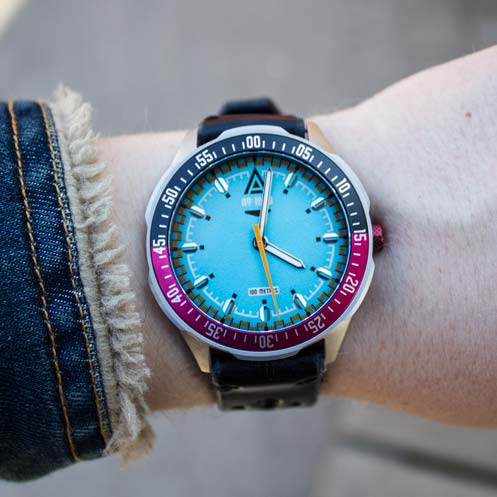 It's a big watch, even on my 17 cms wrists, but it doesn't feel big or heavy thanks to an average height and good lug curvature.
Conclusion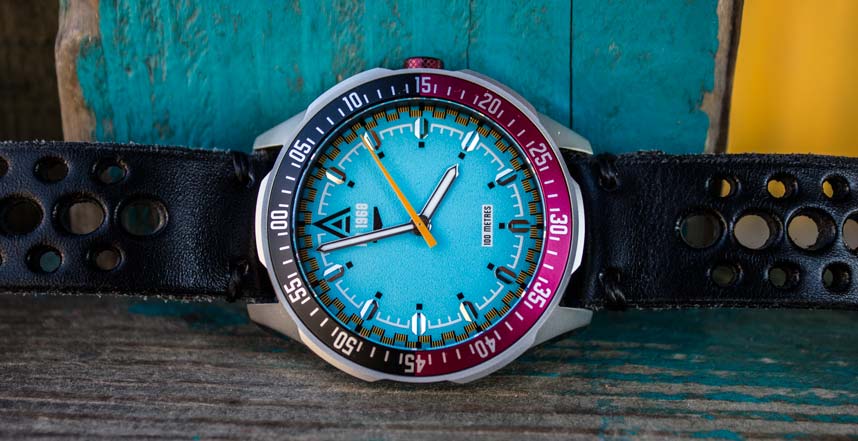 WT Author makes a lot of different watches, but the 1968 is by far the quirkiest and most colorful, which is why I chose to review it 🙂
Like my Swatch watches, this watch always puts a smile on my face when I look at it, and can we really ask for more from this kind of watch. And if this isn't your cup of tea, WT Author is very productive and has a lot of other models that are completely different from the next one.
So if you are into racing or just quirky colorful watches, you can rest assured that the watch is well built and you will get your money's worth.