COMPETITION
You have a chance to win your own Von Vogel Watch! All you have to do is follow these instructions:
Go to www.vonvogel-design.com and design your watch
Use the download function to download your design.
Post your design in your IG FEED, tagging @hype_and_style and @vonvogeldesign.
We will find the winner by lucky draw on new years eve ! – we will contact the winner directly.
A lot of watch microbrands have a "gimmick" or something that sets them apart. This is far from bad since many of these features are actually practical, subversive, and well thought out.
Of few examples of this is the quick-change system from Formex watches, the fun build-your-own watch boxes from Mint Evolutive, or the knight-themed watches from Valimor.
Von Vogel could also look like a regular customizable watch brand at first glance, but they also have something that sets them apart. They sell modular watches, meaning you can easily switch the case of the watch with a few steps.
This feature is not necessarily useful on paper, but i have come to like it and use it. I will explain further why in this review.
I present to you, Von Vogel.


Design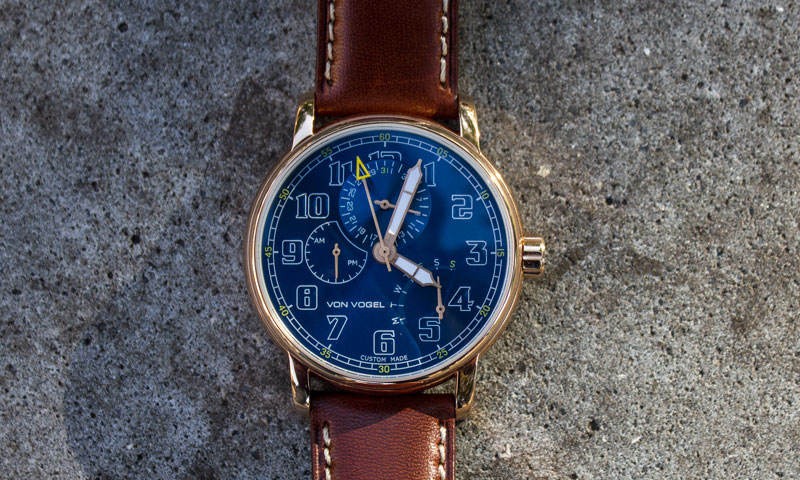 The design is, well, my own design. Von Vogel let's you customize your own watch with several different case shapes and colors, dial styles with sub-variations, and straps.
You start by choosing from one of the 5 main styles, going from very dressy, to relaxed dressy, pilot, and diver style. Then you choose your complications and dial color, then a case shape and color, and then you finish with a strap.
You can basically create more than 25.000 different/unique and personal watches.
Try it for yourself here. Please share your design with me through email and i will post it in this review 🙂
Overall, they have some pretty cool dial designs, case shapes, and styles. You could surely make thousands of different designs!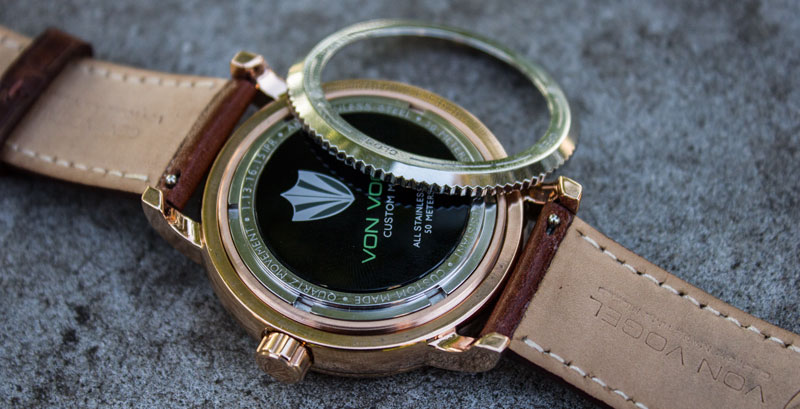 But what is even cooler is that you can buy another case shape with your watch, and swap it out yourself. A ring on the case back can be unscrewed so to release the main watch module from the case.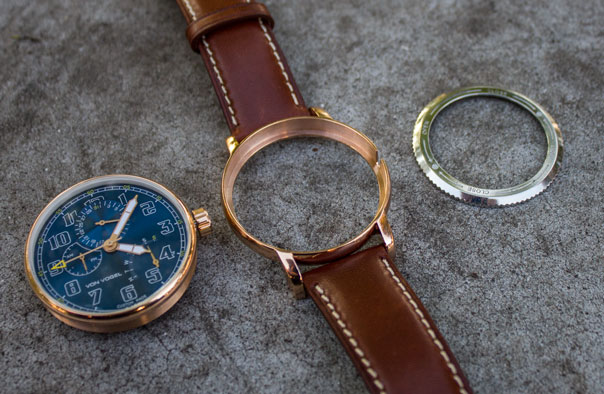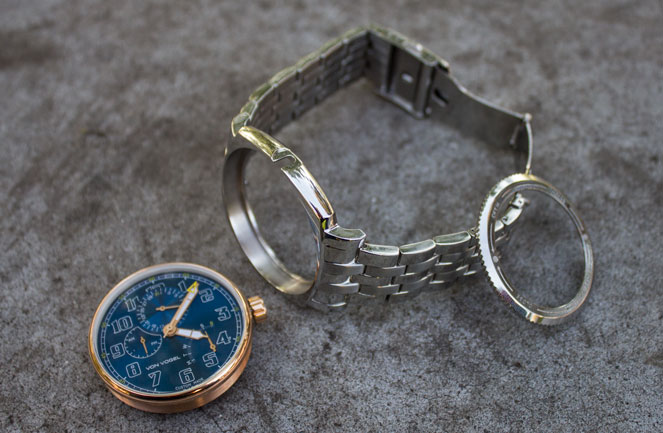 It is quite easy to do, and the watch shows no signs of this feature when assembled. I have personally attached a leather strap to my rose gold dressy case, and a metal strap to my sportier cushion case. This way, I can swap between sporty and dressy in less than a minute.
And for all you watch enthusiasts, Von Vogel will be coming out with mechanical modules soon, so that you can enjoy the analog version of their watches.


Quality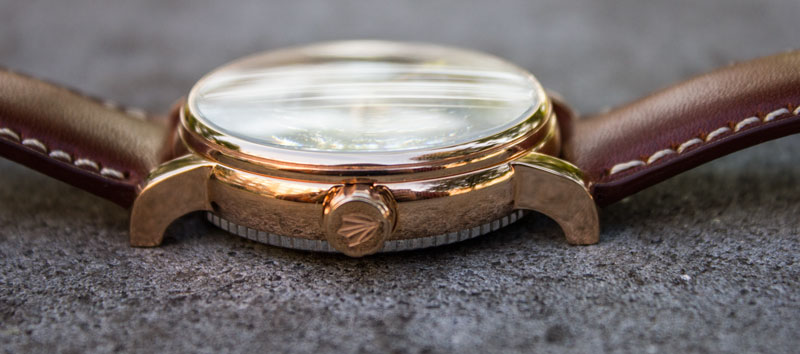 The quality is quite good overall, especially considering the price! Not every design variation costs the same, but the price goes from 180 EUR to 250 EUR, which is great considering that a stupid fashion watch costs the same, with zero features and a Chinese movement (you are paying for the marketing). Von Vogel uses Japanese movements.
My design costs 228 EUR.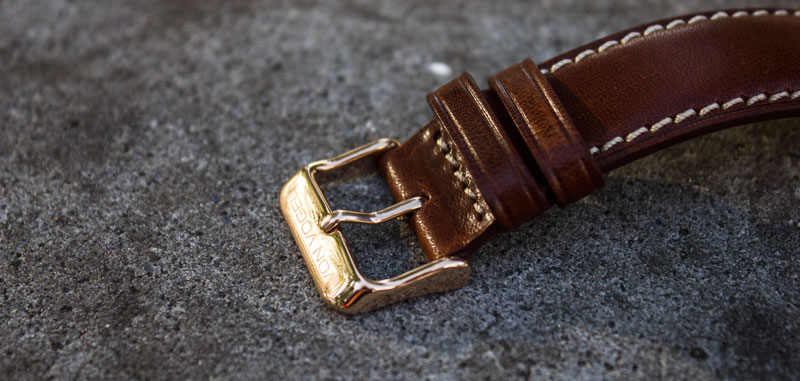 Overall, this watch matches well its price, giving you a good watch for your money. For this price you can't expect more than generic clasps and low-end leather straps, but nor would you expect a modular build and great printing and dial finishing.
Check out all the product specs here.

The Good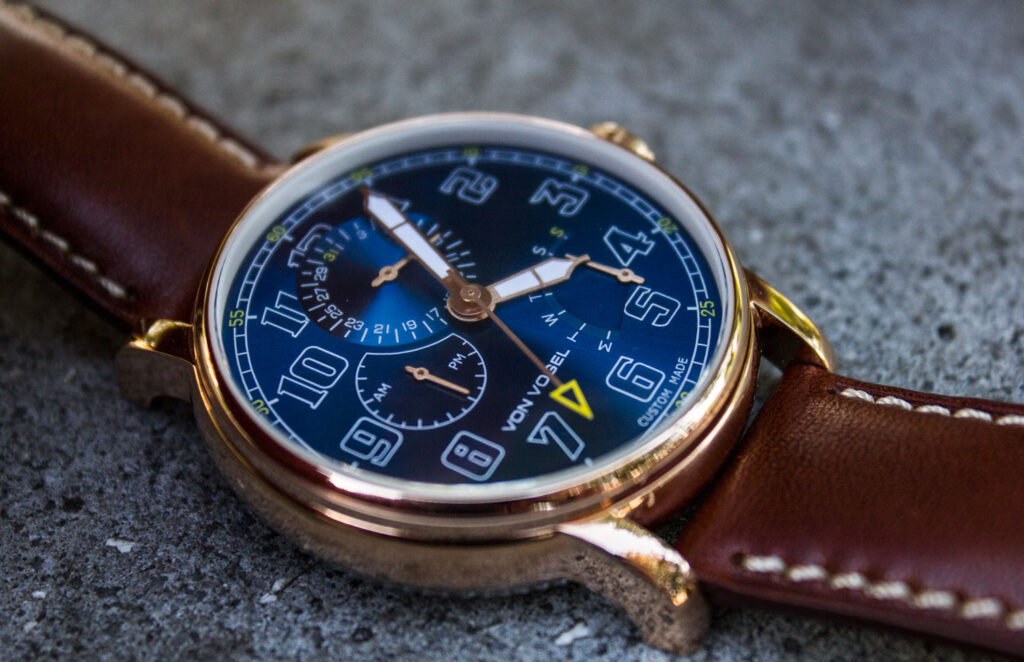 The case and dial finishing is quite good, as well as the printing. The polishing is good and even, and the angles are sharp yet soft. The sunburst and snailing sundial effects are very crisp and pretty.
The hands on my version have a strong brushed finish and a solid and thick look to them. The second hand has a yellow-painted tip that has some crisp borders and no spill!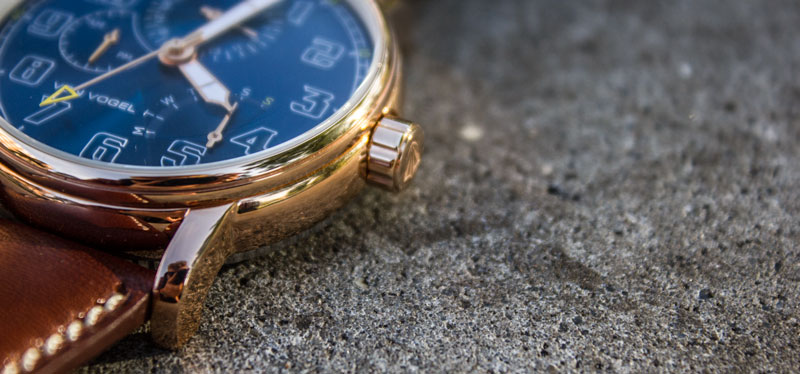 The indices are glossy and raised, standing out from the sunburst finish.
The metal strap has great tolerances in the links and the end-links, considering the price. The engraving on the clasp (and crown too) is deep and crisp, with good contrast.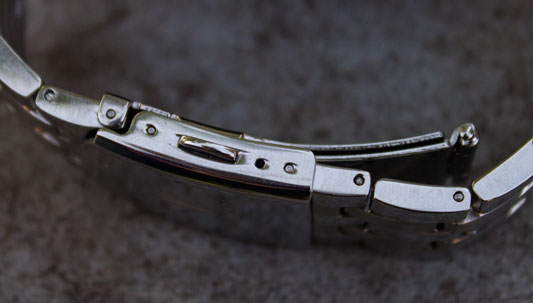 The clasp itself holds tight and securely and feels more solid than some other clasps in this price range, but nothing phenomenal.
The tolerances for the case, the screw-in ring, and the watch module are good, making it a pleasure to change the case.

The Bad
Some of the "bad" things are a result of the price of the watch, but should still be addressed since i think they could be worthy improvements that i would willingly pay for.
First, i would like to have a sapphire crystal on these watches and Von Vogel will introduce a sapphire option very soon. Hardened mineral glass is no longer an option for me unless it is replaced by hesalite plastic for a vintage look.
Unfortunately, the seconds hand doesn't hit the minute markings on the chapter rings. This is very common for low priced quartz watches, and usually doesn't bothe rme too much. But this hand is so big and really misses the 12 o'clock marker, which is more annoying than on other models.
The lume is quite grainy and not super well applied but does light up pretty well still. Perhaps the diver's hands are better in this area, but still worth mentioning.


On the wrist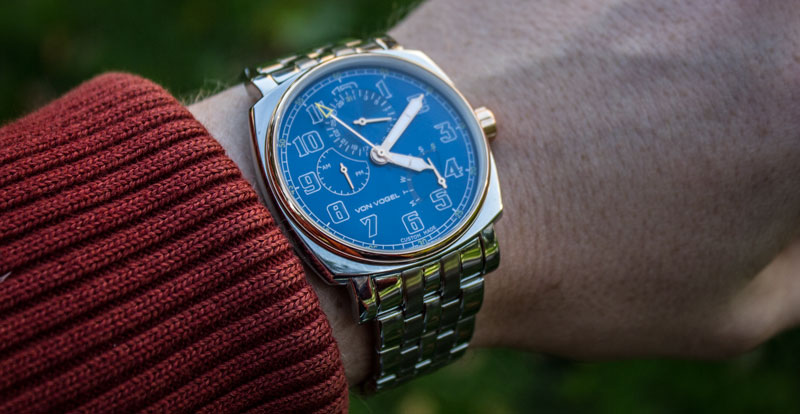 The watch isn't small, and measure 42mm without the crown. It's a good sport and modern design that would fit most wrists except the very small ones.
On my 17cm wrists, the watch has a good presence but doesn't go beyond the wrist edge thanks to the compact and down-turning lugs. These same lugs also help hug the wrist and eliminate any space between the watch and your wrist.
The round case makes the watch wear smaller, even though the dimensions are almost the same.


Conclusion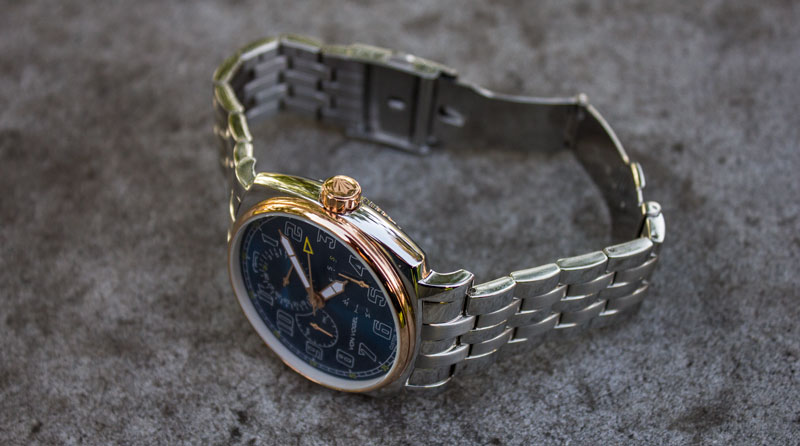 Von Vogel is a fun brand that offers a variety of different designs, ensuring everyone will find a design they like! On top of that, the modular build means you can buy 2 watches for less than 400 EUR and reuse the cases on each watch! Make it two-tone and sporty, or solid rose gold and dressy, it's up to you!
Hardcore watch enthusiasts might not be on the hunt for this kind of watch. We usually look for classic or statement designs that stay static and hence remain timeless on connected to you. But for the mainstream consumer or the beginner to intermediate watch lover, Von Vogel is definitely worth checking out and including in your collection!