My quest to find the perfect chino is a never ending endeavour, but I may have found one that can compete with the Fantini of Denmark chino i tested i while back. I already have some Gant shirts and a jacket, but this is my first Tech Prep chino from Gant. Given what Gant promises with this technology, I decided to test it.
Tech Prep
Glove promises a fabric "that actively regulates moisture to wick away perspiration, for a feeling of dryness and comfort. They are also ventilated and stretchy, thus ensuring great freedom of movement."
Test
I took the Chino Slim Navy and I will talk about my first impressions, how it is after a wash and after a night in the city.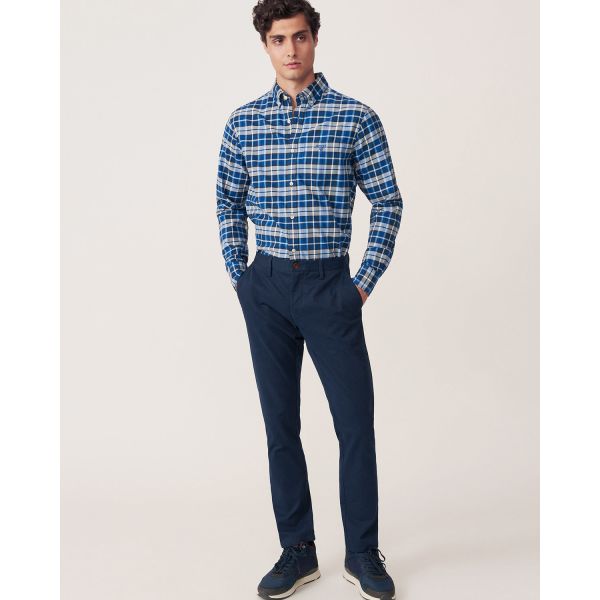 First impressions
I took a size too big to be sure that the chino is not too small and tight. I wanted a chino that was looser than the other models i have and this model, as the photo of the model shows it, respects my wishes. It is very soft to the touch, but seems durable. The fabric is not very flexible, but flexible enough to ensure a comfortable fit as the chino is not too tight around my legs.
The finish is good, but there are no exceptional details. Gant remains a brand that wants to stay relatively sober but classy, so no big logo or thread of different colors (apart from the small logo on the back pocket).
Washing
After washing the pants at 40 degrees celsius, I am very satisfied with the condition of the pants. The color keeps its intensity, which is very important, because I often see a degradation on cheaper chinos. It shrunk a little bit, but nothing unusual for pants made from 71% cotton.
In action
I wore the chino several times at work, as well as 2 times to party in the ciry. The flexibility of the fabric helps enormously with the comfort, especially when sitting. I barely noticed i had pants on.  As for the evacuation of perspiration, I did not really notice anything. But I think that's good, because it may mean that it works, despite the fact that I don't sweat much around the legs. So I will conclude nothing on the matter of perspiration before having tried a shirt with the same technology (there, I do sweat a lot).
The style
I will reveal the look that I created with the pants in my next look, but I guarantee you that you will not be disappointed!
Conclusion
Gant Prep Tech will guarantee you a good comfort and an impressive quality / durability, but you also pay for it. I will not conclude anything about the evacuation of perspiration, simply because i don't sweat from my legs. Stylewise, it's a very good chino to accompany a blazer / shirt / tie, or just to go to work with a t-shirt, or even for a small longboard session (yes, I tested that).