Unfortunatley, the brand didn't recdeive much attention and backers early on, so the owners decide to stop the campaign and postopone it. I will of course update this article as soon as i know more.
This review will be short and i will mostly be talking about the design of the watch since i haven't received one yet. I will update this review later, when i get the watch, so you can get the detailed review 🙂
Please check out and support their Kickstarter here.
FWG is a small family run watch brand, run by poeple who really love watches. They are really trying to come up with a new watch that doesn't look like your regular watch, and i think they have succeded!



The design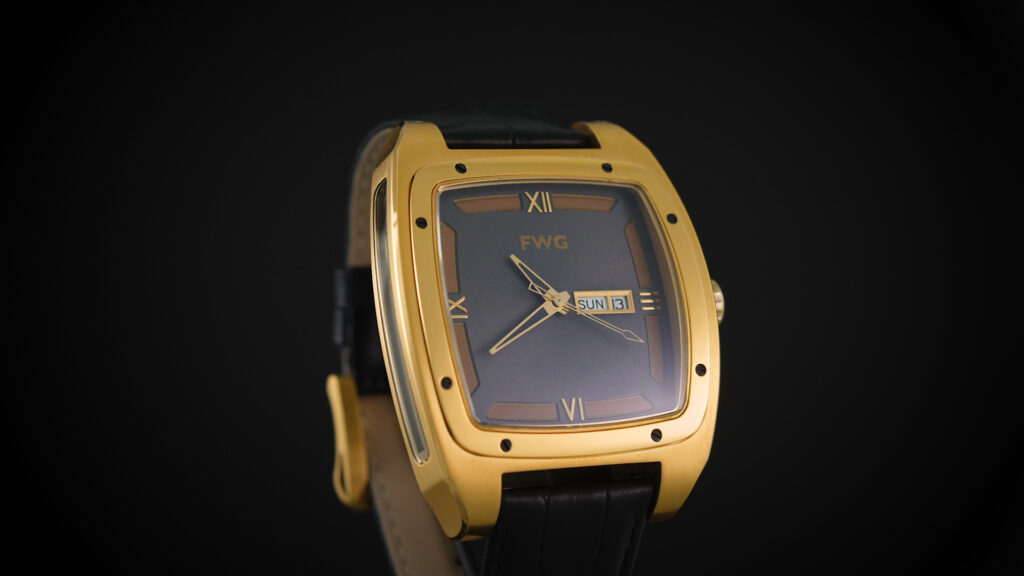 The design is quite unique, but does draw from certain watches, intentionally or not.
It reminds me a bit of the Cartier Santos, mixed in with some Richard Mille (the screws on the case) and some Ciga Design Z series (the case shape). But the roman numerals and the date complications does set this watch apart at a quick glance.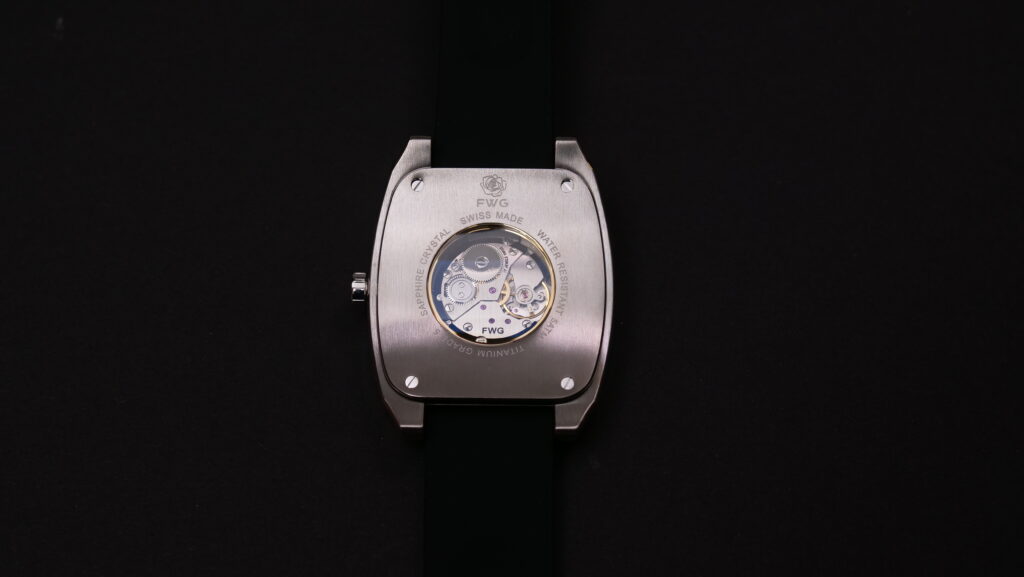 When you start to look deeper, you realize they have added windows on the side of this titanium case! This gives you a fun way to check out your top grade ETA 2836, 7001 and 2892 movement (depending on the model), and they are usually nicely finished!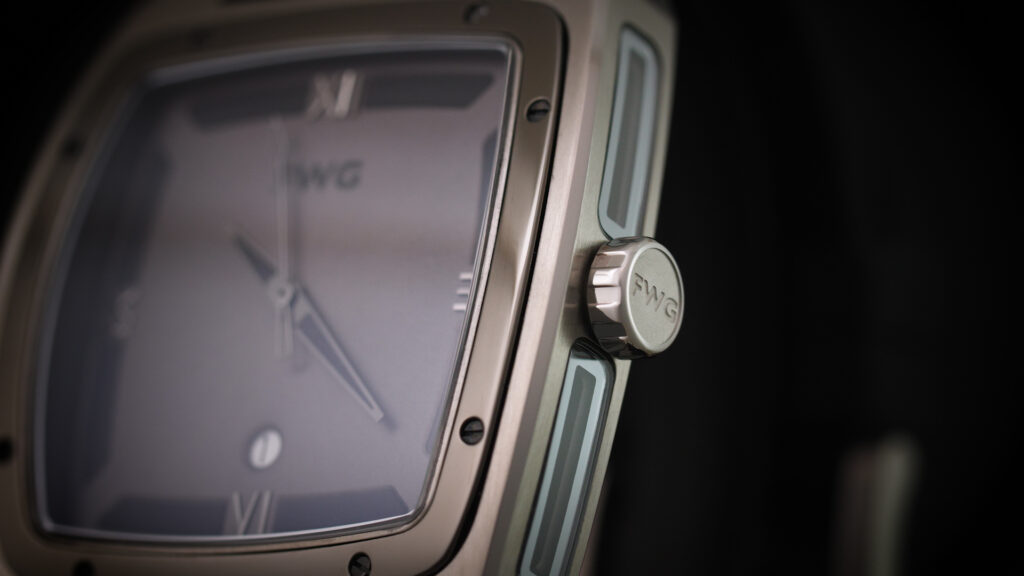 The strap is very close to the case, thanks to case shape and short lugs, resulting in what looks like a integrated strap. It's not quite integrated, but that's good, because it means you can throw your other strap on this bad-boy.
The watch will come in 2 sizes, wich is really cool, and the big one is no joke! 46mm and 39mm cases makes this a hell of a gap, but i welcome it. I would most likely go for a 39mm with my 17cm wrists, to make it feel a little dressier, but i know some guys who could rock the 46mm.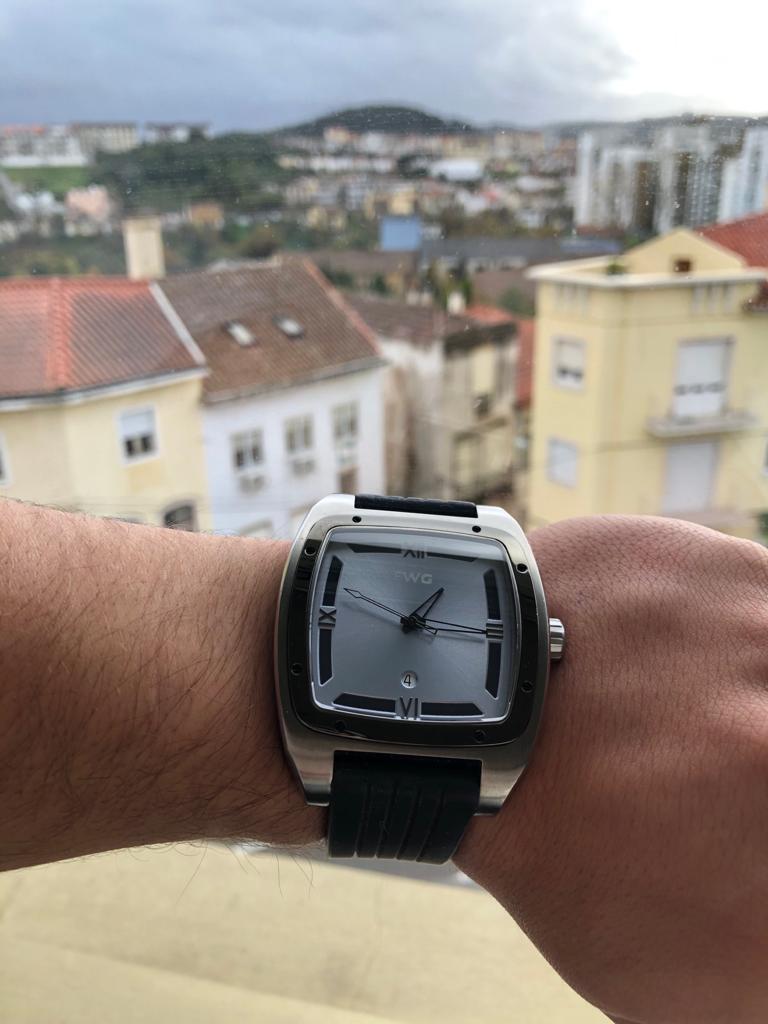 The dials are rather simple and looks like they consist of a sandwich type dial, with 2 layers. Weather the back layer is lumed, i have no idea, but the hands do appear to be lumed and applied by hand! Black lume it is?
The 4 applied roman numeral indices are set at the 12, 3, 6 and 9 o'clock positions. That creates a good symmetry that i think i only ruined on the day date model.



Price
If you only want a mechanical version (like me), you can pre-order one for around 800 CHF (900 USD or 740 EUR). I think that's a fair price considering the cool details on the case and dial, the Top Grade ETA movement and the hand applied lume paint and other hand-made elements!
If you like the Cartier Santos, this is definately a fun and more budget friendly alternative.



Conclusion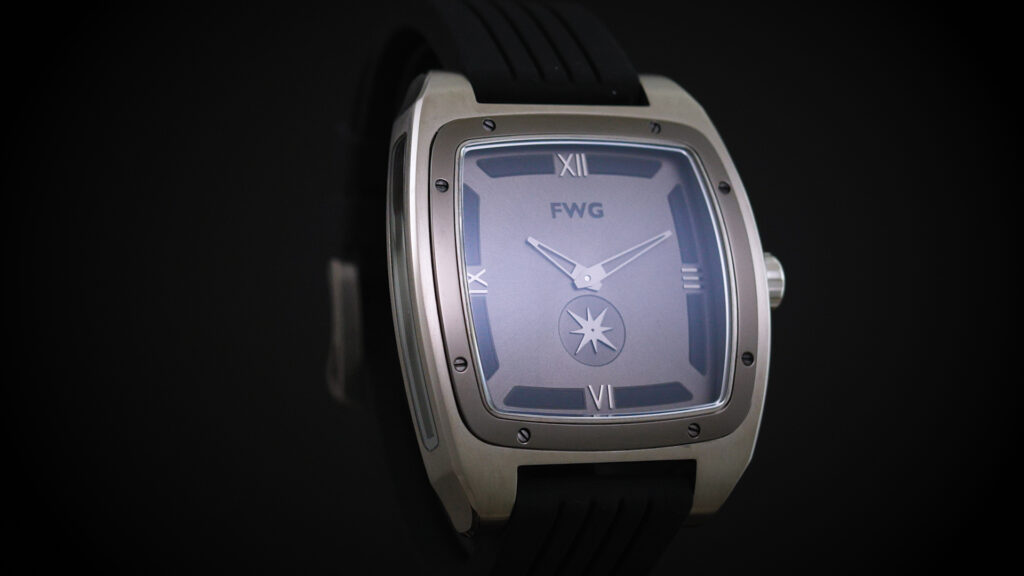 I really like these watches and i think my favourite is the no-date, then comes the date and then the day/date. The Prett Second simple metal case with the high polish bezel would definately be my choice!
Overall, FWG is offering a cool and unique watch with the best possible mass-produced movement and available in 2 sizes. They are doing many things right, but are taking a risk with the design, and i like and respect that! It's not going to be everyone's cup of tea, but those who like it will probably love it even more. That's usually how i feel when it comes to very unique watches.