(5 / 5)
"Swiss made" is usually associated with quality timepieces, not sunglasses. But after you read this review, swiss made sunglasses could become a synonym for quality and exceptional design, as it has become for watches. Actually, Japan has been known to create stunning sunglasses for a while, so this is somewhat a test of the "swiss made" label.
Einstoffen is not the only swiss eyewear brand, but they do stand out in one important way: they make sunglasses out of wood. And they do a hella good job! I will be reviewing their Aeronaut model, a design award-winning pair of kick-ass sunglasses made with blue walnut burl and titanium.
FYI i am not the one wearing the sunglasses in these picture. Since they are swiss made, i thought it would be fun to have a true swiss made man wear them. Thank you Søren Fantini for your help!
First impressions
The packaging these sunglasses comes is quite interesting, and really does compliment the brands values and visions. The storage "box" is made out of some sort of compressed cardboard box, which i assume is eco-friendly recycled paper. The box looks way too small for these sunglasses, but somehow manage to fit them inside.
When taking out the sunglasses i immediately noticed the size! They are quite big, but since i am cursed with a huge head i was actually pleased. I have a hard time buying sunglasses online because they are often too small, but these fits perfectly.
I was also stunned by how light they were! Wood doesn't weigh as much a metal, and the frame that keeps the wood together is made with titanium. Titanium is as strong as steel while weighing only half as much.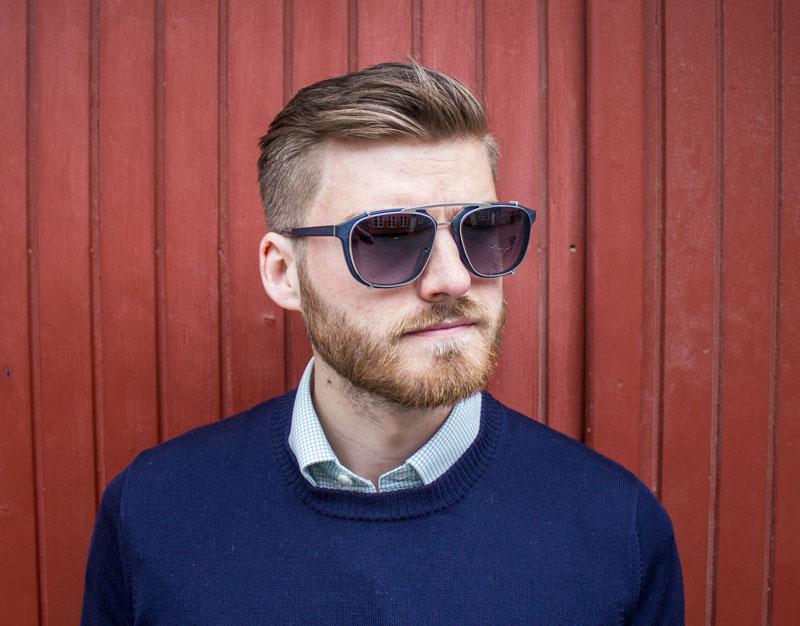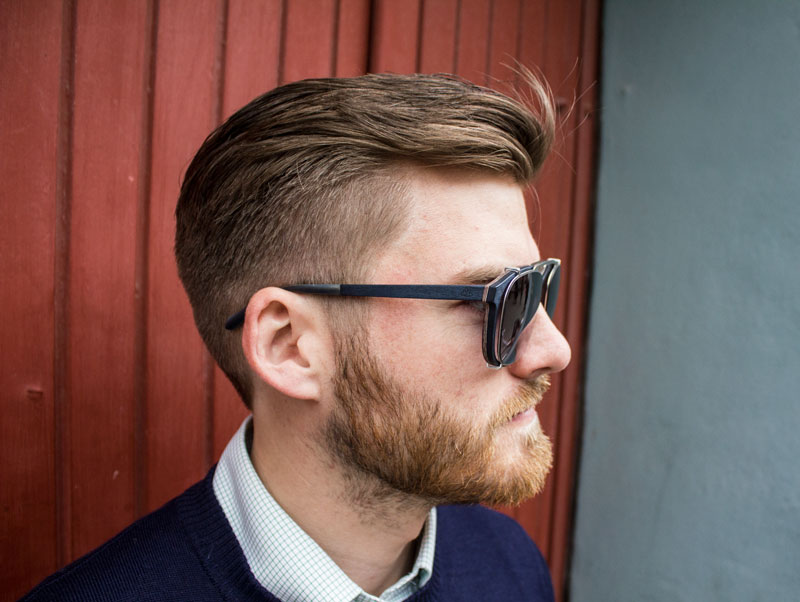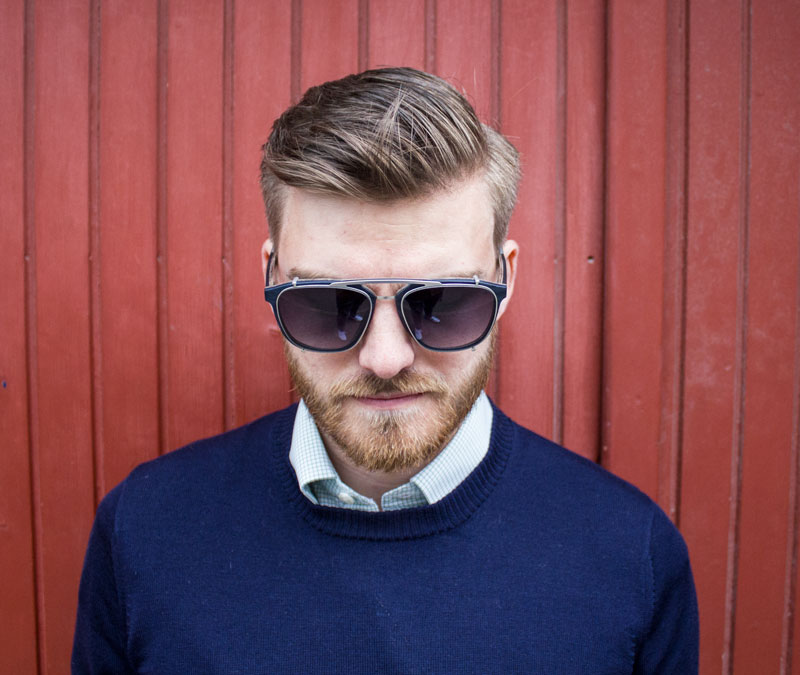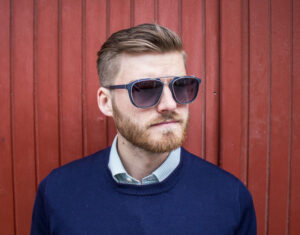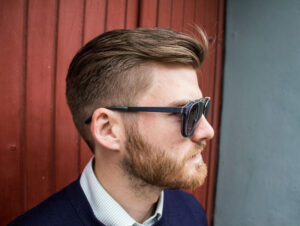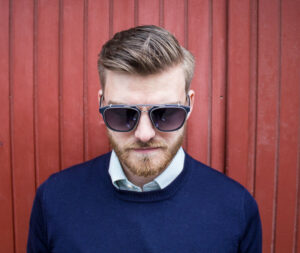 These badboys are quite stunning and i really enjoyed looking at the beautiful wood construction up close. These are my frist clip on sunglasses and i am surprised at how cool clip-ons actually looks. To quote Einstoffen : " They looked as if they were professionally flying rickety biplanes through the Amazon, smuggling live caimans. Badass." I had a good laugh at their product text, but after wearing the Aeronauts i can see what they mean.
I could babble on about these sunglasses all day, but i'd rather give you a structured look into all the cool elements that make up these sunglasses and why i believe you get a lot more sunglasses than what you pay for.


What i like

The wooden frame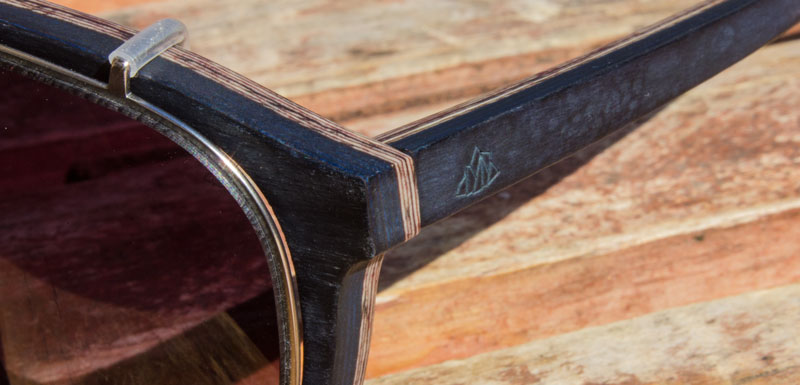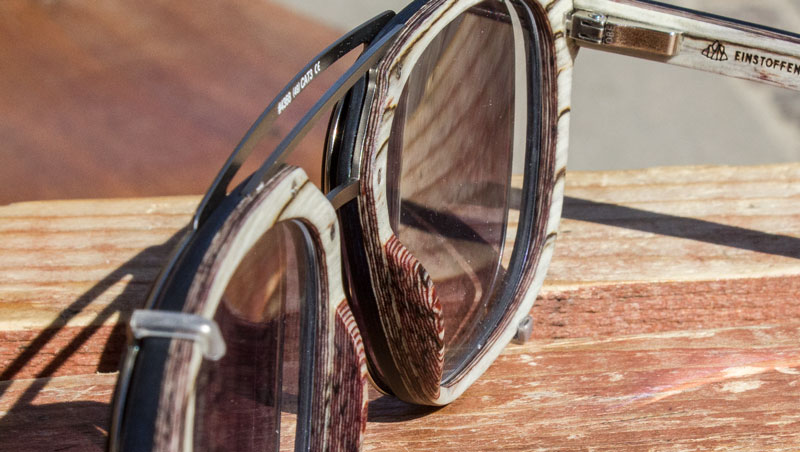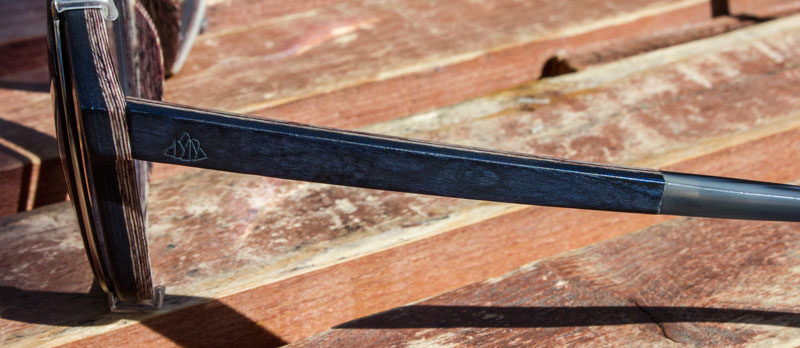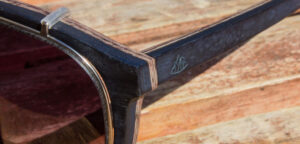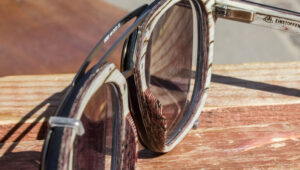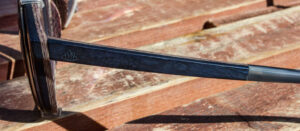 The wooden frame is made up of 2 colors of walnut burl, the blue one being on the outside and the light one on the inside. This gives the sunglasses a good depth and character. The blue wood looks amazing and it really is a shame that the pictures on their website doesn't convey just how well it looks in real sunlight. I have tried to do this here, to give you a better up close look at the frame in natural light.


The temple tips
The temple tips are in plastic, but follow the shape of the temples nicely. They used white and blue colors on the tips, mixing them in a lovely subtle way, so they don't look like they were just added on wihtout thought. There is also a nice little golden logo on one of them.. A very nice detail!


The titanium bridge and lenses frame
I have already mentionned the weight benefits of titanium, but the texture is also important. Einstoffen choose to go with a beat blasted finish, also known as "gun metal", and it looks badass! They are already impressive in size and design, and the last thing they need is a flashy polished metal frame. It wouldn't suit the wood frame.


The clip on lenses
Clip on lenses, besides looking badass, has one other distinct advantage. You can take off the tinted lenses and you are left with a pair of regular glasses. I don't have eye problems, but one could order lenses that would fit the frame, thus giving you optical sunglasses.
I have a different idea in mind. I am going to order very lightly tinted lenses for the frame, so i can wear them indoors as well, like Robert Downey Jr does at every gala event.


The hinges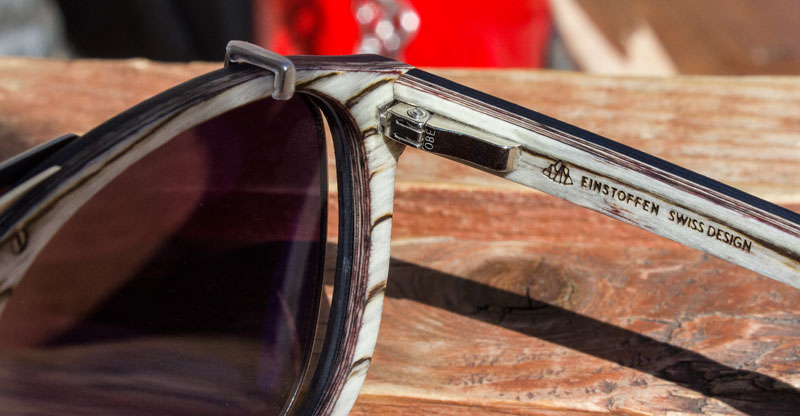 Something that isn't part really part of the esthetic design, but shouldn't be overlooked, is the hinges. These shades are equipped with lightweight german made OBE spring hinges, and they lock down the temples so smoothly it almost hurts. They also let the temples bend slightly outwards which makes these sunglasses really comfortable to wear.


The lenses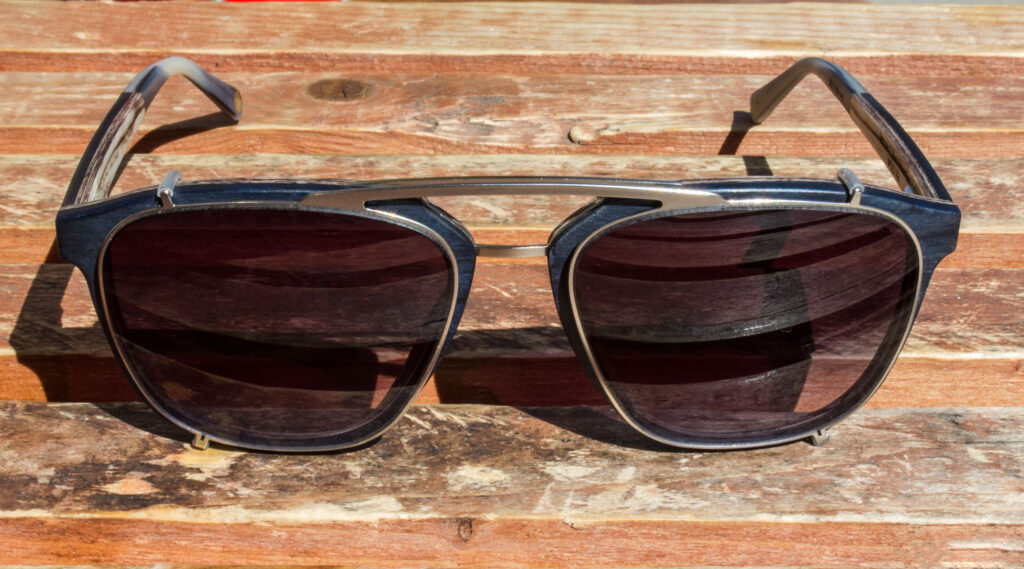 I am of course talking about the tinted clip on lenses, as their is nothing special about the transparent lenses underneath.
They have a very unique shape and angle that reminds me of many other sunglass designs without directly copying anyone. Besides looking cool they also have anti scratching coating covering the CR-39 plastic polymer that makes up these lenses. CR-39 was originally used to create lightweight plastic fuels tanks for American bomber planes, which sounds to me like it's a sturdy material.
They also have almost no reflection on the inside and zero distortion, which should be standard for this price range, but still worth mentionning.


The price
I THINK THIS IS A FAIR PRICE
These sunglasses go for 239 EUR which is 266 dollars and you get a lot of value for that money! Ray Bans go for around 145 euros for the classic models but everybody has a pair today and i would gladly give 100 euros more to have these in my wardrobe.


Conclusion
You might have noticed i didn't write about the things i disliked. That's because i couldn't find any! But i have to mention that if you have a small head, and you usually have a problem with big sunglasses, do not buy this model. Go for some of their smaller models. I can only assume they are built with the same quality standard.
But if you like the "badass, freeskiing, mountain climber look" mixed with a fine touch of luxury, then i highly recommend the Einstoffen Aeronaut! They feel great, look great, are great! Simple as that. And they have won a few design awards, so i am not the only one preaching 🙂