I will be giving away a CAT Digi Squared Sand! To participate, just go to my Instagram here, follow me and comment on the CAT watches post.


This is actually a first for Hype & Style because i will be reviewing a digital watch ! To be honest, I had forgotten how fun they are to wear simply because when you dive into mechanical watches, old or new, you almost feel disgusted by quartz watches. But this is only in the beginning, and you realize that watches are watches, and the fun is in the watch, not what makes it tick.
It turns out that most serious watch collectors actually have a digital watch, but for more than just fun: they are super practical. I find it useful when running, working out, cleaning the house (i bump my wrist into a lot of things) or bigger cooking projects. I will also wear it when going for a techno rave in the forest or other places where i know i will get dirty and not care about what i have on my wrist. 
I think we all have that little kid inside of us that loved the digital watches because they were simply cool as hell and could light up in the dark. The CAT digital watch sure has awakened that kid in me 🙂
I actually didn't know CAT was making watches, and I would have never guessed they had this many 🙂 I choose to review their digital watch because I think it symbolizes in the best way what CAT watches are : tough, reliable and helpful watches for construction workers, carpenters and anyone else in that genre.
I present to you, the CAT Digi Squared



Pros and Cons
| | |
| --- | --- |
| PROS | CONS |
| Cool design | Negative dial is can a bit hard to read |
| Very cool and comfortable strap | Hard to beat a Casio for this price |
| Light up display is super cool | |
| No one else will have one | |
Packaging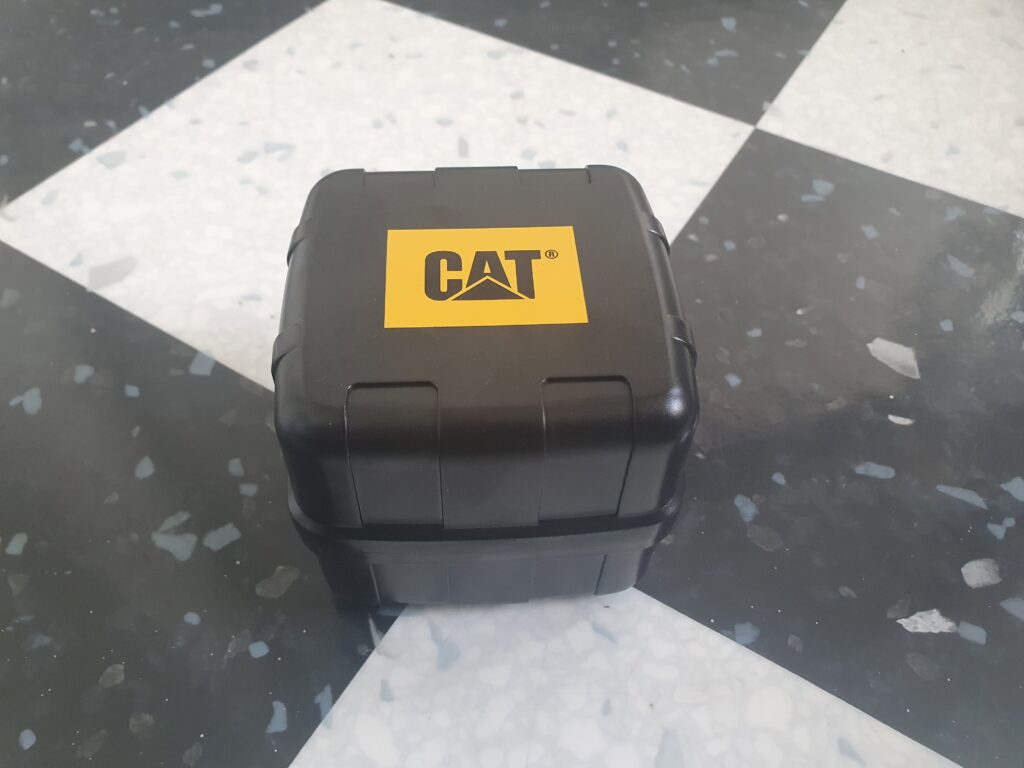 The watch comes in a lovely little plastic case that reminds you of a toolbox. The watch is surrounded by foam and you have all the paper underneath it. A very appropriate watch case for this watch that really fits it perfectly.



Design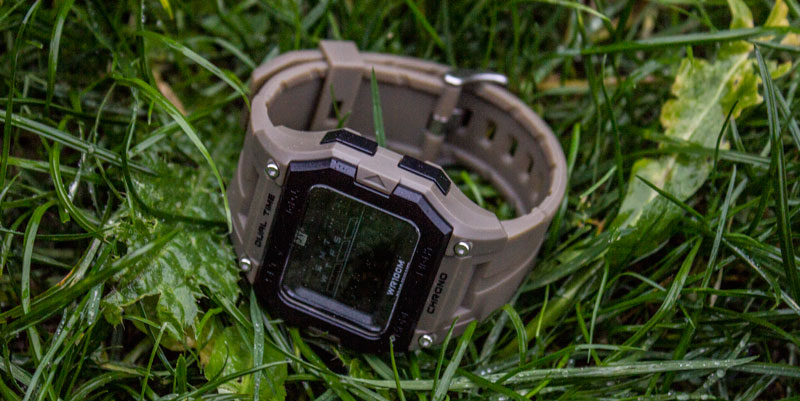 The overall design of this watch is not groundbreaking and will surely remind you of some of those classic square Casio digital watches you see everywhere. It reminds me of the Casio B650WB but with a few upgrades that is worth mentioning :
The CAT Digi Squared is bigger than the casio and holds a nice size at 44mm.
The light function is cooler as it lights up the whole screen in a blue fashion, unlike some the Casio which is lit with two LED's under the screen.
The colors are funkier and I really like the dual colors.
The display has more information and it's sorted out in a better way
More cool details on the display than the Casio
Don't get me wrong, there are plenty of Casio that can measure up to this watch and even beat it on many fronts. I own a Casio DW-291H and it is a very good watch for the money, but this watch is quite unique in its own way. Here's why :
The colors, especially the yellow/black version is something Casio wouldn't dare do. You need to go into G-Shocks to see those, and they can be a bit pricier.
It's a single screen display but they have divided the information up pretty nicely and I like how they show you all the weekdays.
The time is very big making it easier to read at a glance
As i mentioned before, the light on this bad boy is lovely (picture further down)
Cool little details like the colored button for mode change
A very cool strap design with indents and cool shapes!



Quality
I have more experience with mechanical watches, so speaking about the quality is harder, but i have owned a few Casio's and G-Shocks in my days. Bear in mind that this watch costs 79 EURO.


The case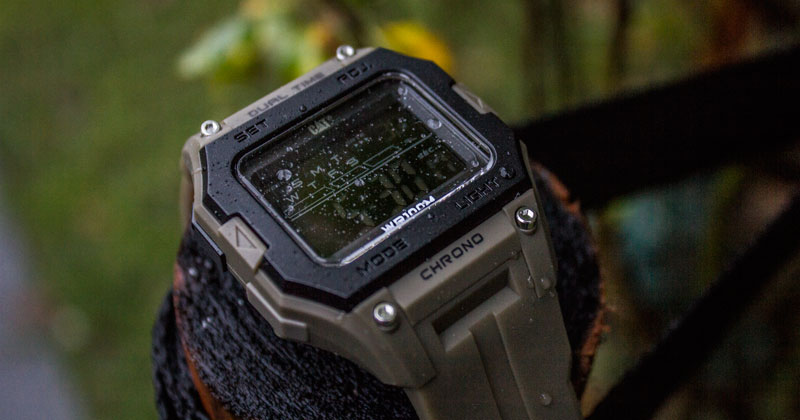 The case is made of black ABS plastic (same as Lego toys) and is not the most impressive when being touched. I feel like G-Shocks have a denser and slightly softer plastic for their case. However, it does make this watch extremely light, which you want from this kind of watch and ABS plastic is known for its resistance to physical impacts and corrosive chemicals (construction workers would know about those).
The case features four metal screws which look really cool and four buttons on the side. The buttons are plastic as well and one of them is yellow. The buttons sit pretty tightly and flank the case perfectly and have a good feel to them when being pressed.
The "crystal" or window protecting the display is made of PMMA plastic that is not scratch resistant, but probably the best impact protection you can get for a watch. Basically i a saying this thing can take a beating ! 


The display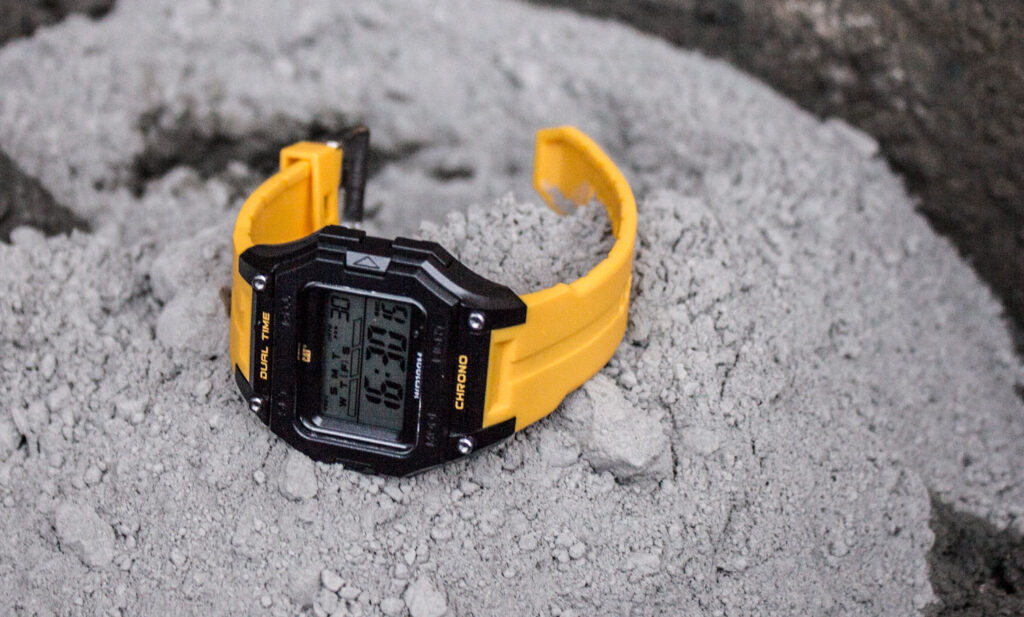 The dial is, as I mentioned earlier, well designed and looks hella cool in my opinion! It's easy to read the time, the date and the weekday at a glance. Every mode is as easy as they can get, but the buttons are not the same as on a Casio, but you get used to that very quickly.
On the negative display, the dial is a bit harder to read, but I feel that is the case with most negative dials. However, a quick press on the light button and you can see everything immediately. 
The light on these bad-boys is probably one of the most fun things about this watch. The display is not backlit by LED, but that old fashioned blue light that comes because the actual background of the display is lit. Not only does it look cool, but it fades out slowly which is simply love!
The strap
The strap is one of my favourite elements of this watch! It feels more rugged than some Casio straps and has some really cool details.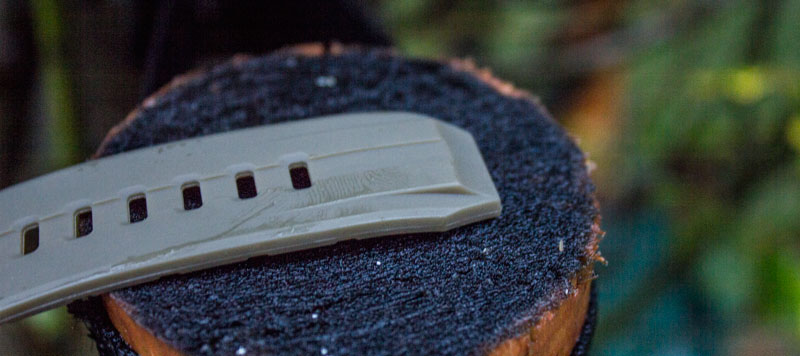 The small cutouts, indents and shapes on this strap is what makes it so cool. Another great thing i miss on my Casio is the Metal Buckle, which is quite well polished with a brushed finish and a small polished part. It feels more secure and i have broken a Casio strap before because of the buckle being the weakest link in the chain.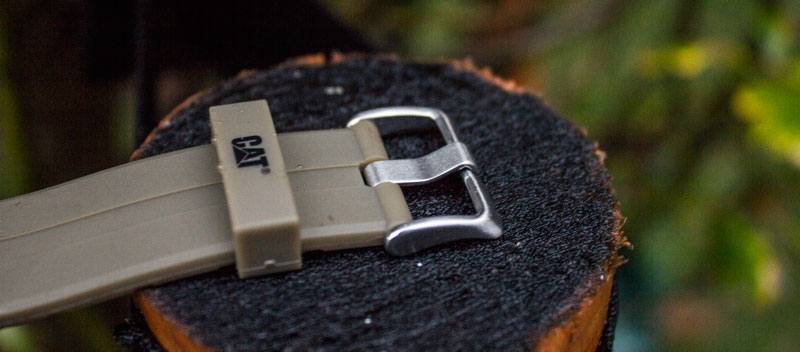 The tip has a raised wall in the middle to prevent the free loop from falling down and the strap from coming out. Not highly effective, but better than none. If i pull the strap the loop will follow it, and that's enough.
Apart from looking cool, it's also very comfortable and has a debossed interior so that the entire surface of the strap doesn't touch your wrist. 



Functions
This watch has got all the classic functions you would except from a digital watch in this price range. My only complaint here is that when setting a timer for example, you only have one button change values, so if you miss "5 min" you have to go around again (holding the button will make the switching faster).
Here are the function :
Time, date, day of the week
Stopwatch
3 Alarms with hourly chime and option to silence to watch
Timer
Second timezone
Pretty standard stuff for a digital watch, but i do like how they show you if a timer is in use or the chrono is running. Also, if you stay on a mode other than regular time for a short time, the next mode is always regular time! Pretty nifty! 



Conclusion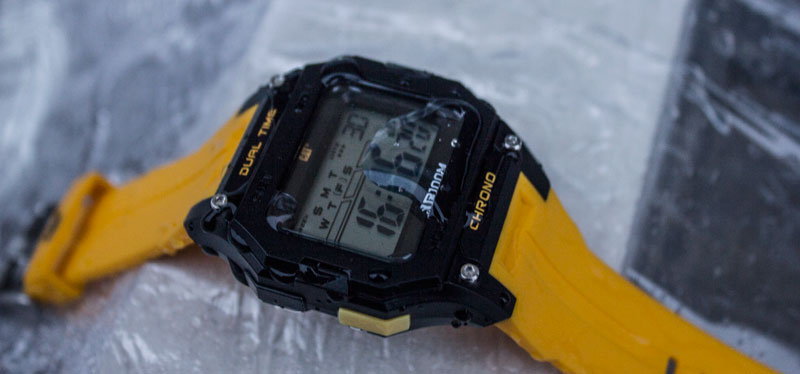 CAT watches deliver on what you would expect them to deliver. A tough and functional watch made for construction workers, carpenters and anyone doing rough and "dirty" jobs. But they also deliver a fun and colorful digital watch that is not just another Casio or G-Shock, and that is refreshing. I couldn't help becoming a kid again when wearing these and it is today my most loyal jogging companion.
CAT watches is not trying to appeal to the classic watch collector, but if you one and looking for an original beater, the CAT Digi Squared is a viable alternative to the classic watch brand you will usually search for.