Unfortunately, they didn't achieve their kickstarter funding goal, but they will try again in the future. Stay tuned and subscribe to their newsletter for more info 🙂
In this review i will be talking about a new british dive watch that just hit kickstarter for funding. I will be getting the watch soon, but in decided to talk about the oberal design and value proposition before i get it, so i can help them reach their funding goal.
I will add a detailed review of the quality of the watch as soon as i get it.
Specs
316L Satinless Steel case – 40 X 20 mm
Automatic Miyota 9015
Single domed sapphire crystal
Metal bezel insert with lume pearl marker and 120 unidirectional clicks
BGW9 lume on the hands and indices
Italian leather strap
Overall Design
I would say their overall design is trying to give you a vintage diver feel but with a slight touch of modern design.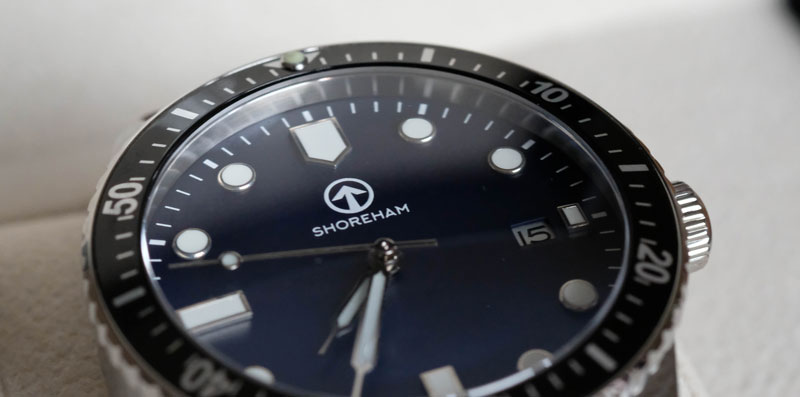 The vintage comes in the form of a very simple mat dial with very little printing except for the logo and brand name on the top, no crown guards and a metal bezel insert. Most modern divers will have ceramic bezel, allthough newer Omega's and other brands have gone back to metal again. The lume pip is a nice addition that also give a nice vintage look, mainly because older rolex divers had these from the start (and still do today, but Rolex is all about keeping the classic look).
Even the syringe hands give you a vintage vibe even though they are rarely seen on vintage divers (some older Blancpain 50 Fathoms had them) and more often on older pilots watches. Today, when i see syringe hands, i think of Sinn watches, but they somehow manage to not look modern, just like breguet or cathedral hands do. As for the seconds hand, the lollipop is no more than a classic.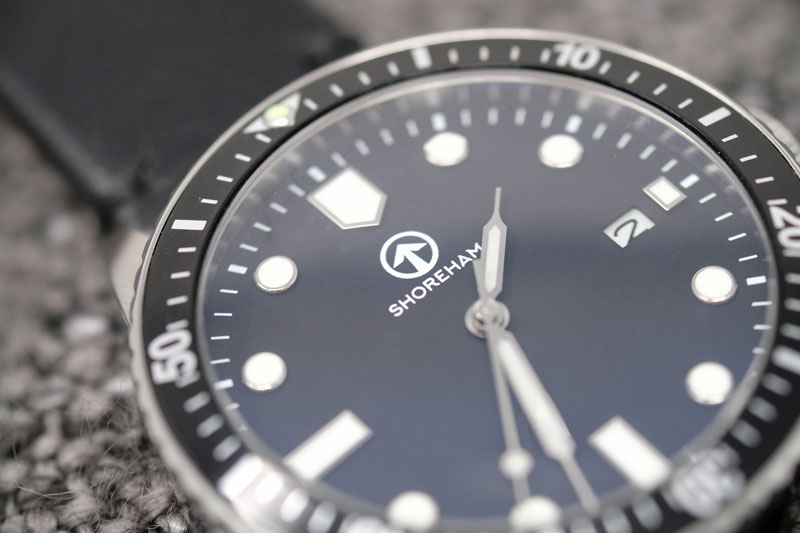 The logo is definately inspired by the British Military emblem called the Borad Arrow, used to mark government property. Using the official one today requires government authoriation, but this logo does help give you that britsh military watch vibe while looking good on a dial, crown and anywhere else 🙂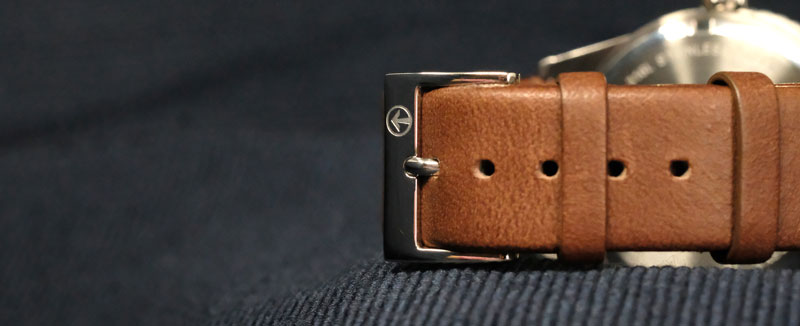 The last vintage hint is the classic leather strap. An integrated meytal streap, allthough somewhat can be historically correct, will increase the price and make it look more modern (allthough rice bead bracelets still looks super vintage in my opinion).

The classic diver hours markers, with the mix of circular and rectangle markers, is only disturbed by the 12 o'lock marker with it's thick arrow shape. This give the watch that modern touch i mentionned in the beginning.
The dial is covered by a single domed sapphire crystal, which is a must for wtaches in this price range. The single domed aspect will surely give offr some nice distortions when turned on the wrist, which is a personal preference to like or not, but sure does emphasize the vintage feel of the watch.

The more modern 40mm size of the watch doesn't lean into the grotesque and is just big enough to still give a vintage vibe. Anything above 40mm seems more modern to me. It's also a great size that would suit almost anyone except the huge wrist out there.
To crown this Shoreham Monmouth, they have decided to use my favourite lume, the famous BGW9 lume paint! If well applied, and it seems to be, this lume will not let you down and look great, even in semi-lit environments.



Value proposition
This watch will retail at 399 Pounds (442 Euros or 516 USD ), but can be had on preorder for 299 pounds right here.
It looks to me like the Shoreham Monmouth will offer a watch worht the price tag. They do not market themselves like many other newer fashion brand watches, and you can sense they have a passion for watches when desiging this little diver.
There are a few vintage inspired dive watches out there, and to the untrained eye, they can all look the same. The syringe hands definately sets this one apart.
I would need to hold the watch to be sure that it's definately a god value proposition since it all comes down to the level of finishing on the case, crown, indices, hands and how well the lume is applied. I will also have to check wether everythin lines up well and if the printing is crisp.
For reference, Mark & Sons are currently the champs (in this price range) when it comes to applying BGW9, so i have something to compare to. The lume pearl on the bezel is definately a good sign, since it would have been cheaper to cut a round marker and paint it.



Conclusion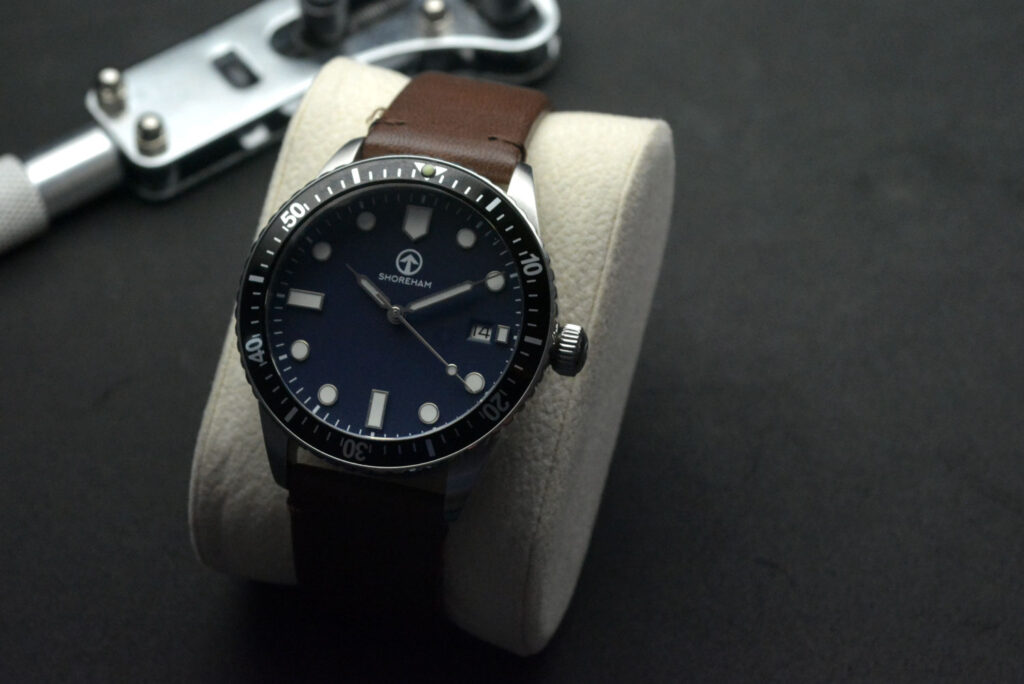 If you love vintage watches and specifically divers, but some of the classics might be too pricey, the Monmouth by Shoreham is definately a watch for you. Any good old watch enthusiast might like this watch too and it seems like that is the kind of person Shoreham is trying to sell it too.
You might say "ooh, another vintage inspired dive watch", but there is plenty of brands out there doing modern designs and there still seems to be a market for these watches, especially in this price range. And Shoreham have definately tried to set themselves apart with details that only a watch enthusiast can reckognize.