The watch remains, from my point of view, the most important and striking accessory a man can wear. The watch has helped shape the fashion world as we know it today, and even influenced the design of the classic jean! This is the accessory that strikes the eye when you drink your coctkail at the bar, but doesn't stand out too much the rest of the time. Every man should own one and it's also the least risky accessory to wear, unlikethe necklace, bracelet and ring. In other words, I love watches!
I want to share with you a brand of French watches that I discovered recently. Auctor watches released their first watches in 2017 and describe them as vintage, aesthetic and minimalist. Their current collection is rather diversified with flashy and colorful watches, modern metal watches and classic watches with a retro and minimalist looks. Prices are very affordable and reasonable for this kind of watches. Here are 3 watches that I immediately enjoyed during my first visit to their website.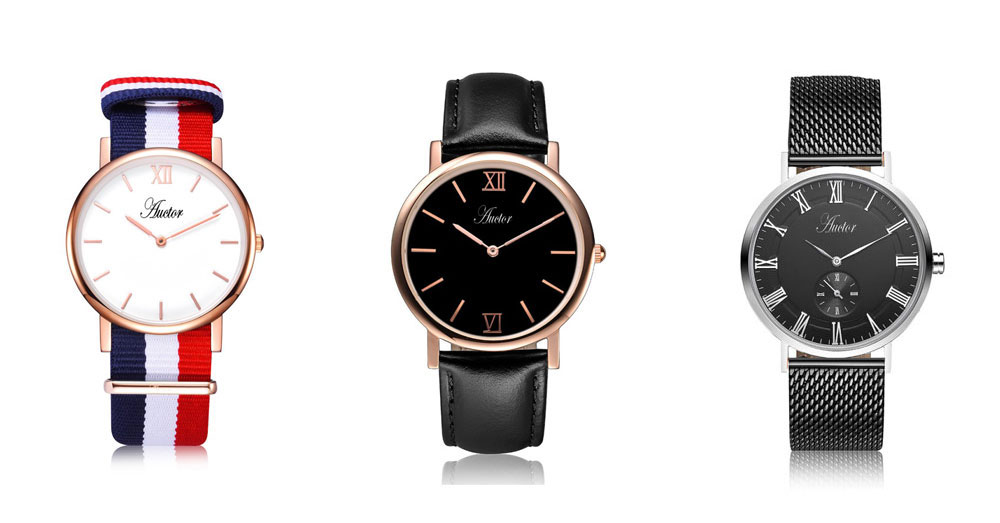 I myself opted for a model a little more flashy model with orange leather.
My impressions
The watch is well packaged in a beautiful box that also contains a tool to change the bracelet. I think it's nice that they always give two bracelets with each watch. It's a like receiving 2 different watches.
The Orange Modeuse obviously has an orange leather strap, but the watche's dials are also orange. I'm a fan of the little seconds counter that rests on its own little dial and the retro reminder with the Roman numeral at the top. It's a good compromise between modern and retro.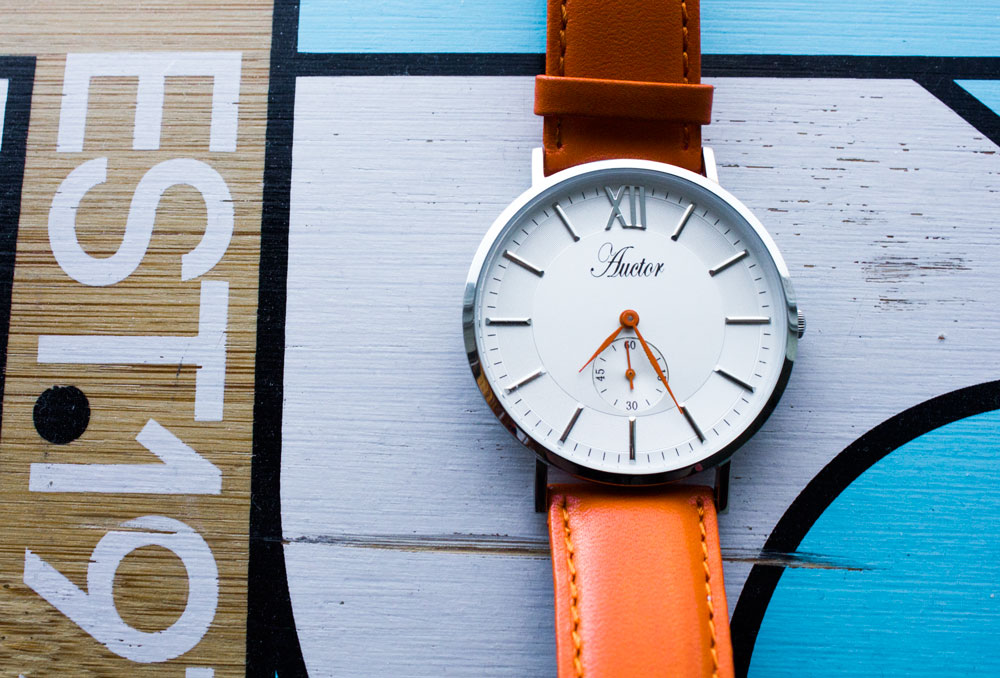 The logo is super nice too and gives a touch of luxury to the watch. The case is very thin which makes the watch comfortable, light and not too imposing. I do however hate the small crown… I like my crowns big and imposing, and this give the watch a cheap look.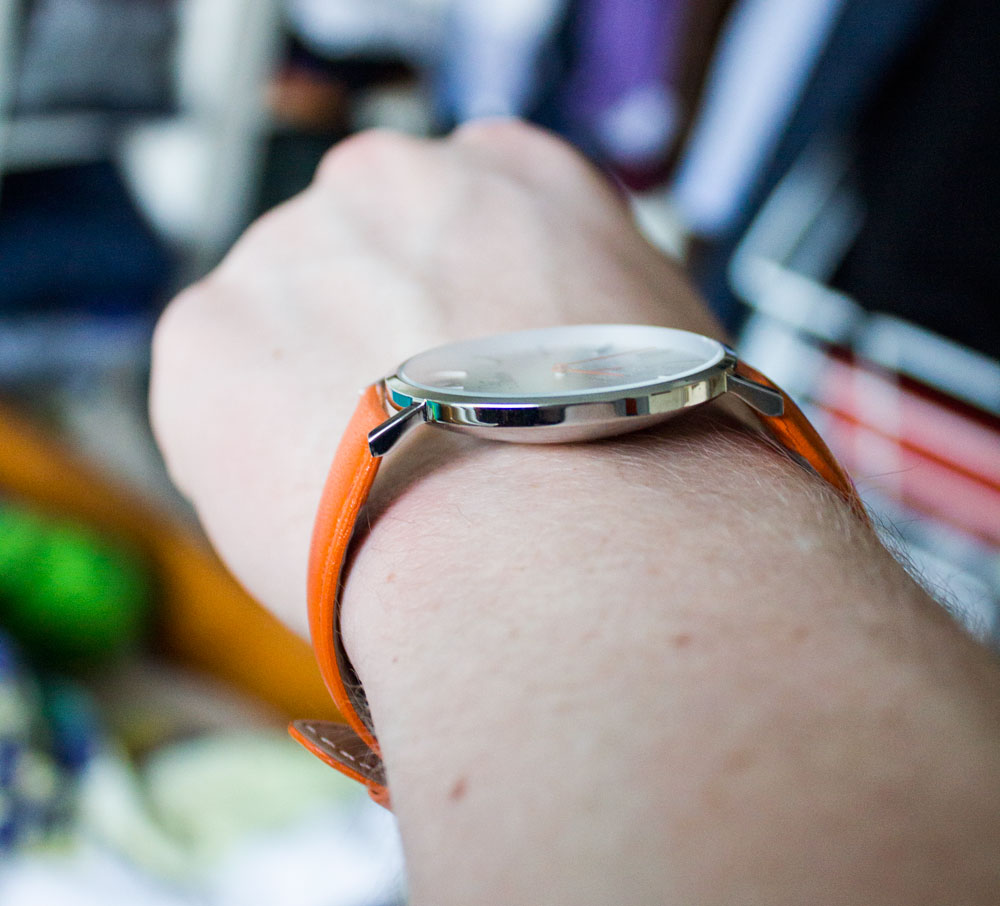 Match the watch
I often say that one object needs to stand out when you dress, to keep a little nonchalance, and this watch can do this without problems. With a navy blue suit and a simple tie, this watch is truly eye-catching! Orange goes well with blue, and it can also be used as a remnder to other orange or red accessories that are worn (cap, tie, clutch bag, tie clip …).
I chose to take pictures with a blue monochrome set and a navy blue and orange tie. Why do you ask? Look at the pictures, it looks awesome!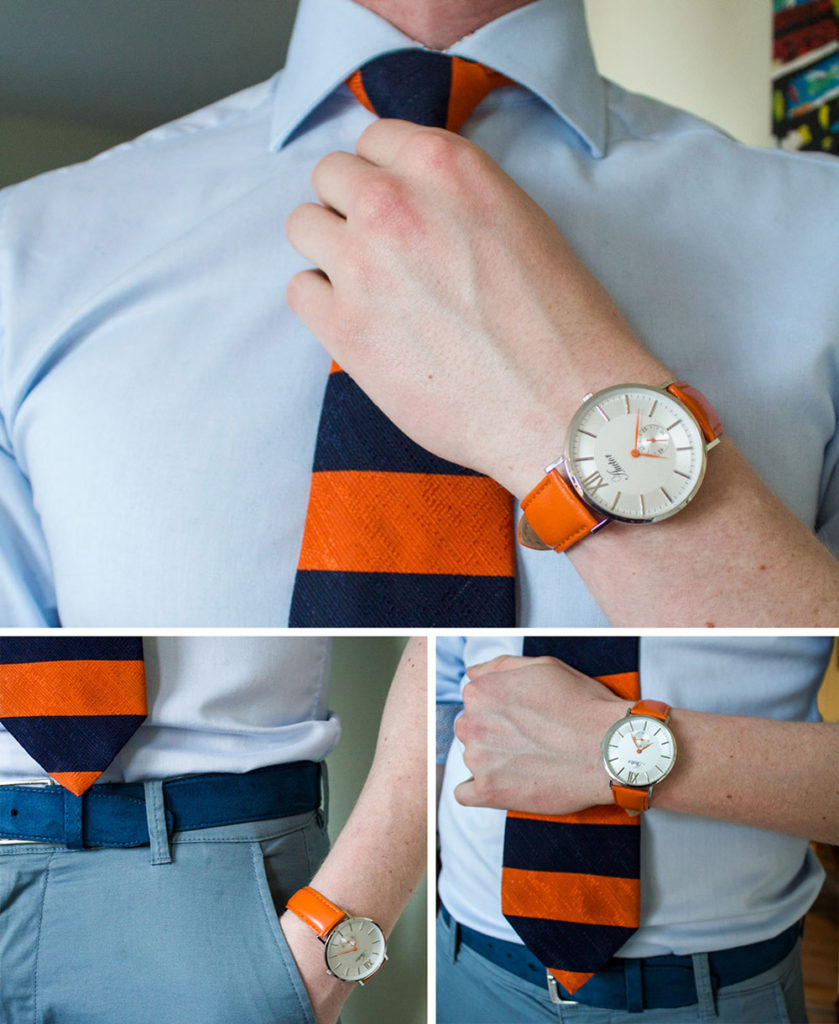 Conclusion
Auctor watches delivers on their promises of selling vintage, minimalist and aesthetic watches. They did not promote themselves as a cheap brand, but they could because prices are quite reasonable. The downside is the small crown wich can give the watch a cheap look, but then again… This is not a Rolex.
So if you are looking for a watch with acceptable quality, that is not too expensive and with original touches and a minimalistic overall feeling, Auctor is for you! Their selection is very diverse so you will surely find a watch too love!